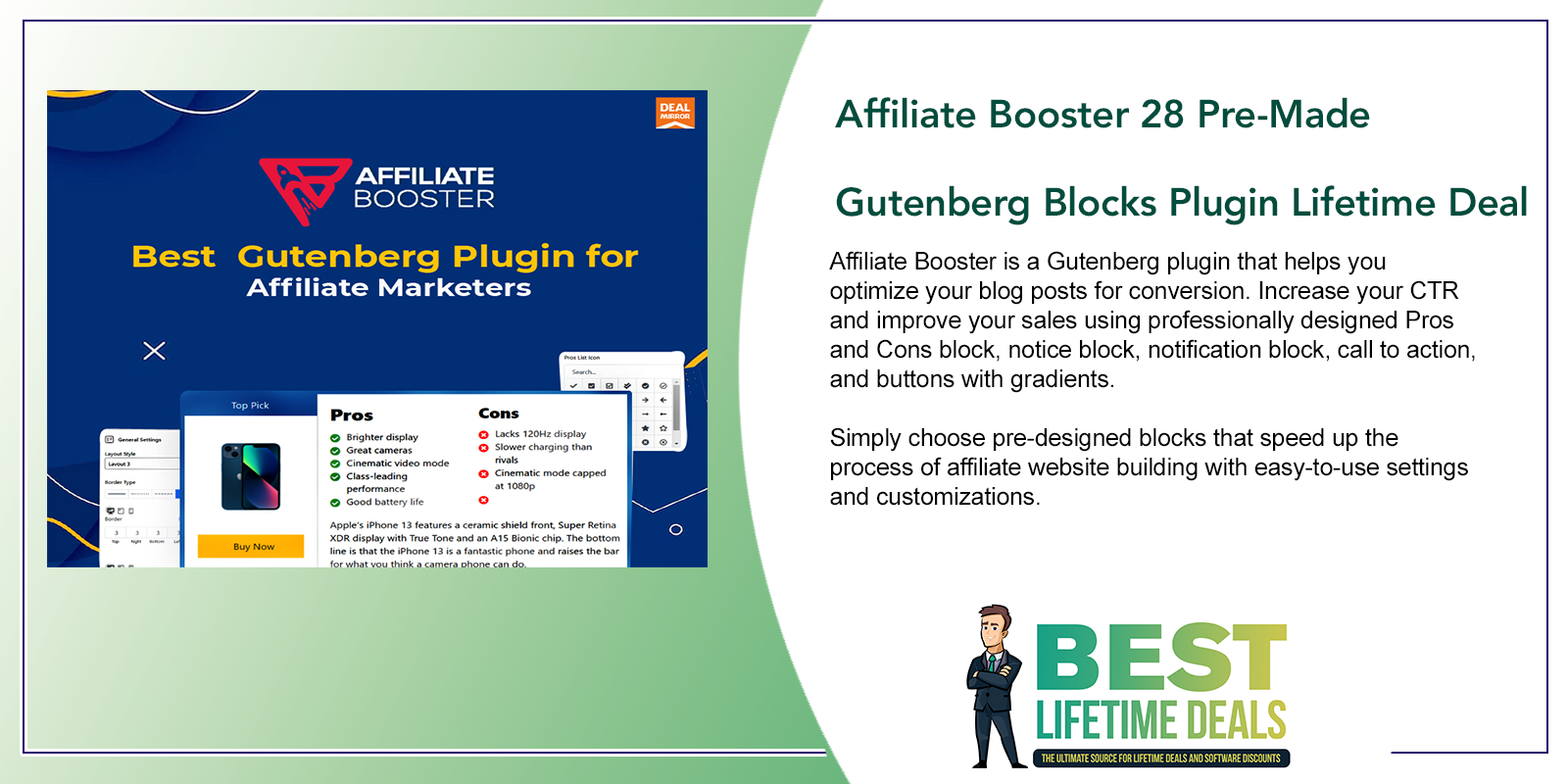 Choose Your Desired Option(s)

Affiliate Booster 28 Pre-Made Gutenberg Plugin Lifetime Deal
Quick Overview
28 Pre-Made Gutenberg Blocks to create stunning designs with ease.
Boost your CTR and increase your affiliate sales using Gutenberg Blocks.
Reach more people by creating mobile and tablet ready websites.
Best for bloggers, content creators and specially for affiliate marketers.
Affiliate Booster Lifetime Deal
At the time, there were many other options available in the market, like Elementor, Thrive, Divi, etc. but none of them were designed for affiliate marketers.
If you want to create awesome affiliate designs, you need to have an eye for what your audience is looking for. You have to use your creativity and start experimenting!
Meet Affiliate Booster Lifetime Deal
Monetize Your Affiliate Websites "Faster and Easier" without using Expensive and Heavy Page-Builders.
It includes 28 Pre-Made Gutenberg Blocks to create stunning designs with ease.
Affiliate Booster is a Gutenberg plugin that helps you optimize your blog posts for conversion. Increase your CTR and improve your sales using professionally designed Pros and Cons block, notice block, notification block, call to action, and buttons with gradients.
Simply choose pre-designed blocks that speed up the process of affiliate website building with easy-to-use settings and customizations.
The AffiliateBooster Blocks takes the hassle out of affiliate website building. It gives you a number of unique and creative blocks for Gutenberg that help you build and design pages or posts without a single line of code.
Affiliate Booster is a powerful plugin that offers 28 pre-made Gutenberg blocks to help you create stunning and effective affiliate marketing content on your website. With this plugin, you can easily create product reviews, comparison tables, call-to-action buttons, and more, helping you increase your affiliate sales and revenue. Here are some ways that Affiliate Booster can help you:
Easy to use: Affiliate Booster is designed to be user-friendly, even for beginners. With its intuitive drag-and-drop interface, you can easily create stunning affiliate marketing content in minutes. This saves you time and effort, allowing you to focus on promoting your affiliate products and driving more sales.
Professional design: The pre-made Gutenberg blocks in Affiliate Booster are professionally designed to grab your visitors' attention and encourage them to click on your affiliate links. This increases the chances of converting your visitors into buyers, boosting your affiliate sales and revenue.
Customizable: Affiliate Booster offers a wide range of customization options, allowing you to customize the pre-made Gutenberg blocks to match your website's design and branding. This helps you create a cohesive and professional-looking website, which helps build trust and credibility with your visitors, increasing your sales and revenue.
SEO-friendly: Affiliate Booster is designed with SEO in mind, ensuring that your affiliate marketing content is optimized for search engines. This helps your website rank higher in search engine results pages, increasing your visibility and driving more organic traffic to your website, resulting in increased sales and revenue.
By investing in Affiliate Booster 28 Pre-Made Gutenberg Blocks Plugin Lifetime Deal, you can take advantage of all these features and more. With a lifetime subscription, you can use this powerful plugin on unlimited websites, helping you create stunning affiliate marketing content that drives more sales and revenue. So why wait? Try Affiliate Booster today and start boosting your affiliate sales!
Webinar with Kulwant Nagi from Affiliate booster
Demo Video
A Plugin Well-designed by a Seasoned Affiliate Marketer

Affiliate Booster is a featured rich plugin having all the required features in one place. Get rid of multiple plugins from your blog and install just one.
Ready-Made Designs: More than 28 ready-made designs to save your precious time. Now focus on content rather than designs.
User-Friendly Controls: Multiple editing options to make these blocks meet all your personal preferences and choices.
Blocks for your every need: Use these blocks to promote services, products, software, or anything. These blocks can be used for multi-purpose.
Tablet & Mobile Friendly: Reach more people by creating mobile and tablet-ready websites without any additional effort.
No Coding Required: Build pages just like a professional without needing to write a single line of code.
Fully Customizable Blocks: Quickly align every single block to your design ideas with options for typography, image settings, icons and colors, and more.
Add Stunning Design to Your Blog Posts in Seconds
Get access to more than 28 pre-made designs to make your affiliate articles more trustworthy. Boost your CTR, improve the user experience, and enjoy more sales.
These blocks are created with the default Gutenberg editor so NO need to install any heavy page builders to have a professional design.
Powerful Editing Features to Meet the Look and Feel of Your Blog
Edit the design, color, padding, margin, button colors, and so many other things to match the block design as per your needs. Powerful editing options make this plugin extremely easy to use even if you are a complete newbie.
Responsive Gutenberg Blocks for Better Experience on All Devices
Give an awesome experience on Desktop, Tablet, and Laptop so you don't miss even a single sale. Make Google happy with your responsive designs and capture more sales.
Get More Affiliate Clicks (From the Same Amount of Traffic)
AffiliateBooster has been shown to improve the shopping experience for your website visitors and increase the clicks to Amazon – 28 pre-made blocks help you to add stunning designs and add beautiful Call to Actions blocks which increase your CTR and ultimately sales.
Create your Affiliate Website, faster than ever before.
Use the default WordPress Editor for/to:
Create Compelling Affiliate Designs faster.
Create and use content quickly with prebuilt and custom content sections and full-page layouts.
Enhance the Gutenberg editor.
Additional content blocks and the layout selector make it easy to get the most value out of the block-based editor.
Control brand & messaging.
Share your own custom library of templates and ensure they stay on-brand with editing permissions.
Made for Beginners & Professionals.
Confidently create professional-looking websites with our ready-made designs and intuitive page-building tools.

All 28+ Blocks included:
Dynamic Block
Title Block
Advanced Coupons
Products Column
Coupons Box
Coupons Box 2
Progress Bar
Conclusion
Product Table 1
Product Table 2
Product Table 3
Top Pick Specs
Pros & Cons
Comparison Table
Call to Action
Single Product
Notice Block
Button
Notification Block
Top Pick
Good-Bad Block
Table of Content
Star Rating
Icon List
Single Product Pros Cons
Single Product Specs
Key Points
Product Verdict
Product Summary
Coupon Grid Block (Coming Soon)
Pricing Block (Coming Soon)
Road-map:
We are continuously working on it to improve the functionality and features.
Plan Details:
3 Site
Comparison Table/Block: Add a stunning comparison table to compare products.
Top Picked Block: Showcase your best products.
Good Bad Block: Compare the products in the same block.
Notice Block: Create special notices in your articles.
Call to Action Block: Ask your reader to click.
Table of Content Block: Inbuilt TOC with customization.
Coupon Block: 3 different coupon blocks.
Star Rating Block: Add a star rating anywhere in any product.
Button Block: Add stunning buttons with customization.
Conclusion Block: Add a conclusion at end of your blog post.
Progress Bar Block: Show features of the product as progress bars.
Single Product Block: Promote any product using this block.
Pros and Cons Block: Showcase the pros and cons of using this block.
Notification Block: Show notifications in blog posts.
List Items Block: Add customizable lists in posts.
Deal Terms:
Length of access: Lifetime
Redemption Deadline of coupon code: 60 Days from purchase.
Click Here to View The Affiliate Booster 28 Pre-Made Gutenberg Blocks Plugin Lifetime Deal For Yourself
You may also like