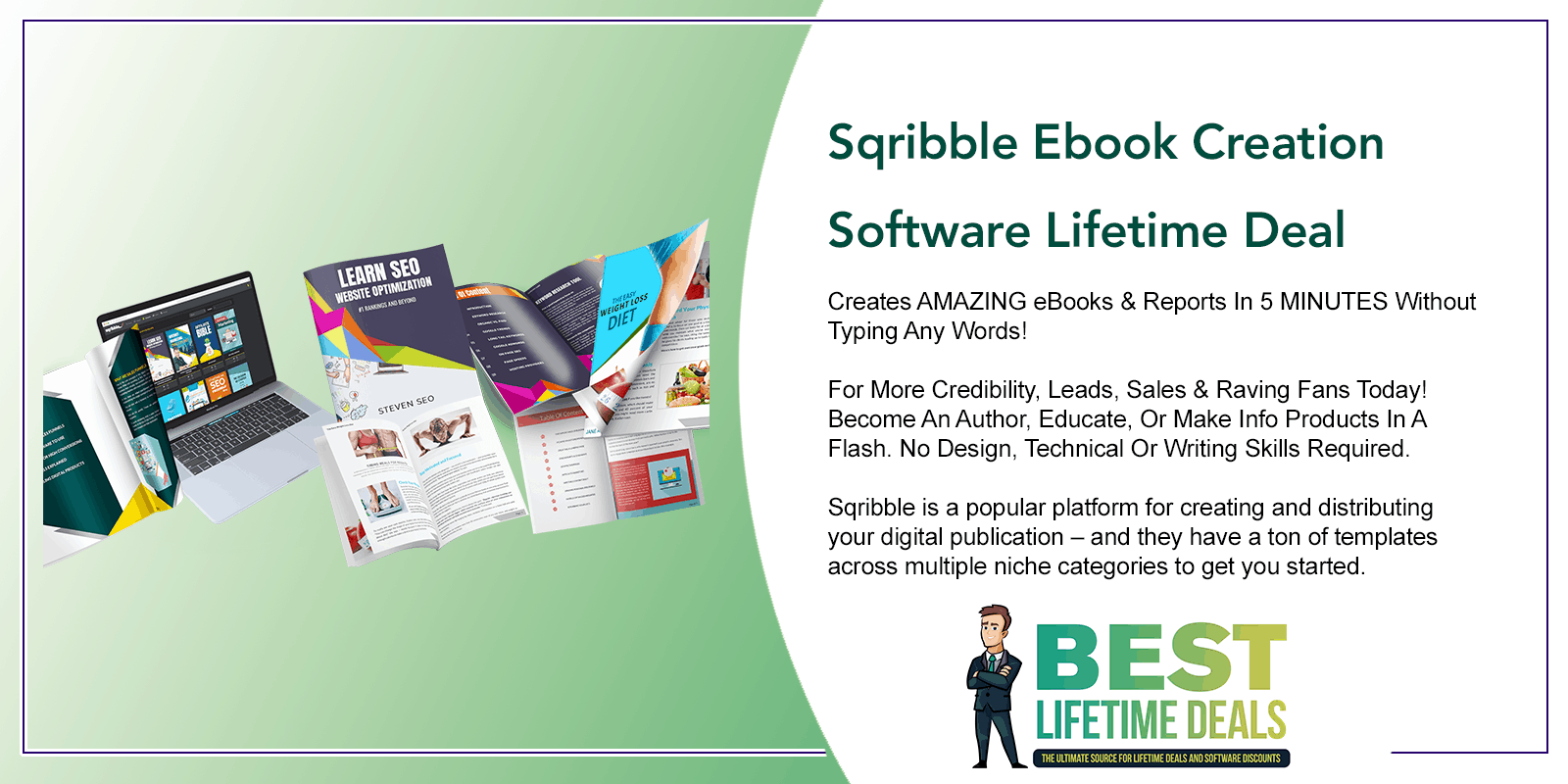 Sqribble Ebook Creation Software Lifetime Deal
Creates AMAZING eBooks & Reports In 5 MINUTES Without Typing Any Words!
For More Credibility, Leads, Sales & Raving Fans Today! Become An Author, Educate, Or Make Info Products In A Flash. No Design, Technical Or Writing Skills Required.
Sqribble is a popular platform for creating and distributing your digital publication – and they have a ton of templates across multiple niche categories to get you started.
Creating an eBook requires a lot of time, money and effort. There are many tools out there that allow you to create your own eBooks, but they all cost a lot of money.
Sqribble is a cloud based eBook creator tool. It allows you to create professional looking eBooks, based on templates inside the tool, with a few clicks, saving you a huge amount of time and money.
Unlike other eBook creators, Sqribble immediately caught my attention because it has some really useful features I haven't seen anywhere else.
Sqribble Ebook Creation Features:
Automatic content — yep, you can actually use Sqribble to fill your book with expert content, so you don't have to write a word. This is content from around the web, based on the URL you provide. You can pull content from any URL, paste it directly, extract from a Word doc or from their own library of niche articles. Total game changer.
This is a HUGE time saver and a major plus for anyone who hates writing or doesn't have time to do it.
Gorgeous eCovers — a lot of eBook tools might save time, but they turn out terrible eCovers for your books. Sqribble is different here. The covers are seriously impressive. They wouldn't look out of place on Kindle or Amazon, and they instantly look like you're a professional who commands trust and authority.
Create Flipbooks — this is one of my favorite things about Sqribble. You can turn your "flat" books into interactive flipbooks. This makes your digital book look and feel much more like a real book — with pages that turn (animated like a real book page turning) and make the book look like something you can reach out and grab.
Drag & Drop Technology —Simply click to drag and drop content on any page! Completely customize a page layout, without any coding or design skills.
Click Here to View The Sqribble Ebook Creation Software Lifetime Deal For Yourself
Incredible Sqribble Benefits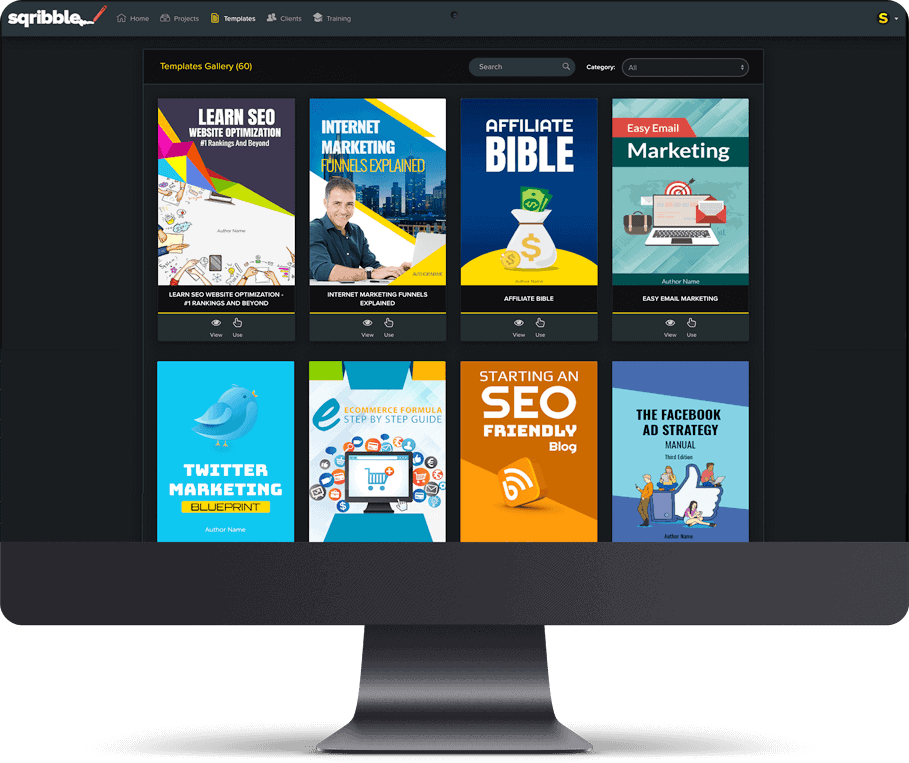 Easy To Use
Simple to use software with easy point and click technology.
Stunning Designs
50 templates to select from in 15 popular niche categories.
60 Second Creation
Create amazing ebooks, reports and whitepapers in minutes.
Instant Content
Skip writing anything with our automated content engine.
Commercial License
Sell designs as your own and keep 100% of the profits.
Agency Website
Includes portfolio to impress your potential clients with.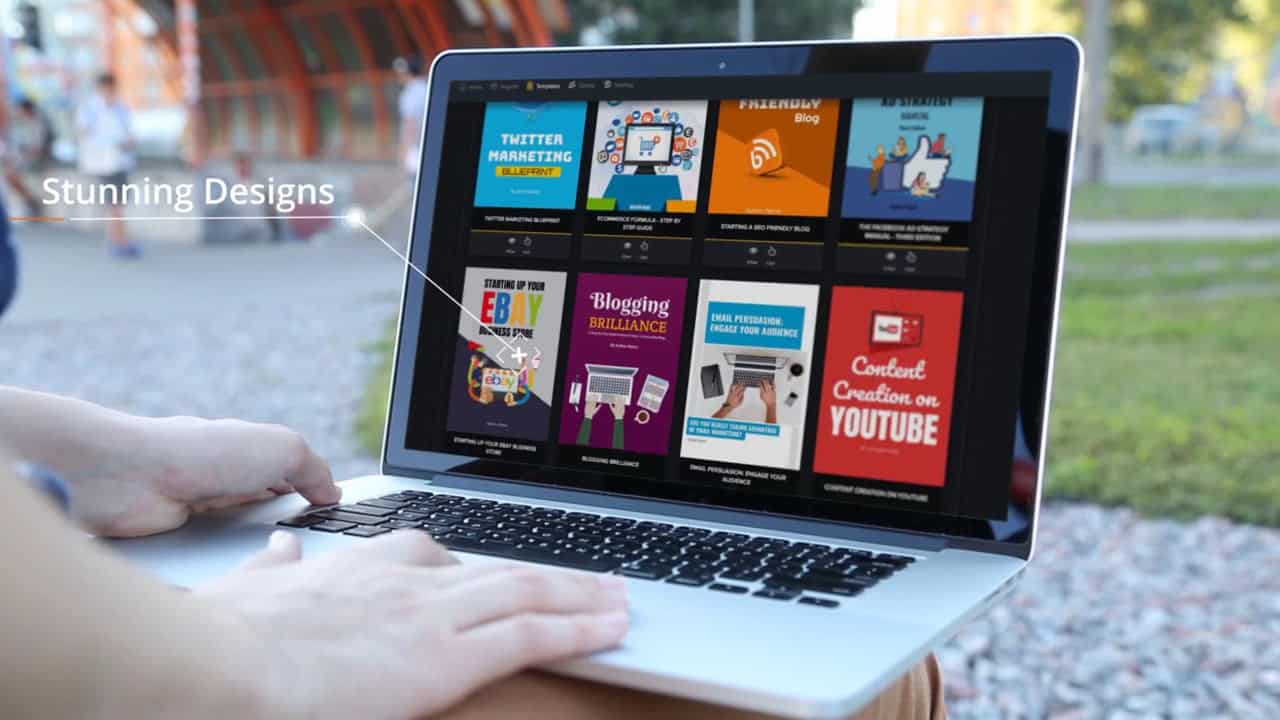 Instantly create stunning eBooks and reports, and fill it with awesome content at the push of a button!
Build my list by giving these reports away!
Increase sales by selling eBooks to my audience!
Engage readers like never before!
Avoid hours of writing and designing!
Save thousands on freelancers and complicated tools!
Save time, save money, get a kickstart on your content, and develop it all into a beautiful design… can't ask for more than that!
Click through and you'll find thousands of testimonials on how well the platform works. They already have over 30,000 users.
Don't miss out on your chance to get lifetime access to Sqribble Ebook Creation Software Lifetime Deal. This Sqribble Ebook Creation Software lifetime deal is available for a limited time only and will most likely be available in the future at a monthly cost.
Click Here to View The Sqribble Ebook Creation Software Lifetime Deal For Yourself
You may also like