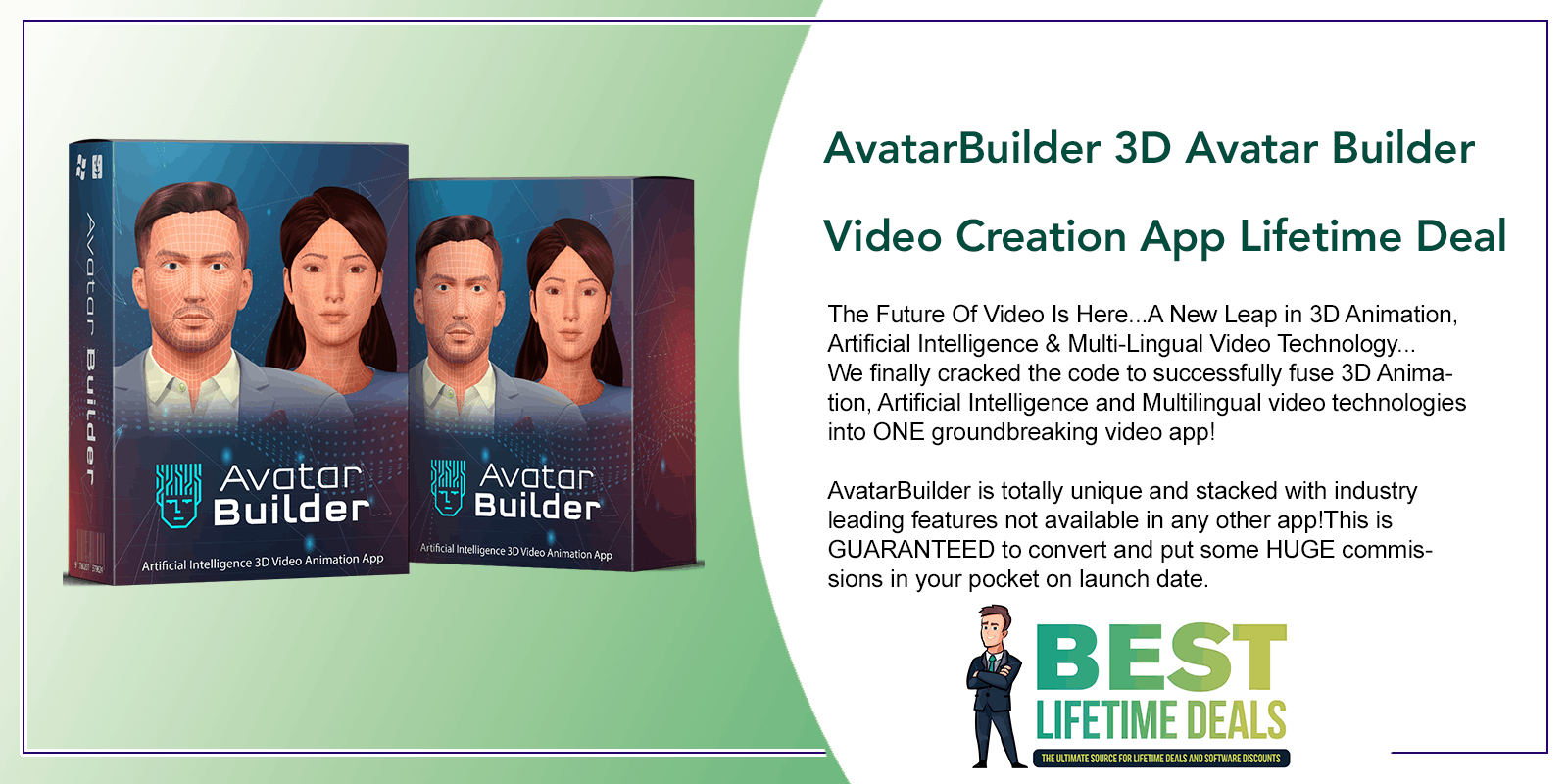 Choose Your Desired Option(s)
AvatarBuilder 3D Avatar Builder Video Creation App Commercial License Lifetime Deal
Leverage Cutting-Edge 3D Animation, Artificial Intelligence & Award Winning Multilingual Technologies To Create Spectacular Videos In Any Language In Minutes!
The Future Of Video Is Here…A New Leap in 3D Animation, Artificial Intelligence & Multi-Lingual Video Technology…
We finally cracked the code to successfully fuse 3D Animation, Artificial Intelligence and Multilingual video technologies into ONE groundbreaking video app!
AvatarBuilder is totally unique and stacked with industry leading features not available in any other app!
This is GUARANTEED to convert and put some HUGE commissions in your pocket on launch date.
In addition to all the first-t0-market features we are also giving away UNLIMITED lifetime access for a low one-time price!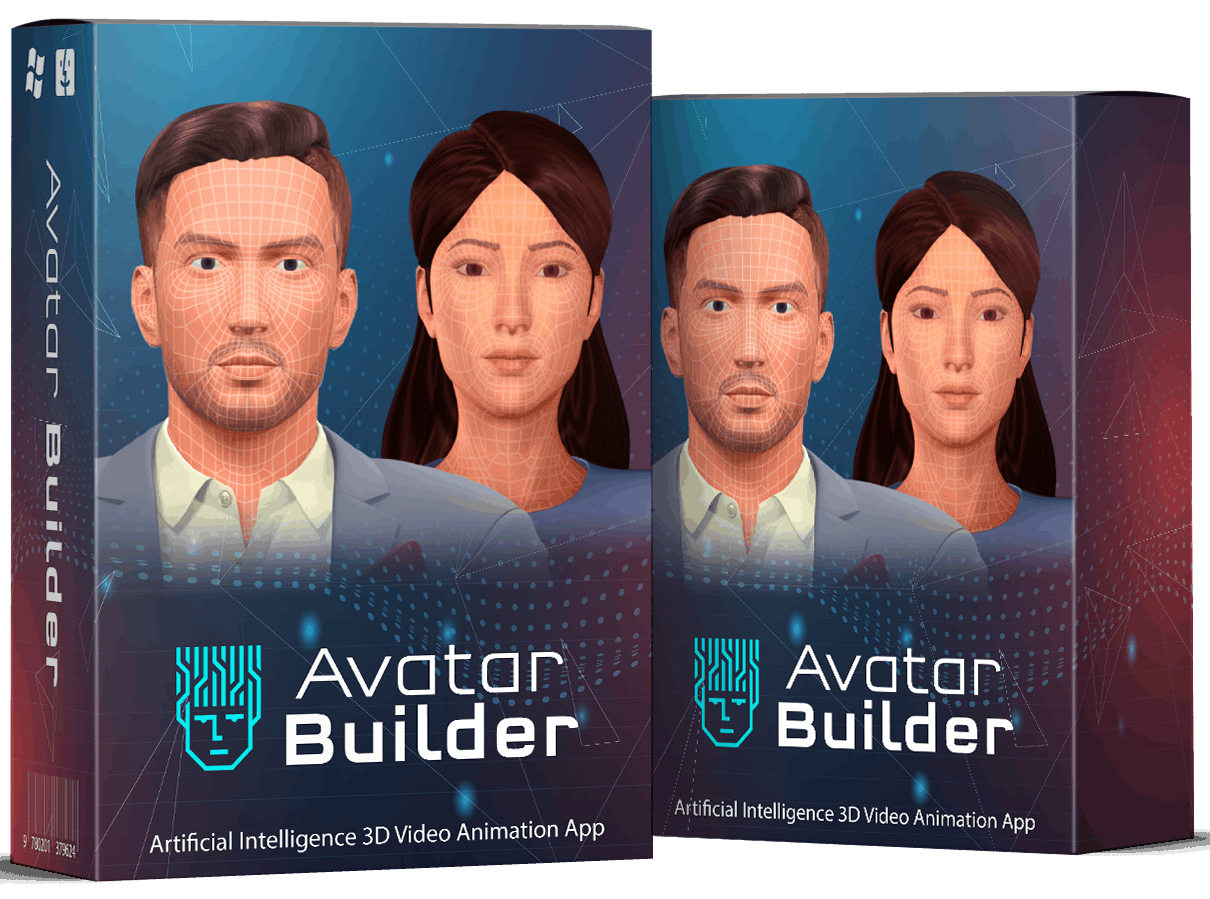 Click Here to View The AvatarBuilder 3D Avatar Builder Video Creation App Commercial License Lifetime Deal For Yourself
Never Been Done Before: World's First 3D Avatar Customization Technology…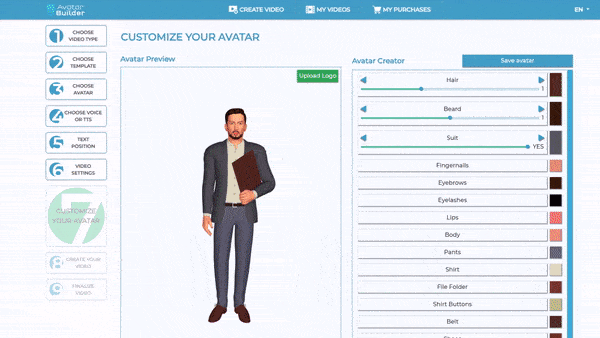 Custom-make your own 3D avatar for any marketing goal to convey your message to the masses and grow your brand in a fun and engaging way.
You have total control over the customization process. Change the colours and look of clothing, hair, skin, accessories and select from a wide variety of props like eyeglasses, shoes, watches, vests and more for unlimited design possibilities.
Build a perfect 3D avatar spokesperson for your brand to fascinate, entertain and get you incredible results!
Never Seen Before: Artificial Intelligence Smart Scene Creator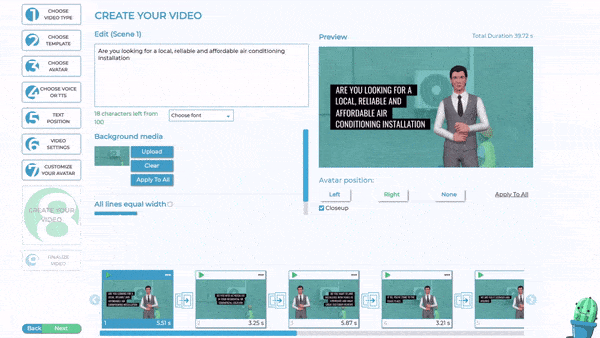 Automatically turn ANY text into a stunning video with machine learning AI. 
The AI automates HOURS of work for you…
Within seconds the Artificial Intelligence Engine…
* Converts your text into stunning video scenes with text effects/animations.
* Produces voice overs with our award-winning text-to-speech
* And builds a mesmerizing video in a flash.
No editing, design skills or technical experience needed.
Captivating Pixar & Disney Style Talking 3D Avatars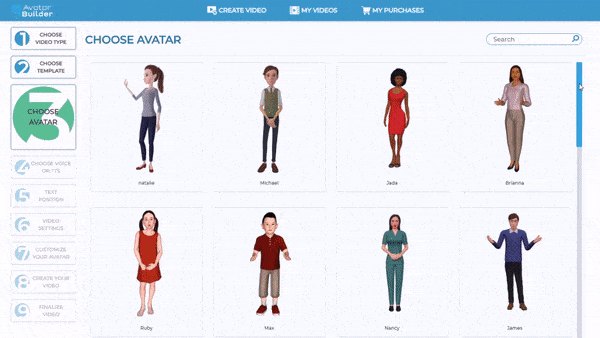 Choose from a wide variety of 3D avatar spokespersons representing different age groups, ethnicities, professions and backgrounds to deliver your message to the masses.
Avatars are simple, elegant and astonishingly captivating. They command attention and hold it till the end of the video!
Make a memorable, breathtaking impact on your audience without being on camera yourself.
Hundreds of Done-For-You Video Templates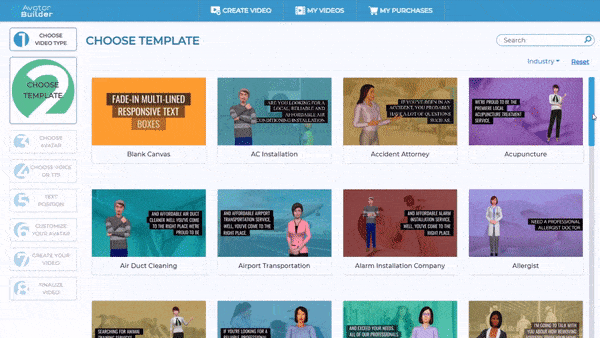 Remove the trial and error / grunt work out the equation. Save hours of time and create videos faster.
Three EASY steps to profit:
Step #1: Select a sizzling hot video template
Step #2: Customize
Step #3: Profit.
Personalize the templates as you like with your own text effects, fonts, animations, watermarks, backgrounds and voiceovers for endless possibilities.
Sell to clients for top dollar with the included commercial license!
First to Market: Revolutionary Logo Mapping Technology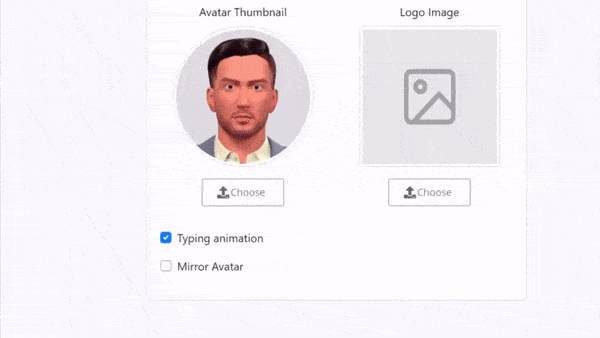 Brand the 3D avatars with your own logos to boost trust, credibility and sales!
Unlike other apps, the logo you upload becomes part of the avatar and flexes with the avatar's movements, for a more life-like effect than ever.
Nothing like this is available anywhere!
Industry Leading Multilingual Video Technologies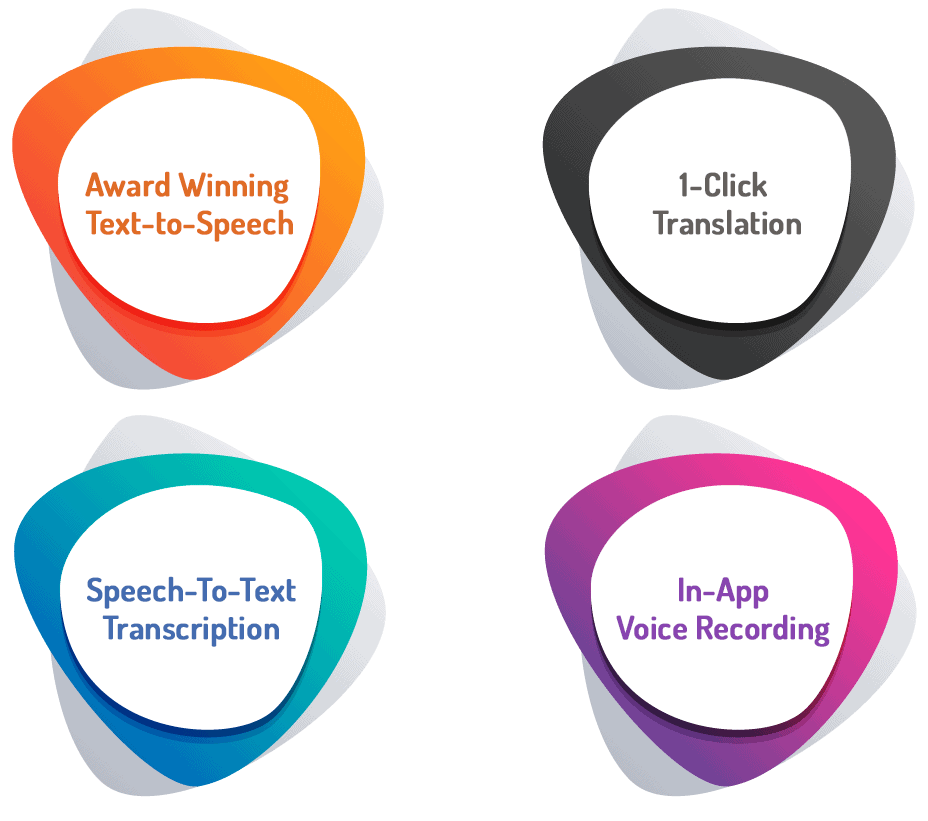 Create videos in ANY LANGUAGE with total ease!
Avatar Builder gives you UNLIMITED access to all the multilingual technologies to convert global audiences and reach 10x more customers!
With a single click you perfectly  lip-sync any voice with the 3D avatars and get them to speak in any languages!
Make your videos more engaging than ever and attract more customers without the need for expensive voice artists or language translation experts!
Click Here to View The AvatarBuilder 3D Avatar Builder Video Creation App Commercial License Lifetime Deal For Yourself
AvatarBuilder Features:
1. Disney Style Talking & Captivating Pixar 3D Avatars:
Easily to choose various 3d Avatar spokespersons to represent to convey your message to the masses in various ethnicities, age groups, professions and backgrounds.
It is simple to use elegant to work and amazing captivating power. They hold and grab the attention till finishing the video. It catches the audience's mind and makes a good impact without facing yourself in front of the camera.
2. Smart Scene Creator with Artificial Intelligence:
Do Not need to waste extra money! For editing voice over.
With the help of AI machine learning any text into a perfect video with voice over automatically. 
AI machines make your hours work … within seconds the Artificial Intelligence Engine ….
Main Features of it:
Creating any text into a perfect and stunning video scene with text animations/effects.
produces voice over like a human with the award-winning text to speech avatar software.
Builds an amazing video in a flash.
Do Not need any technical knowledge or previous experience, design, editing skills. It simply drags and drops work.
3. 100+ Video Templates:
Remove the tension of the trial and error for the editing software for video and wasting hours of time to make a simple video marketing or tutorial video.
Follow the Three simple to steps to profit:
Step #1: choose a template from 100+ ready make video template
Step #2: Customize according to your need
Step #3: And make Profit
Use the templates as you want with your own backgrounds, watermark, effects, fronts and voiceover for endless possibilities. Earn money by selling for clients using commercial licenses.
4. Unique Logo Mapping Technology:
Your band logo builds credibility, authenticity, and more sales with the 3D avatars.
Once you upload the logo it will become a part of the video and fix with the avatar's movements, it looks more lively when you become attracted to the avatar.
5. Multilingual Video Technology:
If you want to target various languages people this is the best software for you.
As it gives the options to create videos in ANY LANGUAGE just in the Click or like your eye blink.
Avatar builder gives the unlimited opportunity to convert different language audiences by using multilingual technologies. The benefits of the software are 10X targeted customers in a more enjoyable way.
You can make your work more interesting and engaging for the customers to get more sales without thinking too much of voice over. As it has auto voice articles or language translation experts.
6. Fully Drag & Drop Software:
You don't need to be an expert to use this software or need any help from others or watch tutorials for hours and hours to learn this software and then use it.
It is simple work just drag and drop work. There is no complex work to do. It was made by thinking for the entrepreneurs who love to make videos in a simple way but it will be more engaging and amazing.
7. Quality Text To Speech Engine:
Don't be tense, as it is using text – to – speech voice. You can watch a demo video where you could not understand it is a human voice or an auto voice.
It is an AI advanced technology. Avatar made all your hard work easy. You don't have to think about voice over person, video editor for your commercial or personal work.
It will reduce your extra pain and you can focus more on your other projects as well.
8. Millions Of Royality Free Assets:
With avatar builders, you will be pain-free tension-free once you buy it. You may ask why?
As it has and gives you a huge gallery of templates and graphics which make your video more advanced and easy to make.
All the assets are fully copywriting free you can use and reuse anywhere you like.
9. 30 Days Money Back Guarantee:
Are you thinking yet! IF YES! Then see the condition. It is a 30 days money-back guarantee. If you don't like it then you can take back your money before 30 days.
Vendor confidence shows how they have made their way and how much they invest in it. That's why they give you the 30 days money back condition. So, don't waste just thinking, buy it, enjoy it if you don't' like then take your back again.
10. Supportive Customer Support:
For me, one of the best concert parts is customer support. If it is not good I will not take this product. For this product, they have made storage which is well – aware of their software.
The support team is always there for you to help if you face any problem in any condition with the software.
So, without any hesitation, you can purchase an avatar for your business video making or others as well.
11. Commercial License:
Don't worry, YES! Avatar Builder comes with the commercial license at the 1-time price which means you have the opportunity to create multiple videos for yourself or you can take this software for serving purposes for your clients.
After reading all features you have to understand what this software can or cannot but for your better knowledge, I will like to show some reviews that are made by the customer of this software.
Frequently Asked Questions
Is there a money back Guarantee? Answer: YES! There is a 100% money-back ensure, if you are not satisfied with the product then contact support at support@avatarbuilder.com without asking any question you will get your money.
What makes AvatarBulder different from the other App? AvatarBuilder is the world's best 3D visual avatar builder with AI smart scene creator and Industry-leading multilingual and video technologies which is not available anywhere!
Does it Include Unlimited Video Renders? YES! Of Course! You can create as many videos as you need or want to by using AvatarBuilder. Unlimited language translation and text-to-speech are also included.
Is it a ONE-TIME payment or Monthly? No worries! It is a one-time payment system. After buying it you don't need to give payment again.
Is Step-by-Step Video Training Included? YES! They will walk you through every step so that you can create multiple videos according to your needs.
Can I Sell Videos I Create? Answer: Definitely, you can freelance by using this software/app. You can give service animation videos for various companies or persons.
Can I upload my own Images & Media? YES! There is no boundary to upload images and media files to modify your videos to make them more attractive so that people will love to engage with your video.
Can I Create Long Videos & Presentations? Why Not! YES! They know long videos work better on youtube and other video marketing platforms. So, without any hesitation, you can make your presentation and long from the video as well.
Does AvatarBuilder Support My Language? AvatarBuilde supports most of the languages and mixes them perfectly with the avatar so that it won't mismatch with your audio voice. So, the answer is YES! AvatarBuilder supports your language.
Don't miss out on your chance to secure access to AvatarBuilder 3D Avatar Builder Video Creation App Commercial License Lifetime Deal at a one-time fee for lifetime access! Click the button below to check it out.
Click Here to View The AvatarBuilder 3D Avatar Builder Video Creation App Commercial License Lifetime Deal For Yourself
You may also like