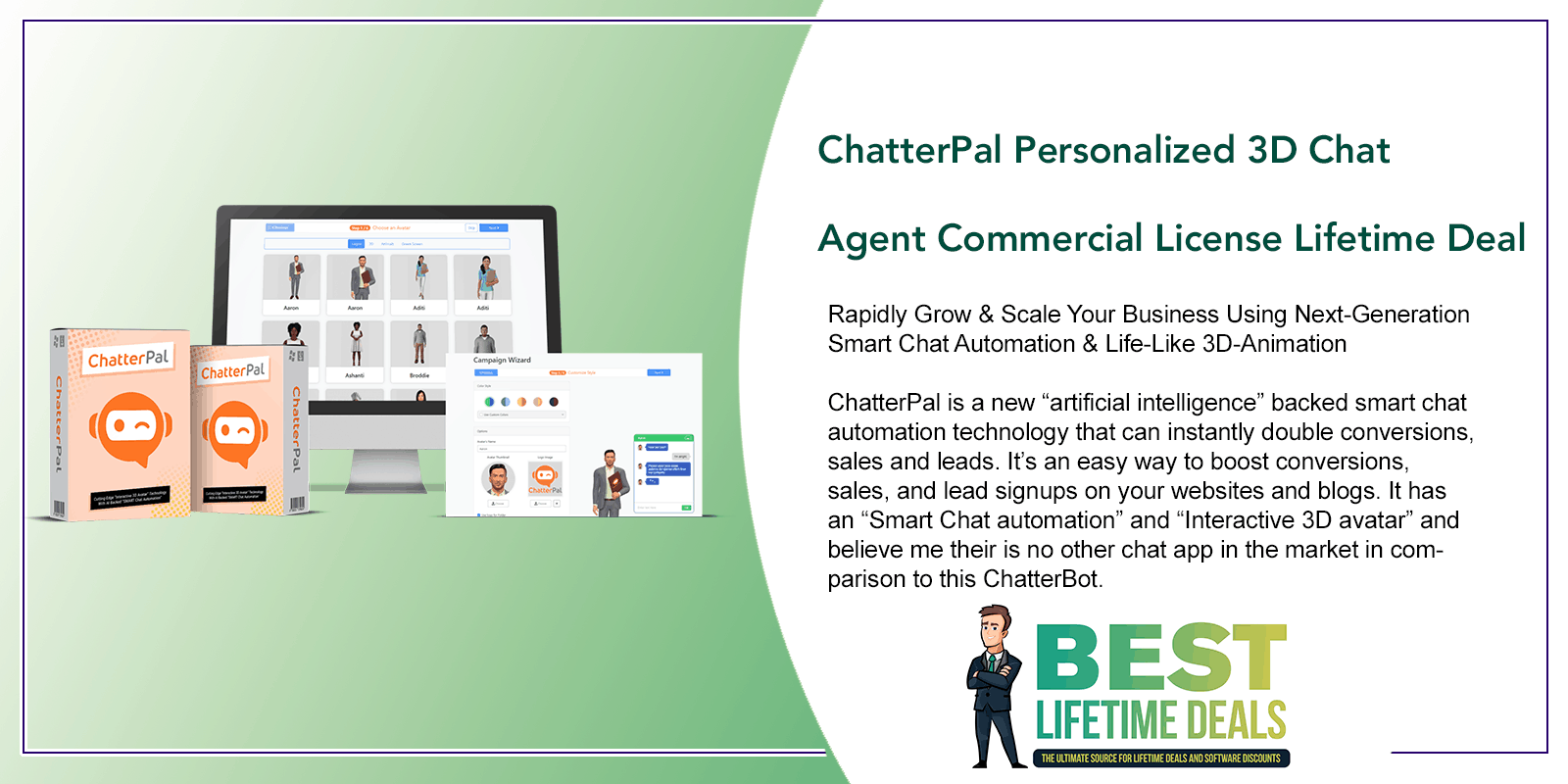 Choose Your Desired Option(s)
ChatterPal Personalized 3D Chat Agent Commercial License Lifetime Deal
Rapidly Grow & Scale Your Business Using Next-Generation Smart Chat Automation & Life-Like 3D-Animation
ChatterPal is a new "artificial intelligence" backed smart chat automation technology that can instantly double conversions, sales and leads. It's an easy way to boost conversions, sales, and lead signups on your websites and blogs. It has an "Smart Chat automation" and "Interactive 3D avatar" and believe me their is no other chat app in the market in comparison to this ChatterBot.
You can add it to any website to instantly boost the sales and I think this is it's biggest advantage.
What You Will Get Inside:
Convert Ordinary Websites, Blogs & Funnels into SMART Sales Machines.
Engage And Captivate Attention With Interactive 3D Avatars & Award Winning Text-to-Speech.
Automate Leads and Sales Without Optin Forms or Landing Pages.
Create Unlimited ChatterPals For Yourself or Sell To Clients Using Commercial License!
ChatterPal: 4 Simple Steps To Earn More
STEP 1: Grab and keep your visitor's attention
STEP 2: Interact with your potential customer's and get their questions answered
STEP 3: Guide them into your sales funnel or store check out page
STEP 4: You are done, just flush and repeat it once again
Click Here to View The ChatterPal Personalized 3D Chat Agent Commercial License Lifetime Deal For Yourself
Chatterpal Features:
ONE CLICK LOGO MAPPING
With this first-to-market chat automation technology you can brand your 3D avatar chat agents with your company brand or logo. It moves with the avatar's movements, to create a more human-like effect like never before!
INSTANT LANGUAGE TRANSLATION
With this incredible software, you can translate any chat flow into any language with
just a click. It is perfect for setting up custom-tailored chat agents for individual countries/languages and builds a strong bond with your targeted customers.
NEXT GENERATION TEXT-TO-SPEECH TECHNOLOGY
ChatterPal Commercial supports over 55 human-like voices in 25 languages. This software
works on the same cutting-edge voice technology that powers
Amazon Alexa and Google Home.
SMART ANALYTICS ENGINE
This incredible software works with the power of AI technology and delivers you the real-time feedback. The chat system works on full automation and adjust the chat flow to improve results and provides you a full report on conversions, geo locations and full engagement time report.
REVOLUTIONARY LIVE LINK TECHNOLOGY
Here comes the secret guys! Now you can generate leads, sales and more conversions even if you don't own a website! It is very easy to place a ChatterPal Agent on any website and get leads, subscribers and revenue from their content.
HUMAN LIKE 3D ANIMATED AVATAR CHARACTERS
ChatterPal helps you to create realistic male,female and and even animal avatars that you can use to interact with your visitors with Text-to-speech technology or any voiceover. Save your dollars and create 3D avatars to support your customers and build CRM.
READY MADE CHAT FLOW TEMPLATES
ChatterPal Commercial offers you pre-made chat flow templates which is fully customizable to create standard or advanced chat interactions quickly and easily. You can use these templates to set up chat flows to add subscribers to your list, book appointments, offer discounts/incentives on your ecom store and much more.
PERSONALIZED 3D CHAT AGENT
With this out of the box technology, you can set a fully personalized chat agent which suits your brand. This real time agent or human-like avatar will be available for 24/7 customer support and engage with a real time conversation for your potential customers.
COLLECTION OF ATTENTION GRABBING EMOTICONS
There includes a collection of attention grabbing funny emojis that you can use to grab attention of your visitors and utilize them in chat flows. Great way to drive more leads!
CONVERTS GREEN SCREEN VIDEO INTO HUMAN CHAT AGENT
With the all new 3D Avatar chat automation system, you can easily import human spokes person video and turn it into an engaging ChatterPal with transparent background with just one-click!
UNLIMITED CLOUD HOSTING
Now it is very easy to place unlimited ChatterPals in Google's Cloud Network that serves unlimited traffic and delivers faster sales like never before.
UNLIMITED SITE LICENSE
There is limitless possibilities with ChatterPal Commercial. You can add ChatterPals to unlimited websites and generate tons of revenue from their content! Play smart guys!
FREE COMMERCIAL LICENSE
Using this game changing software you can sell chat services to ecommerce, website, and local business owners to maximize revenues and conversions.

Click Here to View The ChatterPal Personalized 3D Chat Agent Commercial License Lifetime Deal For Yourself
What Chatterpal Can Do For You
Help guide them to what they're looking for on your store, and then through the buying process to complete the sale.
If your customers stop during the checkout process for any reason, your chat agent can instantly check in to see if they have any questions or need more information, etc. – reducing cart abandonments.
You can also offer personalized instant discounts to potential buyers to get them "off the fence" to complete a valuable sale, and so much more And of course, you can easily build a subscriber list from visitors who are just browsing your store, so you can get them back later via email.
you can use ChatterPal to invite visitors to make a reservation, order for delivery/takeout or even book a large party.
The possibilities are simply endless. small business – support. Affiliate or social media marketer.
With our Live-link technology, you can use ChatterPal to showcase cool content on other websites for your benefit.
Get more conversions faster, so you can increase sales and revenue – with less advertising/retargeting expense.
Use ChatterPal to interact with your sales page visitors. Ask questions, then guide your casual visitors through the process of completing the purchase.
You can also offer them an incentive to get them on your list. So you can follow-up later with emails to close the sale and/or promote other related offers.
You get a commercial license, you can offer ChatterPal as a premium service to your business clients for a recurring monthly fee.
Use ChatterPal to offer cool discounts, promote timely specials, offer bonuses, and more to your visitors and customers.
Use ChatterPal to automatically take appointments via your website saving you and your staff work and time on the phone.
A cool collection of elements and attention-grabbing emoticons to use in your chat flows: Utilize fun emojis stir emotions and grab attention.
Convert Any Green Screen Video Into An Interactive Human Chat Agent: Import Any "green screen" or human spokesperson video and instantly turn it into an interactive ChatterPal with transparent background in minutes.
Unlimited cloud hosting: Deploy unlimited ChatterPals on Google's rock-solid cloud network that is ready to serve Unlimited traffic and deliver sales faster than ever before. There are zero compromises.
Chatterpal Frequently Asked Questions:
Does ChatterPal work On Mobile Phones? Yes. ChatterPal works on all computers, smart phones and smart devices (IOS and Android). This means the chat agents will improve your bottom line with little or no effort on your part.
You Say "Unlimited Usage" What's The Catch? There is no catch. You can use ChatterPal to create as many chat agents as you want, as often as you want, for any number of sites. Commercial License is included, so you care create chat agents for clients. No limits.Can I Use ChatterPal.
If I Don't Have A Website? Using ChatterPal live-link technology you can add ChatterPal to Any website including the ones you don't own. You can promote affiliate offers and add it to any website in seconds to leverage their content and profit.
What Makes ChatterPal Better Than Other Apps? ChatterPal comes loaded with industry leading features that are not available in any other app. This includes smart chat automation, interactive 3D avatars, award winning text-to-speech, one-click translation, logo mapping and a whole lot more. You get all this for a jaw dropping low one-time price that comes with Commercial License & Unlimited site license.
Is Step-By-Step Training Included? Yes – ChatterPal comes with step-by-step video training walking you through the entire process right from creating your ChatterPals to getting results. (yes, this also includes how to sell your ChatterPals for top dollar.
Don't miss out on your chance to secure access to ChatterPal Personalized 3D Chat Agent Commercial License Lifetime Deal at a one-time fee for lifetime access! Click the button below to check it out.
Click Here to View The ChatterPal Personalized 3D Chat Agent Commercial License Lifetime Deal For Yourself
You may also like