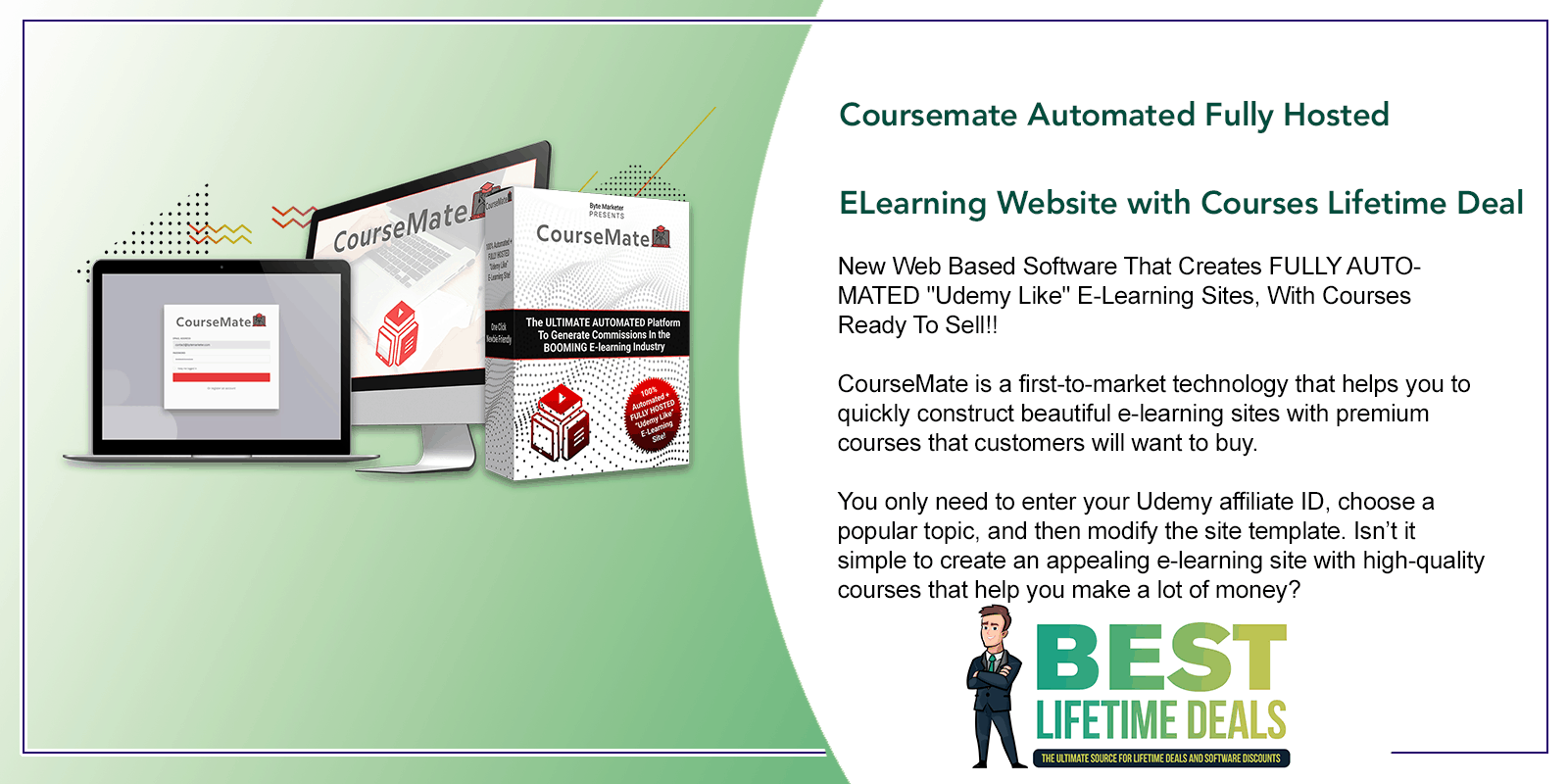 Choose Your Desired Option(s)
Coursemate Automated Fully Hosted ELearning Website with Courses Lifetime Deal

New Web Based Software That Creates FULLY AUTOMATED "Udemy Like" E-Learning Sites, With Courses Ready To Sell!!
CourseMate is a first-to-market technology that helps you to quickly construct beautiful e-learning sites with premium courses that customers will want to buy.
You only need to enter your Udemy affiliate ID, choose a popular topic, and then modify the site template. Isn't it simple to create an appealing e-learning site with high-quality courses that help you make a lot of money?
The technology also assists you in automatically creating attention-getting material. You won't have to waste any more time looking for building content. All of the blog posts were written specifically for you based on the latest news in your selected field.
The program uses an advanced engine to generate material, which is then double-checked for uniqueness. Your site will most likely appear in Google's top ranks as a result of these high-quality blog content.
CourseMate offers a user-friendly implementation approach in addition to these excellent features. Even if you have no prior experience or knowledge of website development, you can still set up your CourseMate sites and earn money with minimum work.

Click Here to View The Coursemate Automated Fully Hosted ELearning Website with Courses Lifetime Deal For Yourself
Here's how CourseMate works:
Step 1: Login to the web based software and choose a name for your site.
Step 2: Choose from any of 10 skill niches (all the niches are chosen by us to provide education on in demand skills for a changing economy)
Step 3: Click a button, that's it you are now done! You now have a full eLearning site, filled with great Udemy like e-courses about your chosen niche.
Here's a List Of Features For Coursemate
1 Click "Newbie Friendly" Setup
Literally all you need to do is enter your udemy affiliate ID, choose a niche, and click a button. You are now the proud owner of a totally automated "e-learning" site, filled with great quality coursesd from Coursemate, that will create content, get traffic AND MAKE YOU MONEY!
100% automatic site monetization as a Udemy affiliate
All you need to do is enter your Udemy affiliate id (don't worry if you don't have you one, signing up as an affiliate is free and easy) then your site is filled with great courses from Udemy all about your chosen niche, complete with previews, info and sample content. Any time your visitor purchases a course you get full credit for the sale.
Get more and more Udemy like courses added to your site each week!
Coursemate will AUTOMATICALLY add new Udemy like courses to your site each week, and if you want to there's even an option to add your own courses manually too.
Get daily high quality content for your site on total autopilot
You'll get high quality content posted to your site for you in a fully automated blog section all about your chosen niche. You'll never have to make a blog post again! All the content created for you will be all about the news from your chosen niche, complete with images, videos everything your visitors will love!
100% automated Google RANKING for TRAFFIC!
All the blog section content created for you by the software is spun with our in built spinning engine to be 100% original to Google so your sites will rank themselves on Google for automatic free search traffic!
Fully integrated with all major autoresponders so you can turn your site visitors into mailing list subscribers.
No manual work needed. It's the simplest software to use ever.
With Coursemate there is no complicated setup. No need to create an apps, no need to sign up for any other services, it really is as simple as entering your Udemy affiliate ID and clicking a button!
Once you click the button to setup your site, that's it you are done! The software will work for you every single day forever creating content, adding new Udemy courses each week, and getting you search traffic… all on 100% AUTOPILOT!
What Coursemate Can Do For You
Just 1 click to create a fully automated crypto affiliate site!
100% original content created and posted to your site every day!
50% LIFETIME COMMISSIONS From Coinbase and Binance
They Get PAID In Bitcoin!
Rank higher and higher on Google automatically EVERY DAY!
Earn their lifetime crypto affiliate commissions in Bitcoin!
CourseMate is 100% Newbie friendly. No complicated setup. Just ONE CLICK and it's all done!
Plus UNLIMITED Autoresponder fully integrated!
Coursemate Frequently Asked Questions
Do you offer support if I need help? Yes! They believe that top-notch support is key for a quality product and will do their very best to resolve any issues you encounter via their support page.
Do you have a refund policy? Yes! They offer a 30 days no questions asked refund, so you can invest today safe in the knowledge you can get your money back if you aren't 100% satisfied.
Do I get updates for the software? Yes! All updates are delivered automatically free of charge.
I have other pre-sales questions can you help? Yes! Contact their support page and they will be glad to answer any questions you have.
Don't miss out on your chance to secure access to Coursemate Automated Fully Hosted ELearning Website with Courses Lifetime Deal at a one-time fee for lifetime access! Click the button below to check it out.
Introducing Coursemate – the ultimate solution for creating and hosting your own eLearning website with courses, all in one place! Say goodbye to the hassle of setting up and managing your own eLearning platform, and let Coursemate do the work for you.
With Coursemate, you'll get an automated, fully hosted eLearning website that is ready to go right out of the box. No technical skills required – Coursemate takes care of all the heavy lifting, so you can focus on creating and selling your courses.
Coursemate offers a range of powerful features that make it easy for you to create and manage your courses. From course creation tools and customization options to student management and analytics, Coursemate has everything you need to create a professional eLearning experience for your students.
With Coursemate's lifetime deal, you'll get unlimited access to all the features and updates, with no monthly fees. That's right – a one-time payment for a lifetime of eLearning website hosting and course creation. It's an unbeatable value that provides a significant return on investment, saving you time and money in the long run.
What sets Coursemate apart is its user-friendly interface and intuitive design, making it easy for both beginners and experienced course creators to get started quickly. Plus, with Coursemate's fully hosted solution, you don't have to worry about managing servers, dealing with technical issues, or paying for expensive hosting fees – Coursemate takes care of it all for you.
Don't miss out on this incredible lifetime deal – invest in Coursemate now and create your own eLearning empire with ease! Get started today and unlock the full potential of your online courses with Coursemate.
Click Here to View The Coursemate Automated Fully Hosted ELearning Website with Courses Lifetime Deal For Yourself