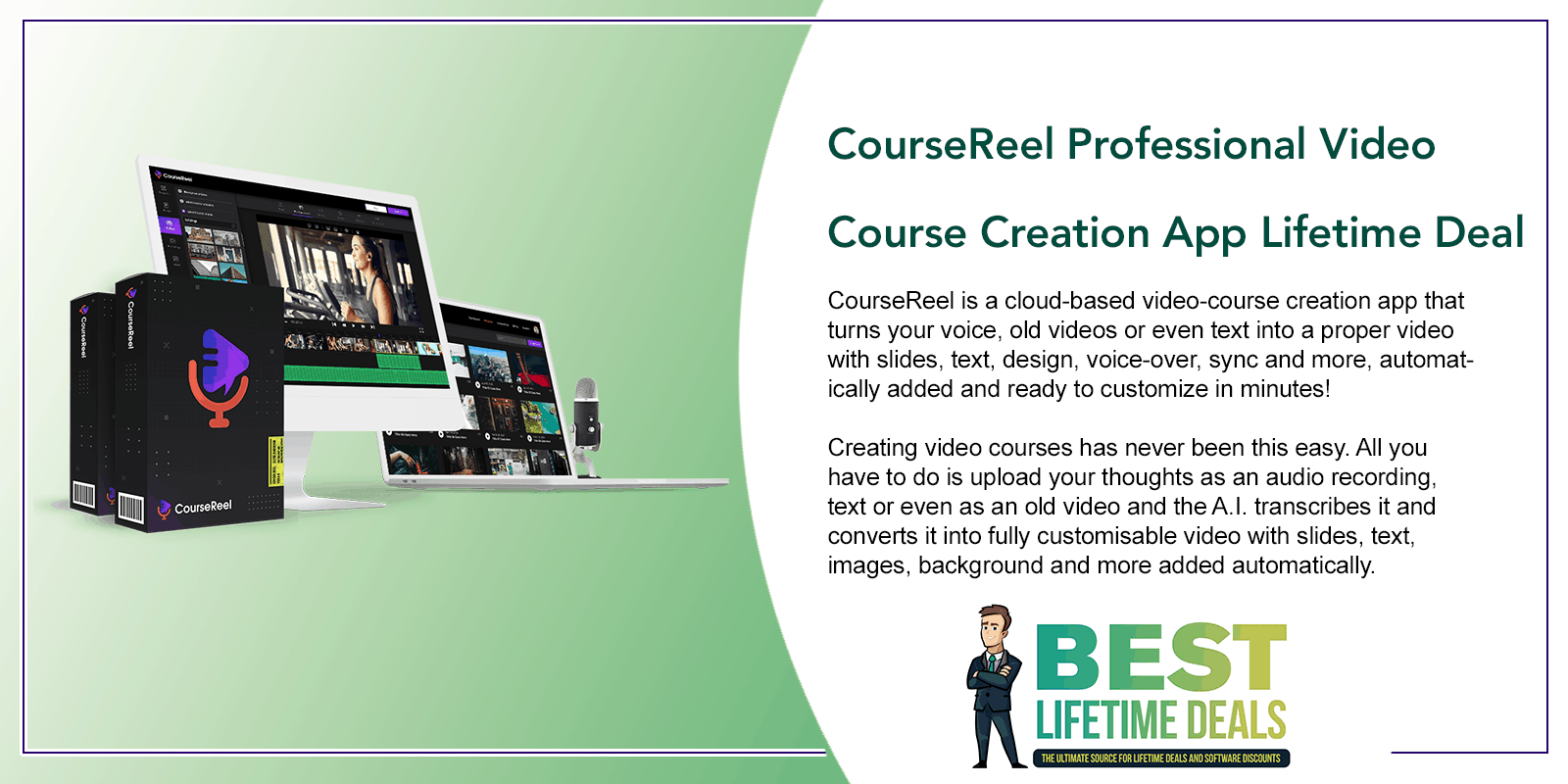 CourseReel Professional Video Course Creation App Lifetime Deal
in
Choose Your Desired Option(s)
CourseReel Professional Video Course Creation App Lifetime Deal
Create & Sell Video Courses Without "Recording" Videos Or Complex Editing!
Turn Your Voice Recordings, Old Videos Or Text Into A Video Courses Using Artificial Intelligence & Machine Learning.
CourseReel is a cloud-based video-course creation app that turns your voice, old videos or even text into a proper video with slides, text, design, voice-over, sync and more, automatically added and ready to customize in minutes!
Create a profitable video course without being an expert, using your own or others' content.
Creating video courses has never been this easy. All you have to do is upload your thoughts as an audio recording, text or even as an old video and the A.I. transcribes it and converts it into fully customisable video with slides, text, images, background and more added automatically.
Use our Camtasia-style timeline based video editor to easily customise and add that WOW-factor to your videos and instantly create and share your videos.
Click Here to View The CourseReel Professional Video Course Creation App Lifetime Deal For Yourself
Coursereel Features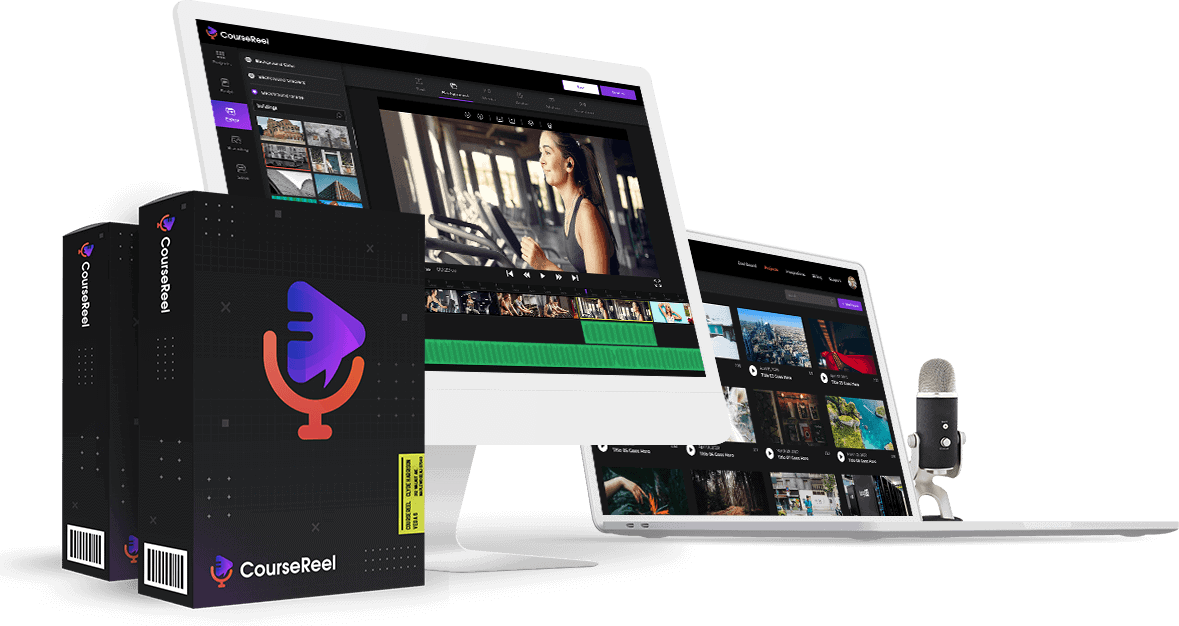 Great For Marketers, Coaches, Online and Offline Business Owners, Ecom, Affiliates, YouTubers, Social Media, and More!
Stack Your Profits By Creating In Demand Courses Quickly
Tap Into The Huge Billion Dollar E Learning Industry & Get Your Share!
Build Profitable Email Lists Fast By Offering Videos The Market Craves
Works By Adding Other Videos You Didn't Even Create Yourself!
No Fussing With Hard To Use Software. Newbie and Beginner Friendly.
Use This To Help You Generate A Ton of Leads and Sales
Limited Time Upgrades Included At No Extra Charge

It Truly Is A Breeze To Use CourseReel With Only A Few Simple Steps:
Step 1: Select a video or upload your own audio
Step 2: Make any changes to the slides CourseReel auto-creates from the audio
Step 3: Export your video to add to your course or upload to your favorite network.

What Coursereel Can Do For You
Creates True High Quality Videos: CourseReel delivers you true HD quality for every single video you create inside the app. This way your videos look crisp and amazing without your prospects having to squint at the screen!
Create 100 Videos A Week Without Any Hassle: when you see how easy it is to create videos and video courses, you'll be glad they give you this many video exports. And because you can create videos fast with CourseReel, you'll become a true video course creating machine in no time!
Record Your Audio Inside The App: It truly is a one stop shop when it comes to turning audio into video. That's why you won't have to fiddle about with any other audio software if you don't want to. It's as simple as clicking the record button in this software and letting CourseReel do the rest.
Upload A Video & Use It's Audio To Create New Video: Take any video you have access to and upload it to CourseReel. It will extract the audio and turn it into text so you can use it as a starting point for your own video courses and videos asap!
Upload Your Audio To Create Videos: Although you could record your audio inside this software, there's also an option to upload any audio files you may have as well.
Create Videos Up To 20 Minutes Long: Every single video you create with this can be 20 minutes max. When you add that to the 100 videos per week, you've 34 hour's worth of video time!
Dynamic Text To Speech Options In Different Voice Accents: By using the text to speech realistic voices included with this, you can create amazing videos quickly without uttering a single word.
Choose From Millions Of Images To Use In Slides: It also integrates with some of the best stock image sites online. This is perfect for adding a visual touch to any video.
Share Your Videos On Facebook: What good is the video you create if no one sees it? That's why they've also integrated the ability to syndicate any video you create in CourseReel to some of the most popular sites online.
CourseReel iPhone & Android App: With this app, you can take the power of CourseReel with you wherever you go.
200 Minutes Transcription Included: It allows you 200 minutes of transcription for all your videos on our lighting fast servers. This is more than enough for some.
Access To Image Library With 50,000+ Images: Besides the option to access multiple Stock Images sites, it also has over 50,000 images included in its personal library that are handpicked by the CourseReel team.
Access To Video Library With 10,000+ Video-clips: There are over 10,000 royalty free video clips included so you always know there's a video clip to go with just about any video you could ever create.
Access To Music Library With 1,000+ Background Music: It alsos include over ONE THOUSAND background music tracks with your purchase today.
Access To 100+ Fonts: It included 100+ fonts with this so your videos will always be able to stand out. Go ahead and switch up fonts on different slides and throughout your videos. Or better yet, mix them on one slide for a true dynamic engaging effect.
Click Here to View The CourseReel Professional Video Course Creation App Lifetime Deal For Yourself
Coursereel Frequently Asked Questions
Will this work on my current computer? Sure. Because there's no software to install on your part, you only need an internet connection. Login with the details they give you after your purchase and you can create videos easily without any hassle.
Is This Going To Be Hard To Use For Me? I'm Not Too Technical. Absolutely not. They've made sure to make using CourseReel as easy as pie. Even for the most technologically challenged person. However, to make sure you understand how everything works, they've also added top notch easy to follow along training in the members area.
Is There A Limit On The Amount of Videos I Can Create? The only limitation you'll have is if you don't use a Google API account. This limits your transcriptions to 200 minutes. But if you add a Google API account, which they'll show you how to do, you can create unlimited videos.
Will I Need To Purchase a Subscription? Currently you do not need to purchase a description. However, that could change after the special launch phase so it's best to sign up for your CourseReel account today. Especially since this is the lowest CourseReel will ever be.
Does It Take Long To Get Started? Not at all. You could log in today and have your very first videos ready to go in the same day. Just follow the training and you'll be creating amazing videos in absolutely no time.
What If I Need Additional Help or Need To Ask A Question Not Found Here? No problem. Just contact their support desk and they'll get back to you asap. Most support replies happen within 24-48 hours tops!
Don't miss out on your chance to secure access to CourseReel Professional Video Course Creation App Lifetime Deal at a one-time fee for lifetime access! Click the button below to check it out.
Click Here to View The CourseReel Professional Video Course Creation App Lifetime Deal For Yourself
You may also like