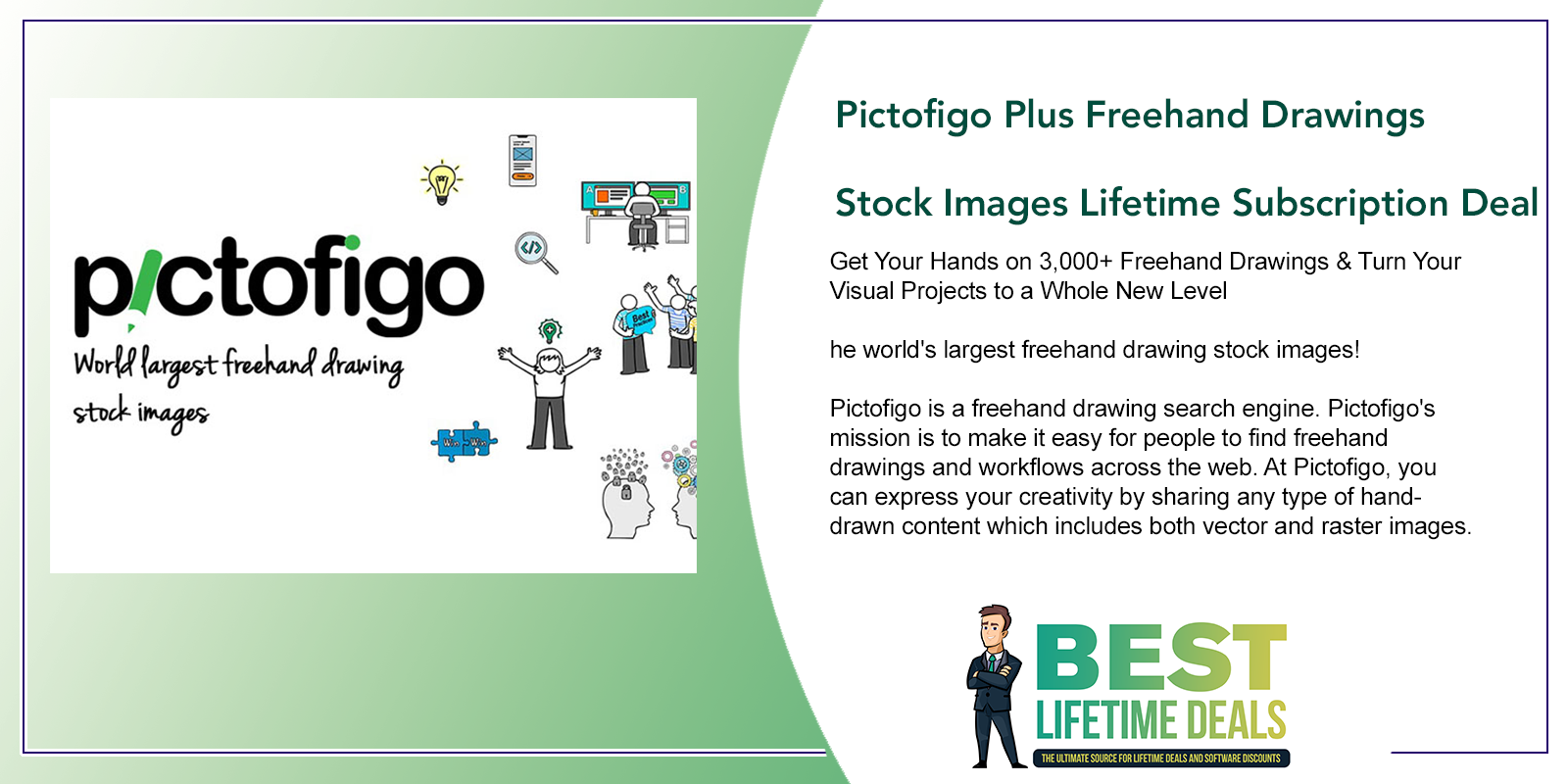 Choose Your Desired Option(s)

Pictofigo Plus Freehand Drawings Stock Images Lifetime Deal
Get Your Hands on 3,000+ Freehand Drawings & Turn Your Visual Projects to a Whole New Level with the Pictofigo Plus Freehand Drawings Stock Images Lifetime Deal.
The world's largest freehand drawing stock images! Pictofigo is a freehand drawing search engine. Pictofigo's mission is to make it easy for people to find freehand drawings and workflows across the web. At Pictofigo, you can express your creativity by sharing any type of handdrawn content which includes both vector and raster images with the Pictofigo Plus Freehand Drawings Stock Images Lifetime Deal.
How It Works
Select. Select the drawing from Gallery
Double Click. Double click on the image to open the editor window
Select Fill Color. Select the brand color to fill up the image
New Color. You can fill in a new color
Fill Color. Fill in as many colors as in as many areas
Background Color. Change the background color to make the image more creative
Pictofigo Plus
Drawings

3,000+ credits each year, for life (250 credits/month)
Choose from any of the 15,600+ images in Pictofigo
Edit Image
Edit drawing color
Upload image or logo
Add editable text

Users can stack up to 10 licenses
Get while-label access & the ability to add your own sub-accounts
System Requirements
Important Details
Length of access: lifetime
Redemption deadline: redeem your code within 30 days of purchase
Access options: desktop
Exclusions or Restrictions

The account is intended for you as an individual and the access data may not be passed on. If you would like access for your entire team, this is also possible, please contact us or purchase more codes
You can download a maximum of 250 images per month (250 credits)
These credits renew every month
The Pictofigo interface is in English
No refund can be granted once you've redeemed your code

Updates included
Have questions on how digital purchases work?
And More With The Pictofigo Plus Freehand Drawings Stock Images Lifetime Deal
Showcase the versatility of the product: Emphasize how Pictofigo Plus can be used in a variety of industries, from education to business, to help create engaging visuals that convey ideas and concepts effectively.
Highlight the quality of the product: Share some examples of the high-quality images and freehand drawings available in the library to demonstrate the value of the deal. Showcasing the uniqueness and variety of the images can also make potential customers feel like they are getting a lot of value for their money.
Use customer reviews and testimonials: Collecting customer reviews and testimonials can help build trust and credibility for the product, and give potential customers a sense of what to expect from Pictofigo Plus. Highlighting positive feedback from satisfied customers can help persuade potential customers to make a purchase.
Create engaging content: Utilize social media, blog posts, and email marketing to create engaging content that shows how Pictofigo Plus can benefit potential customers. Creating visuals that demonstrate how the product can be used and incorporating user-generated content can also be effective.
Offer limited-time deals: Creating a sense of urgency with limited-time deals can motivate potential customers to make a purchase. Consider offering a discount or bonus for a limited time period to encourage potential customers to act quickly.
Terms
Unredeemed licenses can be returned for store credit within 30 days of purchase. Once your license is redeemed, all sales are final.
Click Here to View The Pictofigo Plus Freehand Drawings Stock Images Lifetime Subscription Deal For Yourself
Image