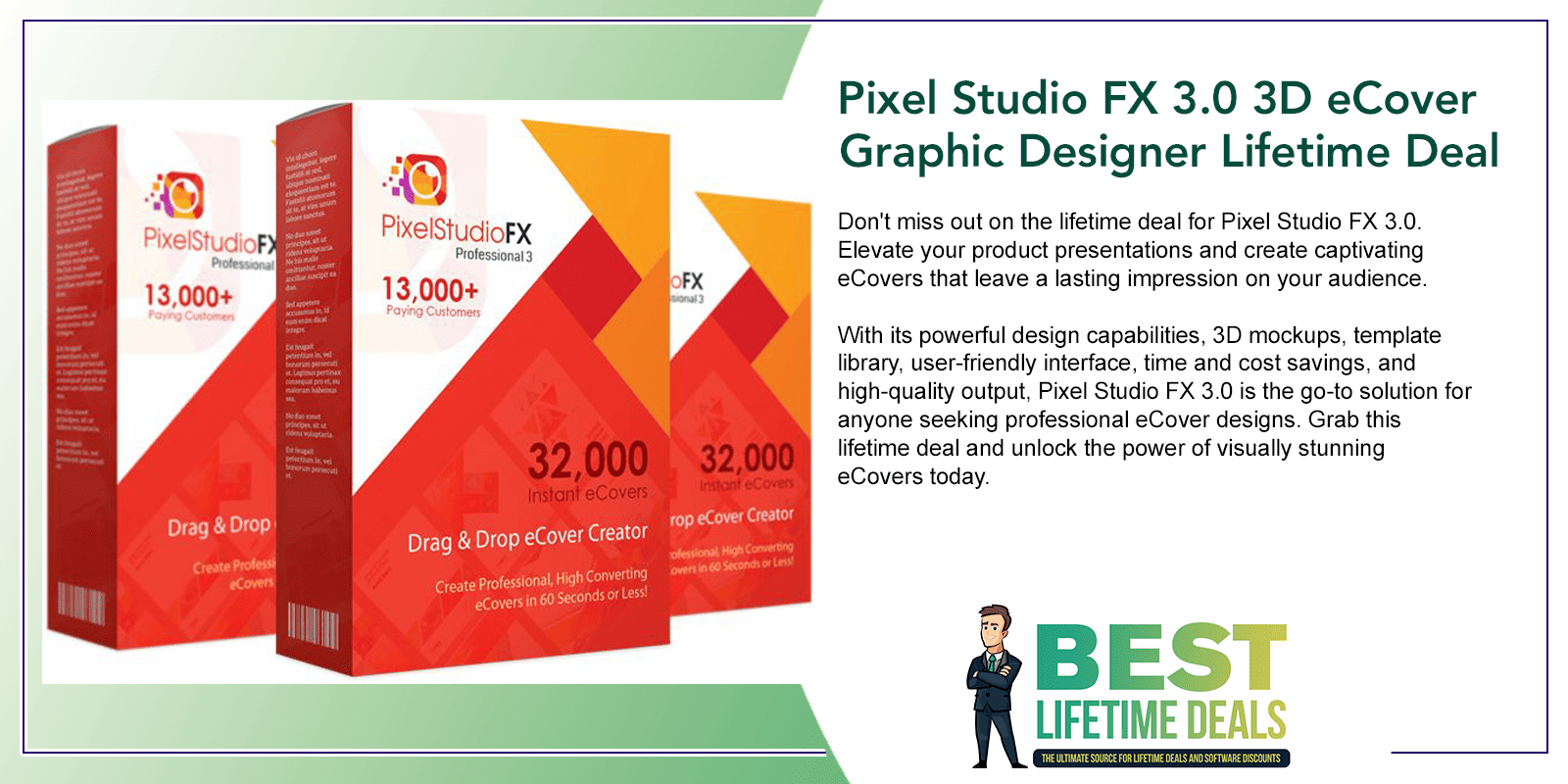 Choose Your Desired Option(s)
Pixel Studio FX 3.0 3D eCover Graphic Designer Lifetime Deal
Don't miss out on the lifetime deal for Pixel Studio FX 3.0. Elevate your product presentations and create captivating eCovers that leave a lasting impression on your audience. With its powerful design capabilities, 3D mockups, template library, user-friendly interface, time and cost savings, and high-quality output, Pixel Studio FX 3.0 is the go-to solution for anyone seeking professional eCover designs. Grab this lifetime deal and unlock the power of visually stunning eCovers today.
Introducing The Pixel Studio FX 3.0 3D eCover Graphic Designer Lifetime Deal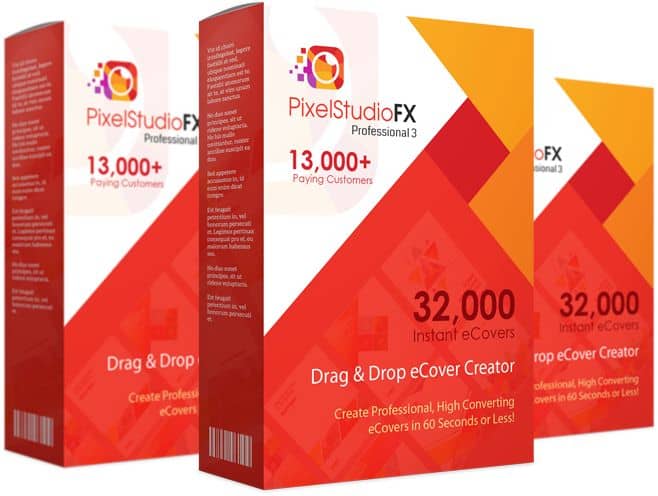 Are you in need of professional-looking 3D eCovers for your digital products, eBooks, software, or online courses? Look no further than Pixel Studio FX 3.0, the ultimate 3D eCover graphic design software that enables you to create stunning and high-quality eCovers with ease. With its lifetime deal offer, Pixel Studio FX 3.0 empowers entrepreneurs, marketers, and content creators to elevate their products and make a lasting impression on their audience.
Here are the key features and benefits of Pixel Studio FX 3.0:
Powerful eCover Design: Pixel Studio FX 3.0 provides a comprehensive set of tools and features to create visually striking eCovers. With its drag-and-drop interface, you can easily customize and design eCovers that reflect the essence of your product. Choose from a wide range of templates, backgrounds, fonts, and graphic elements to create unique and professional designs.
3D Mockups: Take your eCovers to the next level with realistic 3D mockups. Pixel Studio FX 3.0 offers a library of high-quality 3D models, allowing you to showcase your digital products in a captivating and lifelike manner. From books and software boxes to smartphones and tablets, you can find the perfect 3D mockup to enhance the visual appeal of your eCover.
Template Library: Pixel Studio FX 3.0 includes an extensive library of pre-designed templates that cover various niches and industries. Whether you're in the fitness, finance, or self-improvement space, you can find templates tailored to your specific needs. These templates serve as a great starting point and can be easily customized to match your brand and product requirements.
User-Friendly Interface: Creating eCovers should be a hassle-free process, and Pixel Studio FX 3.0 delivers on that front. Its intuitive interface makes it easy for both beginners and experienced designers to navigate and create stunning eCovers. You don't need any design experience or technical skills to get started and produce professional results.
Time and Cost Savings: With Pixel Studio FX 3.0, you can save both time and money. Instead of hiring a graphic designer or purchasing expensive design software, you can create high-quality eCovers yourself. The software streamlines the design process, allowing you to quickly generate multiple eCovers and iterate on designs without the need for external assistance.
High-Quality Output: Pixel Studio FX 3.0 ensures that your eCovers look pixel-perfect and visually appealing. The software utilizes advanced rendering technology to produce high-resolution graphics that are optimized for digital platforms. Your eCovers will stand out, attract attention, and effectively represent the value and quality of your digital products.
Here's What's Included Inside Pixel Studio
INCLUDED
5,326 eCover Templates To Choose From
We've more than doubled the available eCovers from Pixel Studio FX 2.0! To make sure that you never have a need for ANY type of eCover again, we've dug deep into our graphic resources and put together so many eCovers that it will make our head spin!
(press play)
INCLUDED
Professional High Quality HD Graphics
One thing you'll never have to worry about is fuzzy graphics that look horrible and that won't scale to larger sizes. Pixel Studio FX 3.0 takes care of all of that by making sure every single eCover you create is 100% pure razor sharp hd quality that will wows every single time.
INCLUDED
Every Possible eCover Scenario You'll Ever Need Is All Right Here!
Pixel Studio FX 3.0 isn't like any other eCover creator software out there. With their limited choices, how can you truly create any eCover that you need?
We've taken every scenario into account and loaded it into Pixel Studio FX 3.0. Want a software box? No problem. A nice graphical business card? Sure. Why not? Anything and everything you need is all right here.
INCLUDED
Countless High Quality Backgrounds
We understand that sometimes you want to add that extra something special to your eCovers. That being the case, we've included a ton of high quality hd backgrounds that you can use at your disposal.
It's as simple as searching, loading one up, arranging how you want and boom! Your eCover is ready to go!
INCLUDED
Robust Design Dashboard That's Completely Newbie Friendly!
One thing that's frustrating is when it takes a degree in rocket science just to figure out how to operate eCover software. (*cough, cough, I'm looking at you Photoshop…)
We know that not everyone has great graphic design skills and we've taken that into account when designing the Pixel Studio FX 3.0 dashboard. It's robust enough for the most hard core graphical designer, yet easy enough for the complete newbie to get started right away!
INCLUDED
Save Your Projects On The Fly…
Sometimes you get an idea and can't complete it at that very moment. You'll be pleased to know that you can one click save your projects right within Pixel Studio FX 3.0 in a heartbeat.
And once you're ready to pick it up again? Your project is right there waiting for you with open arms. Just click and open!
INCLUDED
Thousands of Clipart Images To Make Your Project Unique (Saving Your Thousands!)
One thing about creating your eCover is that you always want to stand out. Having access to every type of clipart helps to do just that.
But with Pixel Studio FX 3.0, you won't have to scurry about with tons of other websites. We've already included thousands of clipart images you can drag and drop into your eCover design right within the software!
Thus, saving you thousands of dollars and hundreds of hours in the long run!
INCLUDED
23 Different Categories To Choose From
If you're marketing in a specific niche, most likely Pixel Studio FX 3.0 has you already covered. With 23 different categories to choose from, you're sure to find exactly what you need to make your eCover stand out for your specific niche or market.
We've done the hard work already so you don't have to. You're welcome. 😉
INCLUDED
One Click Colorization To Make Any eCover Look Truly Unique
Got your eCover design right where you want it, but feel it's missing a little 'something?
Then use this one click option to swap through different colors for your already designed eCover to see which color you like best. It's as simple as one click and you can randomize your eCover's color scheme until your heart's content.
INCLUDED
Integrate & Connect With Popular Stock Media Sites
Listen, we all love sites like Pixabay right? But who wants to search on those stock sites, download what you THINK you need, only to repeat the process over and over while designing your eCover?
Pixel Studio FX 3.0 has a cure for that. Choose to integrate Pixabay, Shutterstock, Getty Images, or Icon Finder and use them right within Pixel Studio FX 3.0!
This will save you a ton of time and frustration and make creating your eCovers a lot faster!
INCLUDED
Easy Search Function To Find What You Need FAST!
We've built a search function right into Pixel Studio FX 3.0 so you can find just about anything you need incredibly fast. Want a book image from the included images in Pixel Studio FX 3.0? No problem.
Looking for arrows to make an item stand out for your eCover? We gotcha covered. Just open the module you want, enter your keyword, click search and the entire library of assets are at your fingertips.
INCLUDED
300 Unique Fonts To Make Your eCovers Stand Out and Grab Major Attention
Your titles on your eCovers are important. But what's even more important is HOW the titles look. We've included 300 fonts to help you get the look of your cover just right.
Mix and match fonts until your heart's content or find that one font that truly helps your eCover make a statement. Whatever you decide, Pixel Studio FX 3.0 can help deliver on.
INCLUDED
10X More Storage Space For Your eCovers Than Pixel Studio FX 2.0 (500mb!)
In our last edition of Pixel Studio FX 2.0, we gave users 50mb of space which was quite a bit for eCovers.
But in this version, we've 10X'd that amount to give you 500mb of space to store your eCovers! Everything will be safe on our secure servers.
All of your greatest eCover creations can all be in one place now ready to access when you so desire!
INCLUDED
Resize Your Workflow Easily
You'll also find in the Pixel Studio FX 3.0 dashboard, the ability to zoom in and out to make sure you have an eagle's eye view on the details of your eCovers while also being able to view your eCover from the 20,000ft view as well.
Just a few clicks and you can size your design space to your specifications.
INCLUDED
Grid Toggling To Get Your Alignment Perfect Every Single Time
If you're obsessed with getting the alignment right on certain elements of your eCover, you can turn on the one click grid option in either dark or light colored depending on the eCover you're working on.
Great for those of us that are a little…um…control freakish 😉
INCLUDED
Preview Options To Make Sure Your eCover Is Perfect
Want to know how your eCover will look before you download it? No problem, just render up your design and you'll see what your visitors and customers will see.
Perfect to make sure that your eCover is just right before you reveal it to the masses!
INCLUDED
Easy Sharing Option To Get Feedback On Any eCover You Design With Pixel Studio FX 3.0
If you're collaborating with someone on the design process, you'll love this option.
Pixel Studio FX 3.0 gives you a link that you can share that allows your collaboration to receive direct comments about the design. Just send out the link and your partners can give you honest feedback without any downloading of the images.
INCLUDED
Multiple Image Rendering Formats
Everyone has their own format that they love. But why have to choose between rendering formats? You shouldn't have to and that's why Pixel Studio FX 3.0 gives you four different formats to render your eCover to.
Choose from PNG, JPG, PDF, and TIFF.
INCLUDED
Dynamic Easy To Follow Training Provided So You Can Master Pixel Studio FX 3.0 FAST!
You didn't think we'd leave you hanging out to dry did you?
Sure, Pixel Studio FX 3.0 is so simple to use that even a kindergartener could start using it right away, but we've also gone ahead and made an in depth training center to help you get the most out of Pixel Studio FX 3.0.
Every question you could ever ask, we've already anticipated it and put it in our training center. And if we've missed something, we'll get you squared away with our dynamic support ASAP!
Click Here to View The Pixel Studio FX 3.0 3D eCover Graphic Designer Lifetime Deal For Yourself
You may also like