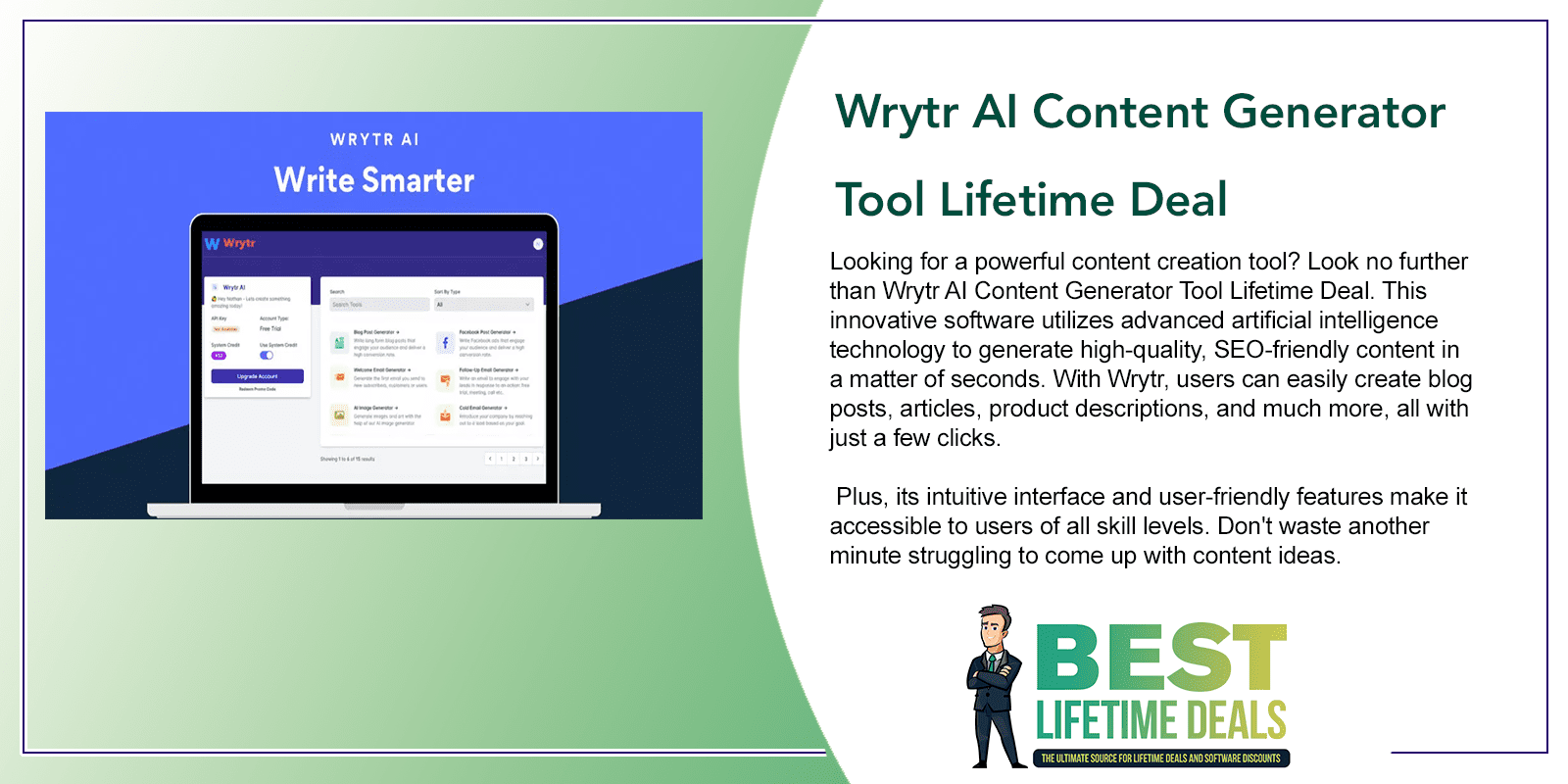 Choose Your Desired Option(s)
Looking for a powerful content creation tool? Look no further than Wrytr AI Content Generator Tool Lifetime Deal. This innovative software utilizes advanced artificial intelligence technology to generate high-quality, SEO-friendly content in a matter of seconds. With Wrytr, users can easily create blog posts, articles, product descriptions, and much more, all with just a few clicks.
Plus, its intuitive interface and user-friendly features make it accessible to users of all skill levels. Don't waste another minute struggling to come up with content ideas. Upgrade to Wrytr AI Content Generator Tool Lifetime Deal and take your content creation to the next level.
Introducing Wrytr AI Content Generator Tool Lifetime Deal
Wrytr is the ultimate AI content writing tool for content creators, bloggers, and professional writers.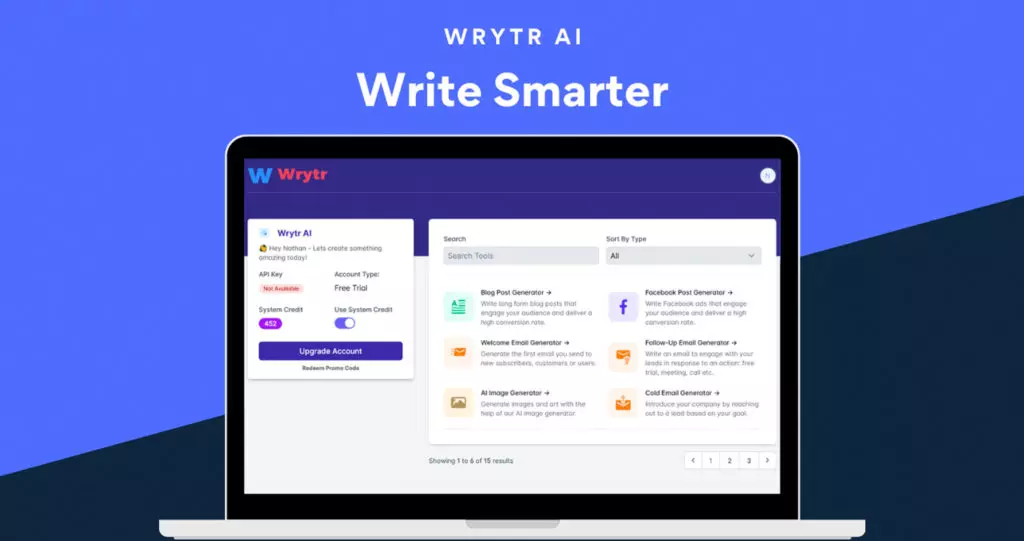 Wrytr is the go-to AI content writing tool for professional writers and bloggers. With Wrytr's help, you can easily create longer form pieces with ease and precision thanks to its artificial intelligence engine that does all the heavy lifting automatically.
Wrytr also helps content creators elevate their writing process, allowing them to produce high quality work quickly and efficiently without sacrificing any creativity or originality.
Wrytr AI Content Generator Tool Features:
Wrytr is the future of content creation – no matter what level of expertise a user may have.
Wrytr AI's content generator enables you to generate useful content that will increase your visibility across all channels.
Use Wrytr to create as much content as you want!
Use a powerful, rich-text editor to quickly transform your ideas into a polished piece.
Integration with third-party tools like Grammarly.
Wrytr Is Aimed At Helping You Create Compelling And Engaging Content For Your Readers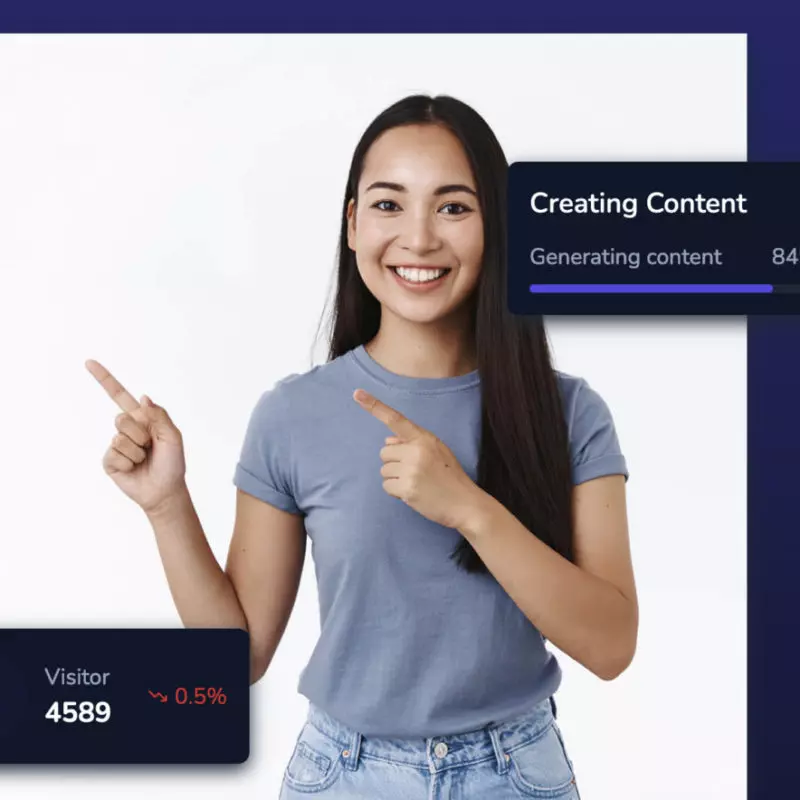 Wrytr is the perfect tool to help writers and content creators take their work to the next level. Wrytr features cutting-edge advancements in AI technology, allowing users to draft polished, quality content more efficiently. The app smart edits, provides writing tips tailored to the user's content, and runs an efficient grammar and spelling checker.
How Is Wrytr Useful To You?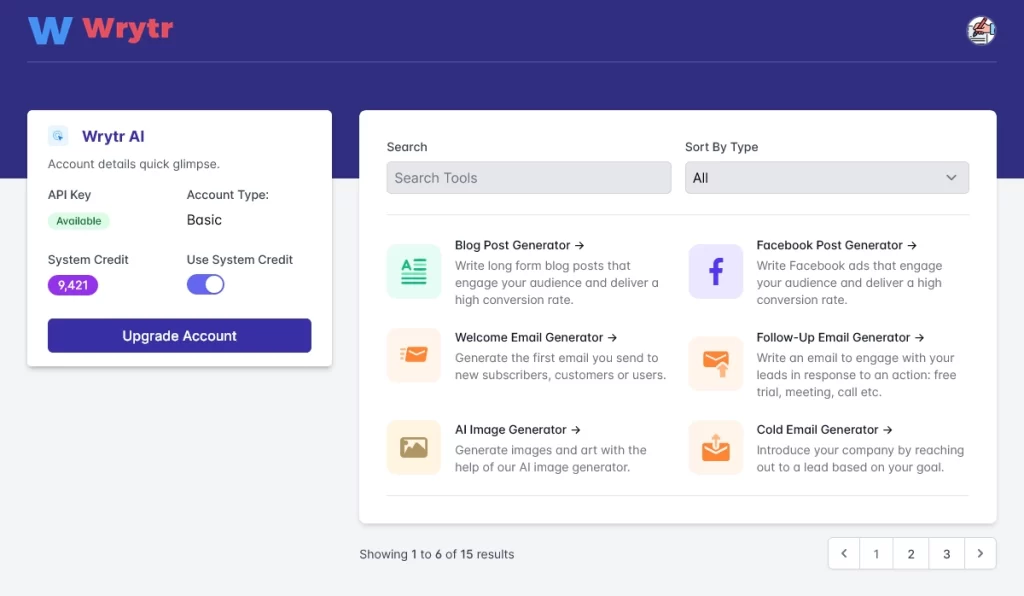 Wrytr AI's content generator enables you to generate useful content that will increase your visibility across all channels
The sensation of staring at a blank screen is unpleasant. Wrytr enables you to constantly generate new content ideas. If you get stuck somewhere, Wrytr AI is here to help
Automatically generate unlimited content and images
One-Click WordPress Posting
Use Wrytr To Create Your Masterpiece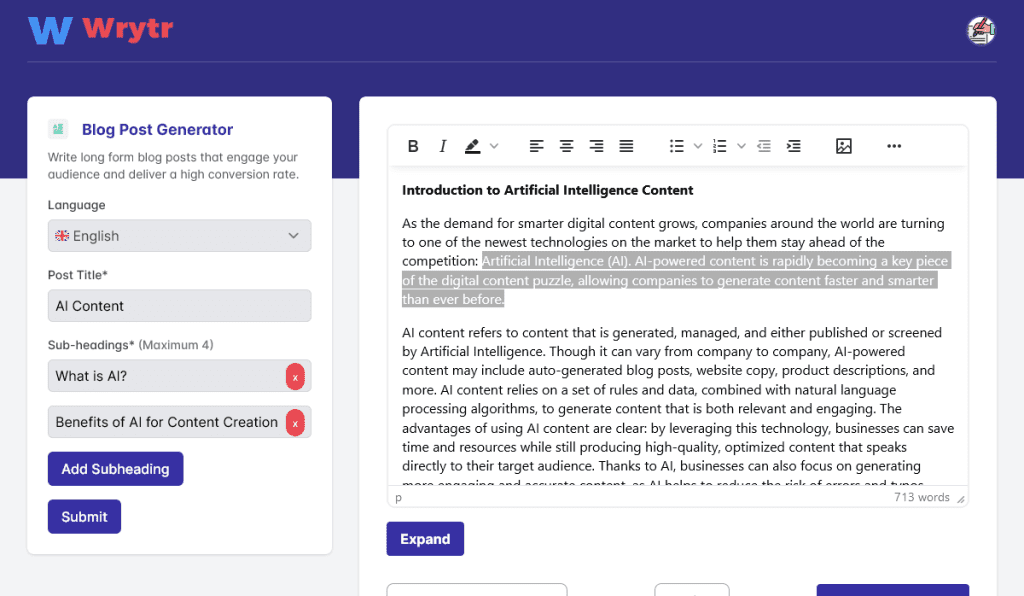 Use a powerful, rich-text editor to quickly transform your ideas into a polished piece. Wrytr also includes a writing assistant that can assist you in improving your grammar, sentence structure, and word choice:
Improved grammar and sentence structure in their writing
Increased productivity and focus while writing
Integration with third-party tools like Grammarly
Click Here to View The Wrytr AI Content Generator Tool Lifetime Deal For Yourself