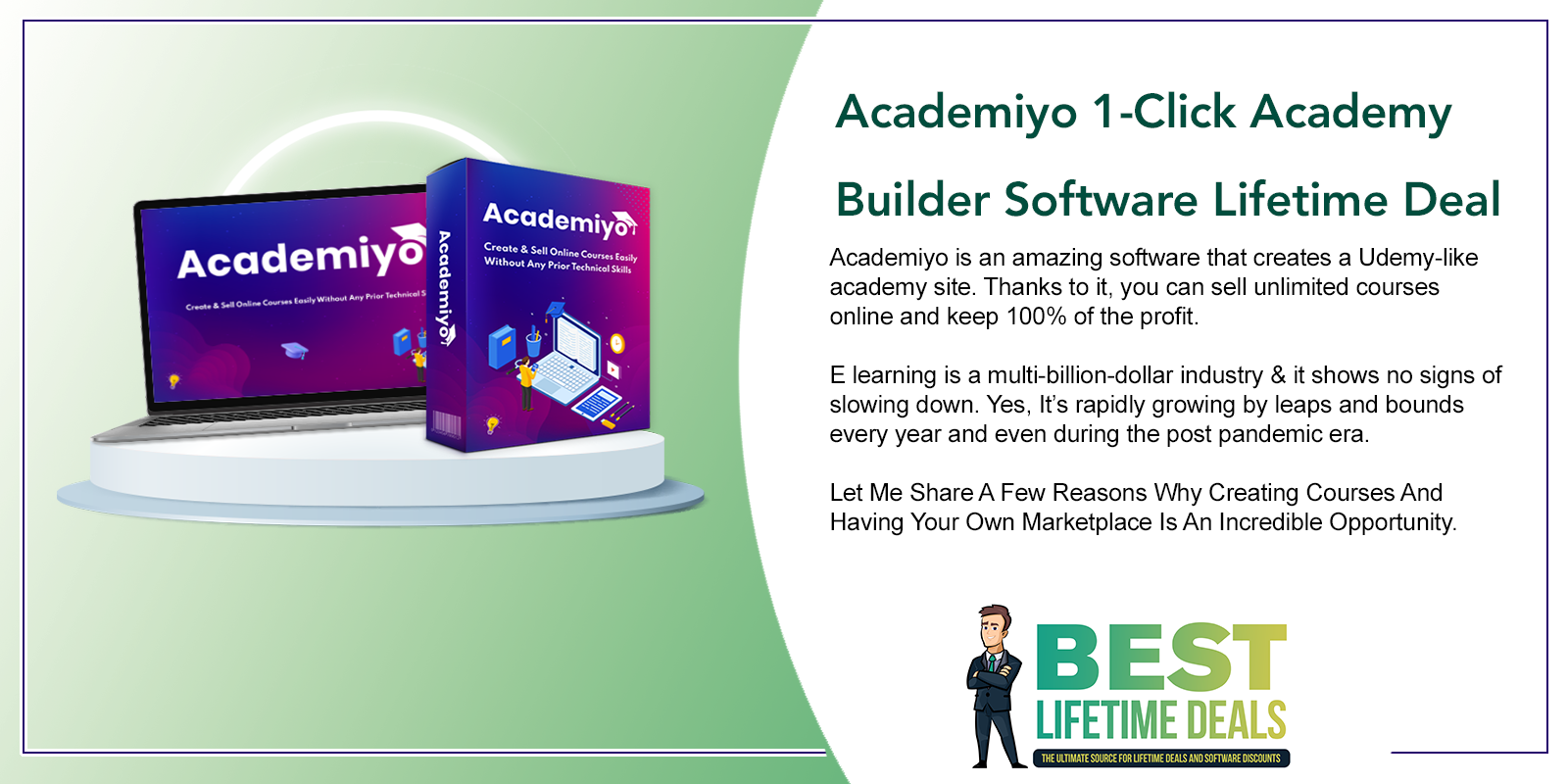 Choose Your Desired Option(s)
Academiyo 1-Click Academy Builder Software Lifetime Deal
Academiyo is a breakthrough 1-Click Software That Makes You $525/Day by Creating Beautiful UdemyTM Like Academy Site Preloaded with 400+ HD, Done For You Video Trainings Ready to Sell in Just 60 Seconds.
E learning is a multi-billion-dollar industry & it shows no signs of slowing down. Yes, It's rapidly growing by leaps and bounds every year and even during the post pandemic era. Let Me Share A Few Reasons Why Creating Courses And Having Your Own Marketplace Is An Incredible Opportunity. You can create a course once and create recurring income by selling the same course Over and over again. The sky's the limit – you can scale your e-learning to epic proportions by offering different levels such as beginner, Intermediate, and advanced. Create & sell multiple courses on multiple topics. Charge others to sell their courses on your platform. This offers you true freedom. You can do it, when & where you want – in lockdown, after lockdown, there's no limitation.
And the best thing is –having e-courses and e-learning marketplaces allows people to access your courses at anytime from anywhere via Mobile, Tabs, Pads, Laptops, Desktops etc. That means you will be able to drive non-stop traffic, leads, sales & profits 24/7, 365 days a year – 100% hands free. But here is the Problem Not All E-learning Platforms Are Created Equal. If you plan to sell your courses through 3rd party platforms? Pay Profit Share or Fixed Monthly Fee: You must pay a huge share of your profits as fixed or percent fees. Lose Traffic: You have no control over your hard-earned traffic, and your visitors gets distracted with your competitors offers. A Lot of Competition: It is hard to engage people who checks for the reviews or star ratings and prefer to take courses of established competitors. Lose Leads: You get no leads which means you lose any future opportunities to connect with them and offer more services.
Now question comes in mind, why not to setup your own online platform? Big Learning Curve, Buy Multiple Apps & Hire Freelancers, Buy Domain & Hosting, Continuous Monitoring And those are just few of the challenges. But not anymore. After years of learning, planning, designing, coding, debugging, as well as months of real user testing. They are proud to release their solution that will make creating and selling courses easier and faster than ever. Introducing Academiyo.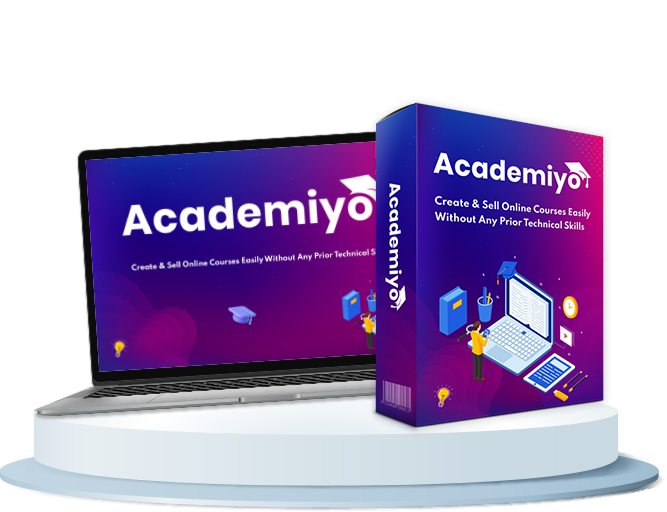 Academiyo is an amazing software that creates a Udemy-like academy site. Thanks to it, you can sell unlimited courses online and keep 100% of the profit.
Start your own profitable course selling business in just 3 simple steps:
STEP 1: Create your own courses or choose from pre-loaded done-for-you video courses.
STEP 2: Select your payment gateways to accept payments directly in your accounts. (All major options included)
STEP 3: Publish your courses on your own branded e-learning site. At the same time, you keep 100% of the leads and profits in your pocket.
Academiyo Features
Create Beautiful Mobile Responsive Academy Sites With Marketplace, Blog & Members Area In a Few Clicks
List & Sell Your Own Courses On Your Academy Marketplace.
Accept Payments With PayPal, JVzoo, ClickBank, Warrior Plus Etc
With Academiyo, No Traffic, Leads, or Profit Sharing With Any 3rd Party Platform – Keep 100% Profits & Control On Your Business
In-Built Ready To Use Affiliate System With Swipes & Animated Banners to Boost your Sales & Profits
Branded Members Area For Your Students to Make Authority
Track Student Progress–In-Progress Or All Lessons Completed
Built-In Ticketing System To Provide Support To Students
Create Free Courses With DFY Reports To
Build A Huge Email List
Manage Leads With an Inbuilt Lead Management System
Create Sales Pages to Sell Your Courses
With A Live Page Editor
Choose From 400+ HD Video Courses To Start Selling & Making Profit Instantly
Build Courses in Any Niche Quick & Easy – Upload Unlimited Rich Media Files For Your Courses (Video, E-Book, Reports, etc.)
Free Hosting For Images, PDF, Reports & Video Courses
Multiple Themes To Beautifully Design Academy Sites
Academiyo is 100% SEO & Mobile Responsive Academy Site & Marketplace
SMO Ready -Enable Social Icons To Grow Your Social Media Following
Seamless Integrations with Top Autoresponders
Newbie Friendly One-Click Product Creation With DFY Courses
100% GDPR And CAN-Spam Compliant
Easy And Intuitive To Use Software With Step By Step Video Training
100% Newbie Friendly with No Course Creation and No Tech Hassle
Top-Notch Customer Support
Plus, Free Commercial Licence If You Act Today
What Academiyo Can Do For You
Create Course Once and Set Evergreen Income by Selling the Same Course to New Batch of Students again and again and again.
You can Scale Your E-Learning Business to Any Level by Not Just Selling One Course on One Topic – You can divide course as Beginner, Intermediate & Advanced Level.
Create, Sell & Deliver Multiple Courses on Multiple Topics.
Charge others to Sell their Courses on Your Platform.
No Need to Take any Pressure of Any Boss or Deadlines, You can do it as, when & where you want!
And the best thing is – studying online is wide-open and people can access your courses at any time from anywhere via Mobile, Tabs, Pads, Laptops, Desktops etc That means you will be Driving Non-Stop Traffic, Leads, Sales.
Academiyo 1-Click Academy Builder Software Lifetime Deal: Academiyo is a powerful platform that lets you build your own academy or e-learning site with just one click. With Academiyo's lifetime deal, you get access to a range of advanced features, including course creation tools, student management, and marketing automation. Whether you're an educator, trainer, or coach, Academiyo's lifetime deal is the perfect solution for creating and selling online courses. This platform allows you to create custom course content, add quizzes, exams, and assessments, and monitor student progress with ease. With Academiyo's marketing automation features, you can attract new students, manage your sales funnel, and even upsell your existing courses. This lifetime deal offers unbeatable value, providing access to top-rated course creation features at an affordable price. Don't miss out on this opportunity to create and sell your own online courses with ease using Academiyo's lifetime deal.
Frequently Asked Questions
Do I need to download or install Academiyo somewhere? NO! You just create an account online and you can get started immediately. Academiyo is 100% web-based platform hosted on the cloud. This means you never have to download anything ever. And It works across all browsers and all devices including Windows and Mac.
Is my investment risk free? We know the worth of your money. You can be rest assured that your investment is as safe as houses. However, we would like to clearly state that we don't offer a no questions asked money back guarantee. You must provide a genuine reason and show us proof that you tried it before asking for a refund.
Do you charge any monthly fees? There are NO monthly fees to use it during the launch period. During this period, you pay once and never again. We always believe in providing complete value for your money. However, there are upgrades as upsell which requires monthly payment but its 100% optional & not mandatory for working with Academiyo. Those are recommended if you want to multiply your benefits.
Will I get any training or support for my questions? YES. We have created a detailed and step-by-step video training that shows you how to get setup everything quick & easy. You can access to the training in the member's area. You will also get live chat – customer support so you never get stuck or have any issues.
Is Academiyo compliant with all guidelines & compliances? Yes, our platform is built with having all prescribed guidelines and compliances in consideration. We make constant efforts to ensure that we follow all the necessary guidelines and regulations. Still, we request all users to read very careful about third-party services which is not a part of Academiyo while choosing it for your business.
What is the duration of service with this Academiyo launch special deal? As a nature of SAAS, we claim to provide services for the next 60 months. After this period gets over, be rest assured as our customer success team will renew your services for another 60 months for free and henceforth. We are giving it as complimentary renewal to our founder members for buying from us early.
How is Academiyo is different from other available tools in the market? Well, we have a nice comparison chart with other service providers. We won't like to boast much about our software, but we can assure you that this is a cutting edge technology that will enable you to create and sell courses on your pro academy site at such a low introductory price.
Is Academiyo Windows and Mac compatible? YES. We've already stated that Academiyo is fully cloud-based. So, it runs directly on the web and works across all browsers and all devices.
Click Here to View The Academiyo 1-Click Academy Builder Software Lifetime Deal For Yourself
You may also like