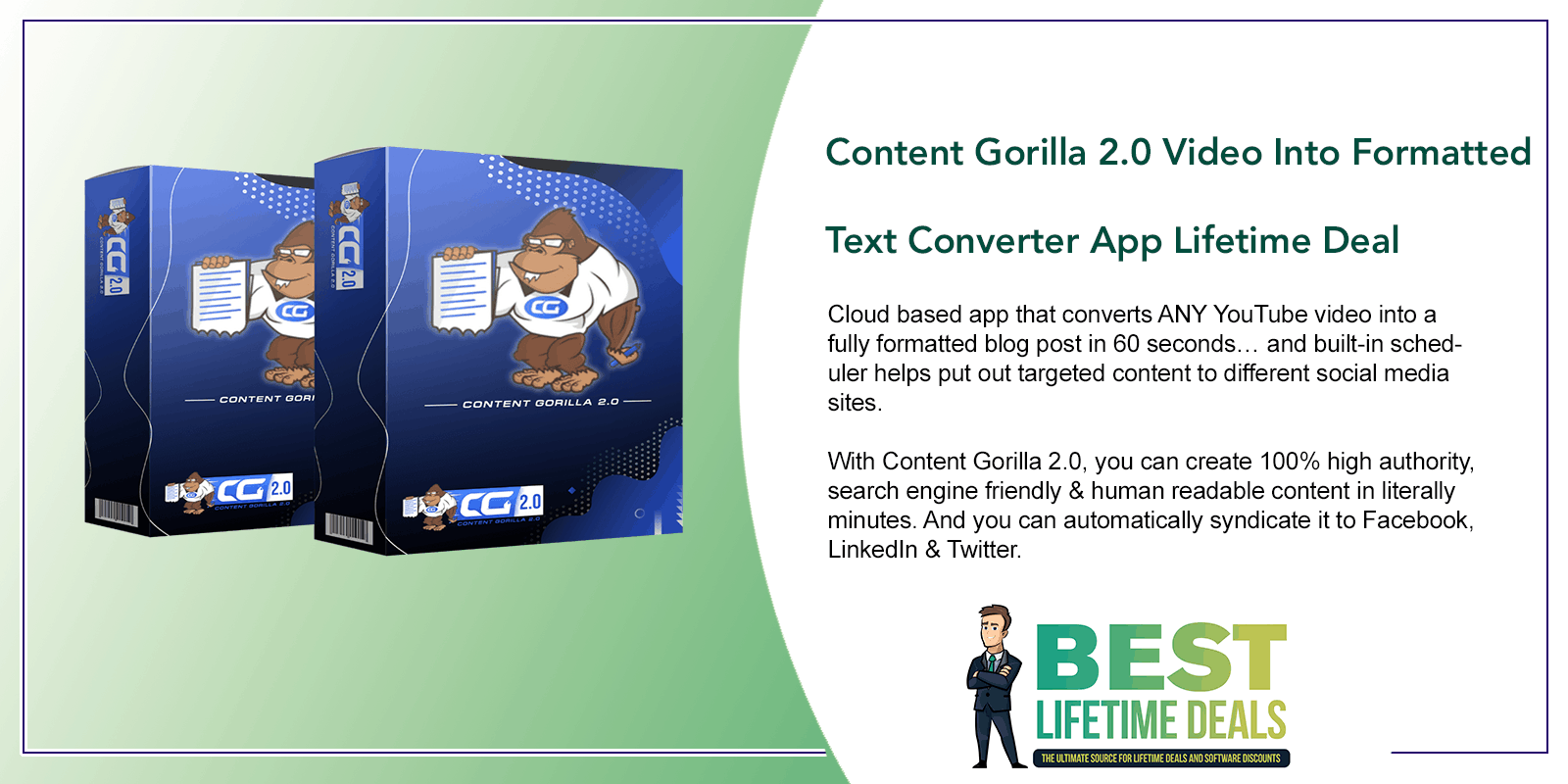 Choose Your Desired Option(s)
Content Gorilla 2.0 Video Into Formatted Text Converter App Lifetime Deal
Convert ANY YouTube Video Into a Fully Formatted Blog Post & Share To Social Media In Less Than 60 Seconds…
Cloud based app that converts ANY YouTube video into a fully formatted blog post in 60 seconds… and built-in scheduler helps put out targeted content to different social media sites.
With Content Gorilla 2.0, you can create 100% high authority, search engine friendly & human readable content in literally minutes. And you can automatically syndicate it to Facebook, LinkedIn & Twitter.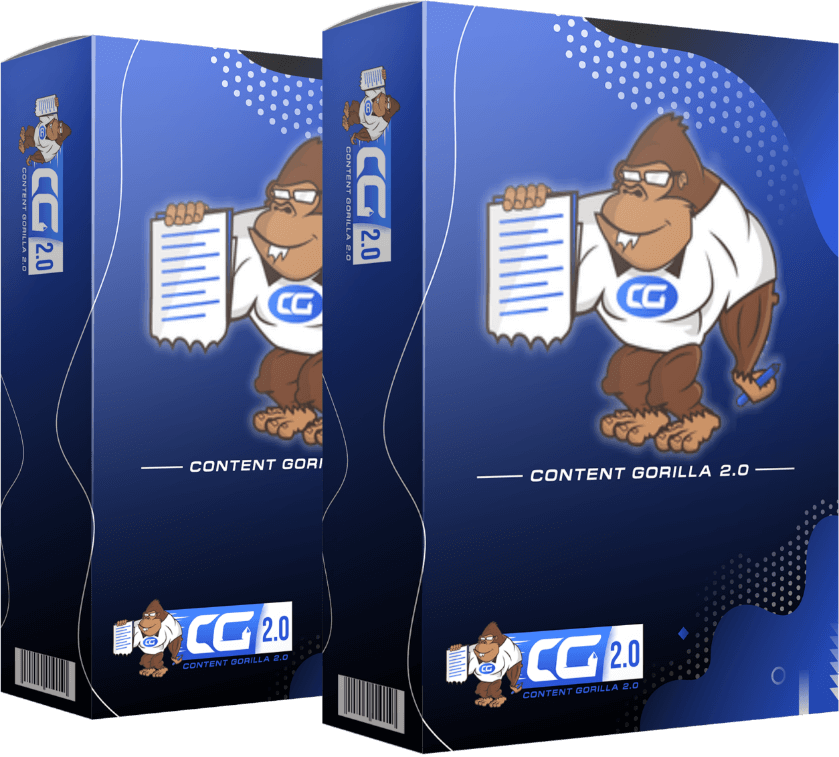 Here are the most basic steps for you to create quality posts
Step 1: Select the posts available or add the video or post you want
Step 2: Edit posts by adding photos or adding tags
Step 3: Publish the post on all social networking sites you want
Content Gorilla 2.0 Features
Multi publishing at a time with one click! Allows you to select multiple videos and post to your WordPress site at the same time. – NEW!
Punctuator included. Some videos, when converted to text don't have punctuation. Using our AI powered punctuator you can in just one click add punctuation to this kind of content. – NEW!
Post Archive. An archive of all the posts that have gone onto your sites. Helps you keep track of what postings are happening to which of your sites through Content Gorilla. – NEW!
Integrations – Built-in social media integrations to help you syndicate your content to social media channels like Facebook pages/groups, Twitter account & Linkedin personal/company profile (LinkedIn/Twitter/FB Pages + Groups) – NEW!
Create an image for posting. Allows you to create a custom image to accompany along with your posts on your Social Media accounts. – NEW!
Internal linking. Automatic linking to related content already on your site. Allows minimizing the bounce rate which is one of the biggest factors in terms of organic rankings. – NEW!
Convert any YouTube video into a fully formatted WordPress blog post.
Auto images. Image related to the video user select gets automatically added into the post to make it more appealing. User can drag/drop more images into the content if he wishes.
Built-in 1 click spinner to make sure the variation of content is unique.
Built-in 1 click grammar correction.
Video tags to Post tags conversion – helps with search engine rankings.
Advanced search allows you to fetch all videos from a YT channel and/or playlist.
The bulk poster. Ability to create instantly or schedule up to 10 posts for up to 10 days.
Click Here to View The Content Gorilla 2.0 Video Into Formatted Text Converter App Lifetime Deal For Yourself
Content Gorilla 2.0 Benefits
Quick Convert YouTube Content Into Blog Post
Create content in 105+ languages
Fetch featured image & Auto-add relevant images
Built-in Content Spinner
Built-in Grammar Correction
Built-in Punctuator
Create automatic post tags
Quick multi-post to one blog
Publish Bulk Posts
Built-in Article Rewriter
Post Later – saves time
Use on up to 10 websites
Quick view to see posts published in the past
Integrate with Facebook, Twitter, & LinkedIn
Get more SEO juice with Internal Linking
Full-time support available
BONUS: Goofball's guide to building
Frequently Asked Questions
Will Content Gorilla work with any YouTube Video? Yes & No – Content Gorilla will work with all YouTube videos that contain closed captions.
How many sites can I use Content Gorilla On? You can use Content Gorilla on up to 10 websites. If you need more – you can contact our support to purchase an additional one-time package.
What if I need help with installation? A: We have full documentation and video tutorials showing step by step everything – from installation to configuration to usage. If you get stuck anywhere, we have a support team ready to help you out.
What is the liability of content created with Content Gorilla? With Content Gorilla you have full control over the kind of videos you use. You can use videos with creative common license and we also have a built-in feature that allows you to give attribution to the original owner of the video. Besides that, we also have a built-in spinner to make sure the variation of content you use is unique.
I already have Content Gorilla – do I get upgraded for free? A: Old 1.0 customers can purchase the main 2.0 version at 50% off (discount code is available for a limited time when you log into your Content Gorilla account) Old 1.0 PRO customers automatically get upgraded to the 2.0 version (incl the PRO version). So if you have the PRO version, you don't need to do anything – your account is automatically upgraded at launch time.
How many social media accounts can I integrate? You can link up to 5 social media accounts – 1 for each social media channel. So 1 Facebook page, 1 Facebook group, 1 Twitter account, 1 LinkedIn personal and 1 LinkedIn Company.
What has been added in Content Gorilla 2.0 since the 1.0 launch in June 2019? A lot of new things (including stabilization) have been added, but more specifically, these features:
Multi publishing at a time with one click – NEW
Punctuator included – NEW
Post Archive – NEW
Integrations (LinkedIn, Twitter, Facebook Pages & Groups) – NEW
Create an image for posting (FE) – NEW
Internal Linking – NEW
Don't miss out on your chance to secure access to Content Gorilla 2.0 Video Into Formatted Text Converter App Lifetime Deal at a one-time fee for lifetime access! Click the button below to check it out.
Click Here to View The Content Gorilla 2.0 Video Into Formatted Text Converter App Lifetime Deal For Yourself
You may also like