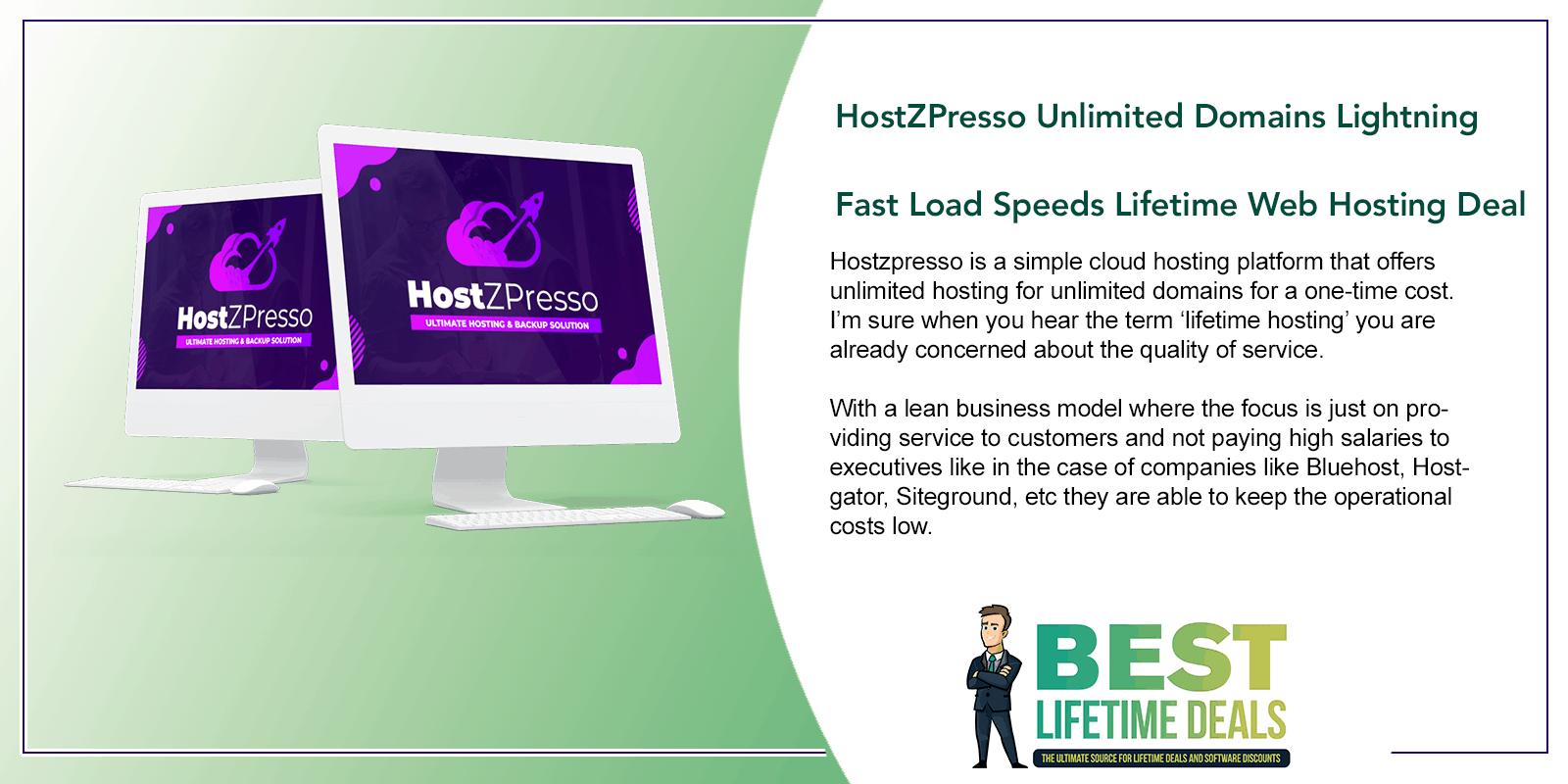 Choose Your Desired Option(s)
HostZPresso Unlimited Domains Lightning Fast Load Speeds Lifetime Web Hosting Deal
Host Unlimited Website & Domains For An Ultra-Low One-Time Fee… And NEVER Pay For Hosting Again!
Hostzpresso is a simple cloud hosting platform that offers unlimited hosting for unlimited domains for a one-time cost. I'm sure when you hear the term 'lifetime hosting' you are already concerned about the quality of service.
With a lean business model where the focus is just on providing service to customers and not paying high salaries to executives like in the case of companies like Bluehost, Hostgator, Siteground, etc they are able to keep the operational costs low.
This hosting service also has many special features like Ultra High-Speed Servers, Lightning Fast Load Speeds, and Unlimited Bandwidth.
Along with this you also get End-to-End SSL Encryption and Advanced Hacker Protection tools. These tools will definitely help to boost your website performance. And all these services are available at a very low one-time cost.

HostZPresso How Does It Work?
Step 1: Login
Login to HostZPresso and enter your domain name(s). Transfer existing website domains or start fresh with new domain names.  Either way, you can host an unlimited number of domains and websites.  No restrictions or limitations!
Step 2: Set Up
Set up your websites with just one-click. Install WordPress on any domain in seconds.  With our simple step-by-step instructions, get sites live in minutes – even if you've never set up a website before!
Step 3: Access
Easily manage all websites. Take the complexity out of website management with our ultra-simple user interface that's designed for the total "tech novice". And with our Unlimited Hosting Plan, there are zero restrictions on websites or files.
Click Here to View The HostZPresso Unlimited Domains Lightning Fast Load Speeds Lifetime Web Hosting Deal For Yourself
HostZPresso Features:
Hosting for Unlimited Websites and Domains
100% Guaranteed Uptime
Unlimited Bandwidth So Websites Can Handle High-Traffic Without Sacrificing Performance
High-Speed Servers for Lightning Fast Load Speeds and Higher Conversion Rates
Free SSL Certificates for ALL websites
Zero Restrictions or Limitations and No "Fine Print"
One-Click WordPress Installation To Get New Sites Live in Minutes
Rapid Set-Up Guide to Get Existing Sites Quickly Onto HostZPresso
End-to-End SSL Encryption and DDoS Protection To Disarm Potential Hackers
HostZPresso Benefits
100% Uptime Guaranteed – so that websites are ALWAYS live and ready to make sales
High-Speed Servers – for split-second website loading times (proven to drive higher conversions)
Unlimited Bandwidth – to provide consistent site performance even on sites with large videos or files
"Viral Capability" – we're always prepared to handle a huge influx of traffic from your launches or viral content
FREE SSL Certificates for each website – protecting all data and creating instant trust with visitors
Frequently Asked Questions
Is there a money back guarantee? Yes! HostZPresso is backed by a 30-Day Unconditional Money Back Guarantee.
Is it possible to transfer existing websites from my current host to HostZPresso? Absolutely. Just follow our simple Site Transfer Guide to change from your current host. We've made it very simple and step-by-step even for people without any tech skills.
Q. How long is this offer available? This offer ends 10th June 2021 @Midnight EDT. After that, HostZPresso will transition into a subscription service where you'll pay monthly for hosting.
What should I do if I'm on the fence? The smartest thing to do is to get signed up today to make sure you get the special pricing. Try it out and see how you like it. If you're not thrilled with the service, just email me in the next 30 days for a 100% Refund – no hassles, no questions asked.
How does the quality of HostZPresso's service compare to services like Bluehost or GoDaddy? We built HostZPresso to improve on the limitations of "Big Tech " hosting services like Bluehost. In fact, the upgrades we've made are designed to improve site performance and conversions right out of the gate – without needing to add any plugins or make any custom changes.
What if I've never set up a website before? Will I be able to do this? Yes! Our user interface was designed with new marketers in mind. You won't need any programming or web development skills to get the most out of HostZPresso. Plus, if you have any questions, just reach out anytime for 24/7 Priority Support!
Don't miss out on your chance to secure access to HostZPresso Unlimited Domains Lightning Fast Load Speeds Lifetime Web Hosting Deal at a one-time fee for lifetime access! Click the button below to check it out.
Click Here to View The HostZPresso Unlimited Domains Lightning Fast Load Speeds Lifetime Web Hosting Deal For Yourself
You may also like