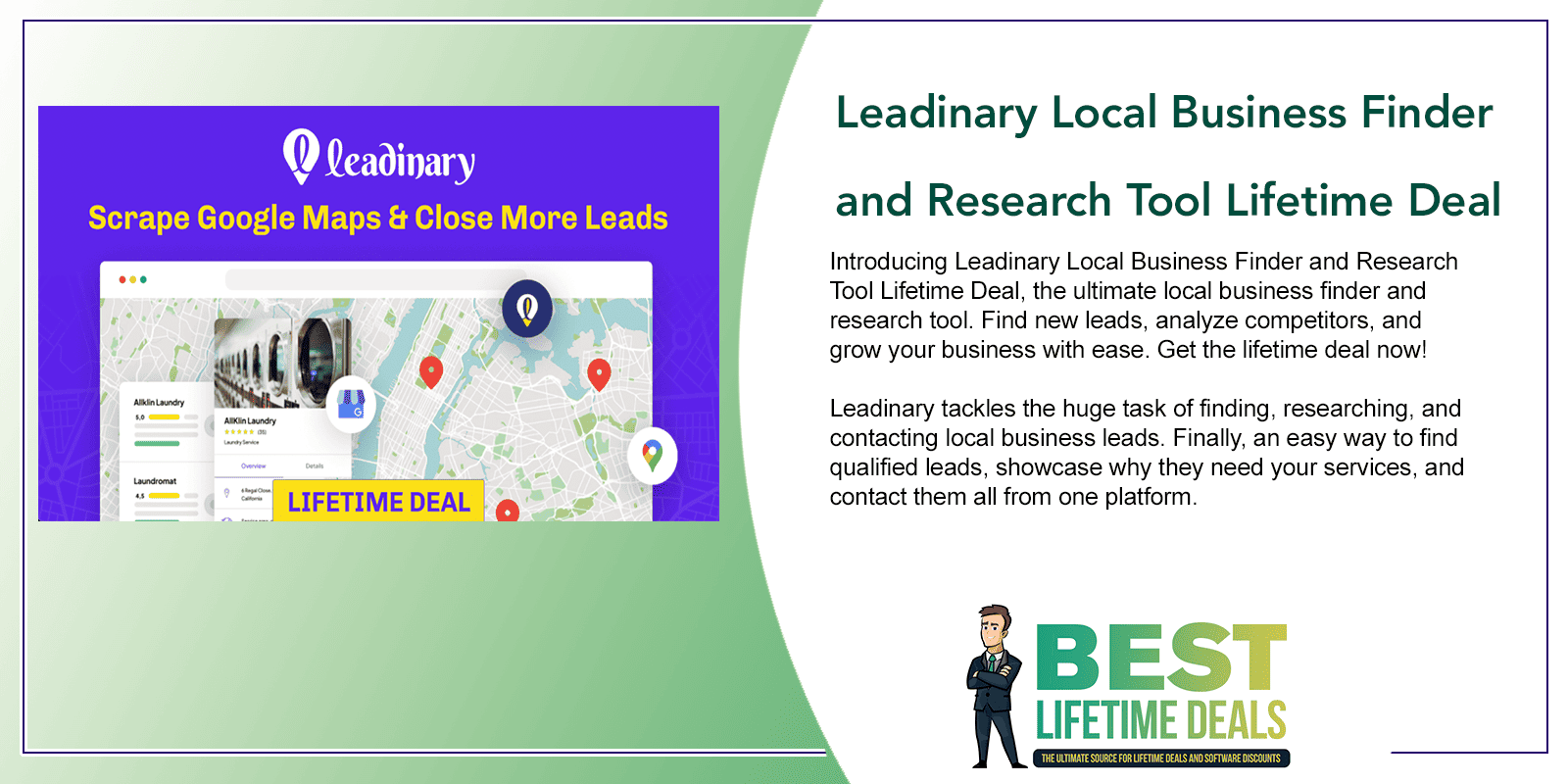 Choose Your Desired Option(s)

Introducing Leadinary Local Business Finder and Research Tool Lifetime Deal, the ultimate local business finder and research tool. Find new leads, analyze competitors, and grow your business with ease. Get the lifetime deal now!
Introducing Leadinary Local Business Finder and Research Tool Lifetime Deal
The all-in-one tool to find and research local businesses for lead generation.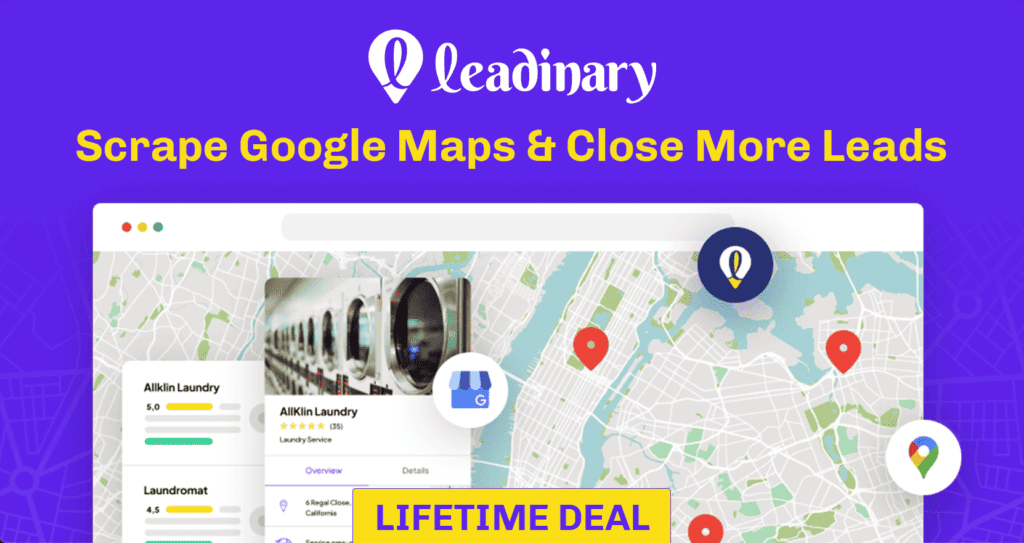 Close more clients by targeting local businesses that need your product or service.
Leadinary tackles the huge task of finding, researching, and contacting local business leads. Finally, an easy way to find qualified leads, showcase why they need your services, and contact them all from one platform. 
Leadinary Local Business Finder and Research Tool Lifetime Deal Features
Local Leads Search: Use Leadinary to scrape Google Maps for local business details such as phone numbers, emails, addresses, and websites by simply typing in a keyword and location within Leadinary.
Scrape Business Websites: In addition to GMB listing data, Leadinary crawls the website for more information such as contact info, social URLs, website meta data, and technology info.
Generate Reports: Generate custom branded reports for listings. The GMB report provides detailed analysis of the listing and identifies gaps. The SEO report scans their website to identify opportunities. Use these to provide value-first to business owners and close more deals.
Effective Email Marketing: Use Leadinary's outreach engine to create email campaigns that drive more sales. Be value-focused from the onset by researching and attaching GMB or SEO reports that impress leads immediately.
Who Is Leadinary Useful For?
If you sell a service or product to local businesses anywhere in the WORLD, then Leadinary is the all-in-one platform that drives your lead generation and cold email campaigns.
SEO Services
PPC / Advertising Services
Google My Business Optimization
GMB Reviews Management
Insurance to Local Businesses
SaaS App for Local Businesses
Content Writing
Website Design / Development
POS Systems / Hardware
Email Marketing
Social Media Management
Accounting / Financial Services
Why Choose Leadinary Local Business Finder and Research Tool?
Finding cold leads at the right stage is like finding a needle in a haystack. Leadinary solves this hurdle by positioning you as a legitimate problem solver the moment you get in touch with a business owner.
How?
Leadinary integrates your lead gen process with Google My Business (GMB). The platform's powerful 'find leads' feature incorporates keyword search, location, and location radius. Leadinary then yields GMB results related to your search query and scrapes the websites of those corresponding results.
But Leadinary Doesn't Stop There…
Filter through high-level search queries like a prospecting ninja using search filters like rating, claimed status, operational status, and more. This helps you easily refine your pool of prospects to those who truly need your service or offering.
Better Still…
Leadinary also allows users to generate GMB or SEO reports customized for the specific leads you find on the platform. Then, as if that wasn't enough you can send email to your leads inside Leadinary.
How Leadinary Works
Finding local leads has never been easier. Here's a behind the scenes look of Leadinary in action. You'll be surprised at how simple it is to use.
Step 1: Start finding leads by clicking on the "Find Lead" button.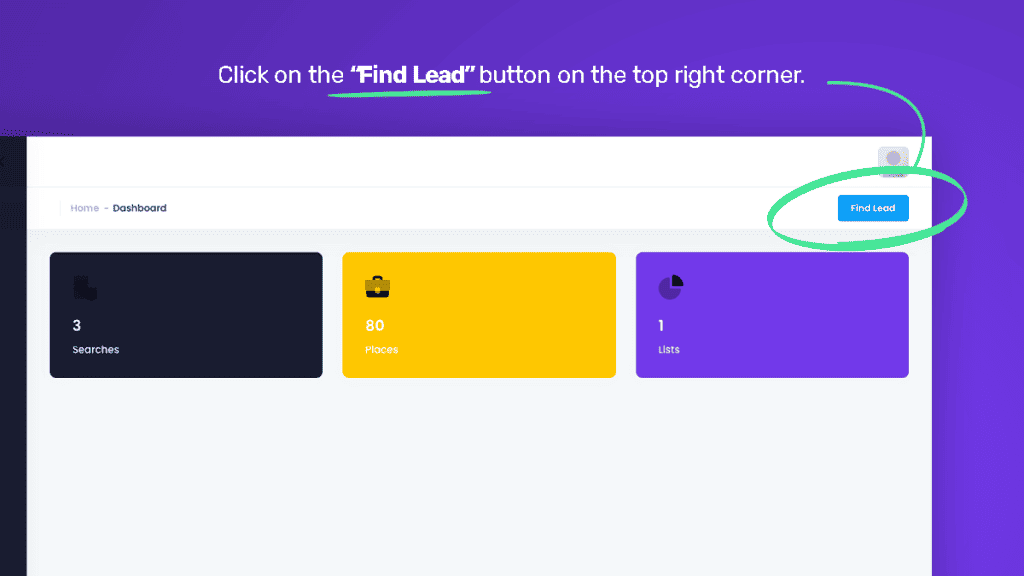 Step 2: Enter keywords based on the types of leads you are searching (e.g. med spa, coffee shop, dental clinic, etc.) and identify a specific location (e.g. Hoboken, New Jersey). Hit 'Search', and voila, leads will appear.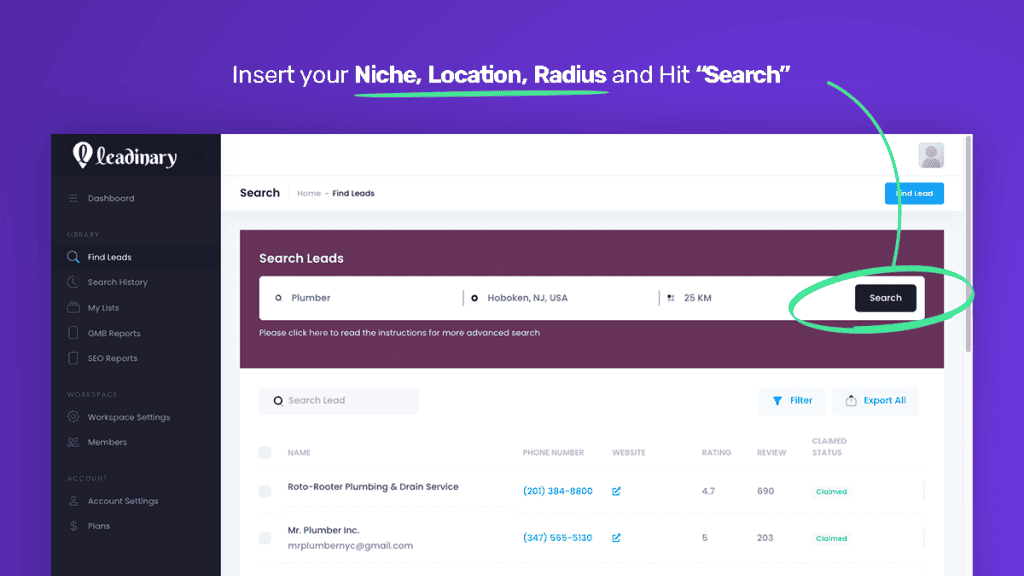 Step 3: Export lead results into CSV file or add leads to a specific list you create inside Leadinary's "My Lists" section.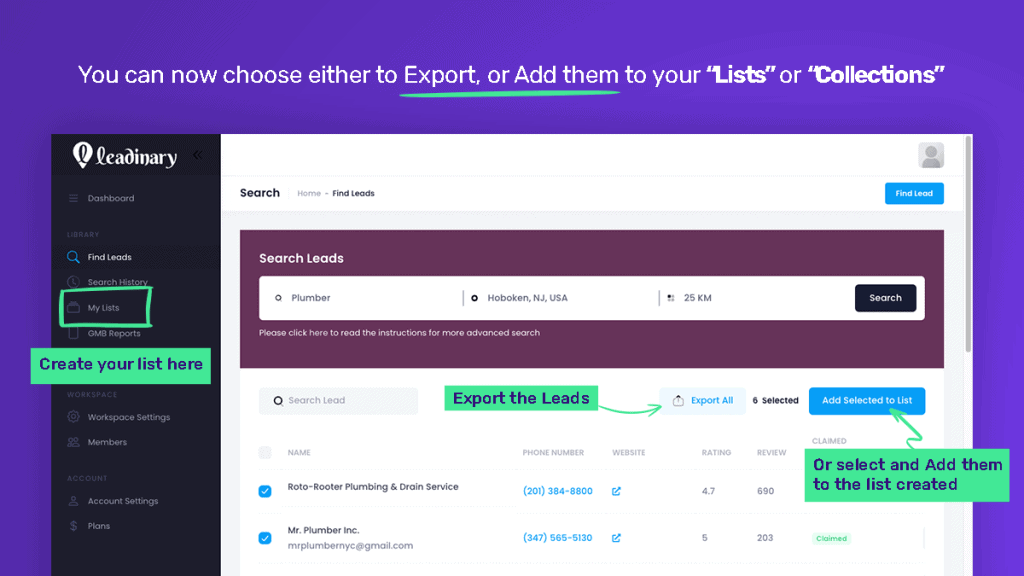 Step 4: To generate reports navigate to GMB Reports or SEO Reports in the vertical navigation menu.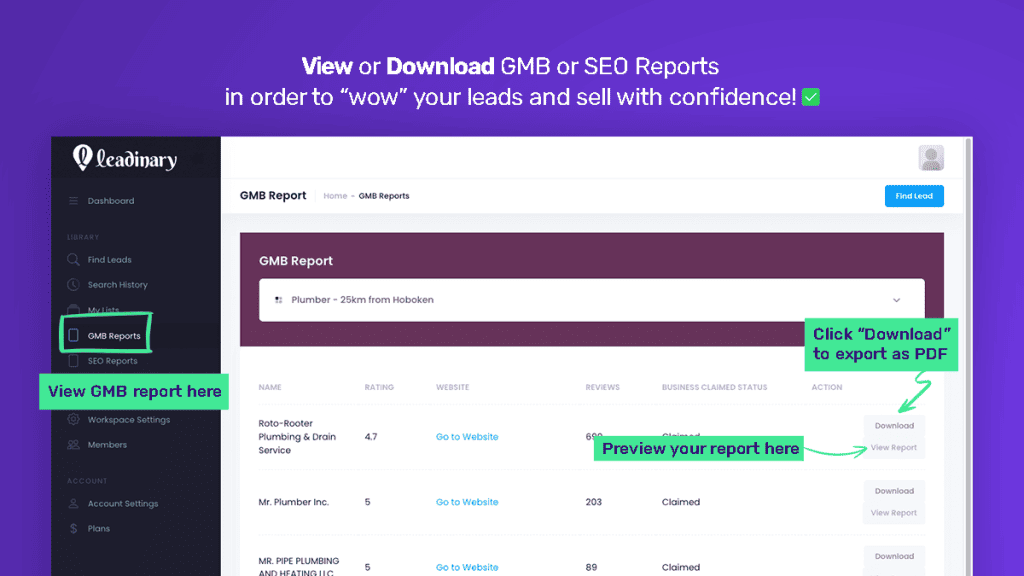 You can even use Leadinary campaigns to send your first emails to your prospects. That's right, you can complete the entire cold outreach process from inside the Leadinary app. Pretty cool, right?
If you're ready to start getting an endless streams of high-quality leads, get Leadinary today. 
Deal Terms
Lifetime access to Leadinary
You must activate your license within 60 days of purchase
30-day money-back guarantee, no matter the reason
Features Included in All Plans
Lifetime access to Leadinary
Reports Currently Available: GMB & SEO Reports
You must activate your license within 60 days of purchase
30-day money-back guarantee, no matter the reason
Click Here to View The Leadinary Local Business Finder and Research Tool Lifetime Deal For Yourself