Choose Your Desired Option(s)
MiPLR PLR Content Lifetime Subscription is a revolutionary marketplace, to make a fortune.
Yes, you read it right! MiPLR Private Label Rights Content Lifetime Subscription is one of the best solutions for quality PLR content at a nominal cost. You can take a Lifetime subscription to access unlimited future content.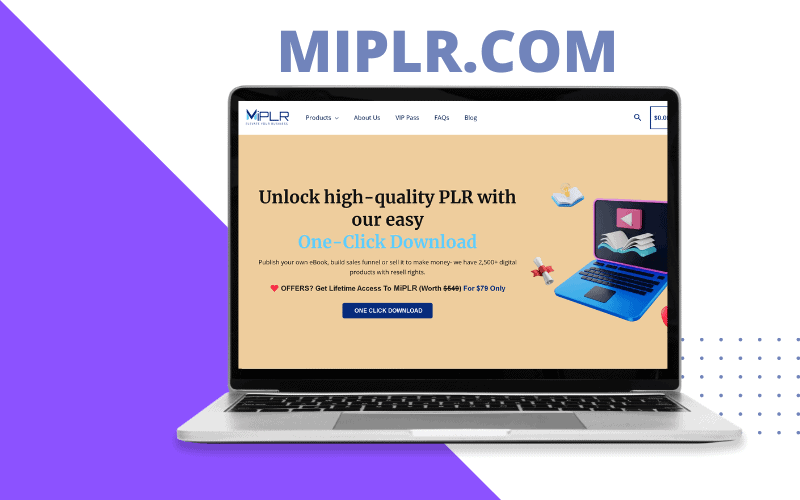 MiPLR is a marketplace where you can buy products along with their private label rights and use them in printed media, sell prints on eBay, package them or give them away for free to your subscribers. With these products, you can accomplish your goal easily. There are no limits or legal jargon!
MiPLR offers a comprehensive library of high-quality private label rights (PLR) content, covering a wide range of topics and niches. With a lifetime subscription, users gain instant access to an extensive collection of articles, e-books, videos, graphics, and more, ready to be customized and used as their own.
MiPLR's content is created by experienced writers and subject matter experts, ensuring top-notch quality and relevance to current trends and market demands. The content is constantly updated with fresh, new material, giving users an endless supply of valuable resources to use in their online business.
One of the main benefits of MiPLR Private Label Rights Content Lifetime Subscription is the convenience and flexibility it offers. Users can quickly and easily download the content they need, and then customize it to fit their brand and target audience. This saves time and effort in content creation, while still maintaining a high level of professionalism and credibility.
The MiPLR lifetime subscription is ideal for online marketers, bloggers, e-commerce store owners, coaches, consultants, and anyone else who needs a constant supply of engaging and informative content. It's also a great value, as the one-time fee provides lifetime access to an ever-growing library of quality content, without any additional fees or recurring charges.
MiPLR also offers excellent customer support, with a team of knowledgeable and friendly professionals ready to assist with any questions or concerns. Users can also access tutorials and training to help them make the most of their subscription and maximize their content marketing efforts.
MiPLR is a leading private label rights content provider, that offers a diverse selection of:
1 Million+ article bundles,
300,000+ e-books,
400+ videos courses,
1000+ audio courses and
1000+ templates
The MiPLR skilled writers, researchers, and editors work tirelessly to create engaging and informative content that is ready for use in your projects.
MiPLR allows you to create a professional-looking website and helps to create content from scratch.
PLR Product Categories
Psychology and Self-help
Pets and other animals
Travel and Lifestyle
Health and Fitness
Food and drinks
Finances credit and wealth
Parenting families
Dating and relationships
Computers and technology
Business and money making
Beauty and fashion
Crafts and hobbies
Home and real estate
Education
Sports and outdoors
Spirituality and alternative
Content Lifetime Subscription Features:
MiPLR offers their ultimate MiGold pass for a lifetime. The MiGold pass includes the following features –
Unlock the World's Largest, high-quality PLR with our easy One-Click Download
Unlimited downloads for a lifetime
Full licenses.
FREE Lifetime Updates
100% Royalty-Free Digital Products.
Premium and Platinum Products
24 X 7 VIP Support
Lifetime usage license.
Original files included
And Much More:
Highlight the range and quality of content available: MIPLR offers a wide range of high-quality PLR content, including articles, eBooks, graphics, and videos. Emphasize the fact that the content is written by experienced writers and experts, and is thoroughly researched and edited.
Explain the benefits of PLR content: Many businesses struggle to create content that is both high-quality and affordable. Emphasize how using PLR content from MIPLR can save businesses time and money, while also providing them with content that is relevant and engaging for their audience.
Provide examples of how the content can be used: Offer examples of how businesses can use the PLR content provided by MIPLR. For example, businesses can use the content to create blog posts, social media updates, email newsletters, or eBooks.
Use social proof: Include customer reviews and testimonials to showcase the success other businesses have had with using MIPLR's PLR content. Highlight how using the content has helped businesses improve their website traffic, increase their engagement with their audience, and save time and money.
Leverage social media and email marketing: Use social media platforms such as Facebook, Twitter, and LinkedIn to promote MIPLR's PLR content and reach a wider audience. Use targeted ads to reach those who have expressed an interest in online marketing or content creation. Additionally, use email marketing to promote the PLR content to subscribers who have shown an interest in improving their online presence.
Offer exclusive bonuses or deals: Consider offering exclusive bonuses or deals to incentivize potential buyers to use MIPLR's PLR content. For example, offer a free trial period, a discount on additional PLR content, or access to additional marketing resources. Additionally, consider offering a money-back guarantee to instill confidence in potential buyers.
Click Here to View The MiPLR Private Label Rights Content Lifetime Subscription For Yourself