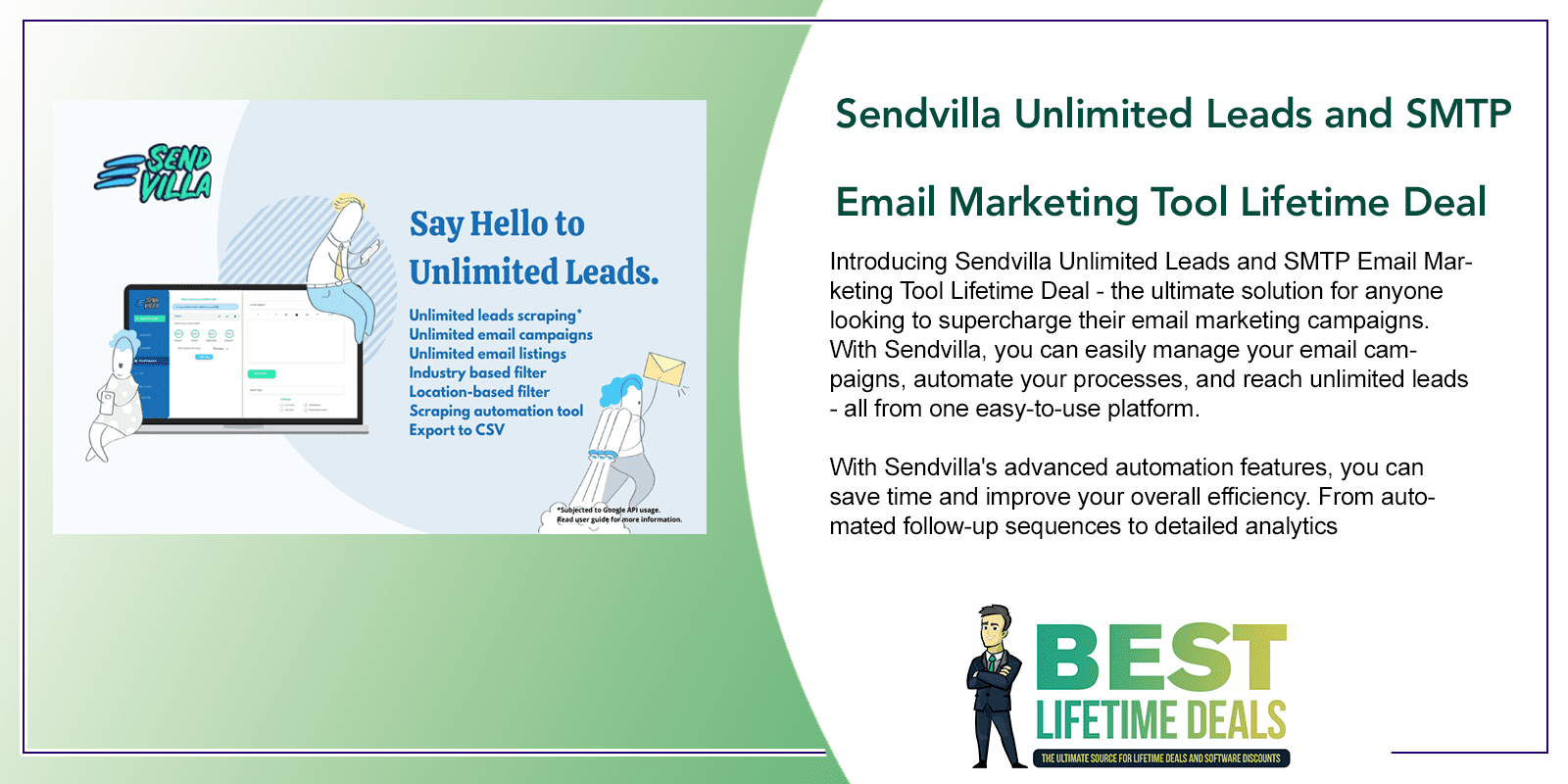 Choose Your Desired Option(s)

Introducing Sendvilla Unlimited Leads and SMTP Email Marketing Tool Lifetime Deal – the ultimate solution for anyone looking to supercharge their email marketing campaigns. With Sendvilla, you can easily manage your email campaigns, automate your processes, and reach unlimited leads – all from one easy-to-use platform.
With Sendvilla's advanced automation features, you can save time and improve your overall efficiency. From automated follow-up sequences to detailed analytics and reporting, Sendvilla has everything you need to take your email marketing to the next level. And with unlimited leads, you'll never run out of potential customers to target.
But that's not all. Sendvilla also offers an easy-to-use drag-and-drop editor, so you can create beautiful and effective emails without any coding knowledge. And with advanced tracking and reporting features, you'll be able to see exactly how your campaigns are performing and make adjustments as needed.
Plus, with Sendvilla's Lifetime Deal, you'll have access to all of these amazing features for life, without any additional fees or hidden costs. Say goodbye to expensive email marketing services and enjoy peace of mind with Sendvilla's powerful and affordable email marketing tool.
Whether you're a small business owner, marketer, or anyone in between, Sendvilla has the perfect solution for you. So why wait? Get Sendvilla Unlimited Leads and SMTP Email Marketing Tool Lifetime Deal today and start supercharging your email marketing campaigns.
Introducing Sendvilla Unlimited Leads and SMTP Email Marketing Tool Lifetime Deal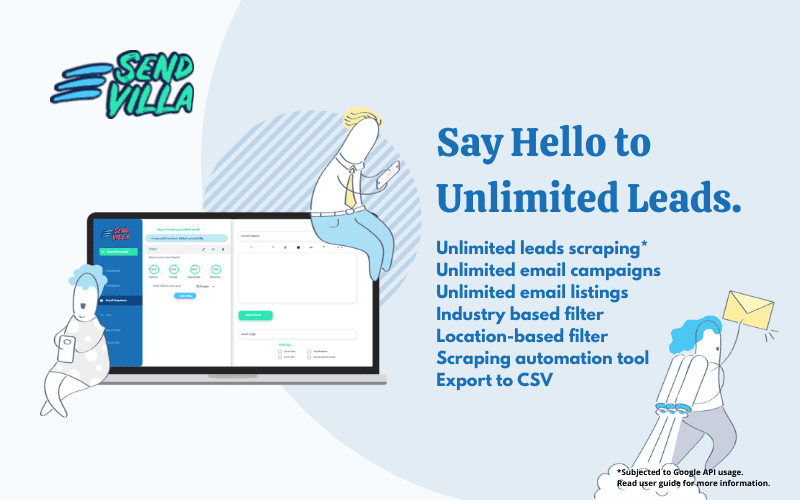 Leads = customers = profits. 66% of customers point out that receiving consistent communication via email was one of the major influences for them to choose a product. But lead generation, gathering data & scaling your outreach initiatives is a huge pain. Presenting Sendvilla – a quick, simple, and cost-effective manner to overcome these hurdles.
Sendvilla allows users to search for new leads and gather business listings by simply typing in a keyword and selecting a location or region. It also comes with an email tool that makes running email marketing campaigns much easier. With beautiful emails, list segmentation, and unique delivery tools, your business will be sorted.
Over 80% of their users have generated high quality leads through Sendvilla and are continuing to use this tools on a regular basis for their outreach activities.
What You Get With This Sendvilla Unlimited Leads and SMTP Email Marketing Tool:
Unlimited Leads Scraping
Unlimited email campaigns
Unlimited email listings
Industry based filter
Location-based filter
Scraping automation tool
Export to CSV
Here's How Sendvilla Unlimited Leads and SMTP Email Marketing Tool Works: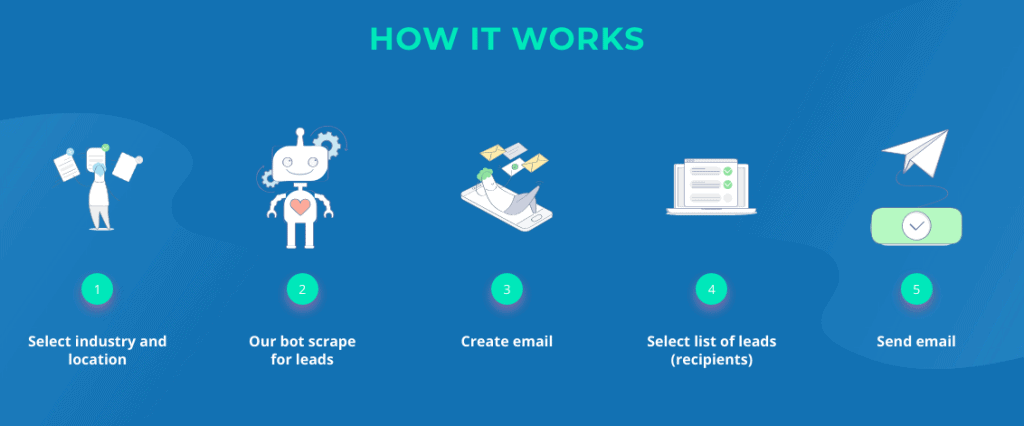 Here's What You Can do With This Lead Generation Tool:
Send Better Emails:
Whether you need to sell your products, share some big news, or tell a story, this email template builder makes it easy to create an email marketing campaign that best suits your target audience.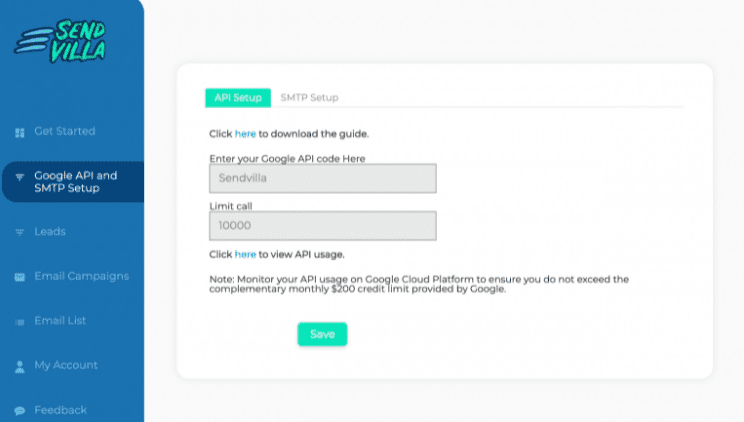 Export Your Data:
All data can be exported and uploaded to any other tools that your prospecting heart desires. For example, upload all the websites you collected into a tool like Hunter.io to find even more contacts and emails from the same business. Another example is uploading your data to a tool like PhantomBuster for even more tasty recipes like scraping the social profiles or websites or set up automation for Instagram or others.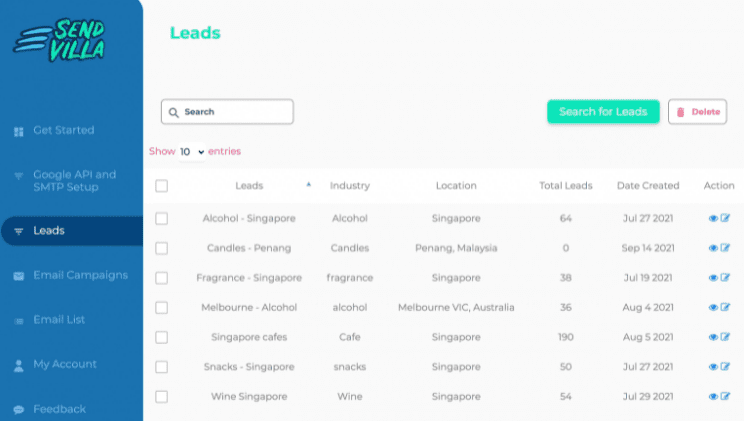 Generate Unlimited B2B leads:
We know how much you love leads so no worries, we made sure there are no restrictions on the number of searches or leads you can find. Create as many lead lists as you want for manual or cold email outreach.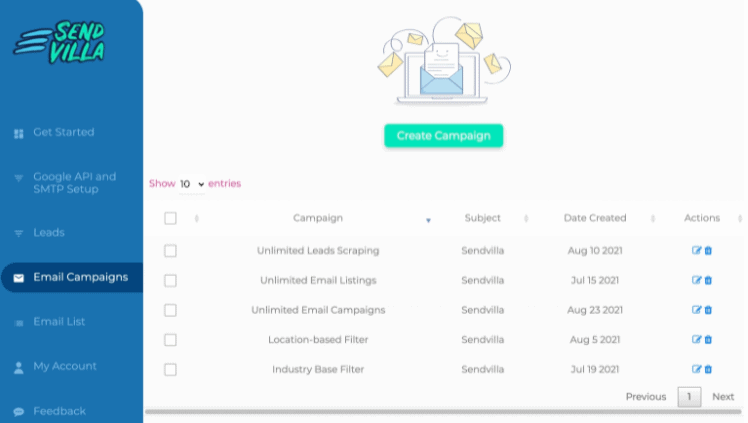 Create your campaign:
To get your superpowers started just input the type of business industry you want to target. Next, laser focuses on the geographic location of where you want leads from and choose what criteria you want to find such as a lack of Facebook pixels if you're an agency looking to provide this service or just want an easy "foot in the door" reason to contact them.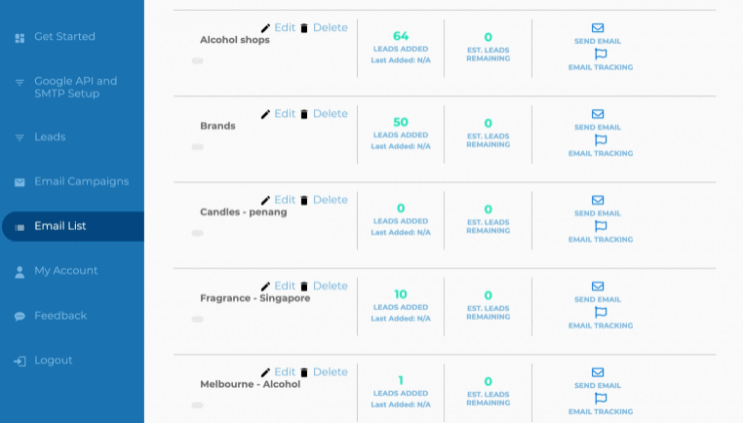 Here's The Selection Basis For Your Leads:
Business Name
Address
Phone number
Email
Website
Facebook URL
Linkedin URL
Instagram URL
Twitter URL
Using a Facebook pixel
Google Maps Business listing
Here's How You Can Use Sendvilla to Your Advantage:
What's More?
Export your leads to your favorite tools such as your CRM or Email Marketing Platform
Set up your lead outreach campaigns in very short time.
Improve interaction by sending marketing messages to a more targeted audience
Setup SMTP of your favorite email providers like Gmail, Gsuit, Outlook, Office 365, Sendgrid, & others
Build business's database
Enhance conversions
Optimize audience engagement
Click Here to View The Sendvilla Unlimited Leads and SMTP Email Marketing Tool Lifetime Deal For Yourself
You may also like