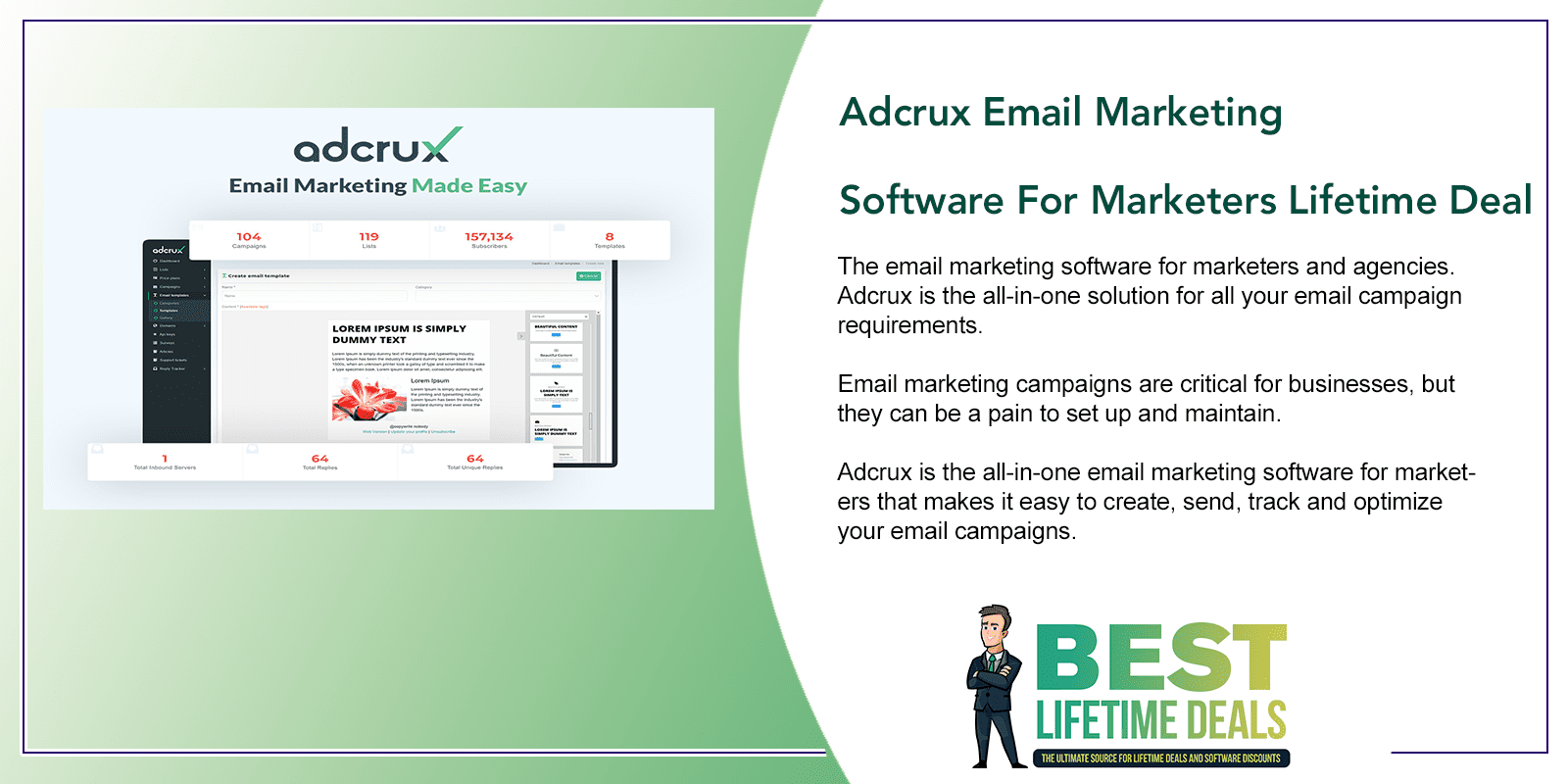 Choose Your Desired Option(s)
Adcrux Email Marketing Software For Marketers Lifetime Deal
The email marketing software for marketers and agencies. Adcrux is the all-in-one solution for all your email campaign requirements.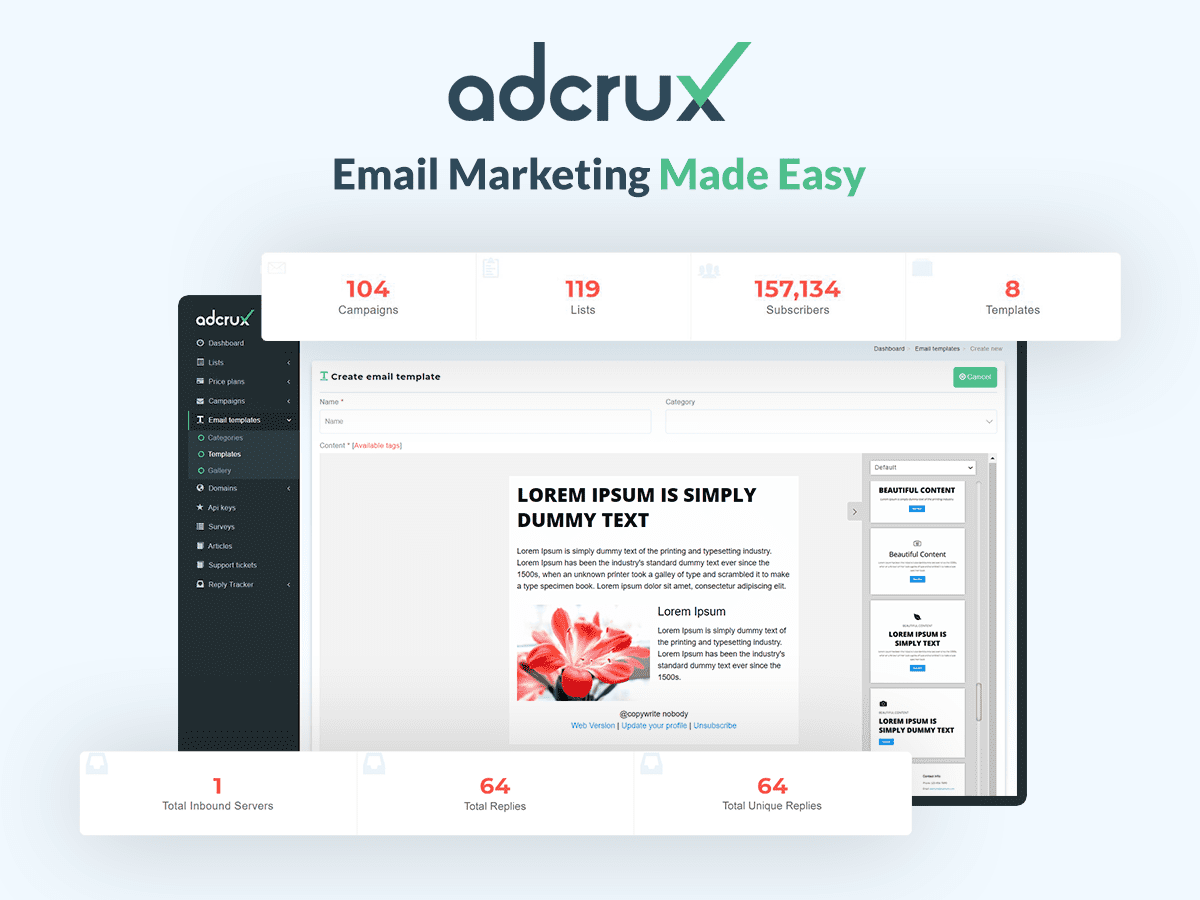 Email marketing campaigns are critical for businesses, but they can be a pain to set up and maintain.
Introducing Adcrux – the all-in-one email marketing software designed specifically for marketers, entrepreneurs, and businesses who want to drive results with their email campaigns. With Adcrux, you'll have access to a powerful suite of email marketing tools that will help you create, automate, and optimize your email campaigns for maximum impact.
Adcrux offers a user-friendly interface that makes it easy for marketers of all levels of expertise to create professional-looking emails. You can choose from a wide range of pre-designed templates or create your own customized emails using the drag-and-drop email builder. With Adcrux, you can create visually appealing emails with images, videos, buttons, and more, to capture your subscribers' attention and drive engagement.
One of the key features of Adcrux is its advanced automation capabilities, allowing you to set up behavior-based email sequences that are triggered based on your subscribers' actions. You can segment your subscribers based on their behavior, interests, and engagement level, and send targeted, personalized emails at the right time, resulting in higher open rates, click-through rates, and conversions.
Adcrux also offers comprehensive analytics and reporting features, allowing you to track the performance of your email campaigns in real-time. You can monitor your open rates, click-through rates, conversions, and other key metrics, and use the insights to optimize your campaigns for better results.
With Adcrux's lifetime deal, you'll get unlimited access to all the features and updates, with no monthly fees. That's right – a one-time payment for a lifetime of powerful email marketing software that can save you money compared to other email marketing platforms.
What sets Adcrux apart is its all-in-one solution, user-friendly interface, advanced automation capabilities, and lifetime deal, making it a top choice for marketers who want to streamline their email marketing efforts and drive tangible results. Don't settle for mediocre email marketing software – upgrade to Adcrux and take your email campaigns to the next level. Get the lifetime deal now and experience the power of Adcrux for your marketing campaigns.
Adcrux is the all-in-one email marketing software for marketers that makes it easy to create, send, track and optimize your email campaigns.
All-in-one email marketing software built for marketers and agencies.
Send email campaigns that get delivered in the priority email box with Adcrux' highly reputed IPs.
Easy to customize email templates with 100+ elements to choose from.
Alternative to: Mailchimp, Convertkit & Aweber.
Click Here to View The Adcrux Email Marketing Software For Marketers Lifetime Deal For Yourself
You'll get more sales with less effort by using the drag & drop campaign builder and smart automation tools.
With Adcrux you can quickly build beautiful emails in minutes without having any coding skills or design experience.
No more spending hours trying to figure out how to make things look right! Additionally, the tool has powerful features like responsive templates, cold email support, and advanced analytics so that you can easily run smarter email marketing campaigns.
Select One Of The Easy To Customize Email Templates Or Start From Scratch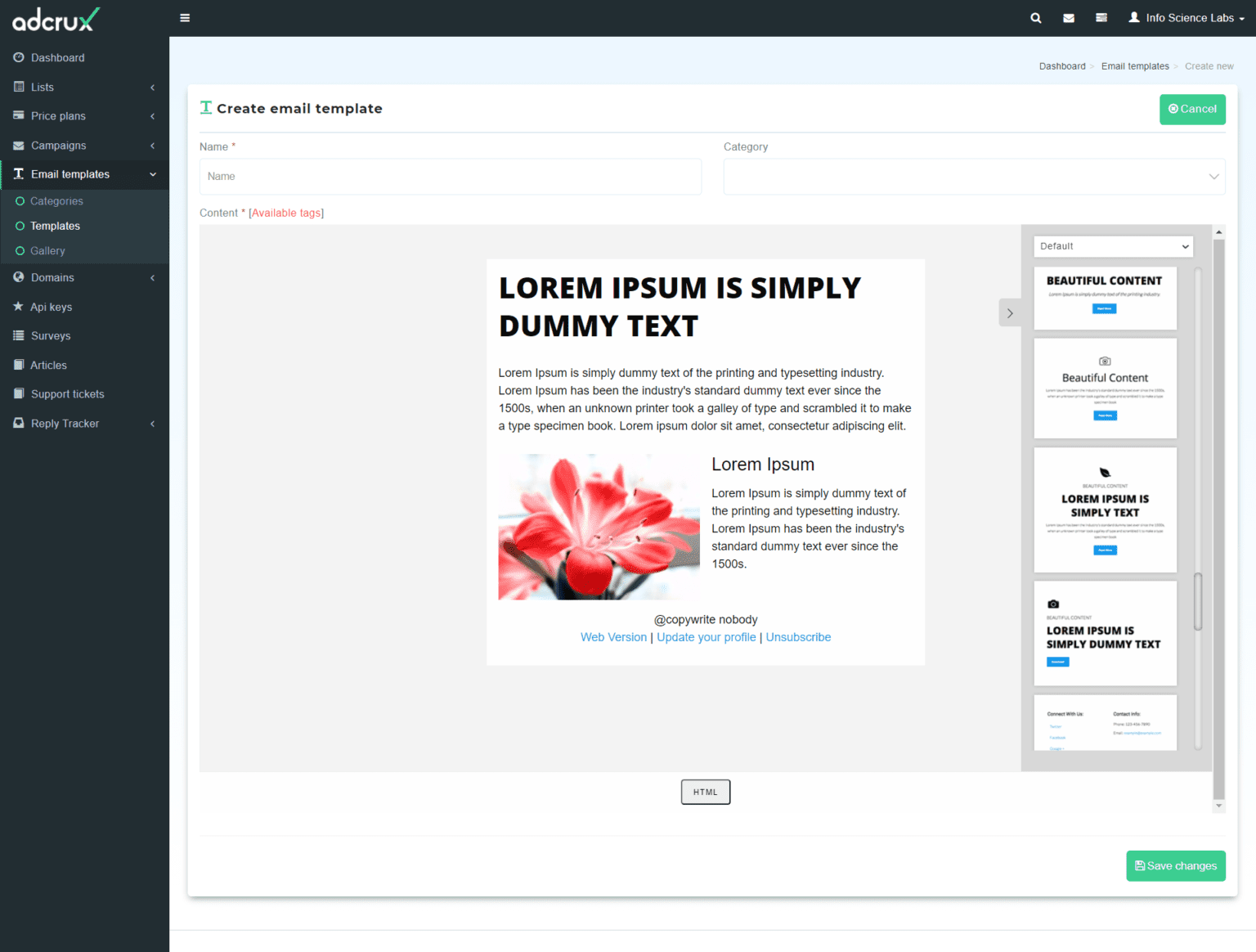 You can easily start building your email marketing campaign by selecting one of the templates or starting from scratch. There are over 100 elements to choose from where you can add anything from images, to social links, to a pricing column, and much more.
Track Email Campaign Performance In The Analytics Dashboard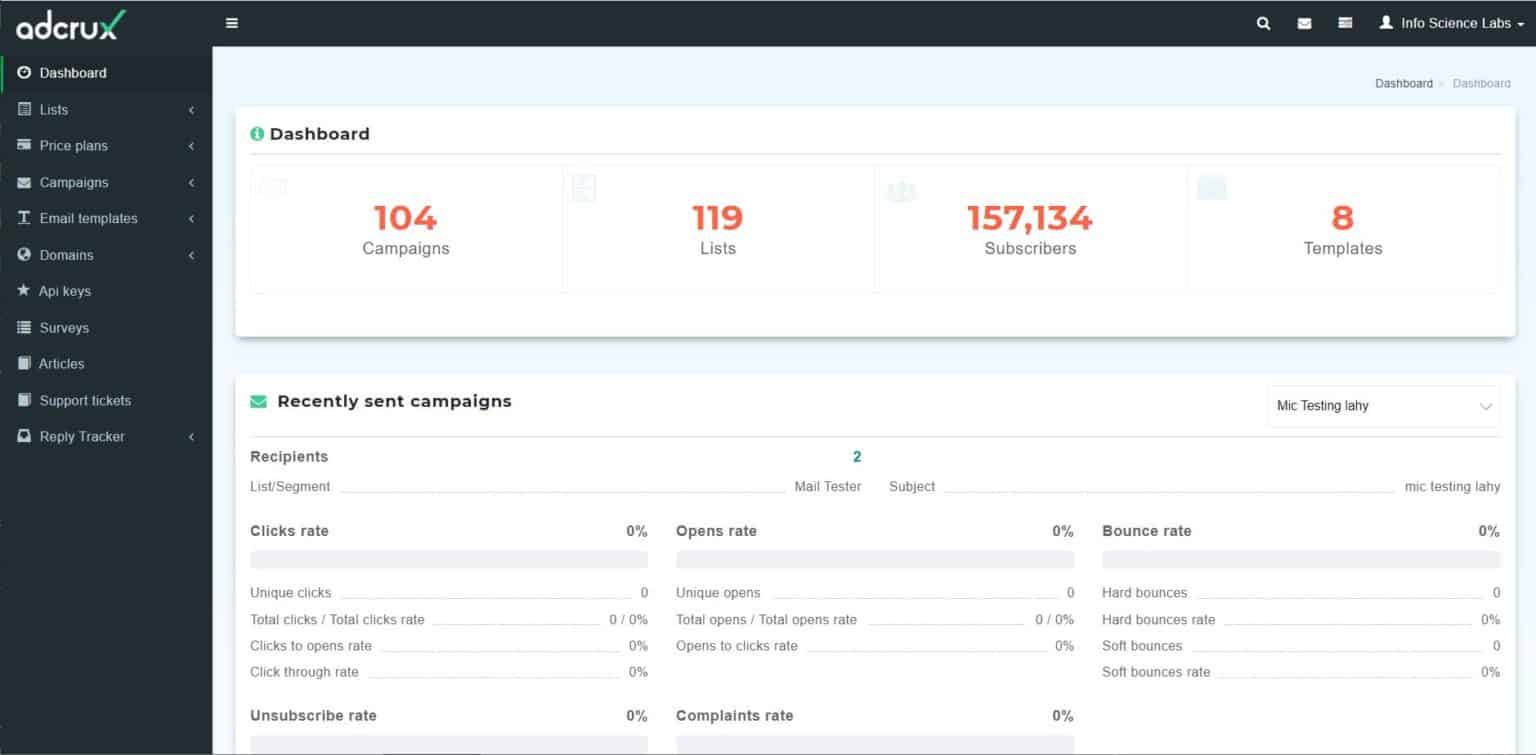 Track subscriber growth, reply rates, open rates, and much more in an easy-to-understand dashboard.
Simple & Effective All-In-One Email Marketing Tool
Simplify email marketing with Adcrux, the all-in-one email marketing software for marketers and agencies.
Normally you would pay up to $629/year, but for a limited time only you can get lifetime access starting at $49 one-time.
Get the deal while stock lasts!
Adcrux Lifetime Subscription
Lifetime access to Adcrux
All-in-one Email Marketing Platform
12,500 emails/month
Unlimited Campaigns
Unlimited Contacts Lists
Unlimited Survey Forms
Unlimited Templates
100s of email templates and elements
Drip Campaigns
Detailed Report & Statistics
Reply Analytics
Cold email support
All future updates
30-day Money Back Guarantee
Don't miss out on your chance to secure access to Adcrux Email Marketing Software For Marketers Lifetime Deal at a one-time fee for lifetime access! Click the button below to check it out.
Click Here to View The Adcrux Email Marketing Software For Marketers Lifetime Deal For Yourself
You may also like