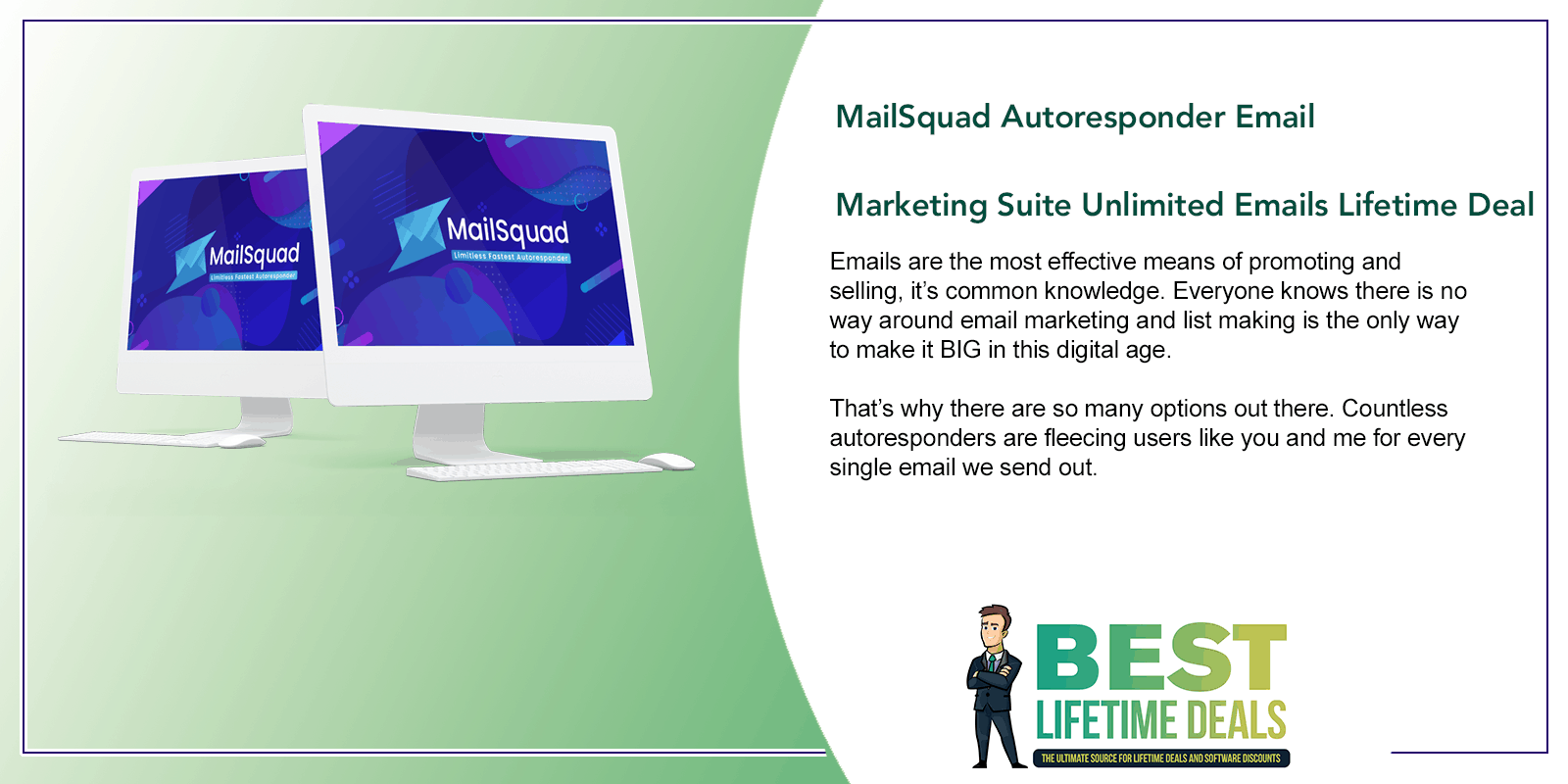 Choose Your Desired Option(s)
MailSquad Autoresponder Email Marketing Suite Unlimited Emails Lifetime Deal
Send As Many Emails To As Many Subscribers As You Want… With Just ONE Click
Emails are the most effective means of promoting and selling, it's common knowledge. Everyone knows there is no way around email marketing and list making is the only way to make it BIG in this digital age. That's why there are so many options out there. Countless autoresponders are fleecing users like you and me for every single email we send out.
They make you install some plug-in. The confusing and inefficient interfaces of these nameless apps make you do all the heavy lifting…all while you pay a bomb each month! So when a solution like Mailsquad comes your way and promises to make life easy…it's almost unbelievable!
Mailsquad How Do You Use It?
Step 1: Plug – Get started immediately by logging-in to our cloud based platform
Step 2: Play – Instantly create high-converting campaigns with out in-built optin forms or simply upload your list
Step 3: Profit – Begin making instant profits as we send guaranteed-to-convert automated emails on your behalf

Click Here to View The MailSquad Autoresponder Email Marketing Suite Unlimited Emails Lifetime Deal
For Yourself
MailSquad Features
Be the first to send your emails marketing campaigns using in-built SMTP
Deliver all transactional and business emails to your audiences' inboxes. However, never again get blocked or tagged as spam
For mass email marketing, our new SMTP service helps you send unlimited emails and makes sure they're read
Run promotional campaigns and reach the masses
Deliver emails for your apps using our SMTP technology
Send bulk emails without the fear of getting your IP address blacklisted
MailSquad Benefits:
New Age Email Marketing At Age Old Pricing
Level up your email marketing game using the futurist technology at a one-time low fee. No recurring fee and no success tax!
Sky's The Limit
Now send unlimited emails to all your subscribers at once. MailSquad is designed for you to succeed without any limit on the number of subscribers and running campaigns.
Use this guaranteed-to-convert templates to reach out to your audience as often as you like.
Effective From Anywhere At Any Time!
This powerful technology is 100% hosted on the rock-solid cloud servers. Your subscribers can access it from the device of their choice with ease.
All emails are optimized to seamlessly integrate within smartphones. This basically means no extra effort at your end to double your sales from the mobile internet traffic.
Plug-N-Play With No Downtime
Instantly email your subscribers without wasting a precious moment. All marketer friends are sure to understand the value of time in building a brand.
You can simply upload your list of subscribers onto the app. No verification and double-opt in to disrupt the flow of profits.
Everything, In Your Time
Pick the best time to reach out to your audience. Simply schedule your email and let us take care of the rest while you sit back and bask in the glory of your success.
Grow As You Use
MailSquad helps you create and build a list as you go even if you don't have one to begin with!
Transform your visitors into subscribers using our effective opt-in forms.
Attractive Templates
Attract thousands of visitors with our creatively designed ready to use templates with drag-n-drop ease!
Making Beginners Experts
Easy has a new name, it's MailSquad. Simply copy & paste to get started.
Send professional emails without any technical knowledge (full API integration with all the major providers & SMTP is built-in.
Everything Automated
Send emails as you like and when you like. Everything is done for you.
All you need to do is log-in and watch the magic unfold.
Frequently Asked Questions
Does Mailsquad Cost A Monthly Fee? During our special period offer, you get Mailsquad at a one-time low cost. There is no recurring fee or success tax EVER!
Are Others Having Results With Mailsquad? Testimonials from real customers & our personal experience (on this page) can vouch for the magnificent results of Mailsquad.
Do I Need Any Tech Skills Or Experience To Make This Work? Mailsquad is completely automated. You don't need to be an expert to push a few buttons.
Will This Work In Any Niche? Whatever the niche, Mailsquad makes everyone's life easy and profitable.
Is Support & Training Included? Yes, we stand by you 100%. Our support team is available to you round the clock. Step-by-step tutorials are also included to make you an expert instantly!
Don't miss out on your chance to secure access to MailSquad Autoresponder Email Marketing Suite Unlimited Emails Lifetime Deal at a one-time fee for lifetime access! Click the button below to check it out.
Click Here to View The MailSquad Autoresponder Email Marketing Suite Unlimited Emails Lifetime Deal
For Yourself
You may also like