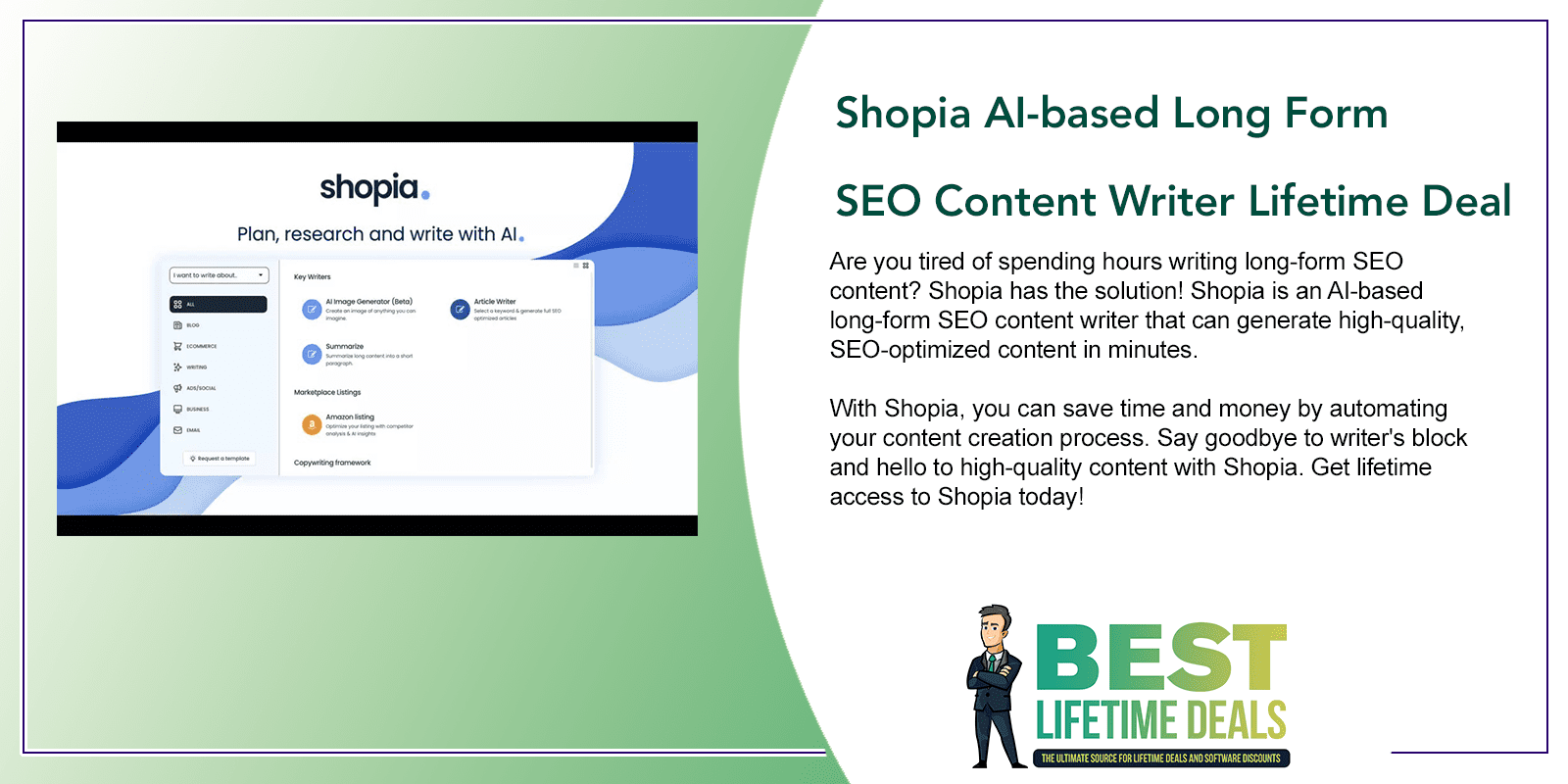 Choose Your Desired Option(s)
Shopia AI-based Long Form SEO Content Writer Lifetime Deal
Are you tired of spending hours writing long-form SEO content? Shopia has the solution! Shopia is an AI-based long-form SEO content writer that can generate high-quality, SEO-optimized content in minutes.
With Shopia, you can save time and money by automating your content creation process. Say goodbye to writer's block and hello to high-quality content with Shopia. Get lifetime access to Shopia today!
Introducing Shopia AI-based Long Form SEO Content Writer Lifetime Deal
Shopia is a stunning AI-based content-writer that can write pretty much anything within seconds.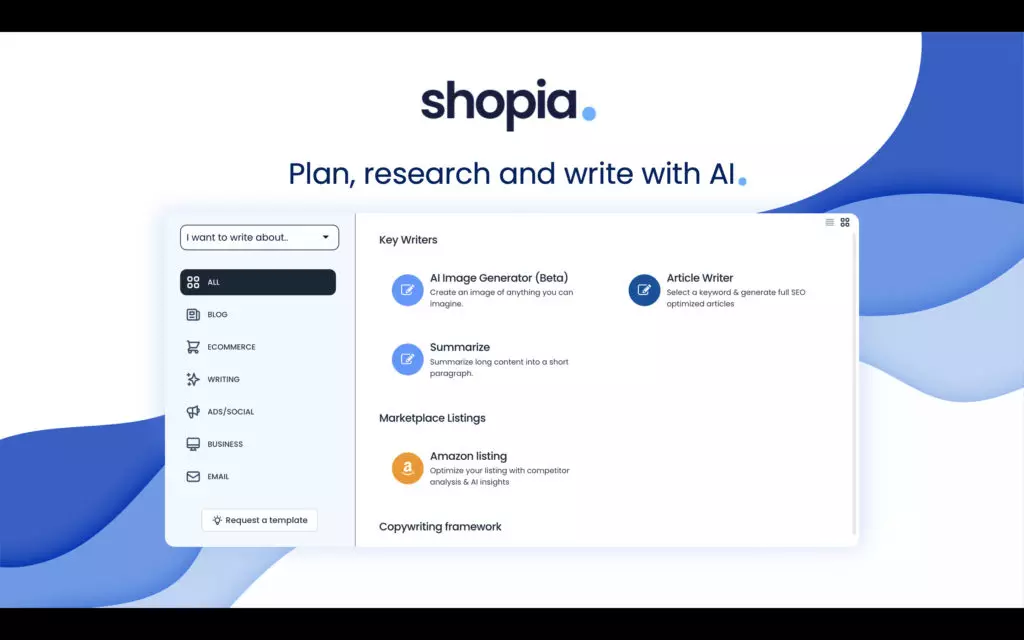 Scale Your Business With Shopia, Your AI Writing & SEO Assistant!
Shopia uses GPT-3, the Rolls Royce of natural language AI models to write all of its content, giving you the most natural and highest quality results possible.
Article researcher, writer and SEO assistant – Shopia will find groups of key articles to write for your niche, analyze the top Google results for each article and then generate content that hits key SEO metrics. Content built to outrank the top results, and all in a few clicks.
Choose from over 50 AI writers including bulk generators – combine them to write exactly the kind of content you need in Shopia's long form editor.
Send and schedule your content to anywhere with integrations to 5000+ apps via Zapier – With Shopia's custom integration workflows, it's much easier than ever to automate your content creation process. Connect your generated content to Google products, your blog, Mailchimp, social media accounts, eCommerce platforms, email clients & much more.
Are you ready for success? Get Shopia today!
Shopia has more than 80 writing templates that can be used to create just about any type of document.
Send and schedule your content to over 5K apps using our the integration system powered by Zapier.
Using the Research Assistant, Shopia pulls the top articles from Google so you may examine the content of competitors at every stage.
Shopia was designed with speed in mind; you may create interesting articles of more than 2500 words in only a few seconds!
Key Features #1: Full Article Writer & SEO Assistant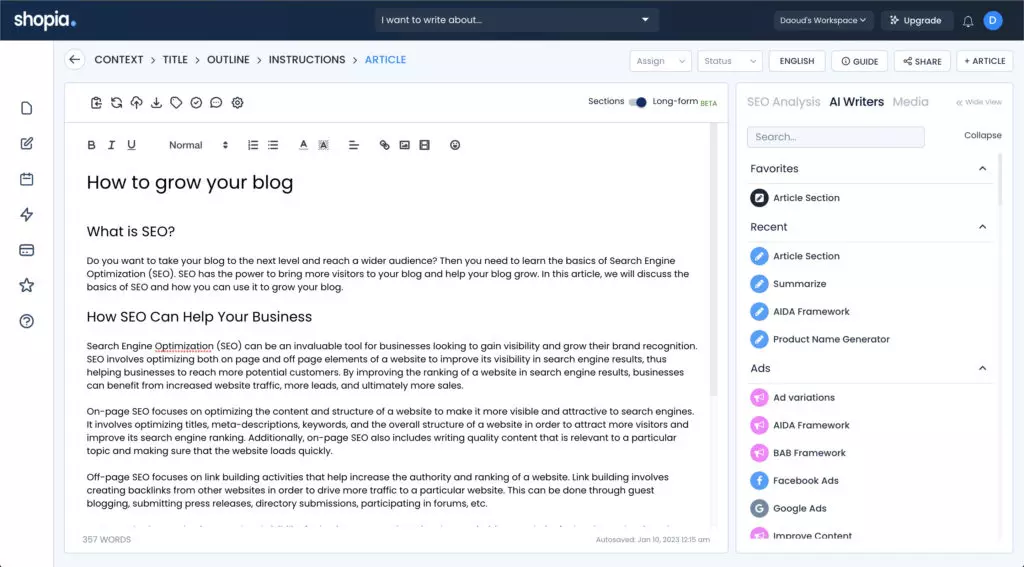 SEO Research – Let Shopia find every article you should generate using Topic Clusters
SEO competitor insights – Key on-page SEO metrics & generate based on top SERPS
Key Features #2: 80+ Writing Templates By Using Long-Form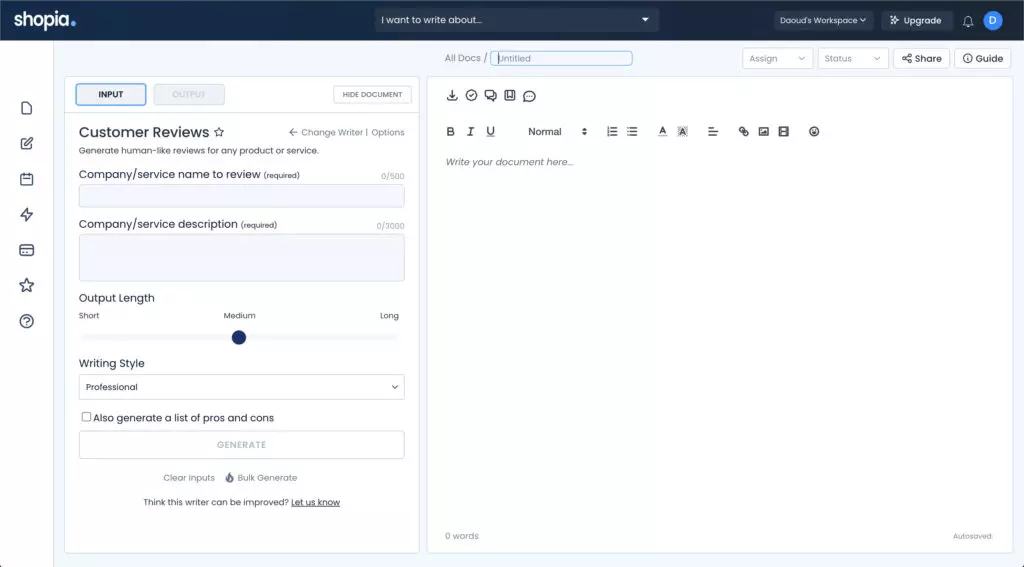 Shopia has more than 80 writing templates that can be used to compose just about anything.
With just a brief description, you may create creative content including articles, product descriptions, emails, reviews, and even songs.
As an alternative, you can summarize, paraphrase, improve, and more with the text you already have.
Key Features #3: Instantly Create Relevant, 2500+ Word Articles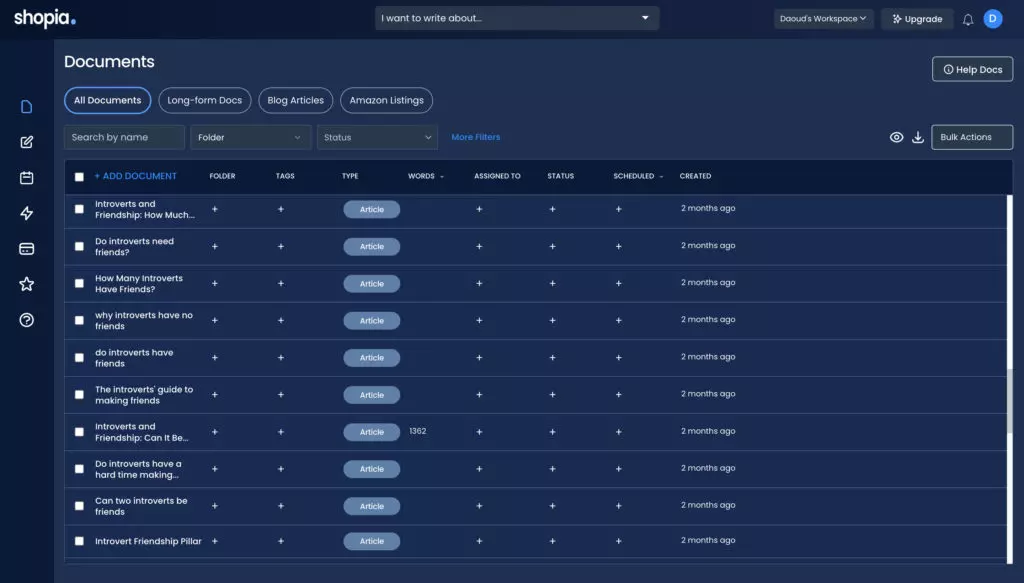 Helps you to automate additional processes, such as giving you access to YouTube suggestions and royalty-free photos.
Tools for ads, social, blog, eCommerce & much more
Simple workflows to manage your favorite generated content
Connect to 1000's of creators & editors to publish your content
Built-in content grading, SEO metrics, and plagiarism detection
Click Here to View The Shopia AI-based Long Form SEO Content Writer Lifetime Deal For Yourself