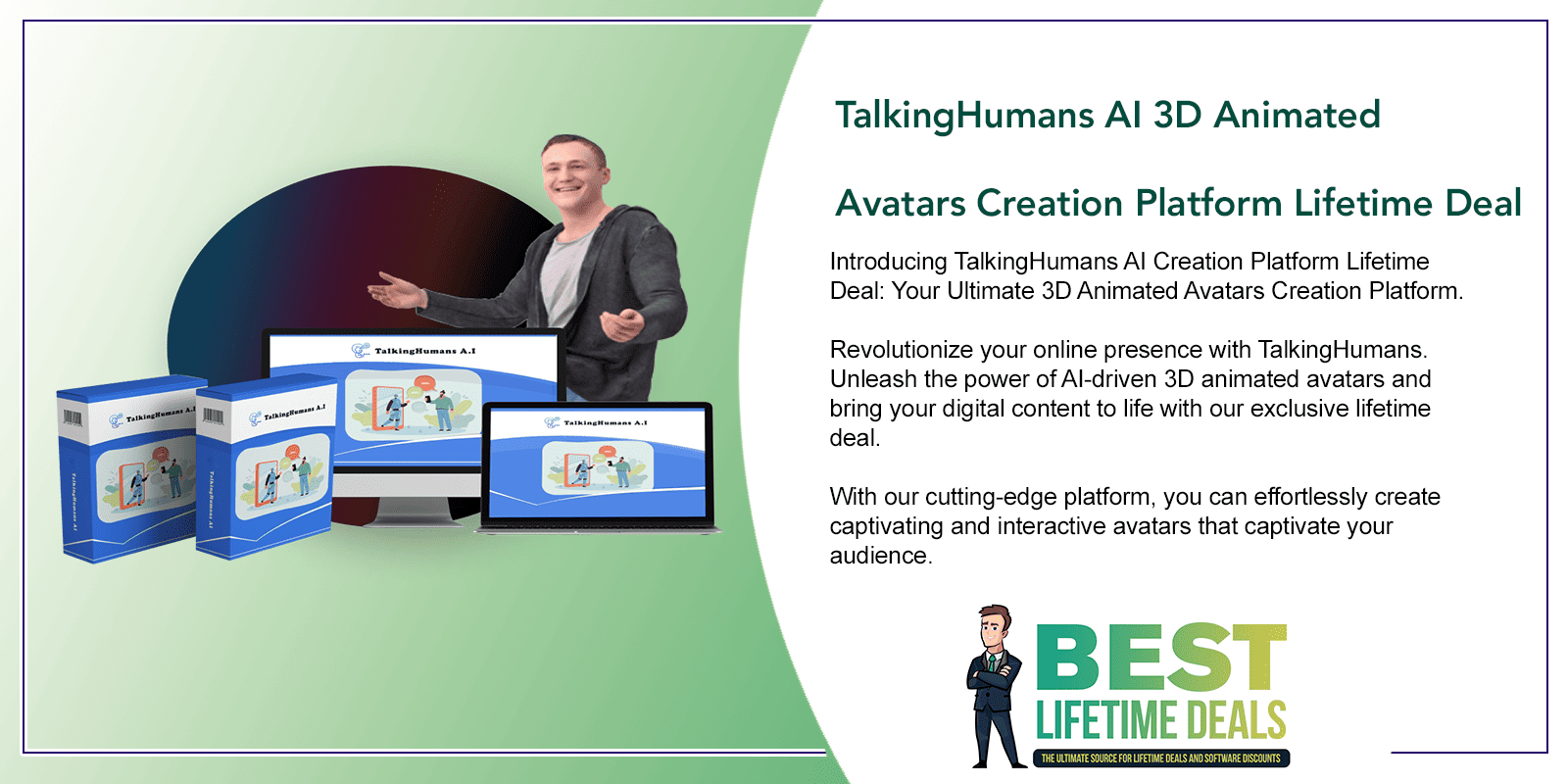 Choose Your Desired Option(s)
Introducing TalkingHumans AI Creation Platform Lifetime Deal: Your Ultimate 3D Animated Avatars Creation Platform.
Revolutionize your online presence with TalkingHumans. Unleash the power of AI-driven 3D animated avatars and bring your digital content to life with our exclusive lifetime deal.
With our cutting-edge platform, you can effortlessly create captivating and interactive avatars that captivate your audience. Customize their appearance, expressions, and gestures to match your brand and engage your viewers on a whole new level.
Elevate your storytelling with realistic and lifelike avatars that convey emotions and deliver your message with impact. Whether it's for marketing videos, presentations, e-learning courses, or social media content, TalkingHumans is your go-to solution for visually compelling communication.
Our AI technology simplifies the avatar creation process, saving you time and effort. No need for complex animation skills or expensive software. With just a few clicks, you can have your own animated spokesperson ready to charm your audience.
By grabbing our lifetime deal, you secure access to all the advanced features and future updates without any recurring costs. Join a community of creative professionals and take your digital content to new heights.
Don't miss this exclusive opportunity. Get TalkingHumans today and unlock a world of animated possibilities. Transform your content and captivate your audience like never before. Your digital storytelling journey begins here.
Introducing TalkingHumans AI 3D Animated Avatars Creation Platform Lifetime Deal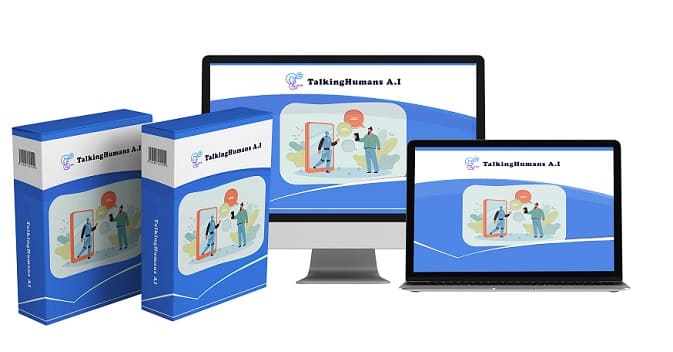 WORLD'S First ChatGPT4 Powered Cloud Based Platform That Generates Unique High Quality Content & Converts It To Real Emotion Based Talking Human Avatars & Even Audios With A Few Clicks!
TalkingHumans AI 3D Animated Avatars Creation Platform Lifetime Deal Features
TalkingHumans in, unlike others. It has a wide range of features. Here are major features of it:
100% Cloud-Based: It is totally cloud-based platform. You don't need to install any software or file. Just enter your username and password and get access.
3D Talking Human Creator: Talking Humans AI can generate your or someone else's voice like a real human. It has 11 different emotion features and 300+ voice-over templates.
50+ Languages: TalkingHumans AI comes with 50+ popular languages. I mean that if you want to get a human-like voice in your native language, you have the option to generate in it that particular language.
Convert Photo to Cartoon: TalkingHumans AI can convert your old photo to a stunning cartoon.
100+ Real Human Voice Templates: It has more than 100 real human voice templates. You can start from scratch as well meaning you can upload your voice or someone else's voice.
DFY 1 Million Articles: If you want to create any audiobook, you don't need to search for content. TalkingHumans AI has a database of 1 million articles from every category.
One-Time Payment: Unlike other ai tools, TalkingHumans AI doesn't ask for recurring payments. You pay once and take benefits/profits forever. And the crazy thing is that having hundreds of features, TalkingHumans AI asks for a small one-time payment.
No Skills or Experience Required: TalkingHumans AI is easy to use with a lot of features. If you are a beginner and know how to use WhatsApp, you are able to operate TalkingHumans Ai too.
Commercial License Included: TalkingHumans AI comes with a commercial license. You can sell it out in the market according to your listed prices.
Drag n Drop editor: After generating your video, ads copy, 3D avatar, etc, you can edit according to your need.
Step-by-step Training: Although TalkingHumans AI is very easy to operate if you want to see its full potential of it, there are step-by-step video tutorials on how to use it.
Money Back Guarantee: The creator of the TalkingHumans AI claims if it doesn't work, you will be refunded 10x your payment.
TalkingHumans AI – How does it work?
Start Your Own Content, Video & Even Voice Over Agency In 3 Simple Steps
STEP 1 Login To Members Area
STEP 2 Just Enter A Keyword Or Upload Your Own Old Image, Voice, Text File etc
STEP 3 GPT4 Technology Will Generate Unique High Quality Content, Emotion Based Real Human Artists & Even Voice Overs.. Also Convert Them To Classy AudioBooks
TalkingHumans AI 3D Animated Avatars Creation Platform Lifetime Deal Benefits
100% ChatGPT4 Powered & Cloud Based Platform
GPT4 Powered Multi Purpose Content Generator Feature
GPT4 Powered Real 3D Talking Humans Creator Feature
GPT4 Powered Real Human Emotion Based Voice Overs
GPT4 Powered AudioBooks Creator Feature
GPT4 Powered AI Cartoon Images & Graphics Generator Feature
100+ Real Humans & Voices To Choose From
50+ Languages To Choose From
Inbuilt DFY 1 Million Articles With Full PLR License
Create Unlimited VSL's, Sales Copies, Emails, Ads Copy Etc.
Switch Your Old Boring 2D Avatars into a Real Human Artists & Voices
Pay Once & Get Profit Forever Without Any Restrictions
Inbuilt "Social Sharing" Feature For Getting Limitless Traffic
COMMERCIAL LICENSE Included
No Limitations – Completely Free
No Special Skills or Experience Required
$200 Refund If It Doesn't Work For You
Click Here to The TalkingHumans AI 3D Animated Avatars Creation Platform Lifetime Deal For Yourself
You may also like