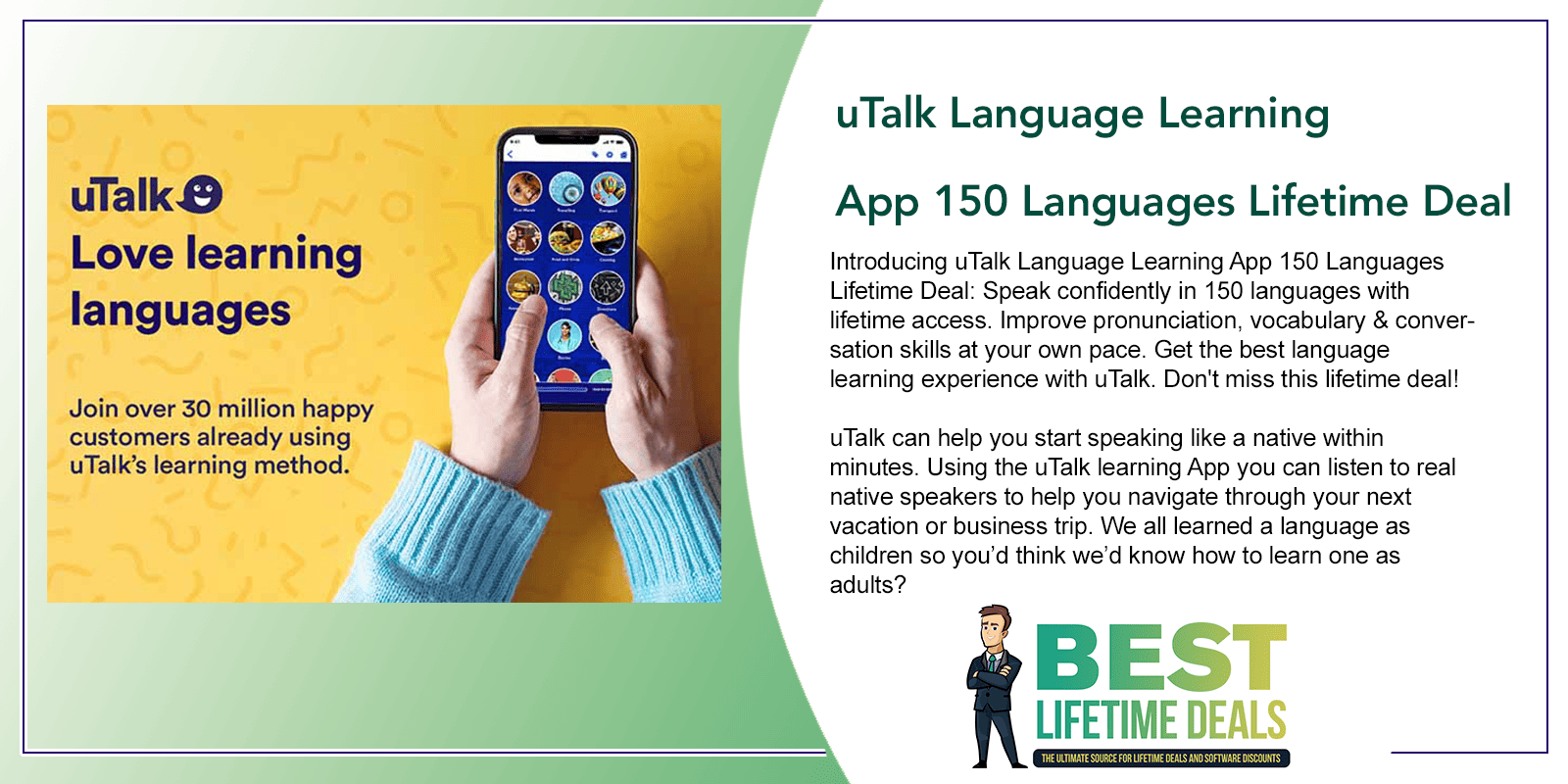 Choose Your Desired Option(s)
Introducing uTalk Language Learning App 150 Languages Lifetime Deal: Speak confidently in 150 languages with lifetime access. Improve pronunciation, vocabulary & conversation skills at your own pace. Get the best language learning experience with uTalk. Don't miss this lifetime deal!
Introducing uTalk Language Learning App 150 Languages Lifetime Deal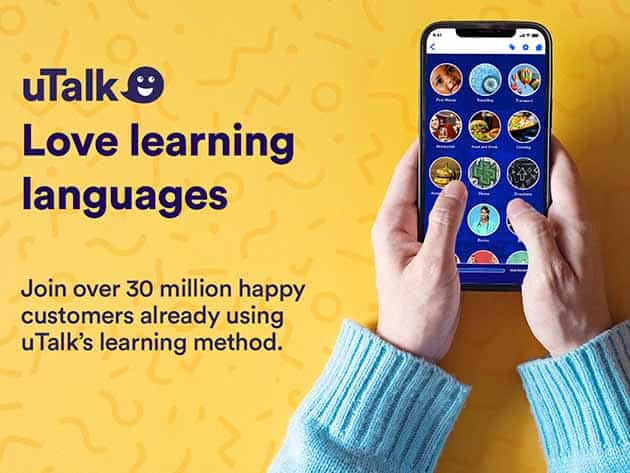 The World's Largest Collection of Languages, All in One Place, at a Great Price! Join 30 Million People Who have Used uTalk's Learning Method
uTalk can help you start speaking like a native within minutes. Using the uTalk learning App you can listen to real native speakers to help you navigate through your next vacation or business trip. We all learned a language as children so you'd think we'd know how to learn one as adults? But somewhere along the line – maybe because of all the other info we've been cramming into our brains since then – we've forgotten the trick of it. One thing for sure though is that our childhood ability to learn a language wasn't dependent on reciting verbs and conjugations. And it wasn't dependent on using voice recognition technology when our own ears did the job.

So learning a language with uTalk is child's play for all the right reasons. With more than 2,500 words and phrases to learn in each of our 150+ languages, the app gives you a running start on your journey to language fluency. Simple and easy to use, you have fun as you develop your language skills naturally – just like you did with your first language. Every single word you hear on the app is spoken by authentic native speakers so you're constantly immersed in your new language. And, because uTalk mirrors the way we all learn best as children, it lets you learn what you want, when you want, so you can progress at your own pace. Sometimes, even in this age of screens and technology, we could all do with learning the way Mother Nature intended.

uTalk's language programs let you understand how native speakers actually talk and feature independently verified translations so you'll be able to navigate through your next vacation or business trip and speak like a real local. You can learn any of our languages from your own language too, so whether you are a Spanish speaker who wants to learn Arabic, an English Speaker who wants to learn Spanish, or a French speaker who wants to learn Urdu, we've got you covered.
uTalk Language Learning App 150 Languages Features:
Access to all 150 + languages for life (see Important Details for full list) to learn from any device, any time you want
Discover real, practical vocabulary that you can use in real-world situations
Measure your achievements as you go along
Verify your learning by playing speaking games
Over 60 different topics to help you learn
Learn from native voice artists who really know what they're talking about
Access your account from any device so you can pick up where you left off anywhere
Important Details
Get a lifetime access to all and any of uTalk's 140 languages, including:

Afrikaans
Albanian
Amharic
Arabic (Egyptian)
Arabic (Gulf)
Arabic (Lebanese)
Arabic (Modern Standard)
Arabic (Moroccan)
Armenian
Assamese
Azerbaijani
Basque
Belarusian
Bengali
Bosnian
Breton
Bulgarian
Burmese
Cantonese
Catalan
Cebuano
Chibemba
Chichewa
Chinese (Hakka)
Chinese (Mandarin)
Cornish
Croatian
Czech

Danish
Dari
Dutch
Dzongkha
English (American)
English (Australian)
English (British)
English (Canadian)
English (Cockney)
English (Indian)
English (Scottish)
Esperanto
Estonian
Fijian
Filipino (Tagalog)
Finnish
Flemish
French
French (Canadian)
Galician
Georgian
German
German (Swiss)
Greek
Greek (Ancient)
Greenlandic
Gujarati
Haitian Creole
Hausa
Hawaiian
Hebrew
And more.

Length of access: lifetime
To view complete terms and conditions,
Have questions on how digital purchases work?
Terms
Unredeemed licenses can be returned for store credit within 30 days of purchase. Once your license is redeemed, all sales are final.
This item is excluded from coupons.
Click Here to View The uTalk Language Learning App 150 Languages Lifetime Deal For Yourself
You may also like