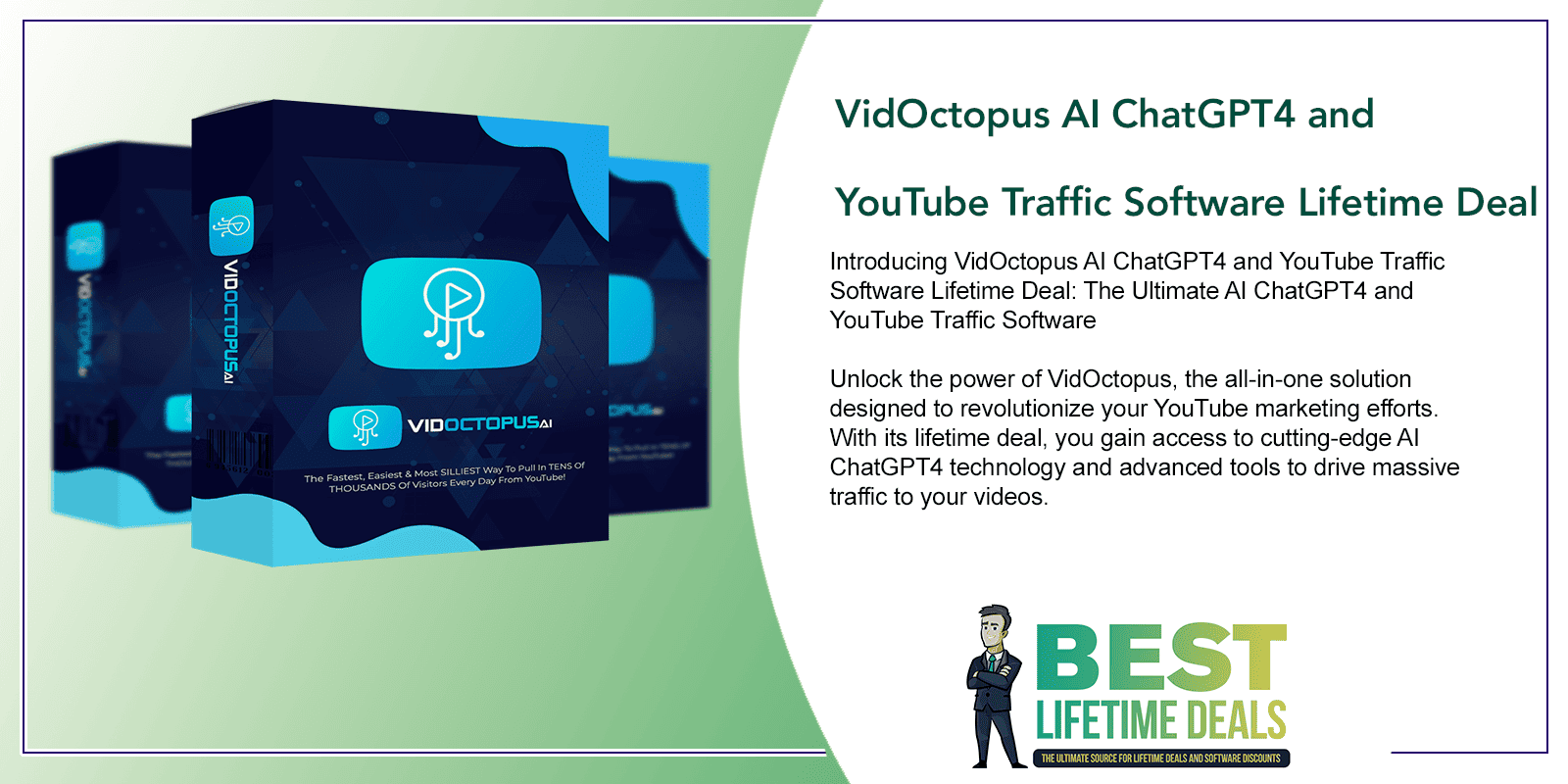 Choose Your Desired Option(s)
Introducing VidOctopus AI ChatGPT4 and YouTube Traffic Software Lifetime Deal: The Ultimate AI ChatGPT4 and YouTube Traffic Software
Unlock the power of VidOctopus, the all-in-one solution designed to revolutionize your YouTube marketing efforts. With its lifetime deal, you gain access to cutting-edge AI ChatGPT4 technology and advanced tools to drive massive traffic to your videos.
Introducing VidOctopus AI ChatGPT4 and YouTube Traffic Software Lifetime Deal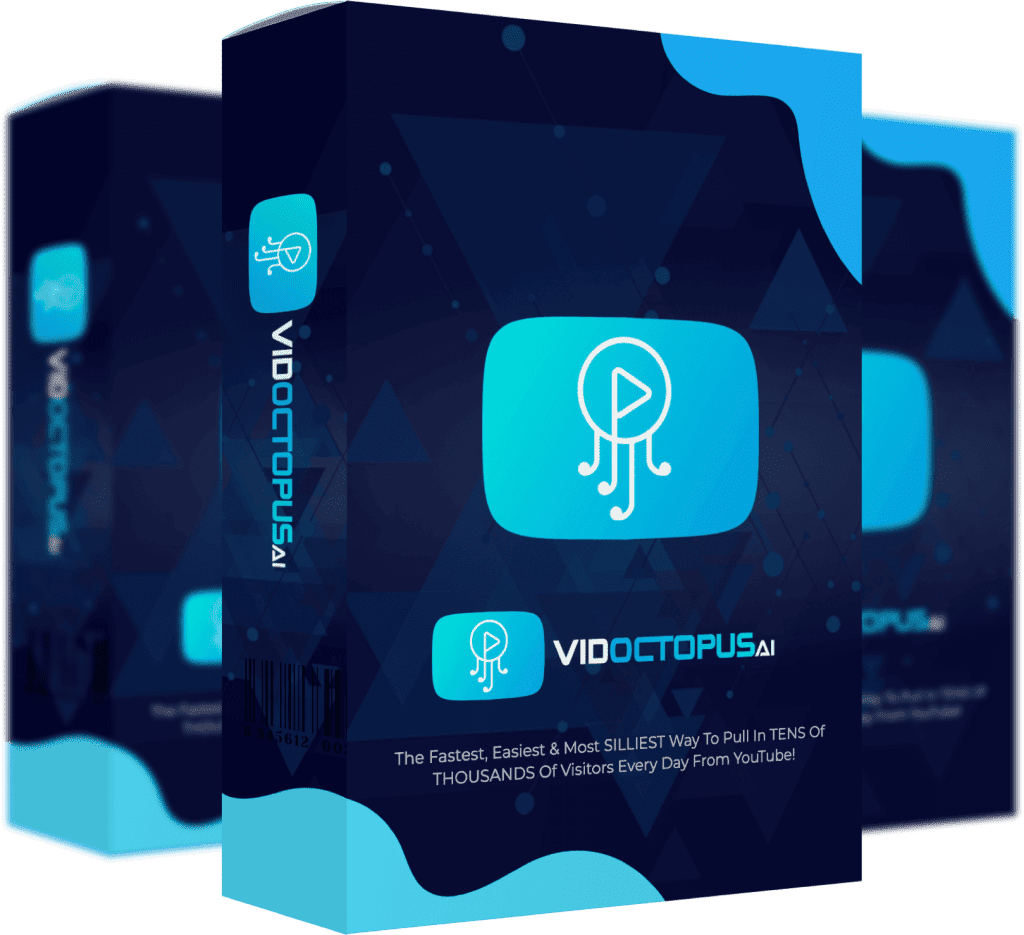 The World's First 8-In-1 Youtube Shorts Traffic Software That Combines REAL A.I, ChatGPT4 & Shorts To Drive MASSIVE Traffic Without ANY Paid Traffic, Subscribers Or Experience!
VidOctopus AI ChatGPT4 and YouTube Traffic Software Features:
100% Cloud-Based Software
There is no need for you to install anything. Just sign up and you can access our software from anywhere on earth, as long as there is an internet connection available you are good to go!
Add Your Videos, Use Other People's Viral Videos OrCreate From Scratch Using ChatGPT4!
There are millions of videos on YouTube that you can use for your shorts. You can find & legally use videos that are already getting a lot of views, or you can use one of your own videos or CREATE from scratch. Just type in your keyword or a sentence and our A.I. will generate a short script for you in seconds.
Pick From Our Carefully Crafted DFY Templates Or Create Your Own
We have a wide selection of DFY templates that you can use to create your shorts quickly and easily. Plus, you can also create your own templates from scratch if you want.
Fully-Fledged Yet SIMPLE Editor To Customize Your Videos.
You can change the text, images, and videos in your shorts to make them unique and more attention-grabbing. Change transitions, font, add images, videos, backgrounds, music, voiceovers, slides to perfectly fit your requirement.
Customise Your BRANDING.
You can add your own logo, branding, and watermark to the videos you create with VidOctopusAI. This way you can build your brand while driving traffic to your websites and offers.
Add INCREDIBLE Call-To-Actions (CTAs) That Get People Clicking!
You can add powerful call-to-action to your videos that will get people clicking through to your websites and offers.
Social Media Buttons
Arrows
Subscribe Buttons
SMILEYS
Gifs
Lower Thirds
 Viral Shorts Finder
Find viral videos that are already getting a lot of views, and quickly create shorts that you can use to drive traffic to your websites and offers. Save hours of time with our built-in viral video finder.
Viral Quote Generator.
Instantly create quotes that go VIRAL! This is one of the easiest ways to get massive amounts of traffic from social media. You can use our built-in viral quote generator to create quotes that people will want to share with their friends.
Royalty-Free Music Library
You can add professional audio tracks to your videos with just 1-click. This will make your videos more engaging and help them to stand out from the competition.
10 Million+ In-built Premium Stock Images & Videos
Get access to our library of 10 million+ royalty free images & videos. These are extremely high quality premium stock which you can use to make your videos look professional.
Add REAL Human Voiceovers
Forget about spending money on expensive voiceovers, you can just add your own voiceover or choose from our library of human like A.I. voices.
 Export Your Video In HD 720p and HD 1080p
You can choose to export your video in 720p or 1080p quality. Both of these are HD, which means you can watch your videos on all devices with no pixelation issues.
Why Choose VidOctopus?
AI ChatGPT4 Integration: Harness the power of AI ChatGPT4 to engage and interact with your YouTube audience. Generate dynamic, personalized responses that captivate viewers, increase engagement, and foster meaningful connections.
YouTube Traffic Boost: Maximize your video reach and visibility with VidOctopus's powerful traffic software. Leverage advanced SEO optimization, strategic tagging, and promotion tactics to drive targeted traffic to your YouTube channel.
Video Analytics: Gain valuable insights into your video performance. VidOctopus provides comprehensive analytics, allowing you to track views, engagement, click-through rates, and more, enabling data-driven decisions to improve your content strategy.
Content Management: Organize and manage your YouTube videos effortlessly. VidOctopus offers a user-friendly interface to upload, schedule, and optimize your content, saving you time and ensuring a consistent presence on your channel.
Lifetime Deal Advantage: Take advantage of this exclusive lifetime deal on VidOctopus. No recurring fees or limitations. Access all the powerful features and enjoy continuous updates and enhancements for a one-time investment.
Don't Miss Out on This Lifetime Deal!
Secure a lifetime deal on VidOctopus today and revolutionize your YouTube marketing game. Join countless successful creators who have achieved unprecedented growth and engagement with VidOctopus's innovative features.
Unleash the potential of your YouTube channel. Get the VidOctopus AI ChatGPT4 and YouTube Traffic Software Lifetime Deal now!
Click Here to The AVidOctopus AI ChatGPT4 and YouTube Traffic Software Lifetime Deal For Yourself
You may also like