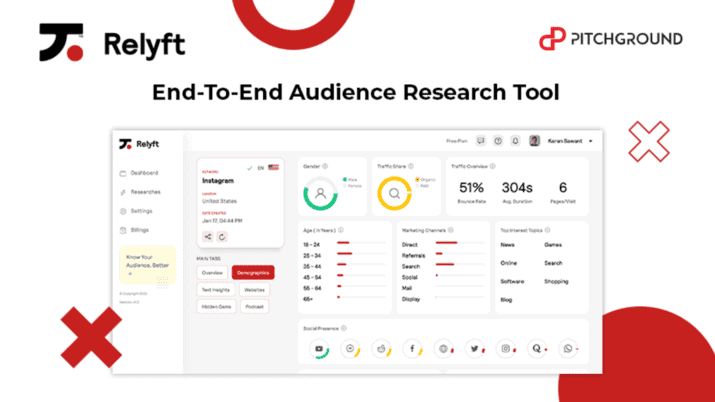 Choose Your Desired Option(s)
Relyft Research Tool Audience Insights Free Lifetime Deal
Increase Your ROI Using An Audience-Targeted Approach.
Discover 30+ Insights on Your Audience and Unlock High-Value Opportunities.
Introducing The Relyft Research Tool Audience Insights Free Lifetime Deal
Marketing can be a daunting task for any business, especially when trying to reach your target audience. You need to understand your audience and what they want in order to be successful in your marketing efforts.
Having in-depth insight into your target audience is essential for any business, but acquiring it can take time. For example, you could be wasting time and money researching your audience with little to no return.
PitchGround Presents; Relyft
An end-to-end audience research tool that helps you discover key metrics like demographics and interests. Uncover new insights from Relyft's detailed report, such as popular topics, hashtags, and resistance points.
With this data, you can craft campaigns and strategies to engage your target audience.
Relyft is the best way to get to know your audience so that you can be more relevant and successful in your marketing efforts.
TL;DR:
Relyft is an audience research tool for the B2C segment that allows you to get deep insights into your target audience. It shows their likes, interests, modes of influence, hashtags used, and more for effective marketing.
Similar to: Sparktoro, Audiense
Intuitive UI and UX, easy-to-use platform, very stable.
Best for Solopreneurs, Freelancers, SMEs, Agencies, and CXOs who are looking for detailed insights into their target audience.
Critical Stats:
76% of companies experienced increased ROI using an audience-targeted approach. (Source: DataXu)
Around 82% of shoppers said that personalized ads influence their purchase decisions. (Source: Accenture)
Micro-targeting can increase the effectiveness of campaigns by a multiple of 2-3x containing localization and personalization. (Source: Optimove)
88% of marketers agreed that knowing their audience helps them tailor their campaigns for better results. (Source: Relyft)
Features:
Audience Demographics:
See detailed analytics about the live audience's demographics, including gender, age, hobbies, what excites them, and where they work. Understand the distribution of the traffic, marketing channels, social presence, and sentiment analysis.
The Audience Demographics feature helps you gain an understanding of the characteristics of the audience that you're researching. Get to know your customers and better target your content with the insights you can gain from Audience Demographics.
You can use the information to create a marketing campaign on Google, Facebook, and Twitter, increasing the reach and effectiveness of your message. With the Audience Demographics feature, you have the power to gain deeper insights into the people you're connecting with.
Audience Behaviors:
Understand who they follow, what they're interested in, what they're talking about, who's influencing them, and more. You'll gain insights into their interested publishers, the websites they visit, the hashtags they use, their habits with language, and more.
These advanced analytics and insights delivered by AI-powered tools allow you to better understand your audience and its behaviors to engage them more effectively.
Discover the best strategies to reach more people and make the most of your product. Use Audience Behaviors to keep track of your customers' interests, identify trends, and uncover new opportunities. With Audience Behaviors, you have the data you need to succeed.
Web Embed & Sharing:
The Web Embed & Sharing feature allows you to present and share your research findings organizationally and professionally easily. You can quickly and easily embed your findings on your website or blog or link to them so that others can easily access them.
Drive Traffic Through #Hashtags Your Audience Uses:
Relyft helps you learn more about the #hashtags your target audience uses and follows to improve social media interaction and brand exposure.
Relyft helps you learn more about the #hashtags your audience is most likely to use. This feature allows you to discover which hashtags your customers follow, the types of content they interact with, and the topics and conversations they're engaged in.
By understanding your target audience's hashtags, you can tailor your content and campaigns to their interests and needs. This can increase your brand exposure and engagement on social media and help drive more traffic to your website.
Some Interesting Use Cases:
Use Relyft to discover previously unknown treasures or podcasts discussing a particular research topic.
Use Relyft to gather more information about the demographics of the audience you are marketing to.
Performing text analysis on the live audience based on the text contained within the post, the comments, and the bios.
Use Relyft for conducting audience research to learn more about your target interests.
Why are businesses choosing Relyft over the rest:
Helps to perform live audience research.
Gets 30+ insights on the audience.
Knows about their social presence and discovers hidden traffic sources.
Get to know the interests of the audience.
Gets the current point of influence for the audience.
Simple setup and ease of use.
Available on a lifetime deal for a limited period of time
The best part? You will pay just once and can use Relyft for a lifetime. Grab your lifetime deal today.
Click Here to View The Relyft Research Tool Audience Insights Free Lifetime Deal For Yourself
You may also like