Choose Your Desired Option(s)
AkioSurvey is an intuitive online survey creation tool designed to help businesses and individuals collect valuable insights. With a lifetime subscription deal, users can create unlimited surveys and responses for a one-time fee. The platform features a variety of question types, customizable themes, and advanced reporting tools to help users analyze and make data-driven decisions. With AkioSurvey, you can create engaging surveys, gather valuable feedback, and improve your overall decision-making process.
Introducing AkioSurvey Online Surveys Creation Tool Lifetime Subscription Deal
AkioSurvey is the online survey platform that can be used for a wide range of tasks, from feedback and corporate surveys to market analysis and 360° polls.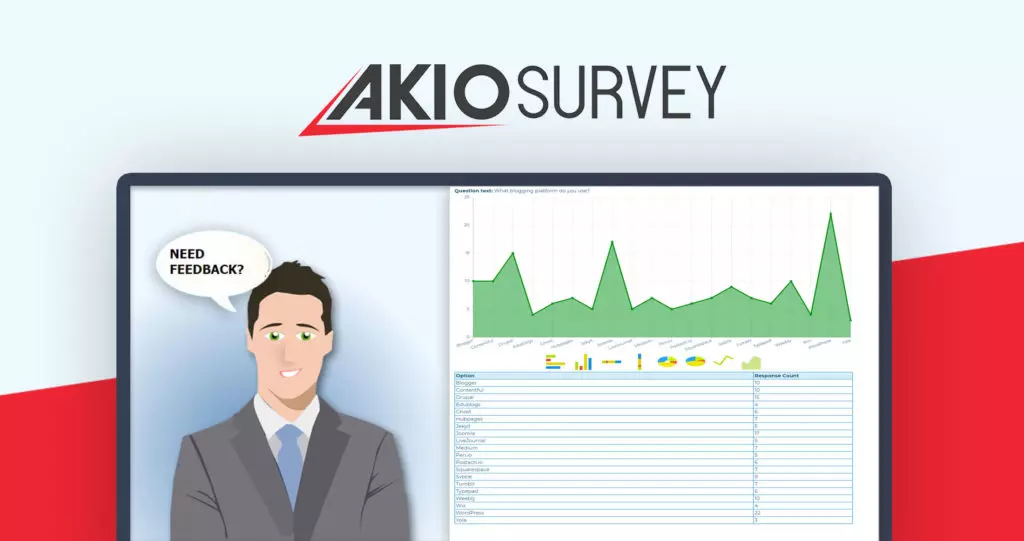 AkioSurvey is making online surveys a breeze. It's easy-to-use, and packed with plenty of helpful features.
AkioSurvey offers a crisp, intuitive user interface that makes gathering survey data easier than ever. Plus real time individual survey response tracking and summary options give you more control over your results. For extra convenience AkioSurvey even allows you to export poll results in PDF, XLS, or CSV formats.
Survey branching on page and question levels allows you to control response flow and ask questions based on previous respondent's answers. AkioSurvey even has mobile optimization capabilities so no matter what format your survey takes it looks great on any device.
AkioSurvey Online Surveys Creation Tool Features:
14 question types assist in asking the appropriate questions of respondents.
Get survey results in real time and export to PDF, XLS or CSV!
Custom logos and color schemes can be used to match the poll to the organization's branding.
The online poll can be distributed through a variety of channels, such as a custom web link, email, social media, or by embedding the survey directly into your web page.
What Can AkioSurvey Do For You?

AkioSurvey can be used for a variety of situations from customer satisfaction surveys to employee engagement surveys, and even 360-degree surveys, student surveys, and patient satisfaction surveys.
AkioSurvey also allows you to conduct online market research and scheduling poll surveys too! Submitted responses can even be automatically disqualified based on concrete conditions, which makes the response analysis even faster and easier. What's more, AkioSurvey also delivers response review analysis in realtime, helping you make data-driven decisions instantly.
What Are The Main Features Of AkioSurvey?

AkioSurvey offers 14 different question types, a secure respondent authentication process, multi-language support and various response design capabilities such as branching.
AkioSurvey also allows you to customize the look of your survey with survey branding, and you can conveniently export your survey results in PDF, XLS or CSV formats. AkioSurvey is the perfect tool to help you get the most out of surveying your customers.
Click Here to View The AkioSurvey Online Surveys Creation Tool Lifetime Subscription Deal For Yourself
You may also like