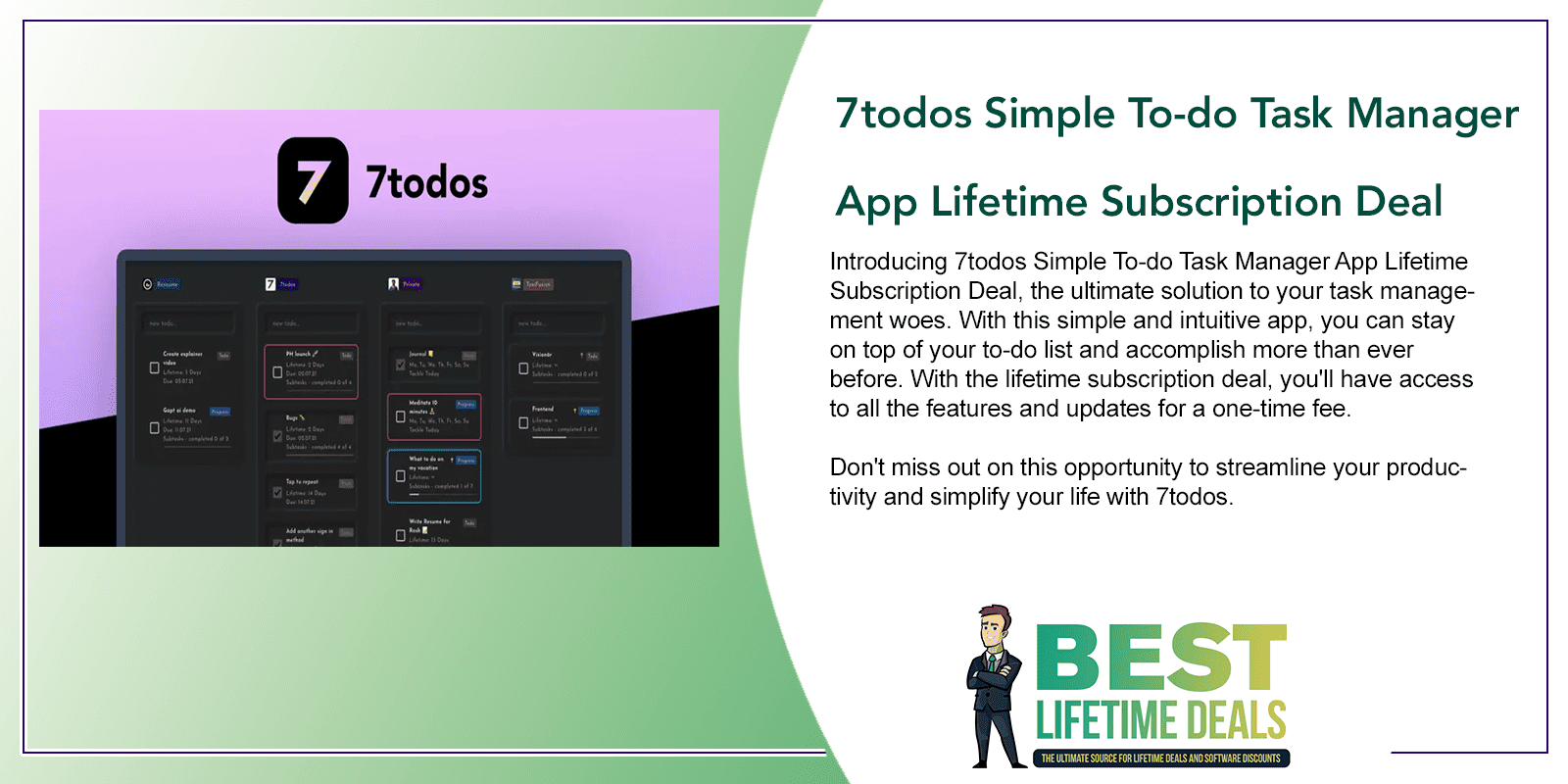 Choose Your Desired Option(s)
Introducing 7todos Simple To-do Task Manager App Lifetime Subscription Deal, the ultimate solution to your task management woes. With this simple and intuitive app, you can stay on top of your to-do list and accomplish more than ever before. With the lifetime subscription deal, you'll have access to all the features and updates for a one-time fee. Don't miss out on this opportunity to streamline your productivity and simplify your life with 7todos.
Introducing 7todos Simple To-do Task Manager App Lifetime Subscription Deal
Are you an Indie Maker? Content Creator? Freelancer? Then this is the task board for you. 7todos is simple, fast, and made for makers.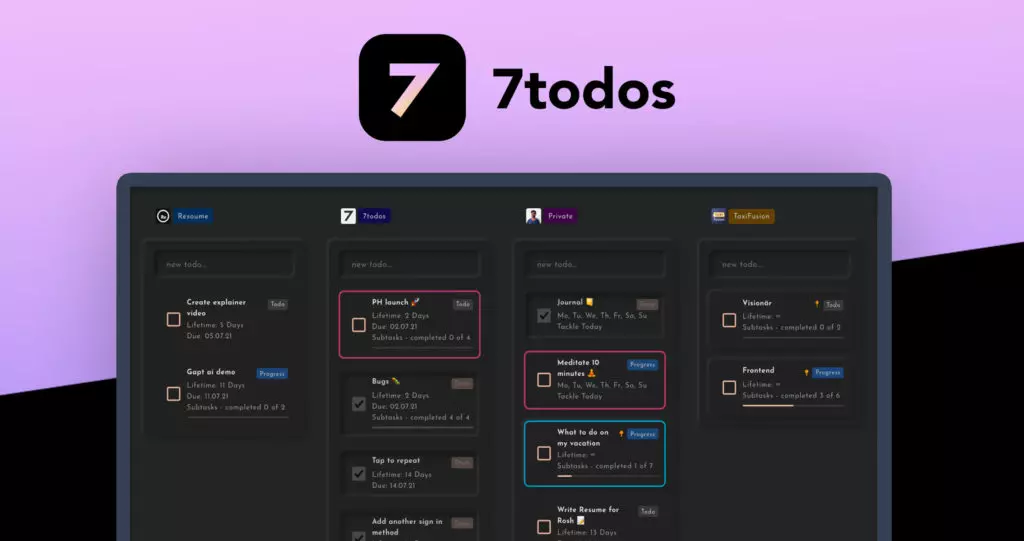 A Task Board For Makers
Wouldn't it be great if you could get an instant overview of your projects and workspaces so that switching between them became seamless?
" […] In my opinion it does that better than all the other more comprehensive tools like DoneDone, Easynote or Anywhere. Other tools may have more features or focus on teamwork, but when I work with them, I consistently feel like they slow me down. Not so with 7todos." – Sven
7todos Is Made For You, If You…
Work on multiple projects – We all have a lot on our plates
Want Daily Reminders – You'll never miss a chance to take care of your important tasks with this helpful tool
Love Analytics – See how much time you're spending on a specific task, or at your desk without having to keep track yourself.
Like A Browser Extension – If you're tired of opening up Todoist and then immediately closing it, this Chrome extension is for YOU! Add tasks quickly without leaving your browser.
Must Share Workspaces – You can't get ahead without working together. You need to work with your partner/co-founder on different tasks, and you have no room for distractions!
Need A Daily Planner – Filter out the noise and focus on what really matters."
Just to name a few…
Check out the upcoming features
Alternative to Asana, Monday.com and Trello
Features: GDPR-compliant
7todos Simple To-do Task Manager App Features:
This app can be used as a simple to-do app or as a task manager app
Get an overview of all your tasks across workspaces in a single view
Share workspaces with others so if you need to work on tasks with your team you can
Connect 7todos with 1000s of other tools with Zapier or Integrately
Connect To Automate
Indie Makers already have 100+ tasks to manage. Automate as much as you can!
Use Zapier or Integrately and connect your favorite tools to 7todos.
Make your life easier.
Click Here to View The 7todos Simple To-do Task Manager App Lifetime Subscription Deal For Yourself
You may also like