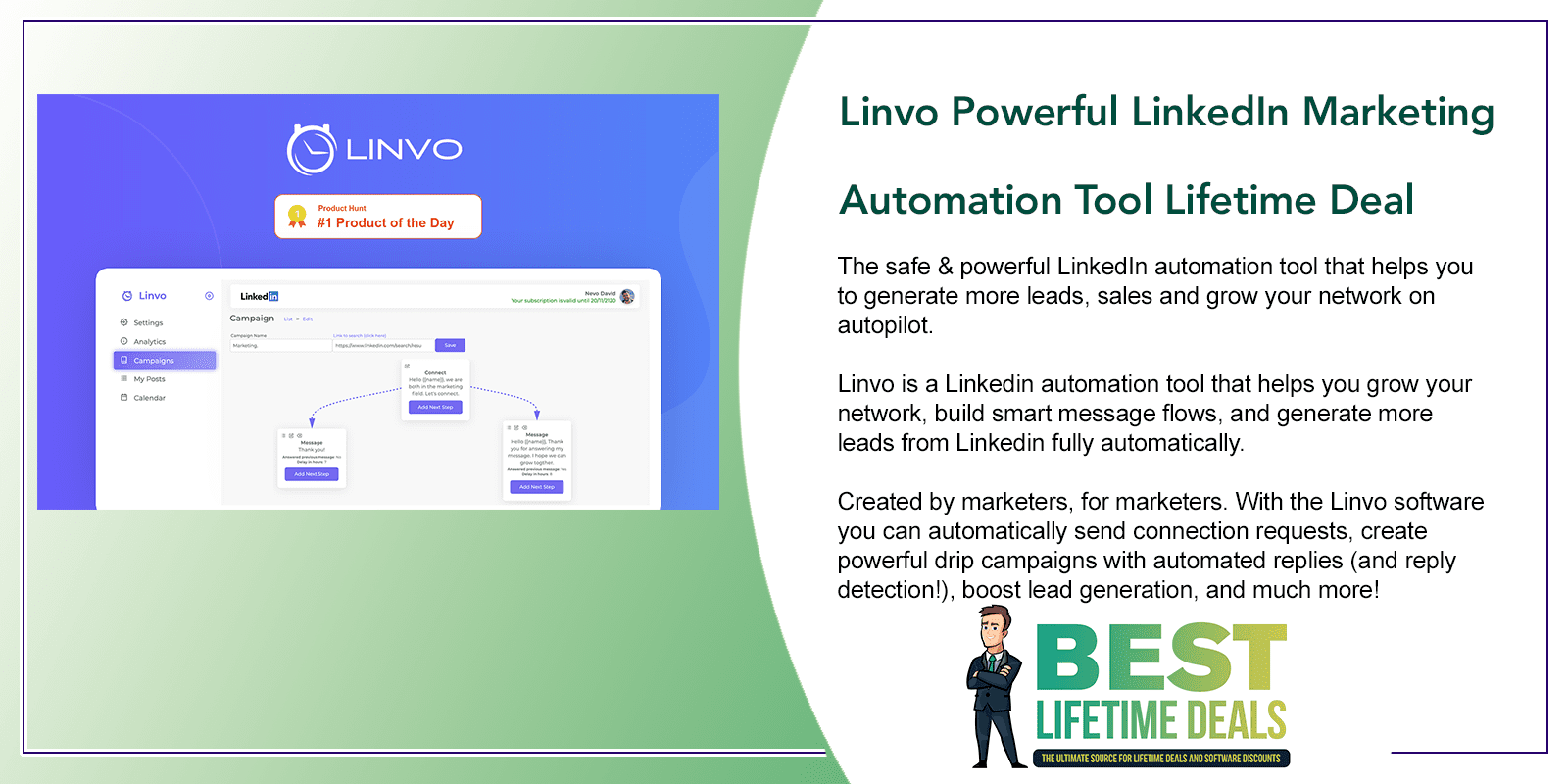 Choose Your Desired Option(s)
Linvo Powerful LinkedIn Marketing Automation Tool Lifetime Deal
The safe & powerful LinkedIn automation tool that helps you to generate more leads, sales and grow your network on autopilot.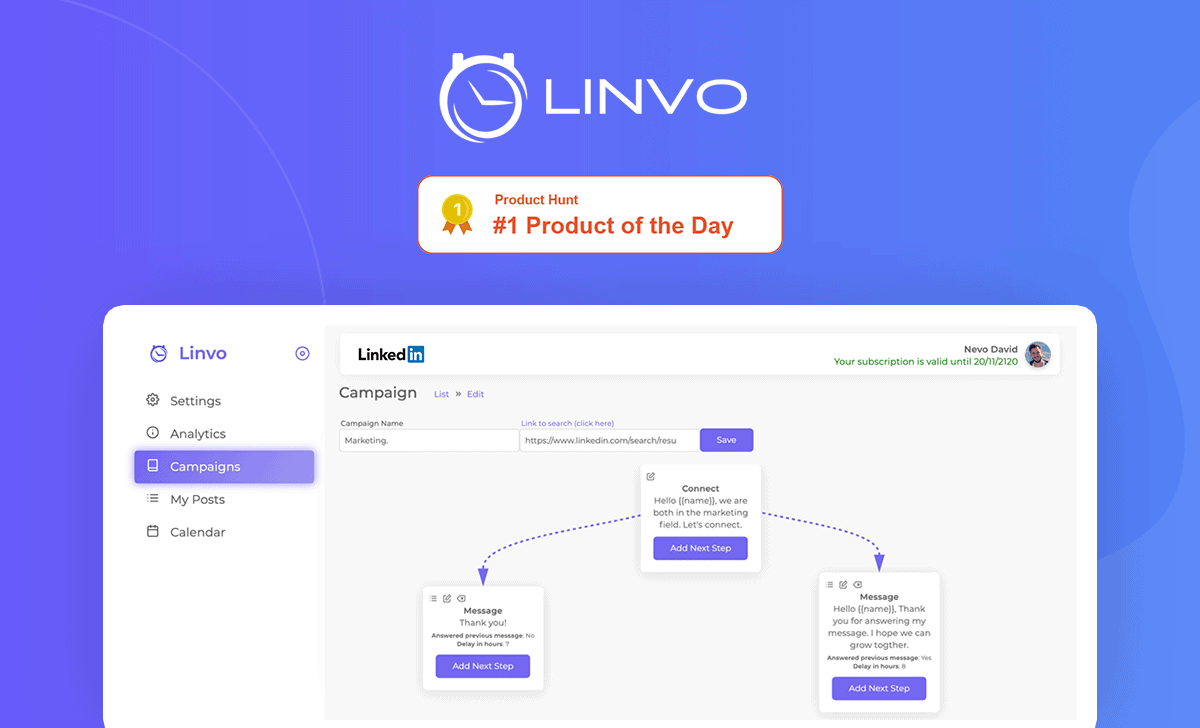 LinkedIn is one of the most important tools for any marketer or sales specialist. But it's a complex platform that can be challenging to manage.
Most marketers don't have enough time or resources to use LinkedIn effectively, and they're missing out on valuable leads and opportunities.
Linvo is a Linkedin automation tool that helps you grow your network, build smart message flows, and generate more leads from Linkedin fully automatically.
Created by marketers, for marketers. With the Linvo software you can automatically send connection requests, create powerful drip campaigns with automated replies (and reply detection!), boost lead generation, and much more!
Safe & powerful Linkedin automation tool that helps you to generate leads & sales fully automatically.
Send personalized Linkedin connection requests automatically, add follow-up email flows, and much more.
Get more likes on your Linkedin posts from real users with the 'Pods' feature.
Perfect for B2B marketers, sales representatives, recruiters & agencies.
Click Here to View The Linvo Powerful LinkedIn Marketing Automation Tool Lifetime Deal For Yourself
The Safe & Powerful LinkedIn Automation Tool That Helps You To Generate More Leads, Sales, Grow Your Network, And Engagement On Autopilot.
Linvo is the smartest way to design beautiful presentations in minutes and to generate leads inside your decks.
Add lead generation forms into your deck, connect your custom domain and capture leads from anywhere.
Linvo Automates Your Connection Requests, Messages, Replies, And Your Linkedin Posts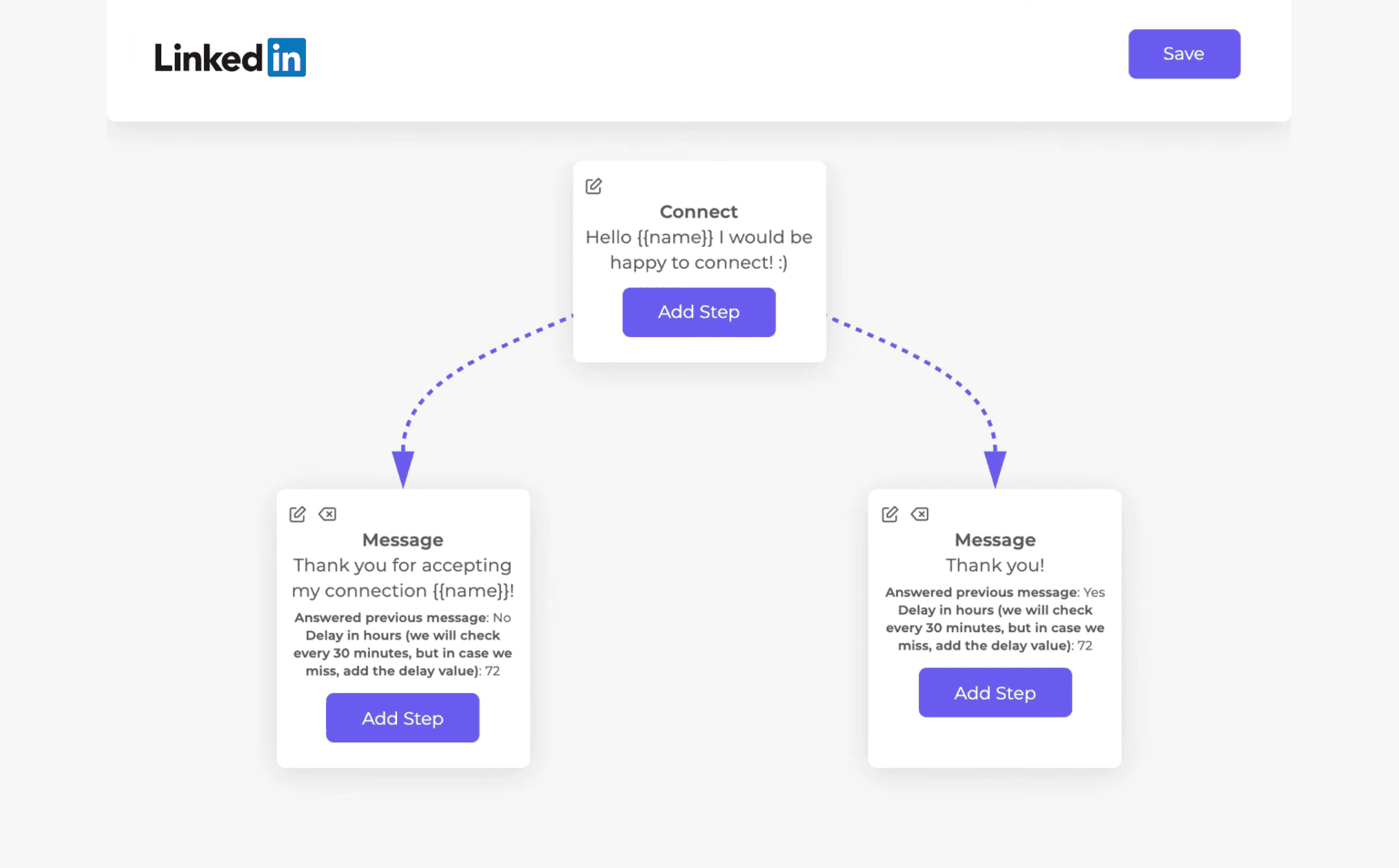 Linvo automates your connection requests, follow-up messages sent, replies, getting the email address, and scheduling Linkedin posts.
Setting up campaigns is easy in the drag & drop campaign builder.
Automatically Connect & Send Automated Follow-Up Message Flows In Linkedin
Simply select the first step: Automatically sending connection requests to the target audience you select.
You can easily select and filter your ideal customer characteristics to target.
After selecting your audience for sending the automated connection requests, you can add the next steps.
This can be a personalized Linkedin message thanking them for accepting your invitation.
Add as many follow-up messages as you want.
For example, after the initial connection request, wait for a few days, and then give the users a more concrete offering of your business.
Click Here to View The Linvo Powerful LinkedIn Marketing Automation Tool Lifetime Deal For Yourself
Linvo Even Automatically Gets The Email Of Your New Connections & Much More
Linvo even automatically fetches the email of accepted connection requests automatically.
What else can you do with Linvo?
You can export your connections to a CSV. It can be excellent for out-sourcing jobs or just your Sales team.
Once you connect, you get people's private emails. You can use it for your drip campaigns or directly into Facebook / Google ads.
Track your campaigns' connections to understand what's really working for you.
Linvo doesn't require you to select connections and connect.
You can set it up and forget about it!
Keeps Your Linkedin Account Fully Safe
I can hear you thinking. Awesome, a Linkedin automation tool, but how can I make sure my Linkedin account is safe?
Linvo has set limits of maximum 80 actions you can do per Linkedin account per day, simulating human behavior.
Next to that, you get access to a dedicated proxy, meaning the bot has never been used with any Linkedin account before, not raising any flags at Linkedin.
This way your safety is guaranteed.
Want to learn more about how Linvo is one of the only Linkedin automation tools that is actually safe? Check the video here.
Automate Multiple LinkedIn Accounts In One Manager Dashboard
With Linvo, you can even connect multiple LinkedIn accounts in one dashboard and manage your automations with ease.
It's perfect for agencies that need to run high-volume automated campaigns!
Advanced Analytics To Help You Grow
Curious how many leads you got this past week? Or on the performance of your different campaigns?
You can easily see this in a simple dashboard in Linvo.
Simple!
Loved By 1000s Of Users
Linvo is the most complete Linkedin automation tool available today, from connection requests to messages, to your Linkedin posts. It's your own Linkedin growth engine. 
Normally you would pay up to $360/year, but for a limited time only you can get lifetime access at $69 one-time.
Get the deal while stock lasts!
Introducing Linvo – the ultimate LinkedIn marketing automation tool that will revolutionize the way you leverage LinkedIn for your business. With Linvo, you can supercharge your LinkedIn marketing efforts, automate repetitive tasks, and save time while growing your network and generating leads.
Linvo offers a comprehensive set of features designed to optimize your LinkedIn marketing strategy. With its powerful automation capabilities, you can automate tasks such as sending personalized connection requests, messaging prospects, endorsing skills, and engaging with your network, all while staying within LinkedIn's terms of service.
One of the key features of Linvo is its advanced targeting options that allow you to define your ideal audience based on criteria such as location, industry, job title, and more. You can easily create and manage multiple campaigns to target specific segments of your audience, making your outreach efforts highly targeted and effective.
Linvo also offers personalized messaging templates that you can customize to send personalized messages to your connections and prospects. You can create dynamic templates that include placeholders for personalized information such as name, company, and job title, making your messages highly relevant and engaging.
With Linvo, you can also schedule and automate your posts on LinkedIn to increase your visibility and engagement. You can schedule posts in advance, monitor their performance, and analyze the results to optimize your content strategy.
In addition to automation, Linvo provides in-depth analytics and reporting features that allow you to track the performance of your campaigns in real-time. You can monitor your connection requests, messages, engagement rates, and other key metrics, and use the insights to refine your approach and achieve better results.
With Linvo's lifetime deal, you'll get unlimited access to all the features and updates, with no monthly fees. That's right – a one-time payment for a lifetime of powerful LinkedIn marketing automation that can save you time and resources compared to manual outreach efforts.
What sets Linvo apart is its comprehensive features, advanced targeting options, personalized messaging templates, and lifetime deal, making it a top choice for businesses and professionals who want to optimize their LinkedIn marketing efforts. Don't miss out on this opportunity to level up your LinkedIn marketing game. Get the lifetime deal now and experience the power of Linvo for your business growth.
Linvo Unlimited Plan Lifetime Subscription
Lifetime access to Linvo
The most complete Linkedin Growth Automation Tool
Connect 1 LinkedIn account
Send automated connection requests
Send automated follow-up messages
Schedule Linkedin posts
Automated email fetching
Get more likes on your Linkedin posts with the 'Pods' feature
Drag & Drop campaign builder
Unlimited automated campaigns
Unlimited amount of actions
Unlimited scheduling of posts
Safety guaranteed with a dedicated proxy
Advanced Analytics Dashboard
Chrome Extension
Windows & Mac app
Manage multiple Linkedin accounts
Zapier integration
Export contacts to CSV
Premium live-chat support
All future plan updates & features
30-day Money Back Guarantee
Don't miss out on your chance to secure access to Linvo Powerful LinkedIn Marketing Automation Tool Lifetime Deal at a one-time fee for lifetime access! Click the button below to check it out.
Click Here to View The Linvo Powerful LinkedIn Marketing Automation Tool Lifetime Deal For Yourself
You may also like