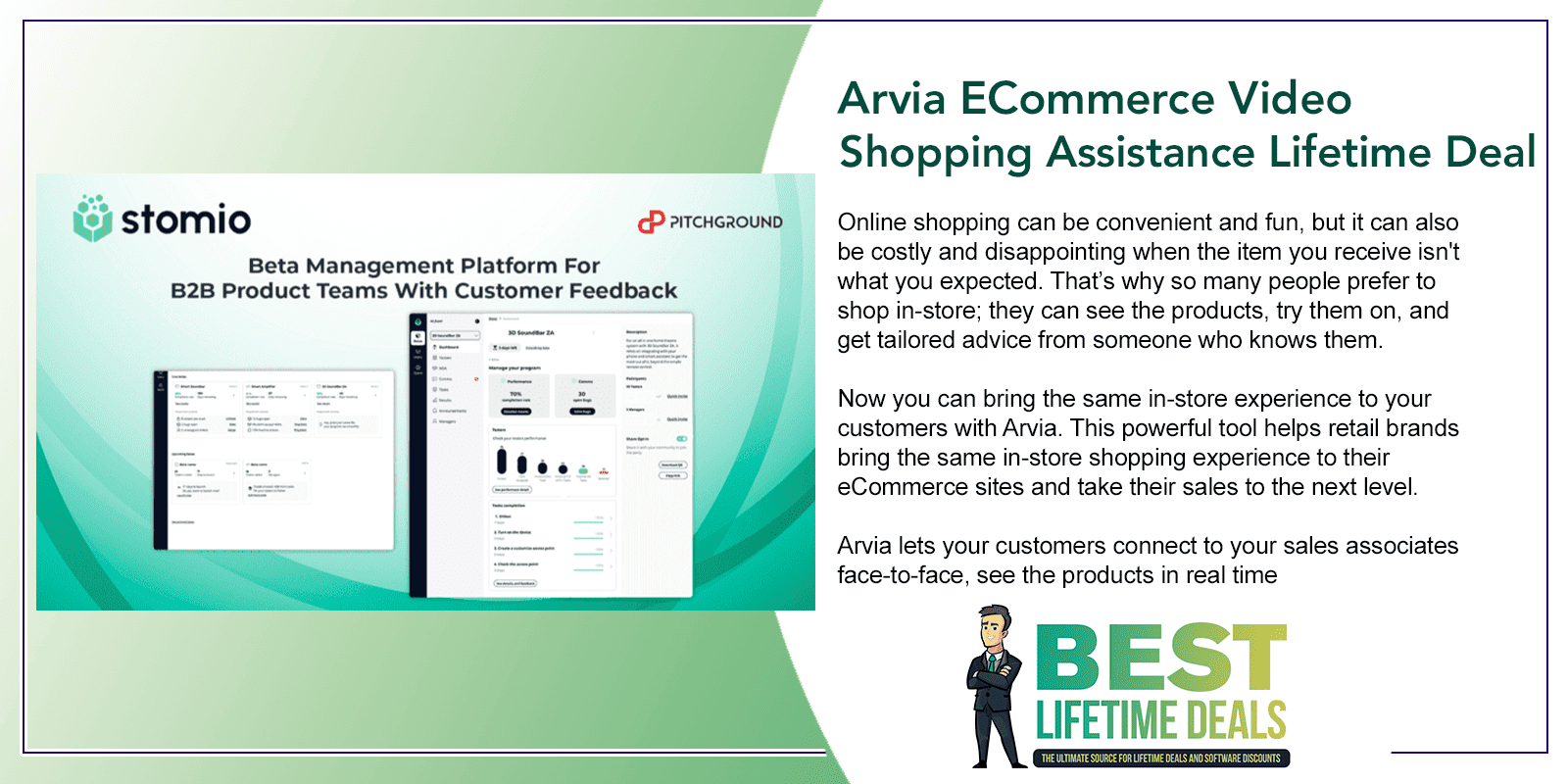 Choose Your Desired Option(s)
Arvia ECommerce Video Shopping Assistance Lifetime Deal
Retail Brands Can Generate Up To A 16% Increase In Average Order Value Using Video Shopping.
Take the online shopping experience to the Next Level!
Introducing The Arvia ECommerce Video Shopping Assistance Lifetime Deal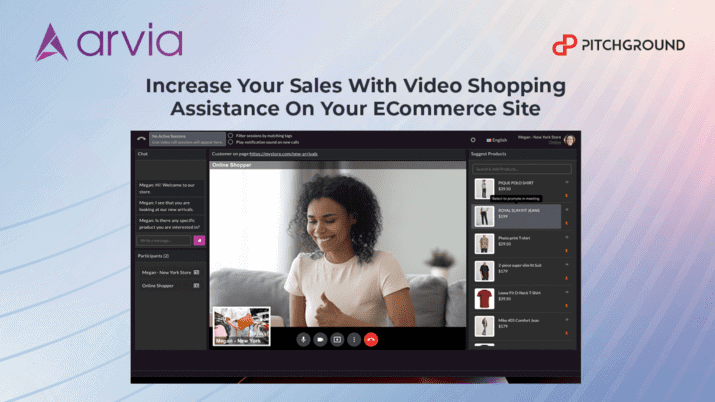 Online shopping can be convenient and fun, but it can also be costly and disappointing when the item you receive isn't what you expected. That's why so many people prefer to shop in-store; they can see the products, try them on, and get tailored advice from someone who knows them.
Now you can bring the same in-store experience to your customers with Arvia. This powerful tool helps retail brands bring the same in-store shopping experience to their eCommerce sites and take their sales to the next level.
Arvia lets your customers connect to your sales associates face-to-face, see the products in real time, and get personalized guidance from an experienced company member. All you have to do is add one line of JavaScript code to your website, and customers can start video shopping immediately.
PitchGround Presents; Arvia
Arvia helps retail brands increase their revenue and improve customer satisfaction with live video chat right on their e-commerce site. In addition, you and your customers can now enjoy the same in-store shopping experience in the comfort of their own homes.
With Arvia, online shoppers can connect to sales associates face-to-face, see the products in real-time, and get personalized advice and guidance. Companies can start using Arvia on their website in seconds without coding.
Say goodbye to returns and wasted time! Increase your sales and improve customer satisfaction by bringing the in-store shopping experience to your eCommerce site with Arvia.
TL;DR:
Arvia helps retail brands increase their revenue and customer satisfaction by adding face-to-face video chat right on their e-commerce site. Shoppers can connect with sales associates and get personalized guidance in real-time. All it takes is one line of code to add to the website.
Similar to: Bambuser, 11sight, Consolto, and Getboutiq.
Intuitive UI and UX, easy-to-use platform, very stable.
Best for Solopreneurs, Freelancers, SMEs, Agencies, and E-commerce Stores who want to make the online shopping experience more immersive with personalized shopping guidance.
Critical Stats:
Studies reveal that 40% of shoppers are more likely to purchase a product if they are able to talk to a live expert. (Source: LiveHelpNow.net)
71% of customers would prefer to be able to ask questions via live chat rather than having to telephone customer service. (Source: LiveHelpNow.net)
Video chat leads to a 2X increase in order value for repeat customers and a 5X increase for new customers. (Source: LivePerson.com)
Using video chat for customer service more than doubles customer satisfaction from 78% to 90%. (Source: LivePerson.com)
Video chat has been linked to increased purchase decisions by up to 25%. (Source: LivePerson.com)
Features:
Video Call UI Customization:
Arvia video call widget has a very flexible user interface that helps companies customize the look and feel according to their web design and corporate brand strategy.
You can change the colors, font size, text content, user consent details, and more directly.
Call History:
Companies can see all the details about the sales conversations, like video recordings, missed calls, lead forms, meeting notes, recommended products, text messages, URL of the page where the client initiated the call.
Advanced Analytics & Reports:
Arvia dashboard offers several insightful data, including the top performing sales agents, customer satisfaction survey results, online status changes of the agents, meeting durations, customer waiting times, and many more. All of the reports can also be exported and downloaded.
Product Recommendation: Agents can get product information from companies' websites and promote live during the video call.
File Upload: Users & agents can upload files to share with each other.
Screen Sharing: Agents can share their screens and promote products by navigating their websites.
Customizable Lead Forms: Companies can enable lead forms to get user information and online shoppers before joining a video call.
Other features include: 1-Click to Checkout, Product List in Video & Text Chat, Custom Authentication, Client Side Event Handling, Multiple Layout Modes, Customizable icon & Look, Feel, and more.
What can you use it for?
One-to-One Video Shopping:
One-to-One Video Shopping helps you close more sales with your customers. Get closer to your customers and boost conversions with this shoppable video call experience. Search for products on your eCommerce site and instantly showcase them during your live sessions.
Some Interesting Use Cases:
Apparel & Fashion: Online shopper connects to the in-store sales associates and asks for the different colors, sizes, textures, and best combination recommendations. The agent helps the customer make the right purchasing decision.
Furniture: Online customers want to see different options for their rooms and existing types of furniture. Asks for the material of the products, size options, and production time. These clarifications help the customers choose the best product for their needs.
Mom & Baby Products: Moms or dads start a video call with a sales expert, see different baby stroller models, and ask for the best options for age ranges and durability of the materials. In other cases, they ask for baby formula ingredients and allergy implications.
Consumer Electronics: The customer calls the sales agent and asks for the technical specifications of a mobile phone, the pros and cons compared to the other option, and the expected lifetime and performance.
Why are businesses choosing Arvia over the rest:
High sales conversions and ROI.
Quick & easy installation.
Customizable Video Chat UI.
Insightful video call analytics.
Flexible integration options.
Automate everything from the minute a user signs up.
Simple setup and ease of use.
Available on a lifetime deal for a limited period.
With Arvia, your customers will receive an enjoyable, interactive shopping experience that will keep them returning for more.
The best part? You will pay just once and can use Arvia for a lifetime; grab your lifetime deal today.
Click Here to View The Arvia ECommerce Video Shopping Assistance Lifetime Deal For Yourself
You may also like