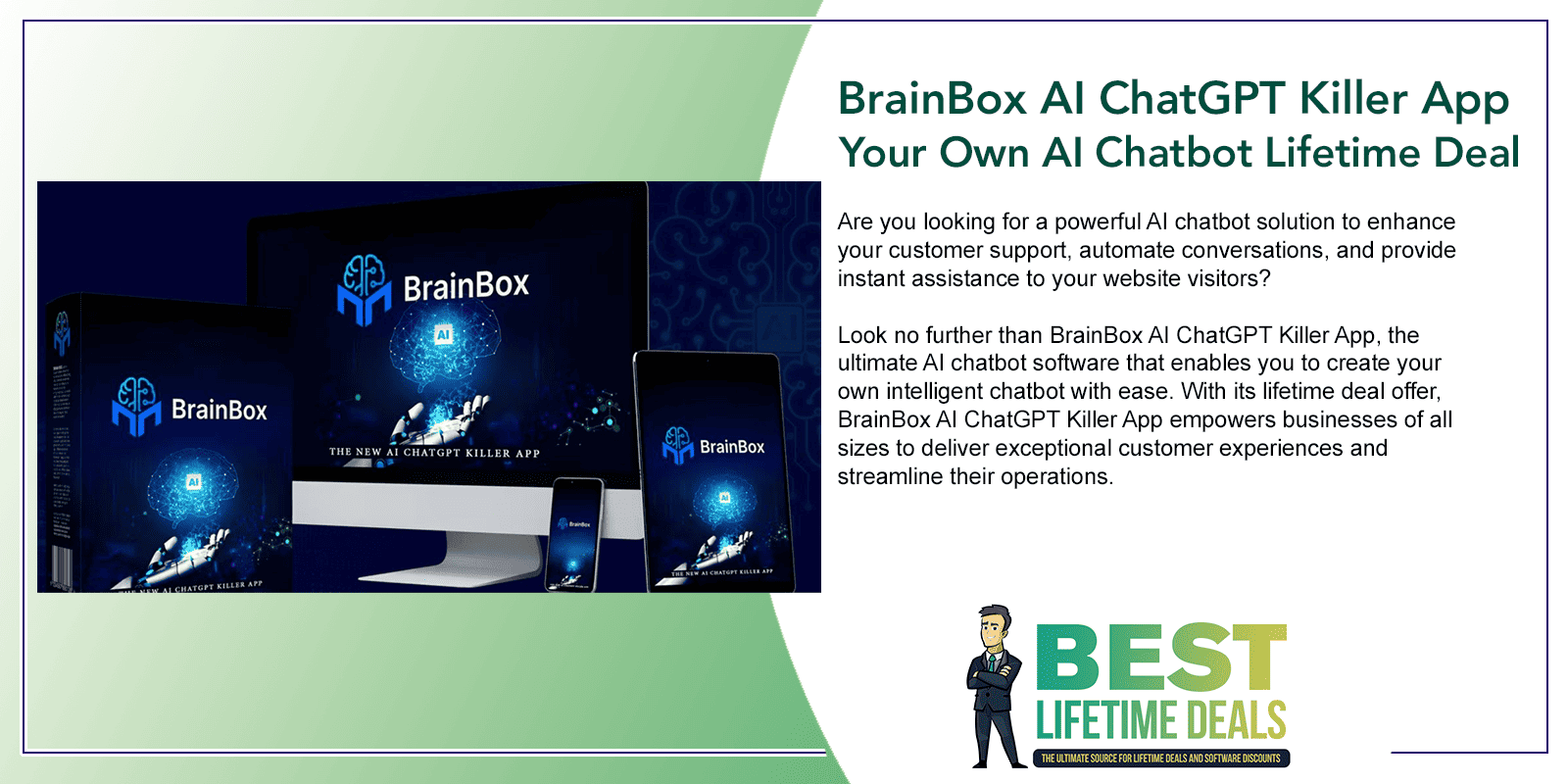 Choose Your Desired Option(s)
BrainBox AI ChatGPT Killer App Your Own AI Chatbot Lifetime Deal
Create Your Own Profitable AI Business With Our Revolutionary Hard-Coded AI App!
First To Market Hard-Coded AI App That Lets You Launch Your Very Own "ChatGPT-like" AI Chatbot, And Charge People For Using It…
Introducing The BrainBox AI ChatGPT Killer App Your Own AI Chatbot Lifetime Deal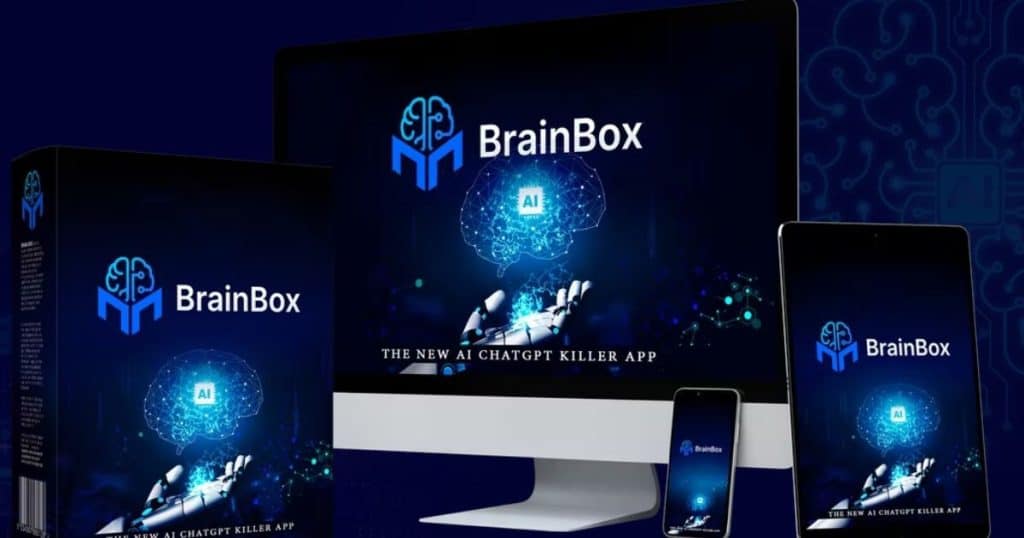 Are you looking for a powerful AI chatbot solution to enhance your customer support, automate conversations, and provide instant assistance to your website visitors? Look no further than BrainBox AI ChatGPT Killer App, the ultimate AI chatbot software that enables you to create your own intelligent chatbot with ease. With its lifetime deal offer, BrainBox AI ChatGPT Killer App empowers businesses of all sizes to deliver exceptional customer experiences and streamline their operations.
Here are the key features and benefits of BrainBox AI ChatGPT Killer App:
Conversational AI: BrainBox AI ChatGPT Killer App is built on state-of-the-art natural language processing and machine learning algorithms, allowing your chatbot to understand and respond to user queries in a conversational manner. It can handle complex conversations, provide accurate answers, and even engage users in small talk to create a more personalized experience.
Easy Setup and Customization: Setting up your AI chatbot is a breeze with BrainBox AI ChatGPT Killer App. You can easily customize the chatbot's appearance, behavior, and responses to align with your brand and specific use cases. Whether you want a friendly and casual chatbot or a professional and formal one, you have full control over its personality and tone.
Multi-Platform Deployment: BrainBox AI ChatGPT Killer App allows you to deploy your chatbot across multiple platforms and channels. Whether it's your website, mobile app, social media platforms, or messaging apps like WhatsApp and Facebook Messenger, you can seamlessly integrate your chatbot to provide consistent support and engagement across all touchpoints.
Automation and Efficiency: With BrainBox AI ChatGPT Killer App, you can automate repetitive tasks and streamline your customer support operations. The chatbot can handle common inquiries, provide instant responses, and even perform actions like collecting customer information, scheduling appointments, and processing orders. This frees up your team's time to focus on more complex and value-added tasks.
Intelligent Routing and Escalation: BrainBox AI ChatGPT Killer App is equipped with intelligent routing capabilities to ensure that customer queries are directed to the right department or agent when needed. It can analyze the user's intent and context to determine the appropriate escalation path, ensuring efficient problem resolution and customer satisfaction.
Analytics and Insights: Gain valuable insights into your chatbot's performance and user interactions with BrainBox AI ChatGPT Killer App's analytics and reporting features. Track metrics like conversation volumes, response times, user satisfaction, and frequently asked questions to continuously improve your chatbot's effectiveness and identify areas for optimization.
Don't miss out on the lifetime deal for BrainBox AI ChatGPT Killer App. Unlock the power of AI chatbots to enhance customer experiences, boost efficiency, and drive business growth. With its easy setup, customization options, multi-platform deployment, automation capabilities, intelligent routing, and analytics features, BrainBox AI ChatGPT Killer App is the ultimate solution for businesses seeking a high-performing AI chatbot. Grab this lifetime deal and empower your business with cutting-edge conversational AI technology today.
Comes With Over 50 AI Features That Will STUN You And Your Customers…
Launch Your Own "ChatGPT-Like" App Within Seconds…
50 Mind-Blowing AI Features To Stun You And Your Customers
Sell Your Own ChatGPT For Huge Profits
ZERO Limits On Features Or Usages
Customers Begs Us To Take Their Money To Use BrainBox
No Complicated Setup – Get Up And Running In 2 Minutes
Use Our AI-Powered Marketing To Get Hundreds Of Customers.
Use BrainBox To Put Your Digital Live On Steroids
The Demand For BrainBox Is So High, You Will Need To Keep Up With It.
No Ads Or Promotions Required. BrainBox Does It For You.
99.99% Up Time Guaranteed
ZERO Upfront Cost
30 Days Money-Back Guarantee
You're Just 4 Clicks Away
From Unleashing The Full AI Power
Without Any Limits Or Restrictions, Access 50 Mindblowing AI Features To Stun You And Your Customers.
Step 1
Login
Login to BrainBox Cloud-Based App
Step 2
Create
With Just One Click, Create Your Very Own ChatGPT-Like AI Chatbot
Step 3
Launch
You're Ready To Charge Millions Of Hungry Customers For Using Your Very Own AI Chatbot.
Step 4
Profit
Yup that's it.
You Don't Need To Hire a Content Write
Just enter a keyword, and BrainBox will spit out unique, human-like content that can be used in:
Blogs
Emails
Facebook/YouTube Ads
eBooks
Reviews
Researches
All without paying a penny to any writer
You Don't Need To Hire a Translator
Wanna expand into other markets?
​But translators cost a fortune… Just enter any text no matter how big into BrainBox…
​And within seconds, it will translate it into 55 different languages… Better than any translator would ever do.
You Don't Need To Hire a Graphic Designer
Are you sick of designers who overcharge you and never deliver on time?
​Forget all that…  Just tell BrainBox what you wanna do… 
And it will generate the best AI-based designs you've ever seen.
You Don't Need To Hire a Book Writer
Ever wanted to publish your own book?
​But it's hard to find the time to sit and write for days…
​Well, let BrainBox do it for you… Within seconds it will outline the entire book and start writing it
You Don't Need To Hire a Programmer
If you're not a technical person… Hiring a programmer can be a nightmare…
​Luckily BrainBox can eliminate that for you… It will write codes for you in ANY language you want…
​It will translate your words… into fast, accurate, and bugs free scripts.
You Don't Need To Hire a Video Editor
Videos are an essential part of your online presence… However, creating them is a pain in the A$$…
​But BrainBox will turn any pics you want into videos…
​Not just any videos… Videos that will attract thousands of views for free
You Don't Need To Hire a ProofReader
There is nothing worse than publishing content with spelling and grammar errors…
​But you don't need to pay someone to proofread everything you write…
​Leave that boring job to BrainBox. All it takes is a few seconds…
You Don't Need To Hire an SEO Expert
Ranking in google needs a strategy… Not just that, you need to have a proper keyword strategy…
​And optimize your content for it… Believe it or not… BrainBox can do all of that for you…
​From finding the right keyword to creating the entire strategy.
You Don't Need To Hire A Customer Support
Customer support is essential for the success of your business… Unfortunately, it costs a lot to hire trained customer support agents…
​But what if there is a way… To let BrainBox reply to your customers and fix all their issues
​If that sounds good, you're in luck. Cause that's exactly what BrainBox will do.
You Don't Need To Hire a Spreadsheet Expert
Forget all the complicated equations and nonsense…
​Just let BrainBox what you wanna do with your sheets… And it will spit out the right equation for you…
​With zero technical knowledge from your end.
Love it or hate it… it's a fact…
AI doesn't get paid
AI doesn't make mistakes
AI doesn't take days off…
Click Here to View The BrainBox AI ChatGPT Killer App Your Own AI Chatbot Lifetime Deal For Yourself
You may also like