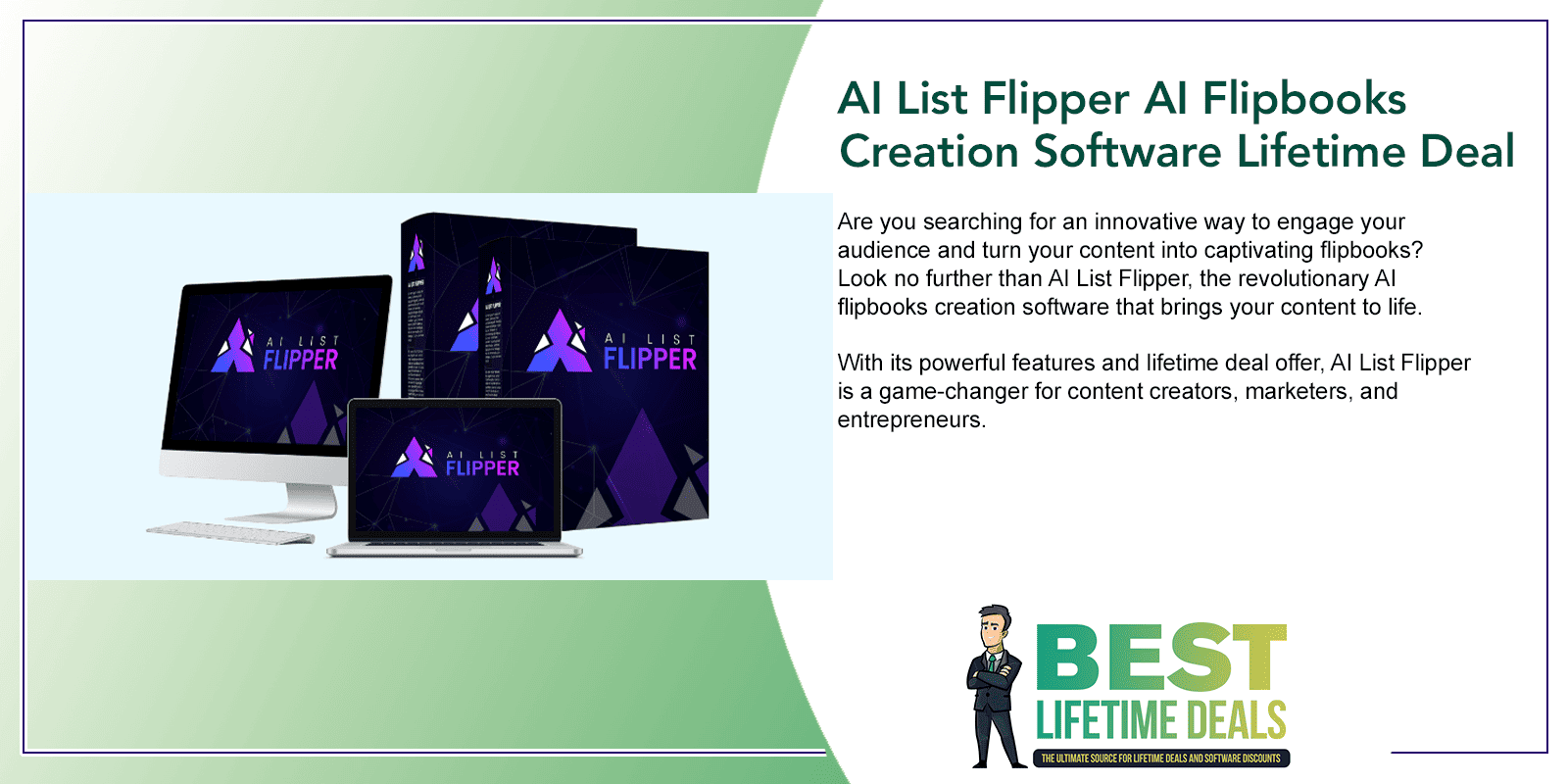 Choose Your Desired Option(s)
AI List Flipper AI Flipbooks Creation Software Lifetime Deal
OpenAI & CHATGPT's ALGORITHM To Generate Over 1,000+ CLICKS & 600+ LEADS DAILY Without Any Skills, Previous Experience Or Budget!
Create & Publish UNLIMITED Profitable, LOCKED "Kindle-Like" Flipbooks In Just 3 Clicks, Fully Monetized + Auto Lead Gen System Built In.
Introducing The AI List Flipper AI Flipbooks Creation Software Lifetime Deal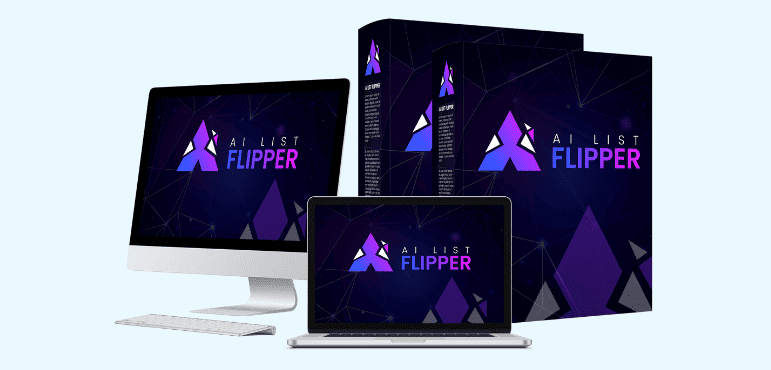 Are you searching for an innovative way to engage your audience and turn your content into captivating flipbooks? Look no further than AI List Flipper, the revolutionary AI flipbooks creation software that brings your content to life. With its powerful features and lifetime deal offer, AI List Flipper is a game-changer for content creators, marketers, and entrepreneurs.
Here's why AI List Flipper is the ultimate solution for creating stunning flipbooks:
AI-Powered Flipbook Creation: AI List Flipper utilizes cutting-edge artificial intelligence technology to transform your content into interactive and visually appealing flipbooks. Whether you have articles, blog posts, PDFs, or any other text-based content, AI List Flipper automatically converts it into an engaging flipbook format. No technical skills or design experience required.
Customizable Designs: AI List Flipper offers a wide range of customizable templates and design options to suit your brand and style. With just a few clicks, you can customize colors, fonts, layouts, and other visual elements to create a flipbook that aligns with your brand identity. Stand out from the crowd and deliver a unique and immersive reading experience.
Interactive Elements: Enhance user engagement with interactive elements in your flipbooks. AI List Flipper allows you to add clickable links, call-to-action buttons, videos, images, and more to your flipbook pages. This interactivity not only captures readers' attention but also drives them to take desired actions, such as visiting your website, making a purchase, or subscribing to your email list.
Mobile-Friendly and Responsive: With the increasing use of mobile devices, it's crucial to provide a seamless reading experience on all screen sizes. AI List Flipper ensures that your flipbooks are mobile-friendly and responsive, automatically adjusting to different devices and screen orientations. Reach your audience wherever they are and deliver an optimized reading experience.
Embeddable and Shareable: AI List Flipper makes it easy to share and distribute your flipbooks. You can embed them on your website, blog, or landing pages to captivate visitors with interactive content. Additionally, AI List Flipper provides social sharing options, allowing readers to share your flipbooks on their social media platforms, extending your reach and driving more traffic to your content.
Analytics and Insights: Gain valuable insights into your flipbook performance with AI List Flipper's built-in analytics and tracking features. Track metrics such as page views, engagement rates, and user interactions to understand how your flipbooks are performing. Use these insights to optimize your content strategy and improve user experience for better results.
Don't miss out on the opportunity to grab the AI List Flipper AI flipbooks creation software lifetime deal. Experience the power of AI in transforming your content into captivating flipbooks that grab attention, engage readers, and drive actions. With its customizable designs, interactive elements, mobile-friendliness, and analytics features, AI List Flipper takes your content to the next level. Take advantage of this lifetime deal and revolutionize your content marketing strategy today.
LIMITED TIME COMMERCIAL LICENSE INCLUDED
Groundbreaking A.I. Tech creates 100s of engaging, memorable Flipbooks with Auto lead generation + Fully Monetized system.
Use CHATGPT's & OPEN A.I. Algorithm to write unique Flipbooks in just few clicks. No more writing, researching or wasting time.
Build trust, connection and a strong following with interactive, fun & converting elements.
Repurpose old nasty content nobody wants into an exciting lead generating and money making Flipbooks in 1 click.
Easily monetize your FlipBooks in multiple ways – from affiliate marketing, CPA offers, ecom products, freelancing gigs & more.
In-built powerful automated lead generation system and follow up sequence – profit from every single FlipBook you create.
No coding, no experience & no recurring fees whatsoever needed to make this work
Low 1-time Price During Launch Period
Commercial License Allowing You To Re-sell These FlipBooks For High Profits!
Skyrocket Your Traffic, Leads & Sales Is As
Easy As 3 Simple Steps:
STEP 1
Select from our 7+ sources to create content for your Flipbook or let ChatGPT/ OpenAi write unique content for you in few clicks.
STEP 2
Our A.I. will then convert it into beautiful & interactive Flipbook. Add images, videos, links, call-to-actions, opt-in forms & more for maximum engagement.
STEP 3
Share anywhere you want – Website, Social Media, Email or anywhere else and instantly SKYROCKET your leads & sales!
Turns Out All Big Companies, Authors, Start Ups Now PREFER Flipbooks Over PDF's For Their Marketing For These 3 HUGE Reasons:
They are MUCH more engaging, interactive and memorable than a boring PDF that nobody reads anyways. It can be flipped, scrolled, clicked, and watched JUST like an kindle book
They have the WOW factor. They look like real books when presented in the browser, and give you a great deal of credibility & prestige.
AND – THEY ARE FULLY MONETIZED. You can add buy buttons to every page, or ask your visitors for email opt-ins at any point in time.
Here're The MAJOR BENEFITS You Will Get From Ai List Flipper :
Breakthrough OpenAI & ChatGPT-Powered Algorithm To DOMINATE Any Niche!
With Ai List Flipper , you get access to groundbreaking OpenAI & ChatGPT-powered algorithm that creates high-engaging flipbooks in less than 60 seconds without writing, without coding and without wasting time.
Massive Opportunity With This Totally UNTAPPED & Secret Tech
Our powerful A.I. technology is totally untapped and unknown to the public, but it's a massive opportunity for marketers! OpenAI & ChatGPT-Powered Flipbooks are an incredible way to generate tons of leads, drive sales and traffic quickly and easily – all with just 1 click!
Save Time & Money With Our Proven System
With Ai List Flipper , you don't have to waste time and money hiring expensive designers or coders. We've done all the hard work for you and created a fully automated system that creates highly-engaging flipbooks in just a few clicks!
Generate 1000s of Pre-Qualified, Buyers Leads & 10x Your Profits!
We have personally tested this system and verified that it works. Our secret system has generated over 1,000 clicks in just 3 days and over 600 leads! Imagine what you can achieve with this kind of traffic – unlimited profits and success are within reach now!
Save THOUSANDS of Dollars Per Year on Autoresponders
With our in-built autoresponder, you will be able to follow up with your leads and make sales on autopilot. So you don't need to pay for a 3rd party autoresponder like Aweber, Getresponse or Mailchimp ever again.
Get Results In As Little As Hours From Now.
With our DONE FOR YOU promo campaigns, you can start seeing results in as little as hours from now. Just copy and paste our proven email templates and hit send. It's that simple!
Super Simple To Use, No Tech Skills Or Experience Needed
Our software is super simple to use, and you don't need any tech skills or experience to get started. Just follow our step by step training and you will be up and running in no time.
FREE UPDATES IN FOREVER
We don't just give you a product and walk away. We do our best to keep improving the product. We will continue to release new features and updates for free into the future!
24X7 Support and 100% Uptime Guaranteed
Our team is always available to help. Whether you need help finding the perfect image or video or have a question about any of our products, we're here to assist you.
Click Here to View The AI List Flipper AI Flipbooks Creation Software Lifetime Deal For Yourself
Your Recently Viewed Downloads
You may also like