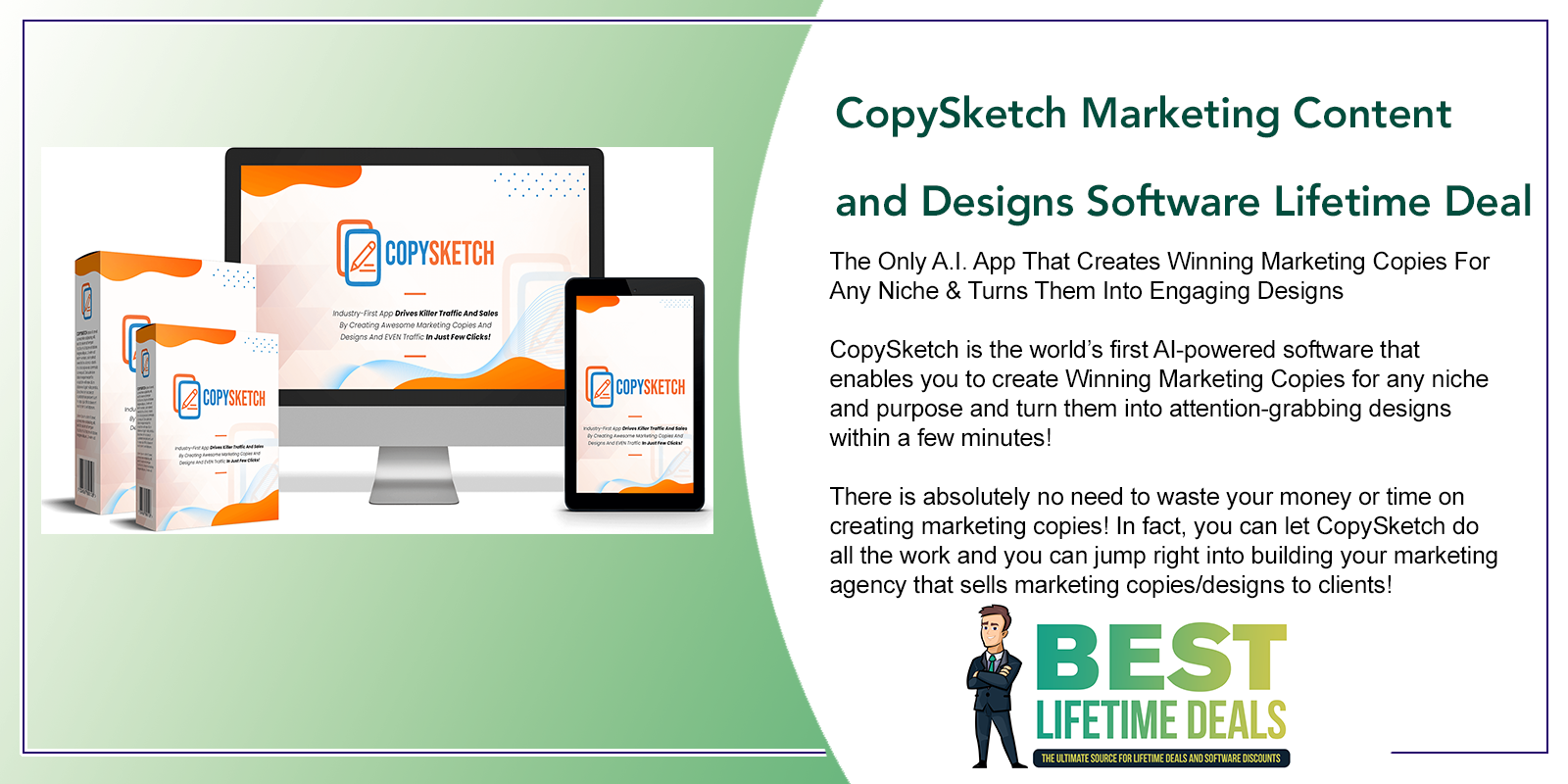 Choose Your Desired Option(s)
CopySketch Marketing Content and Designs Software Lifetime Deal
The Only A.I. App That Creates Winning Marketing Copies For Any Niche & Turns Them Into Engaging Designs In Just 3-Clicks!
CopySketch is the world's first AI-powered software that enables you to create Winning Marketing Copies for any niche and purpose and turn them into attention-grabbing designs within a few minutes!
There is absolutely no need to waste your money or time on creating marketing copies! In fact, you can let CopySketch do all the work and you can jump right into building your marketing agency that sells marketing copies/designs to clients!

CopySketch Features:
Now you have one solution to create highly converting copies in mere minutes. All you need to do is enter the keywords and the rest will be taken care of by this AI-powered app!
Let me summarize the key functions you will benefit from. CopySketch provides you with 400 marketing content templates from different categories, some of which are:
SALESPAGE COPY THAT SELLS
There is absolutely no need for you to write your sales page on your own or hire someone to do it. With CopySketch, you only need to answer some basic questions related to the chosen niche and you'll be able to access a sales page copy template. Thanks to this, you'll have your sales copy page ready in minutes!
BATTLE-TESTED UPSELL COPIES TO 4X SALES & REVENUE
CopySketch will also provide you with upsell sales page copy template after having you answer some questions (don't worry! They are easy peasy!). You'll be able to create your upsell sales page with a few clicks and save so much more time for doing other work or simply enjoying yourself!
CREATE IRRESISTIBLE FACEBOOK, INSTAGRAM, AND GOOGLE ADS
The same goes with this template! You can type in a few simple answers and then CopySketch will get you an awesome Facebook, Instagram, and Google Ads copy!
ATTENTION-GRABBING HEADLINES
Headlines are short but it's a real struggle when it comes to creating a catchy headline. CopySketch will do all the work for you from some simple answers of yours!
CREATE CTAS THAT TRIGGERS ACTIONS
CTA always needs to be captivating to urge your users to take action. CopySketch will deliver you all good after you answer some basic questions.
CREATE IMPRESSIVE RESUMES THAT EMPLOYERS FIND IRRESISTIBLE
Resume creation is now effortless with CopySketch. Get your answers ready and CopySketch will create an impressive resume for you!
CREATE PRESS RELEASES THAT GO VIRAL IN MINUTES
When it comes to product launches or informing people on updates about your business, Press Release is absolutely crucial. With some basic questions, CopySketch will create awesome PRs for you!
CREATE HIGH-CONVERTING BANNER ADS
No more wasting your money on Banner Ads with CopySketch. Input some simple answers and it will build your superb banner ads that will wow your audience.
CREATE DIRECT EMAIL CAMPAIGNS
Answer some basic questions and CopySketch get your email campaigns script ready in seconds and take your sales to the next level
CREATE CLICKBAIT BLIND EMAIL CAMPAIGNS THAT SKYROCKET CTRS
Creating blind email campaigns will no longer be a pain for you! All you need to do is just let CopySketch handle all the work for you hassle-free with some basic questions!
COLD EMAIL CAMPAIGNS
Along with direct and blind email campaigns, you can let this module work in your favor by helping you create awesome cold email campaign scripts. Do nothing – just answer a few easy questions. Turn any cold lead into eager paying customers!
BUILD LEAD-WORTHY SQUEEZE AND OPT-IN PAGES
Creating squeeze and opt-in pages will no longer be a struggle for you! Get your answers ready and the copy will arrive in seconds!
CREATE CAPTIVATING VSL SCRIPT
Last but not least, CopySketch allows you to create next-level sales video scripts (VSLs) for your product launces or any other campaign without hassle. Again – input some answers to the default questions and there you have it!
100 PAGE DESIGN OPTIONS TO USE FOR ANY COPY
You'll also get 100 marketing content page designs with CopySketch . It does not matter if you want to use any marketing copy, CopySketch will create the best designs for you!
GENERATE UP TO 50 SCRIPTS EVERYDAY
You can create up to 50 marketing content per day for your needs. This means you can create 350 content in a week and 1,500 content in a month.
As I have mentioned before, CopySketch is powered by a ground-breaking AI technology that allows you to fasten the process of creating marketing content/designs and become a pro copywriter.
INBUILT USER-FRIENDLY CONTENT EDITOR
Thanks to this inbuilt Content Editor, you can edit DFY design templates effortlessly that match your needs easily. The best thing is it is cloud-based so whenever you go, it goes with you! Simple and convenient!
ADD ANY TYPE OF SCRIPTS/ANALYTICS CODE
You can add any type of script and analytics code inside your copy so as to get a more customized analysis for your campaigns.
COMES WITH SEO TAGS FOR HIGHER RANKINGS
With CopySketch, you can add SEO tags to your campaign so as to get better rankings on Google search results.
FREE FILE HOSTING WITHOUT ADDITIONAL MONTHLY RECURRING FEES
Save extra on your hosting with this amazing feature of CopySketch! You can host as many files as you want without paying any fees!
DRIVE FREE UNLIMITED TRAFFIC FROM 16 SOCIAL NETWORKS
With just a click of a mouse, you can share your campaigns on multiple social platforms simultaneously. Get massive traffic with a click of the mouse!
SEAMLESS INTEGRATION WITH 10 LEADING AUTORESPONDERS
You can generate leads from your squeeze page without any manual work involved. This is because CopySketch seamlessly integrates with 10 top autoresponders so that you can collect all leads directly in your AR.
CopySketch Benefits:
It's a cloud-based app so you don't need to install or download anything on your system.
It's not a regular content spinner tool and is created to deliver only quality content and copies.
CopySketch deploys AI to create high-converting marketing content in any niche and even design captivating design templates for different copies.
No more stressing out to come up with engaging hooks and ideas for your copies at all.
CopySketch creates any copy and content matching your requirements in any niche.
CopySketch makes you access 400+ 'ready to use' templates from multiple categories.
This app will help you save your precious time and money you would otherwise invested on creating copies and designs on your own or outsourced them.
No matter if you are an online marketer, local business owner, content creator, design experts and anyone else, this app will enhance your copy and design quality in no time.
You can rely on this module to access super-engaging content and designs without effort, beat rivals and even scale up new heights of business success.
No more missing deadlines of your clients and yet face their heat not getting paid because of mediocre work.
Comes with the Commercial License to help you make money online by offering marketing content creation and design services to hungry buyers to pocket 100% profits.
Suits every niche and works for everyone to improve marketing content quality and designs for copies like sales pages, ads, squeeze pages, swipes, and more overnight.
The price of this app is extremely affordable that won't pinch your wallet at all.
Here's A List Of Everything You're Getting Today With
CopySketch
400 Templates From Multiple Categories
100 Page Design Options For Selected Categories
Generates 50 Scripts Every Day
Enabled With Hosting.
End-To-End Training Material Included.
Commercial License Available.
OTO1 – CopySketch Pro
300 Page Design Options For Major Categories
Generate Unlimited Scripts
Build SEO Friendly Pages
Add Meta OG Tags
Create Mobile Responsive Pages
50 Reseller License Included
Unlimited Hosting – No Hosting Required
Add Branding To Your Pages And Logo
50 Reseller License of CopySketch FE
OTO2 – CopySketch PropelStocks
Get Access to Over 50 Million Stock Images to
OTO3 – CopySketch Visualab
Get 100% DFY Banners, Ads, Promo Videos, Cover Images for All Social Media for Over 30 Categories
OTO4 – CopySketch Whitelabel
Comes With 100 To 300 Whitelabel Licenses Of CopySketch
OTO5 – CopySketch SEO Pack
50 SEO Tools – Includes SEO Tools To Rank Pages, Generate Traffic, And Leads
Site Analysis – Lets You Do The SEO Analysis For Your Pages In Minutes
OTO6 – CopySketch Delta
Makes You Easily Drive Free Buyer Traffic Within Seconds Across Different Niches
FAST ACTION BONUS #1 – Premium Link Tracker/Manager (VALUE: $999)
FAST ACTION BONUS #2 – 260+ Marketing Videos and Graphics Templates (VALUE: $459)
FAST ACTION BONUS #3 – 3000+ Hi-Def Captivating Videos (VALUE: $599)
FAST ACTION BONUS #4 – 2000+ Pro-Level Logo Niche Templates (VALUE: $697)
FAST ACTION BONUS #5 – 3000+ Animated Graphics (VALUE: $697)
FAST ACTION BONUS #6 – 4500+ Graphics Pack (VALUE: $697)
FAST ACTION BONUS #7 – 1000 Premium Fonts (VALUE: $697)
FAST ACTION BONUS #8 – Affiliate Marketing Templates (VALUE: $397)
FAST ACTION BONUS #9 – 5000+ Eye-Popping Vectors (VALUE: $497)
FAST ACTION BONUS #10 – Visualab Reseller (VALUE: $297)
FAST ACTION BONUS #11 – VidInc Reseller (VALUE: $297)
FAST ACTION BONUS #12 – Arvo Reseller (VALUE: $297)
FAST ACTION BONUS #13 – Vidmazon Reseller (VALUE: $297)
Frequently Asked Questions
What Is CopySketch? CopySketch is a 'Patented' AI-tech software that helps you to create stunning marketing copies and access killer marketing content template designs for copies like sales pages, VSLs, squeeze pages and more. Once you use this tool, you can begin unseen traffic and leads in any niche.
Do I Need To Download Or Install Anything To Use CopyySketch? Nope. CopySketch is a cloud-hosted app that you can start using from anywhere with an active internet connection without the need to download or install anything at all.
Do I Have To Pay A Monthly Fee? Not at all. CopySketch is being made available to you at a one-time price if you buy it now. You will only pay a one-time real low price for making it yours right away.
I Did Not Like CopySketch – Can I Claim A Refund? of course, you can. At any time during the 30-days of your buying of this app if you don't find it working, you can claim a 100% refund – it means your investment is in safe hands.
I Have Some Queries – Whom To Contact? if you have any queries, you can shoot it to the dedicated customer support team available at your service 24X7.
Click Here to View The CopySketch Marketing Content and Designs Software Lifetime Deal For Yourself
You may also like