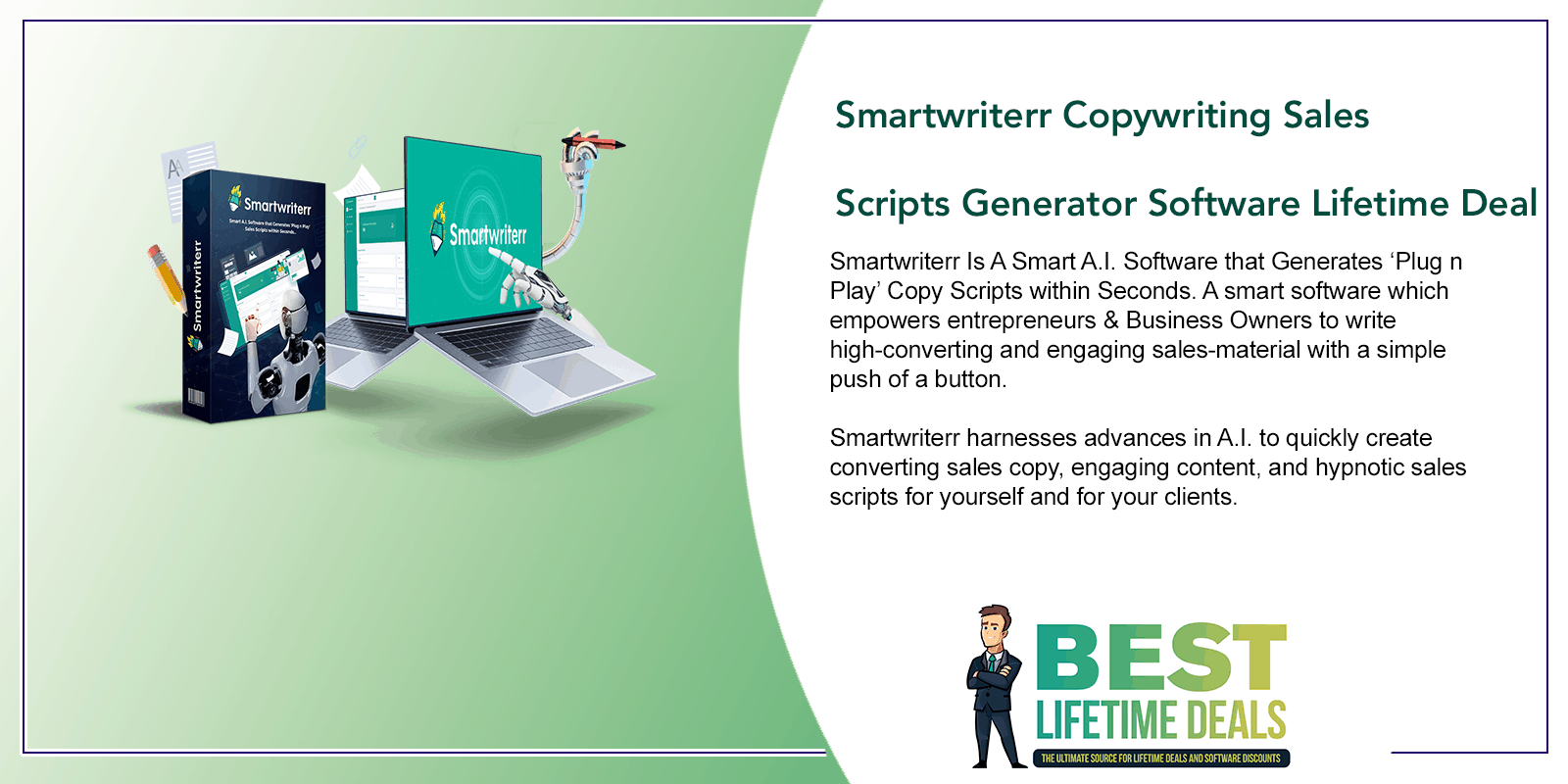 Choose Your Desired Option(s)
Smartwriterr Copywriting Sales Scripts Generator Software Lifetime Deal
Smart AI Technology Automatically Creates Marketing Scripts With Just A Keyword In 60 Seconds Or Less
Smartwriterr Is A Smart A.I. Software that Generates 'Plug n Play' Copy Scripts within Seconds. A smart software which empowers entrepreneurs & Business Owners to write high-converting and engaging sales-material with a simple push of a button.
Smartwriterr harnesses advances in A.I. to quickly create converting sales copy, engaging content, and hypnotic sales scripts for yourself and for your clients.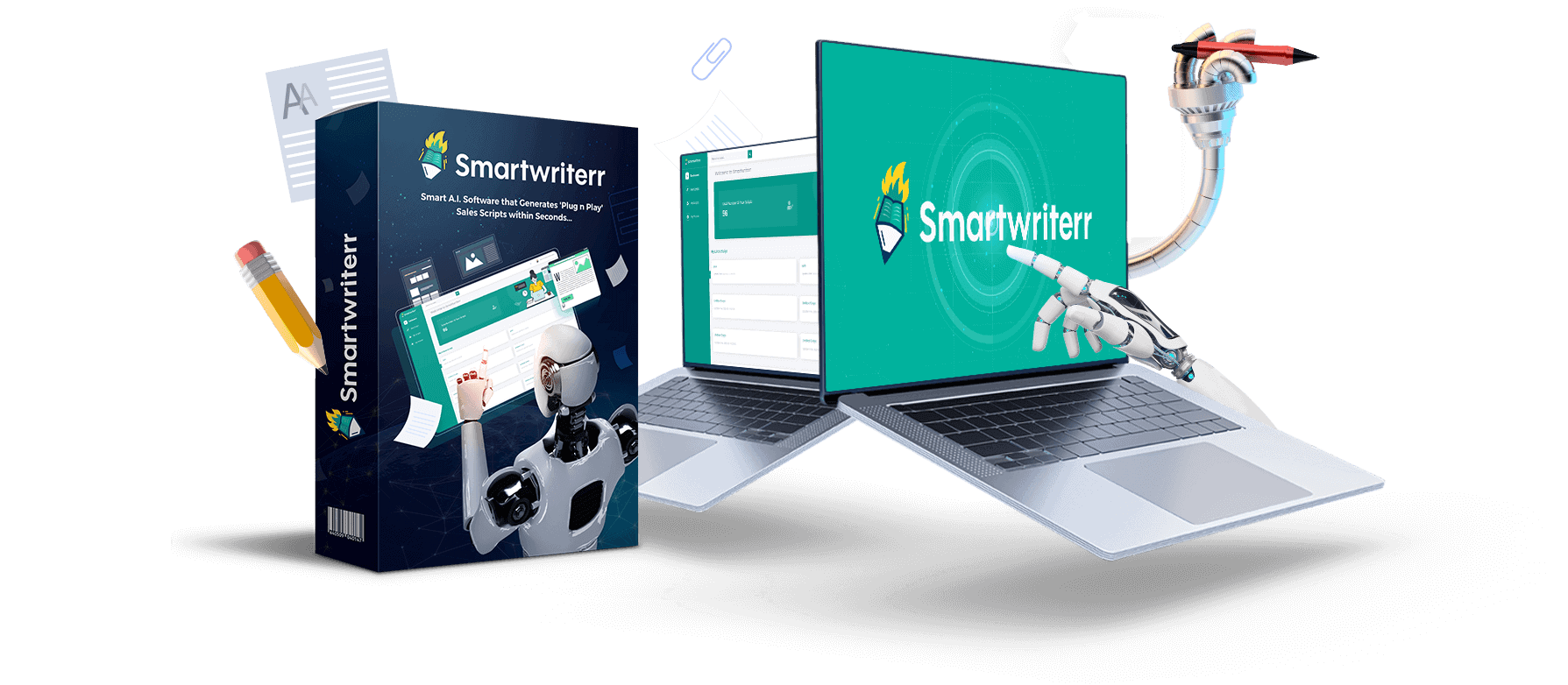 And 3 steps are all SmartWriterr takes to work wonders for you…
Step 1 – Login to SmartWriterr and choose a copy type you want it to create.
Step 2 – Choose your market or niche type and answer a few questions.
Step 3 – SmartWriterr will harness the power of AI to create your copy that's highly engaging and converting.
Smartwriterr Features:
Cloud Based App: Login from any device with an internet connection to create copy for any project. There's nothing to design or update because SmartWriterr is hosted in the cloud.
Preset Profiles: Using the included preset profiles answer the questions inside the software automatically to save even more time.
Built-In, Easy-To-Use Editor: Fully loaded WYSIWYG text editor is included to quickly edit and customise copy, content, and scripts right inside the app (This means you don't need to use MS-Word, Google Docs, or any other outside app to get results)
Download PDF files: Download any document you create inside the app as a PDF file for later use or to deliver to a client.
Multiple Scripts Download Feature: Save time by downloading multiple scripts at once.
Agency Access: With Agency Access, you can create copy, content, and scripts for clients, set any price you want, and keep 100% of the profits for yourself (This is an easy, turnkey way for anyone to make money… EVERYONE needs quality copy)
Team Access (Multi-User): Allow your team access to the SmartWriterr software so you can automate your copy and content creation, save more time, and make even more money.
Automatic Push Updates: They'll automatically send updates to your software to keep it running smoothly at all times so you can use it on your projects today, tomorrow, and for years to come.
Create Unlimited Copy, Scripts, And Content: Create all the content you need for all your personal projects and all of your client projects with the Agency License.
Step-By-Step Training: Although SmartWriterr is easy-to-use, they're also including step-by-step training that shows you exactly how to get up-and-running so you can save as much time as possible and quickly create copy and content that gets the results you need.
Click Here to View The Smartwriterr Copywriting Sales Scripts Generator Software Lifetime Deal For Yourself
Smartwriterr Benefits:
Advanced AI Engine writes winning copies that BOOST Engagement & Conversions by 4X
All-in-One Copywriting Suite for EVERYONE from Entrepreneurs to Newbies, creates ANY kind of Content you need within Minutes
Cloud-based Software so there's nothing to install or edit
100% Newbie Friendly app. No technical skills needed or writing experience needed
Loaded with 300+ ready to use Scripts for 10+ Categories
This works for Ad Copy, Emails, Sales Letters, Video Scripts… ANYTHING
No Need to Hire an EXPENSIVE Copywriter AGAIN!
Revolutionary AI Tech saves thousands of dollars, hours of precious time, and creates HIGH-CONVERTING copies in MINUTES… without any writer's block!
Comes with Launch Special Agency License and Commercial License… allowing you to offer Copywriting and Content Writing Services
SMARTWRITERR FREQUENTLY ASKED QUESTIONS
What is SmartWriterr? SmartWriterr harnesses advances in A.I. to quickly create converting sales copy, engaging content, and hypnotic sales scripts in any language for yourself and for your clients.
How does SmartWriterr work? Step #1 – Login to SmartWriterr and choose the type of copy you want to have the software write for you (There are multiple options to choose from). Step #2 – Choose your niche/market and answer a few questions. Step #3 – it uses the power of A.I. to create copy and content that's engaging and effective.
Is it really newbie-friendly? Yes, you don't need any special skills or writing experience to use it.
What kinds of results can I expect with SmartWriterr? You'll be able to create quality content, copy, and sales scripts that convert and get results for yourself and your clients with a few clicks of your mouse.
Is there a money back guarantee? Yes, you get a full 30 days to make sure it is for you. If you change your mind for any reason, just let us know, and they'll get you
Why do I need to get it right now? In addition to getting your hands on over $X,XXX in top-quality bonuses, you also get it right now at the lowest price it will ever be.
Don't miss out on your chance to secure access to Smartwriterr Copywriting Sales Scripts Generator Software Lifetime Deal at a one-time fee for lifetime access! Click the button below to check it out.
Click Here to View The Smartwriterr Copywriting Sales Scripts Generator Software Lifetime Deal For Yourself
You may also like