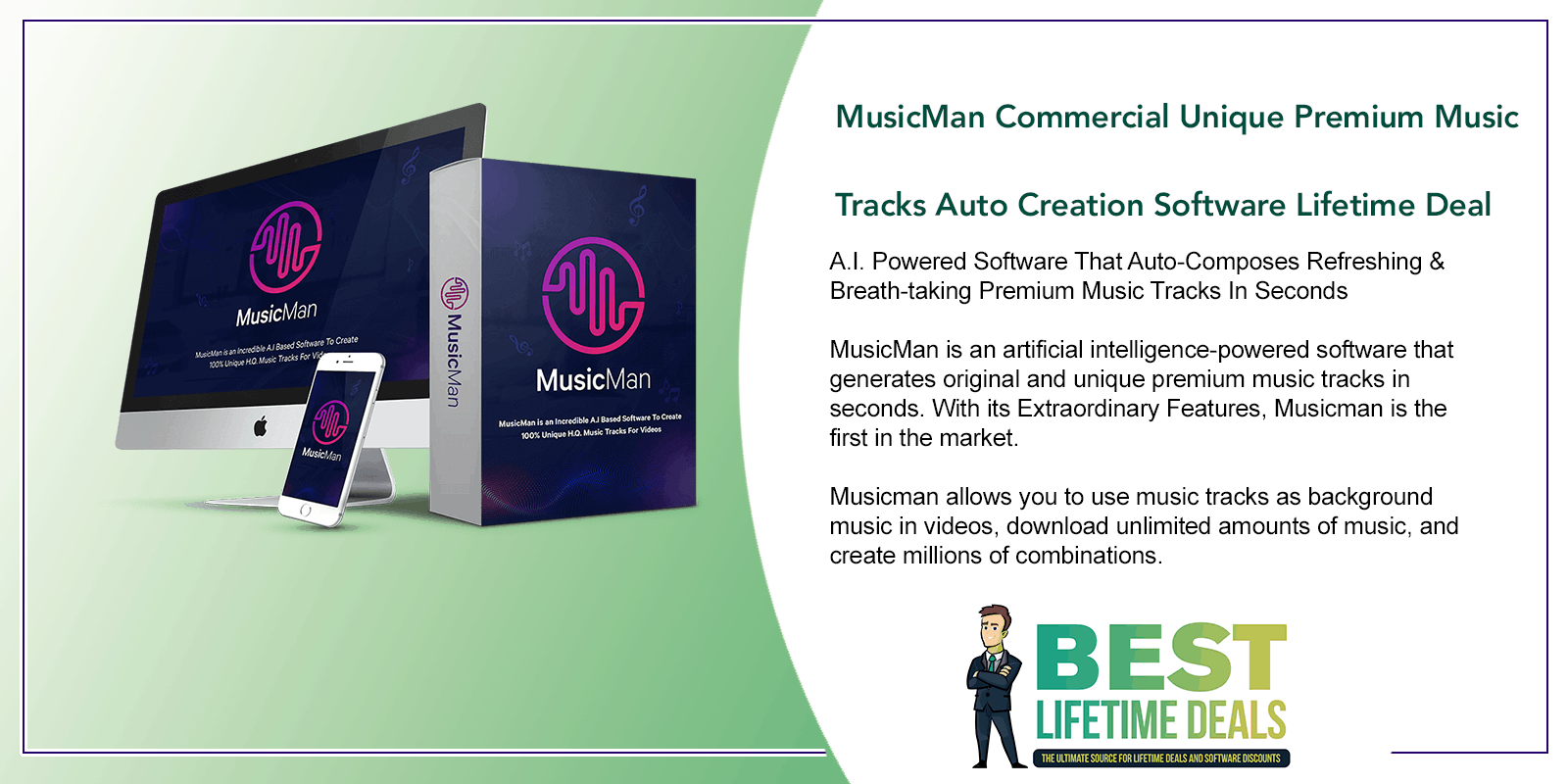 MusicMan Commercial Unique Premium Music Tracks Auto Creation Software Lifetime Deal
in
Audio Lifetime Deals
Choose Your Desired Option(s)
MusicMan Commercial Unique Premium Music Tracks Auto Creation Software Lifetime Deal
A.I. Powered Software That Auto-Composes Refreshing & Breath-taking Premium Music Tracks In Seconds
MusicMan is an artificial intelligence-powered software that generates original and unique premium music tracks in seconds. With its Extraordinary Features, Musicman is the first in the market.
Musicman allows you to use music tracks as background music in videos, download unlimited amounts of music, and create millions of combinations.
MusicMan is an amazing A.I.-based software that allows you to create 100% unique high-quality music tracks for your videos. It's ideal for sales videos, training videos, promo videos, product demo videos, video ads, and more.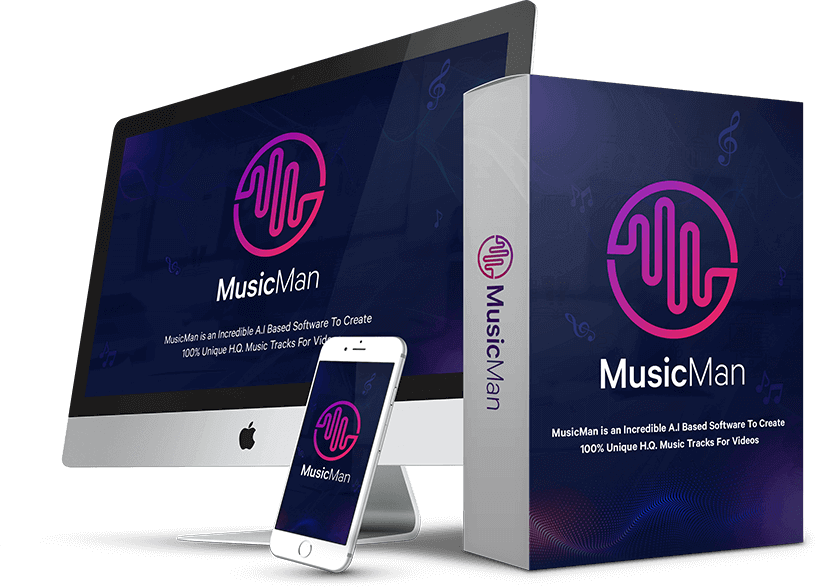 Here are the most basic steps of

MusicMan
STEP 1: Choose a genre, a category, a mood, a theme, and the length of the music track.
The first step is to select the duration of the music then select the mood of your music like scary, happy, angry, love, dreamy, groovy, etc.
Then select a genre of your music (Indian, Latin, Pop, African, Japanese, Rock, Jazz, World, Blues, and many more..)
STEP 2: Let A.I Create Music in Seconds
Wait for a second AI will create a music track for you based on your choices.
The best part is that you will get unique music every time you create music with the same settings.
STEP 3: Download
Now the last is to download the music to add to your video. Absolutely copyright free music
And the good thing is multiple tracks are created for each project so you can listen, choose the best track and download it in 1-Click
Just Imagine you will be able to create your own high-quality original music in seconds, Sell them and can earn a huge amount of income from your clients.
You can use these in your Social Media, YouTubes, Television,Website, and anywhere you want.
Click Here to View The MusicMan Commercial Unique Premium Music Tracks Auto Creation Software Lifetime Deal For Yourself
MusicMan Features:
Adding titles to your videos is not so easy with any editor. Use one of 50 templates or create your own with just a few clicks in the title editor.
Add Background Music To The Timeline
You can add background music to the timeline, play, and sync it with all other clips on multiple timelines for the best output.
Apply Fade In/Fade Out effect to the audio to enhance final video output. Also, to make audio editing simple, audio files will be visible as waveforms.
You can easily trim, cut, slice, or join multiple videos and audio clips on timelines to find those perfect moments.
The video effect engine allows you to remove the background from the video, change the color and adjust the brightness.
Slow Motion & Time Effects
Control the reversing, power of time, slowing down, and speeding up video. Use a preset or animate the playback speed and direction.
Download & Start Editing On Your Computer Now. Works smoothly on Windows, Mac, and even Linux OS.
Just choose the format and quality you want and click the Export button, you will get the right output video within seconds. Ultra-fast display technology.
With a powerful animation framework, you can mix, move, bounce, and animate anything in your video project.
Unlimited Timeline Tracks
Watermarks, background videos, audio loops, and other elements can be added to as many timeline layers as you like.
Create stunning 3D animated titles and effects like snow, lens flares, and flying text.
Make a video instantly in your language. Simply change the language of the app and you can use Launchpad to translate it online.
No technical, creative, or editing skills are required. This is the simplest and easiest video editing software to use. Try it and see for yourself
MusicMan Benefits:
Millions of H.Q. Premium Music Tracks – UNLIMITED USE
Refreshing music every time even with same settings
Never Pay for Audio Track Again
Find perfect music and sound for videos in 3-clicks
No Copyrights on Music Projects
Save Cost-Download UNLIMITED Tracks for Unlimited Projects
With Commercial Rights – Sell Project Sounds to Clients or Use it in Client's Videos – Make Profits.
Frequently Asked Questions
Is there a money-back guarantee? YES! If you are not satisfied for any reason, you can contact us at support@musicman.io and ask for a refund.
Is There Any Training Included? Absolutely, our detailed and step-by-step training videos are available for you. This will help you get started instantly & become an expert in no time.
Does it Work On Both Mac & PC? Yes, MusicMan is 100% cloud-based and works on any device with an internet connection. You can access this sophisticated technology using any operating software.
Do You Charge Any Monthly Fees? MusicMan is currently available for the LOWEST one-time cost. However, this offer will not last for too long. After which, we will charging a monthly fee.
Don't miss out on your chance to secure access to MusicMan Commercial Unique Premium Music Tracks Auto Creation Software Lifetime Deal at a one-time fee for lifetime access! Click the button below to check it out.
Click Here to View The MusicMan Commercial Unique Premium Music Tracks Auto Creation Software Lifetime Deal For Yourself
You may also like