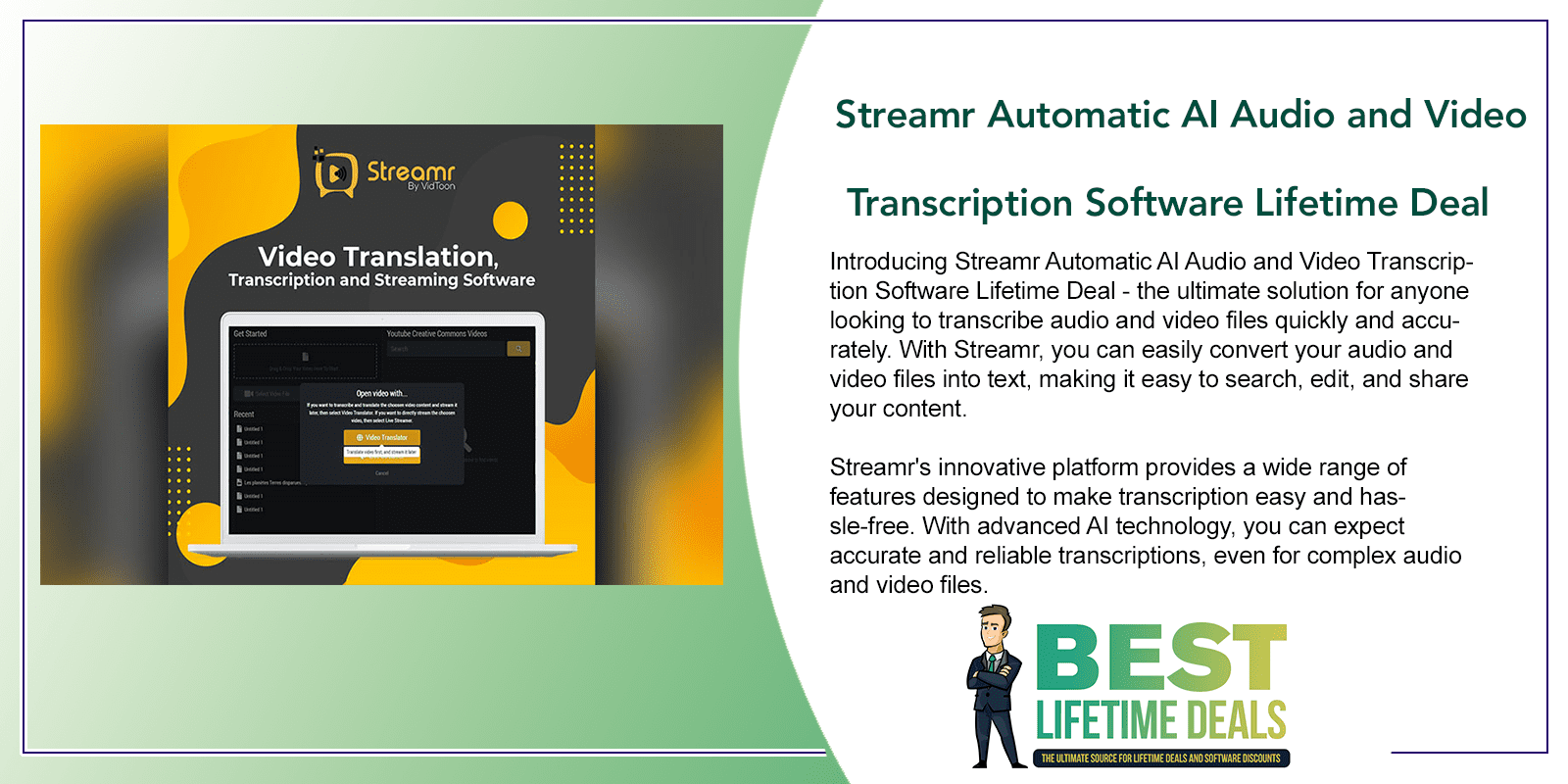 Choose Your Desired Option(s)
Introducing Streamr Automatic AI Audio and Video Transcription Software Lifetime Deal – the ultimate solution for anyone looking to transcribe audio and video files quickly and accurately. With Streamr, you can easily convert your audio and video files into text, making it easy to search, edit, and share your content.
Streamr's innovative platform provides a wide range of features designed to make transcription easy and hassle-free. With advanced AI technology, you can expect accurate and reliable transcriptions, even for complex audio and video files. And with fast turnaround times, you can get your transcriptions in no time.
But that's not all. Streamr also provides fast and responsive customer support, so if you ever have any issues or questions, you can get help right away. Plus, with regular updates and new features, you'll always have access to the latest and greatest tools for audio and video transcription.
And with Streamr's Lifetime Deal, you'll have access to all of these amazing features for life, without any additional fees or hidden costs. Say goodbye to costly per-minute transcription fees and enjoy peace of mind with Streamr's automatic AI audio and video transcription software.
Whether you're a content creator, journalist, or anyone in between, Streamr has the perfect solution for you. So why wait? Get Streamr Automatic AI Audio and Video Transcription Software today and experience the benefits of fast and accurate transcription.
Introducing Streamr Automatic AI Audio and Video Transcription Software Lifetime Deal
Influencers..affiliates.. vendors.. it doesn't matter what you do, you always need to grow your audience online to boost sales through videos! Did you know that only 25% of your global audience speaks English?
Why not tap into the remaining 75% audience by creating a video in multiple languages with a cool new video translator? Turn Your videos into a global money making machine with
Streamr by Vidtoon™ is a video & audio translation, AI video transcription, and live streaming software. Streamr is a breakthrough technology that can scale any business globally.
With fully automated video translation, video transcription, audio translation and audio transcription, caption creation and placement, voice-overs, voice level control, subtitle customization, and much more, you get different options to work on your video in one software.
About Streamr Automatic AI Audio and Video Transcription Software:
Features Of This AI Video Transcription Tool:
Video translation and transcription
Audio translation and transcription
Live streaming
Upload unlimited number of videos and audios
Add subtitles to videos
Subtitle Customization: change colors, shadow, style
Export SRT file
Import SRT file
Translate Subtitles and voiceover
Control volume
Screenshots Of Streamr Automatic AI Audio and Video Transcription Software: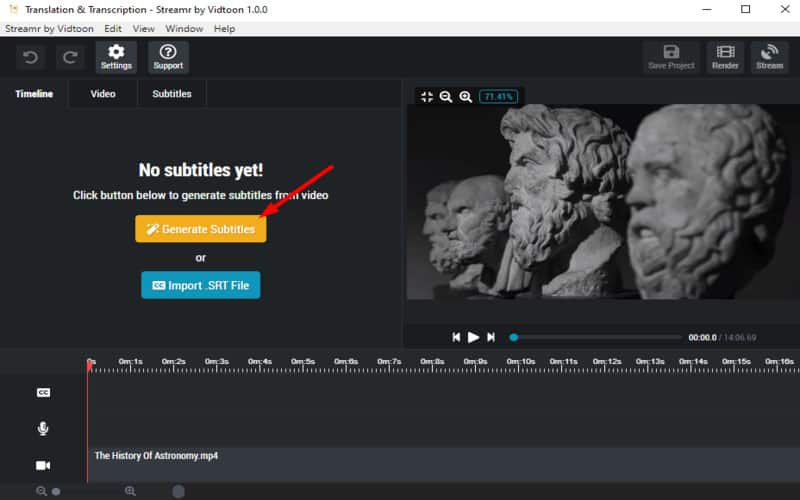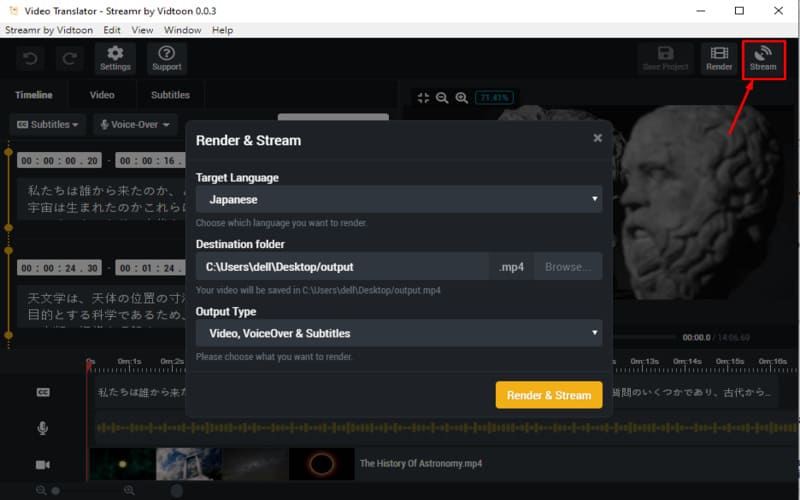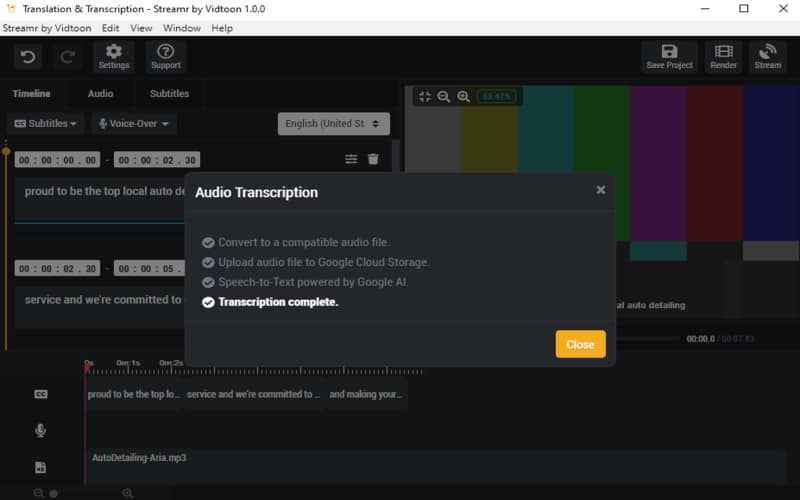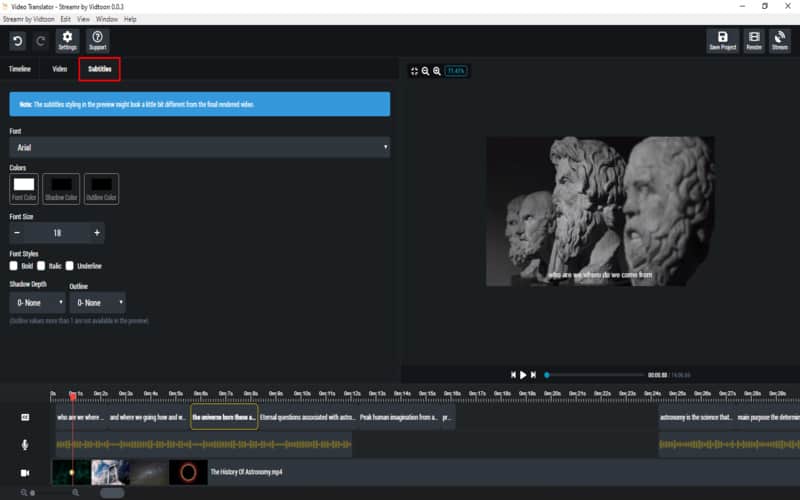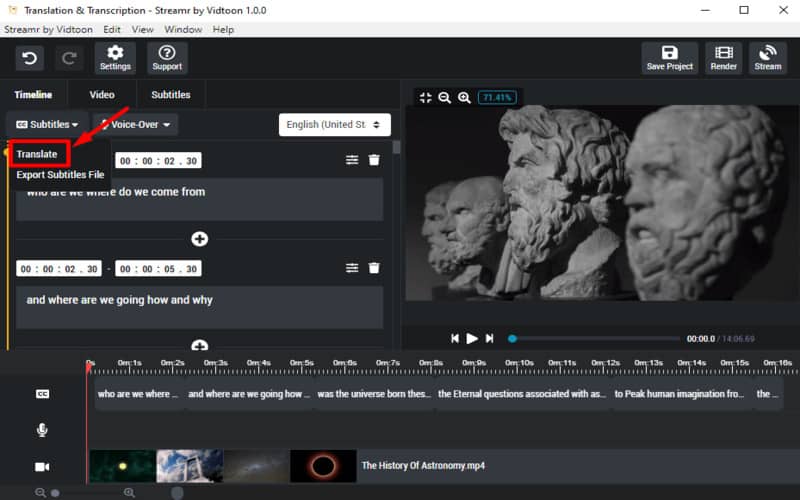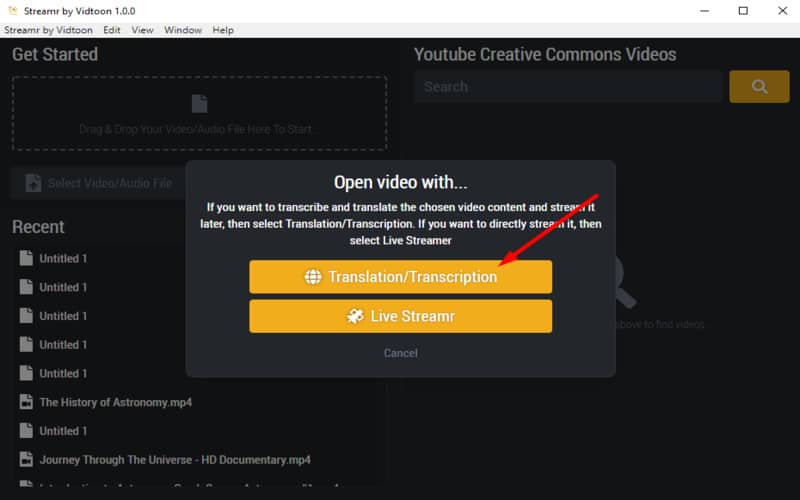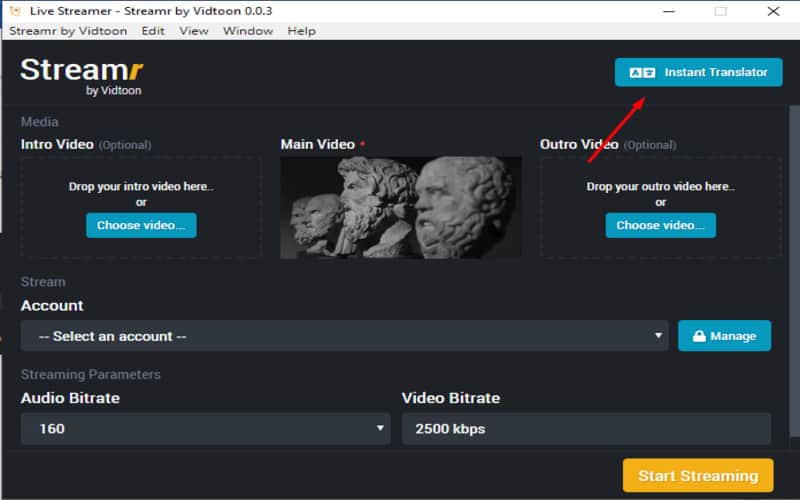 Please Note:
Google Cloud account is required in order for Streamr to work, and you will get a $300 credit upon signing up.
We offer a step by step guide on how to get it done in case this is something new to you.
What can you do with Streamr?
Convert Any Video Into A Global Sales Machine By Adding Multilingual Voice Over and Subtitles.
Engage, Captivate & Sell To Audiences From All Over-Around The World.
Tap Into Any Market By Instantly Translating Any English Video Into Another Language.
Built-In Live Streaming Technology Makes Your Video Go Viral On YouTube, Facebook, Dlive.Tv And D.Tube For Free Traffic, Leads & Sales (Industry-First Technology).
Fully Automated Translation, Transcription, Caption Creation And Placement, Subtitles, Voice Overs, Voice Level Control And Much More… (Industry-First Technology).
Click Here to View The Streamr Automatic AI Audio and Video Transcription Software Lifetime Deal For Yourself