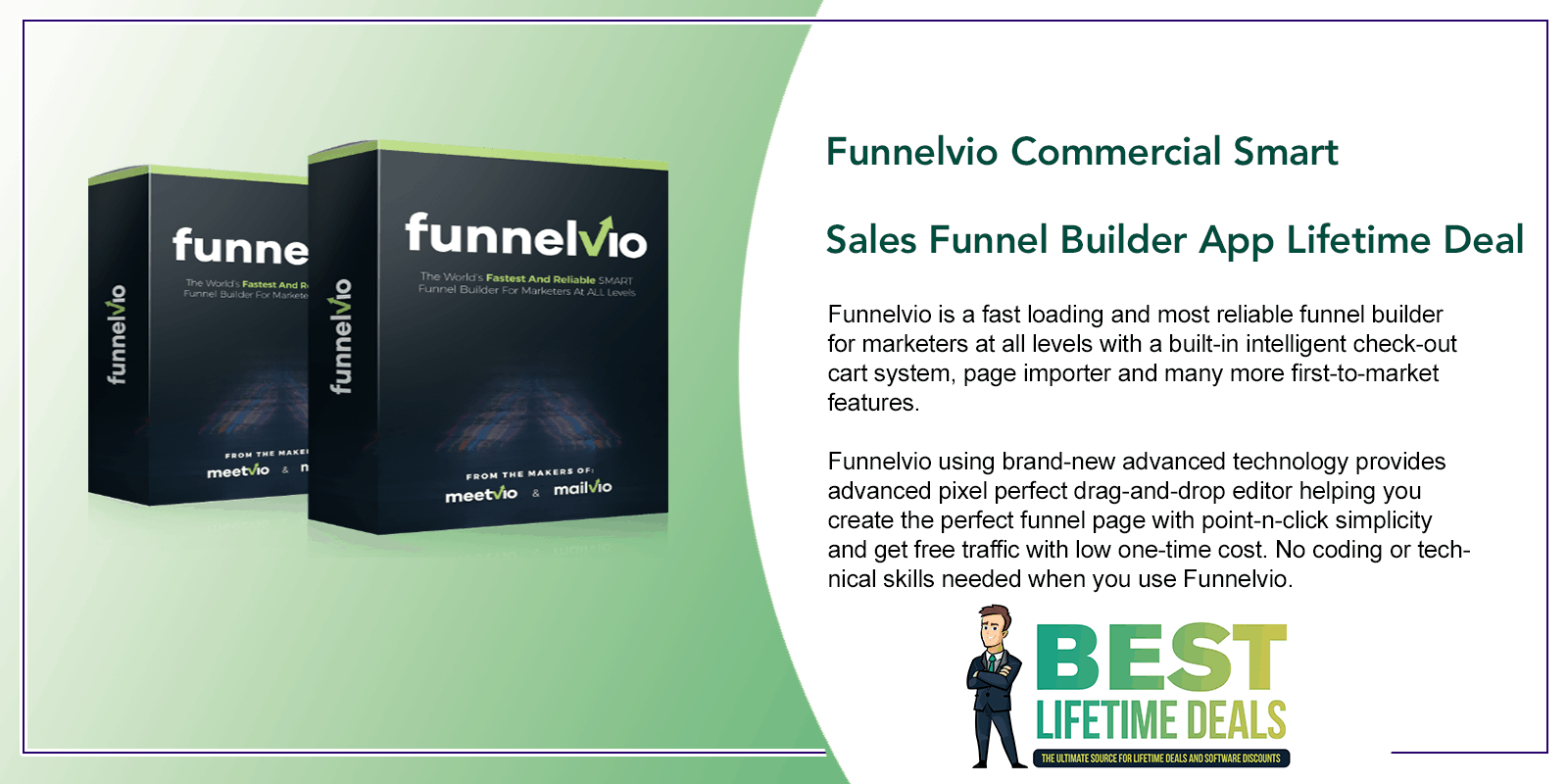 Choose Your Desired Option(s)
Funnelvio Commercial Smart Sales Funnel Builder App Lifetime Deal
Clone Any Funnel With Just 3 Clicks, Create Unlimited ULTRA-FAST LOADING Pages With 99.9% Uptime Securing Profitable Funnels – At a Launch Special One-Time Price!
Funnelvio is a fast loading and most reliable funnel builder for marketers at all levels with a built-in intelligent check-out cart system, page importer and many more first-to-market features.
Funnelvio using brand-new advanced technology provides advanced pixel perfect drag-and-drop editor helping you create the perfect funnel page with point-n-click simplicity and get free traffic with low one-time cost. No coding or technical skills needed when you use Funnelvio. It is an all-in-one software to support you build sales funnels.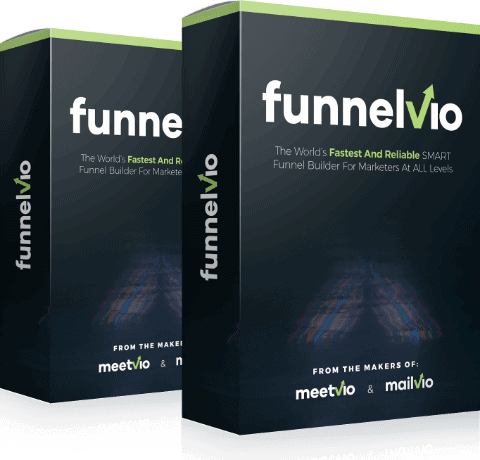 You only go through 3 easy steps to dominate Funnelvio as following:
STEP 1: pick a template or import a page or create from scratch
STEP 2: customize based on your needs
STEP 3: hit "publish" to go live
Click Here to View The Funnelvio Commercial Smart Sales Funnel Builder App Lifetime Deal For Yourself
Funnelvio Features:
Fast & Easy:
Pre-Loaded with 200+ ready-to-deploy gorgeous pages to choose from according to your niche & use.
Pre-created blocks built on google cloud pro to help you get started right away.
Point-n-click easy smart funnel builder and editor. You don't need to know a single thing about coding or any of the other geek stuff.
Elegant & Practical:
Share, clone, publish, un-publish, delete and archive funnels and pages (single or mass action) with just a click
Responsive layout enabled. All your pages fit perfectly to the screen they are accessed on – wide, desktop, tablet & mobile
Create and clone pages in multiple languages to skyrocket conversions by targeting customers from all over the world
Track & Grow:
Watch your funnels and pages come alive in real-time with a complete overview on your dashboard. Drag-n-drop the different elements of the funnel to create the perfect flow
Built-In Goal Tracking means you don't need any external split-testing and tracking tools
Get quick stats per funnel page, published status, active split test status, total revenue, most valued customers etc. in the form of Bars and Graphs on your dashboard for 1-Glance analysis
Built For Unlimited Profits:
Create unlimited funnels and pages and drive up to 100,000 visitors per month
Grab The Commercial License WITHOUT upgrading and sell building landing pages and funnels at premium prices and make insane profits
No Domain or Hosting Required. We host all your pages & funnels on our fast Google Cloud Pro account
Funnelvio Benefits
Blazingly fast loading pages with 99.9% uptime powered by google cloud
Built-in checkout and reporting system to sell products with paypal, stripe and more!
Pick-n-use: 160 pre-done modern design
Pages to get you started immediately
1-click share, clone, publish, unpublish,
Delete and archive funnels (single or in bulk)
Create unlimited funnels and pages,
Serving 100,000 visitors per month.
Built-in product delivery system
Delivers your welcome emails with products instantly!
Built-in page importer – import any page
Online and build your next page in minutes
No coding or technical skills required.
Fully web-based. Just login and profit
Frequently Asked Questions
What makes Funnelvio better than the other funnel builders? Funnelvio is FASTER! Funnelvio is RELIABLE (99.9% uptime), and Funnelvio is AFFORDABLE! Simple as that!
A majority of my target audience are from non-English speaking countries. Is Funnelvio a good option for me? Absolutely. Funnelvio supports multiple languages. You can create funnels and pages in French, Spanish, Italian, and of course, English.
I already have a funnel builder subscription. What should I do? Dump it! Sorry to be so blunt, but your business needs to adapt to modern technologies to grow and stay ahead of the competition. Funnelvio is miles ahead of other funnel builders in terms of features and its capacity to deliver high results. And most importantly – you can get access to it today at a low introductory one-time price.
What if I change my mind later and want to go back to my previous funnel builder? Funnelvio comes with a 14-day money-back guarantee. You can always ask for a full refund within that period and go back to using your old expensive and wonky funnel builder. 😉
What happens to Kyvio? Should I buy Funnelvio? Funnelvio is a part of Kyvio – so if you already have Kyvio, check your email (or our Kyvio group) and you will see more information about how to get your copy of Funnelvio.
What is your current roadmap? Will you add new features and will we get them? Right now our singular focus is on finishing up and releasing the features that are in beta + the V 2.0 of the editor (which is SO AWESOME!) And thereafter, we will focus on integrations and yes – whatever new features get released under Funnelvio will be made available to you!
That sounds good. Let's do this. Great. Choose your preferred Funnelvio license and welcome aboard.
Don't miss out on your chance to secure access to Funnelvio Commercial Smart Sales Funnel Builder App Lifetime Deal at a one-time fee for lifetime access! Click the button below to check it out.
Click Here to View The Funnelvio Commercial Smart Sales Funnel Builder App Lifetime Deal For Yourself
You may also like