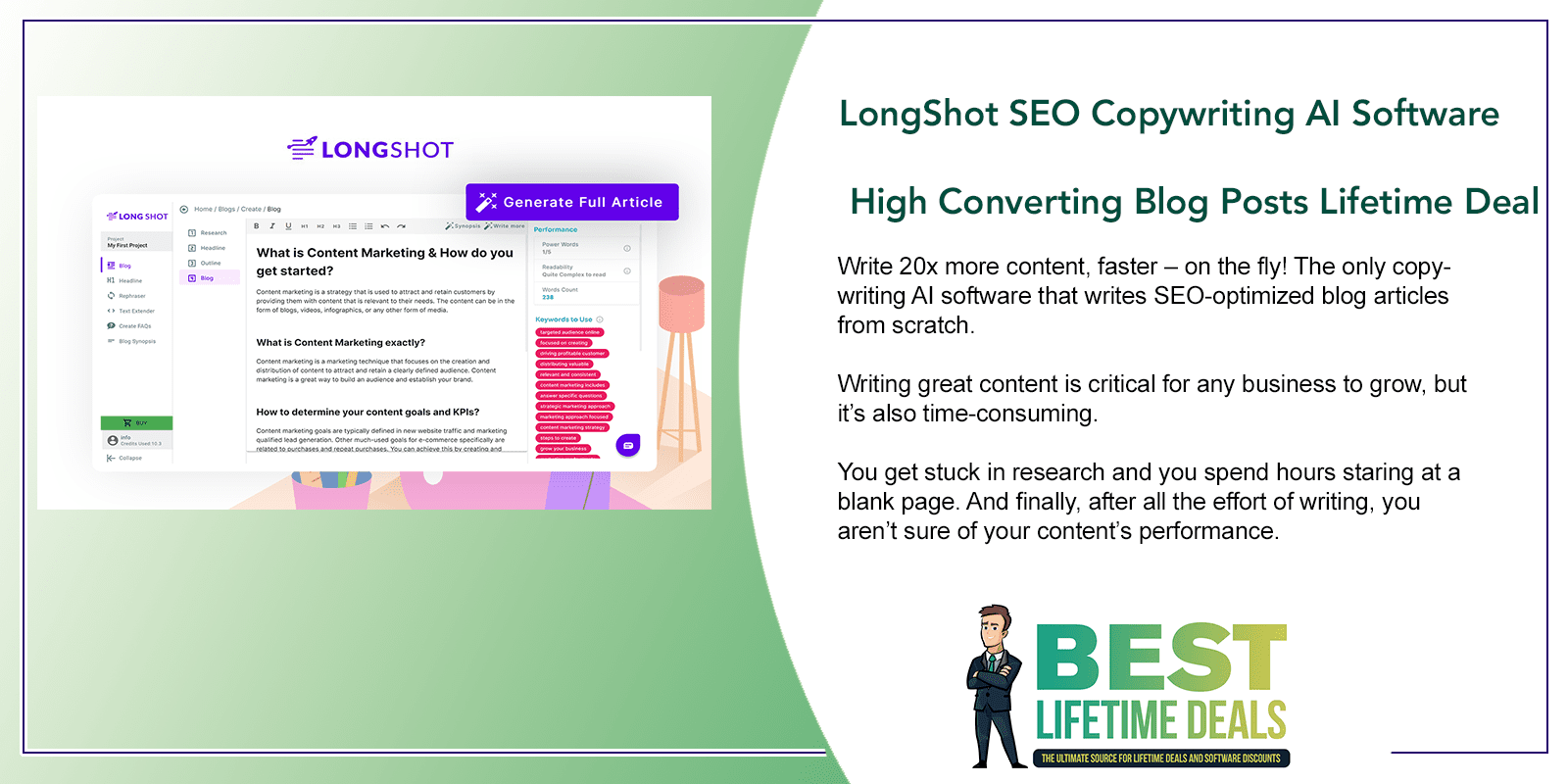 Choose Your Desired Option(s)
LongShot SEO Copywriting AI Software High Converting Blog Posts Generator Lifetime Deal
Write 20x more content, faster – on the fly! The only copywriting AI software that writes SEO-optimized blog articles from scratch.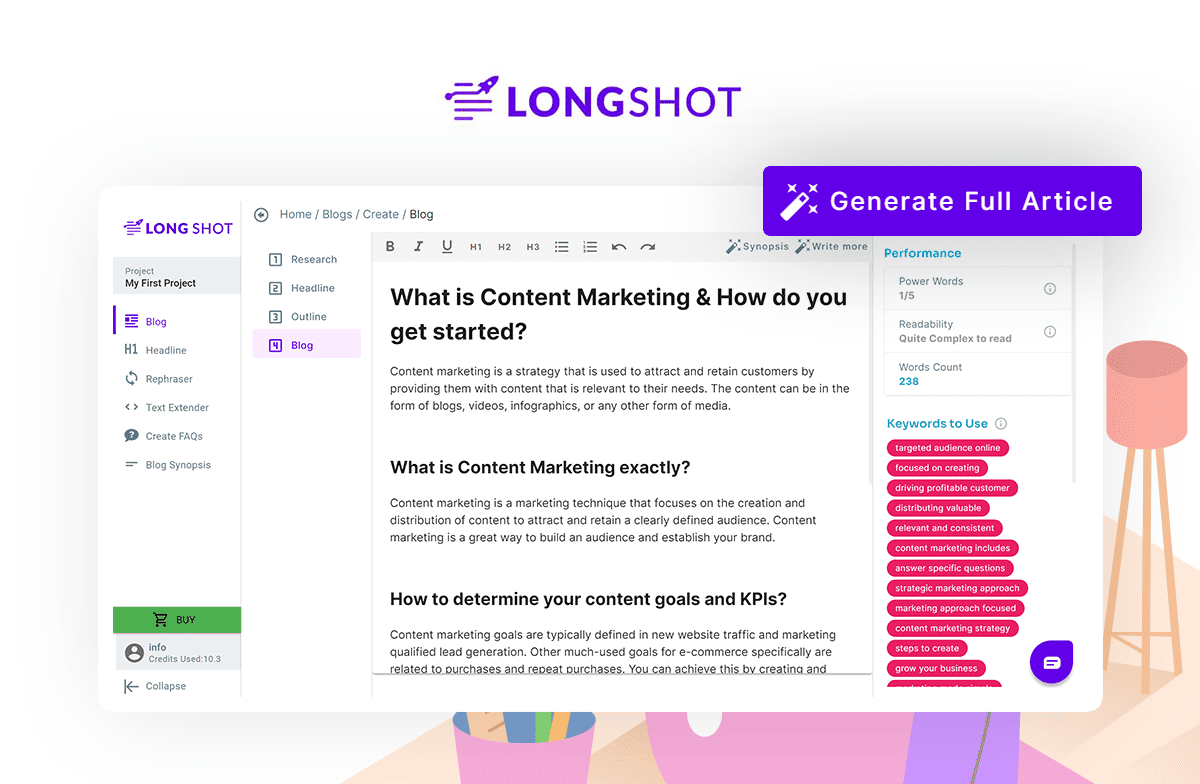 Writing great content is critical for any business to grow, but it's also time-consuming.
You get stuck in research and you spend hours staring at a blank page. And finally, after all the effort of writing, you aren't sure of your content's performance.
If you want to improve your conversions, you need a better way of writing blog articles.
You can't afford to waste precious hours on creating low-quality content that doesn't convert well.
LongShot.ai is an AI-powered software tool that writes high-converting blog posts for you in just seconds!
Instead of spending 10 hours a week writing a new article – you'll be able to spend less than 30 minutes with LongShot.ai doing the same job!
That's 20x more for your business! LongShot is a long-form content generation tool on steroids.
Generate SEO-optimized, high-converting blog articles from scratch – from topic research, to headline, to the outline & the full blog.
Extend the text, rephrase, generate FAQs and get blog synopsis – all at a click of a button in seconds.
Get recommendation on the images for your generated articles with Image Generation AI (Soon)
Perfect for: Content Marketers, Founders & Copywriters who run short of time on writing long-form copy.
Step 1: Research Your Niche – Add Topics Or Keywords You Want To Rank For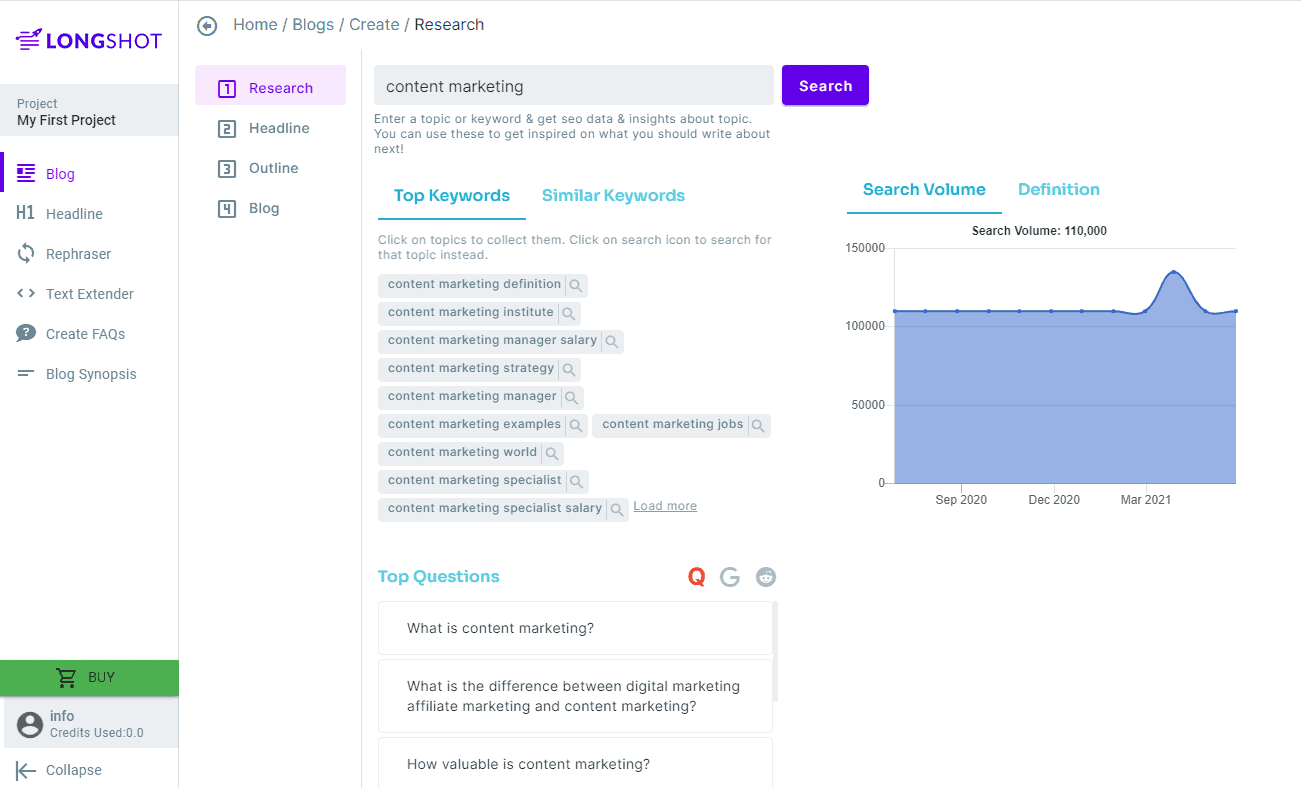 Simply input the keywords you want to rank for in Google and the tool will generate possible content topics and questions your audience is looking for.
You can see the historical and current search volume of the keywords, so you'll know what has the most potential.
Easy as pie!
Step 2: Generate Potential Headlines For Your Blog Article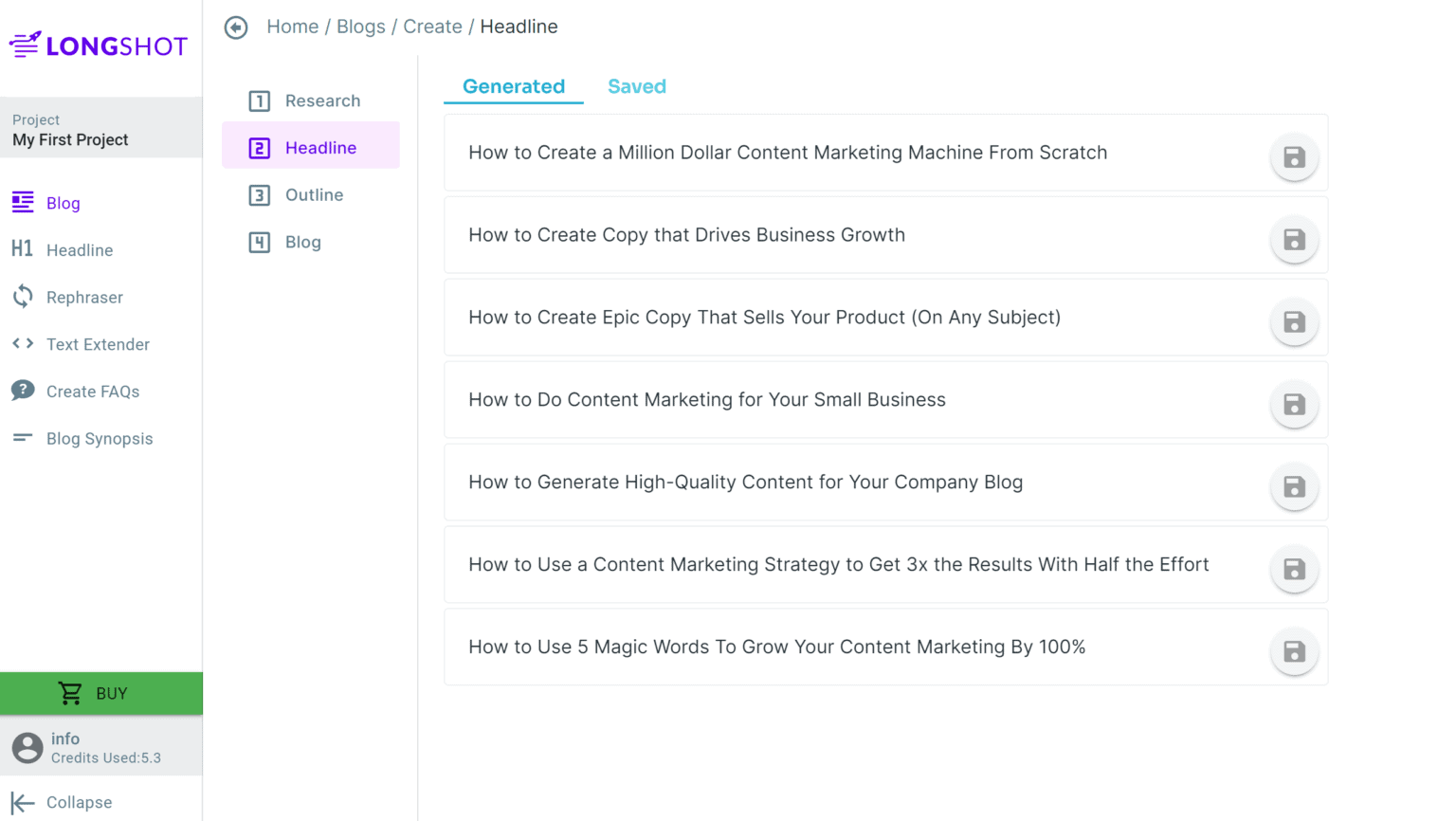 From the keywords you added as input, LongShot's AI will generate high-quality headlines.
Select one of the generated headlines and proceed to choose the blog outline. You can also regenerate headlines if you want to explore more headline ideas.
Click Here to View The LongShot SEO Copywriting AI Software High Converting Blog Posts Generator Lifetime Deal For Yourself
Step 3: Create Content Brief – Select The Structure And Sub-Headings Of The Article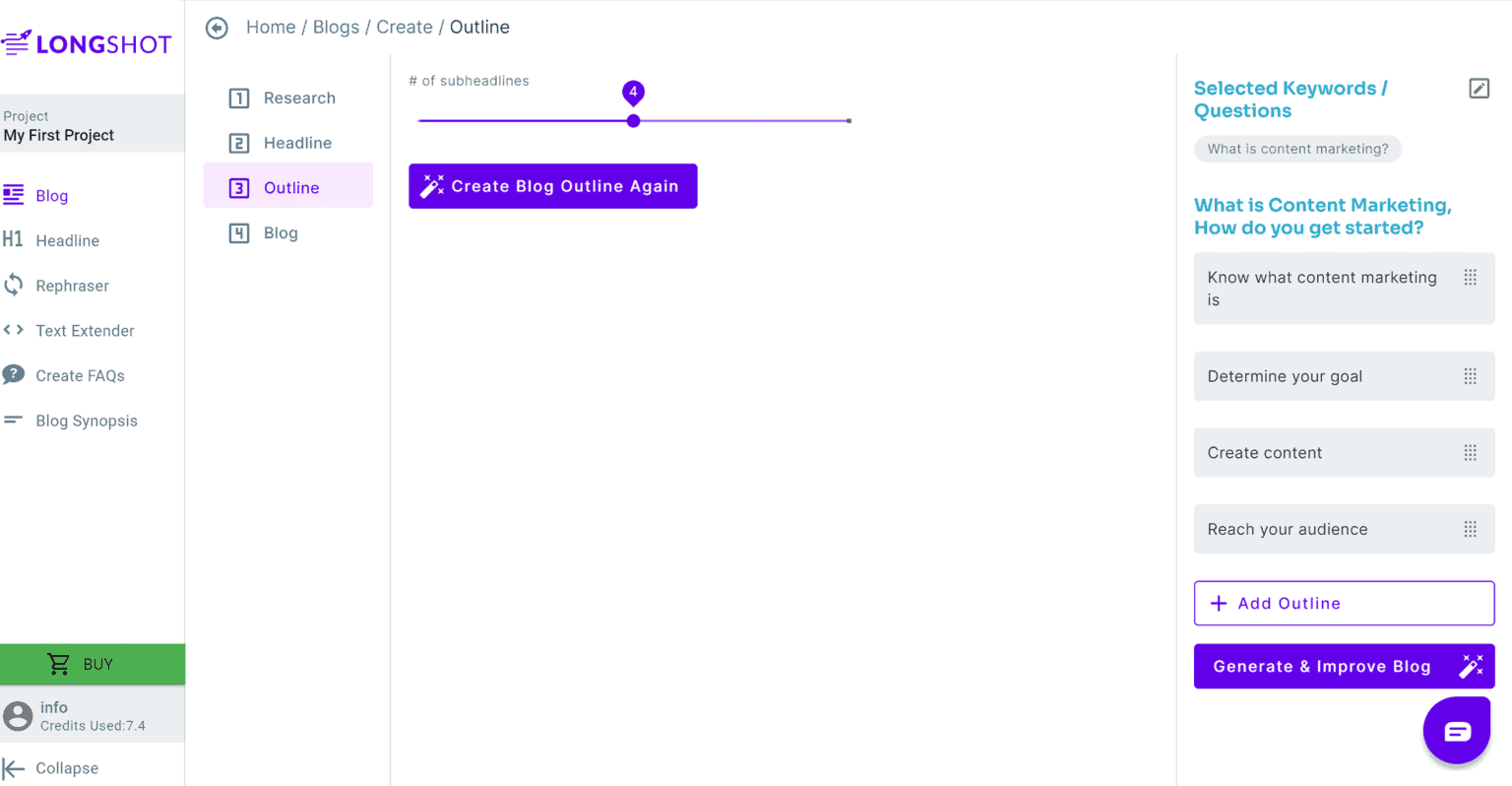 You can now add the number of sub-headings you would like to have in the article. Get the content brief ready in seconds.
Tweak a bit where needed, and proceed to generate a full blog article!
Step 4: SEO-Friendly Long Form – Generate A Full Blog Article In A Single Click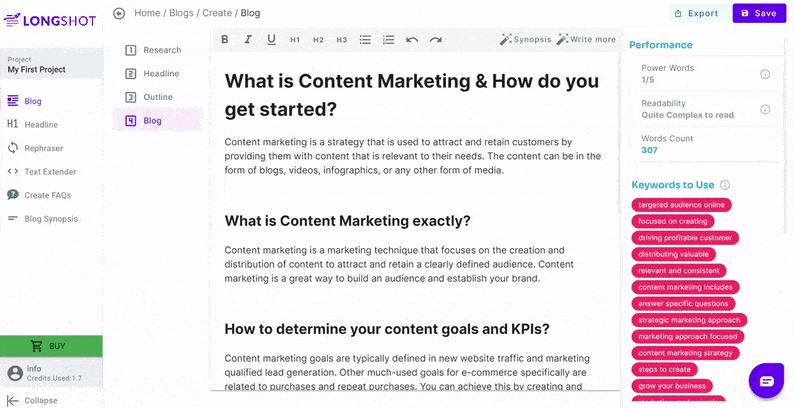 You can now generate the full article in one click.
Want a longer article? Simply hit the 'Write more' button and the AI will generate more text inside your article. Steer it the way you want with the real-time performance checker.
You can even add a full summary of the text at the end of the blog as a conclusion of the article.
Simply export the blog with SEO tags like H1, H2, H3 already set correctly and publish it on your site. That's it, folks!
Check The Detailed Video Walkthrough & Review To Learn How To Write 20x More Content, Faster – On The Fly
Software expert and technology enthusiast Phillip Stemann reviewed the LongShot.ai platform and made a detailed video explanation on how to use the software to its full potential. Check out the video below!
The Best AI Content Writing Tool For Writing SEO-Optimized Long Form Content On Autopilot
LongShot.ai is the only AI copywriting tool that can actually write quality articles – unlike other tools that generate blogs that feel robotic and inauthentic.
LongShot's AI is so powerful that the long-form content it generates is not distinguishable from content written by a human copywriter. Did you guess by now that the content in here is written with LongShot's assistance?
Normally you would pay up to $948/year, but for a limited time only you can get lifetime access starting at $79 one-time.
Get the deal while the limited stock lasts!
Click Here to View The LongShot SEO Copywriting AI Software High Converting Blog Posts Generator Lifetime Deal For Yourself
LongShot.Ai Pro Lifetime Subscription
Lifetime access to LongShot.ai Pro Plan
Generate high-quality long-form content with AI
1000 copy generation credits/month (Total of 50K words/month)
Copy generation credits renew each month
Unlimited topic research credits
Unlimited projects
Generate FAQs, blog ideas, article briefs
Generate full blog articles
Generate full reports, guides & tutorials, newsletters, essays & memos
Generate other long-form content
Generate high-converting SEO optimized headlines
Fully SEO optimized articles
Content extender & rephraser
Insights & synopsis on content of unlimited length
Unlimited keyword research
Unstuck tool
Use tones in generation (Soon)
Generate unlimited content briefs & outlines
All future plan updates
30-day Money Back Guarantee
Don't miss out on your chance to secure access to LongShot SEO Copywriting AI Software High Converting Blog Posts Generator Lifetime Deal at a one-time fee for lifetime access! Click the button below to check it out.
Click Here to View The LongShot SEO Copywriting AI Software High Converting Blog Posts Generator Lifetime Deal For Yourself
You may also like