Choose Your Desired Option(s)
FlashBooks Book Summaries Book Ideas App Lifetime Deal
Get More Knowledge – FlashBooks publishes top self-help and business book summaries you can read or listen to in about 20 minutes or less.
Introducing FlashBooks Book Summaries Book Ideas App Lifetime Deal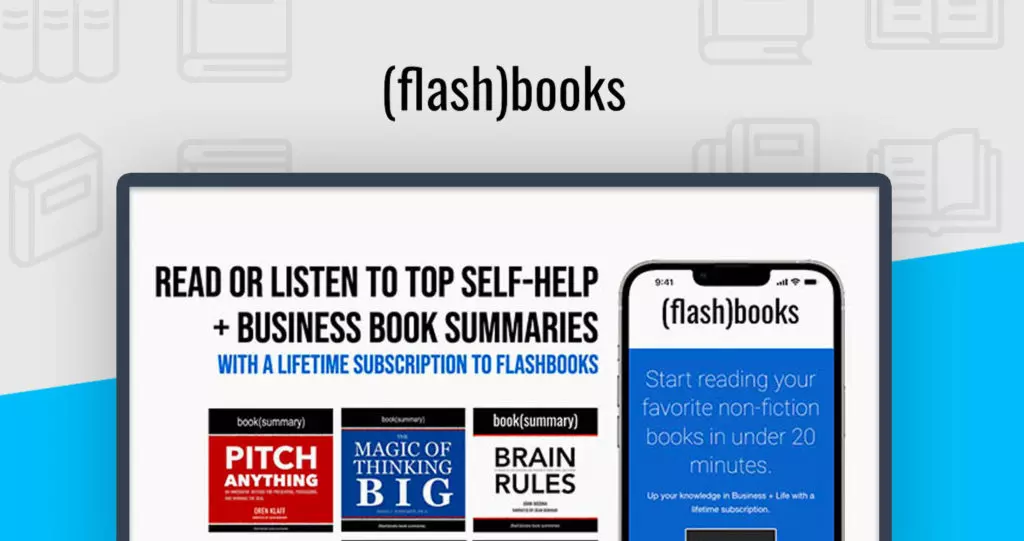 Here's what you'll get when you signup for your lifetime subscription:
– Lifetime unlimited access to the entire FlashBooks library. With hundreds of non-fiction book summaries, and new titles added to the library each month, you'll always have something new to sharpen your skills and expand your knowledge.
– Get a book's big ideas in under 20 minutes. Reading a 300 page book can take weeks. Get your knowledge fix as close to now as possible… In about 20 minutes, you can digest the core concepts of the books you don't have time to read.
– Audiobook summaries. Our summaries are available to members as downloadable audiobooks—each of which are professionally narrated by award-winning presenter, Dean Bokhari. Members are always telling us about how they listen to our audiobook summaries over and over again as refreshers, or whenever they need a spark of motivation.
– Formatted for every device. Our book summaries are formatted for every device. Mac. PC. iPhone. Android. Everything. Simply select and download any summary to your device of choice and you're good to go!
FlashBooks is a lifetime deal for an app that provides users with access to summaries of the most popular and best-selling books in a variety of genres. The app also offers a feature for generating ideas for books to read based on user preferences and interests.
With FlashBooks, users can save time by reading condensed versions of books and getting an overview of their key ideas and takeaways. The app offers a library of over 1000 book summaries, with new summaries added regularly.
Additionally, the app offers a feature for generating book ideas based on user preferences and interests. This can help users discover new books and authors they might not have otherwise found.
The lifetime deal for FlashBooks is a one-time payment for lifetime access to the app and its features.
Top 20 Book Summaries On FlashBooks:
Atomic Habits
The Seven Habits of Highly Effective People
The Subtle Art of Not Giving a F*ck
How to Win Friends and Influence People
The 5 Second Rule
Getting Things Done
Mindset
Thinking, Fast and Slow
Start with Why
The One Thing
Daring Greatly
Man's Search for Meaning
The Body Keeps the Score
The Gifts of Imperfection
Pitch Anything
The Power of Now
Good to Great
Outliers
Leaders Eat Last
The Power of Habit
FlashBooks – Lifetime Subscription
Lifetime access to FlashBooks
Access options: Desktop or Mobile
Max number of devices: 3
Formatted for every device: Kindle, iPhone, Android, iPad, iPods, PDFs, and more
Only available to new users
Redeem your code(s) within 30 days
All future FlashBooks updates included
30-day Credit Back Guarantee
Click Here to View The FlashBooks Book Summaries Book Ideas App Lifetime Deal For Yourself
You may also like