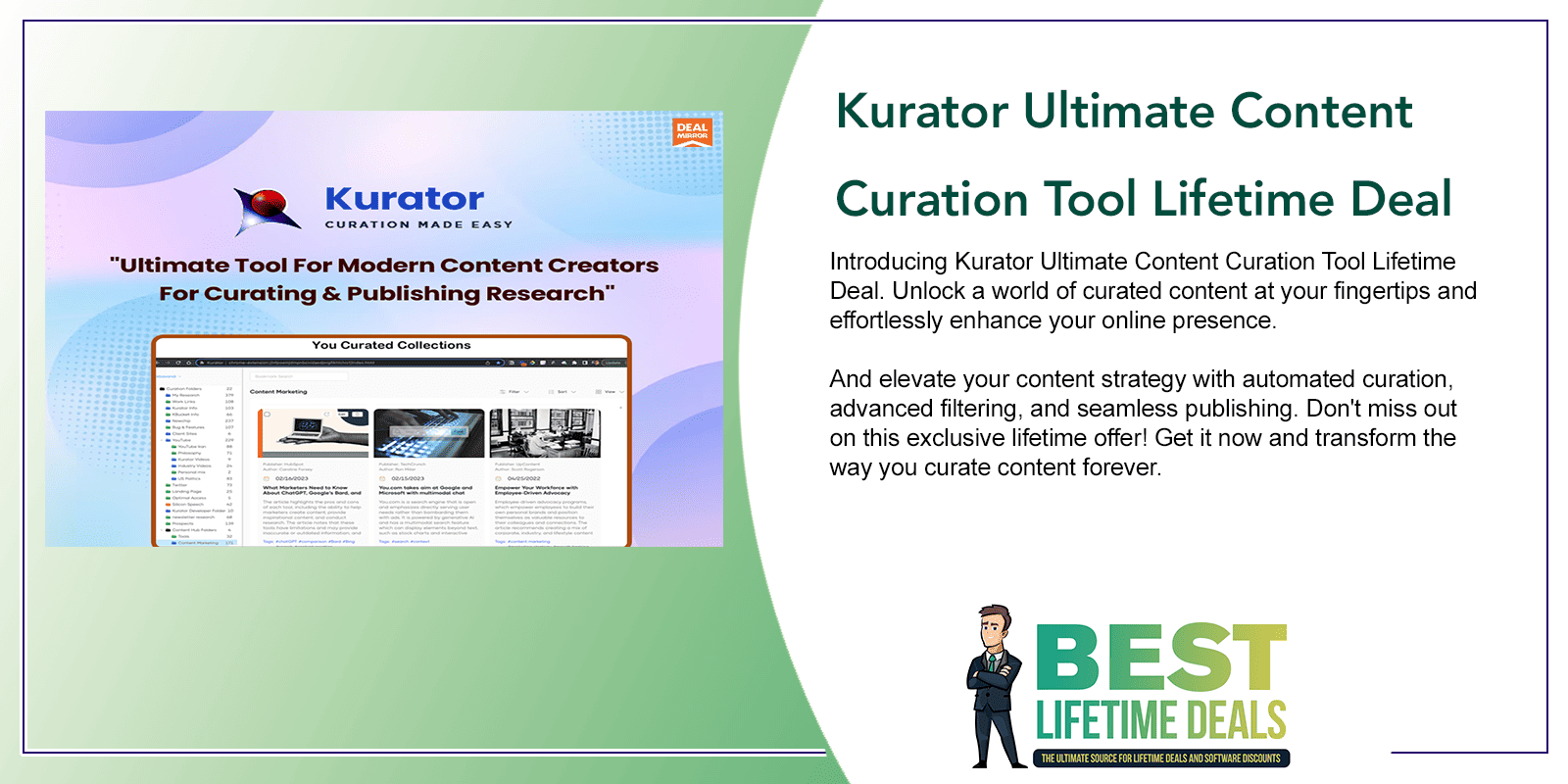 Choose Your Desired Option(s)
Introducing Kurator Ultimate Content Curation Tool Lifetime Deal. Unlock a world of curated content at your fingertips and effortlessly enhance your online presence.
And elevate your content strategy with automated curation, advanced filtering, and seamless publishing. Don't miss out on this exclusive lifetime offer! Get it now and transform the way you curate content forever.
Introducing Kurator Ultimate Content Curation Tool Lifetime Deal Deal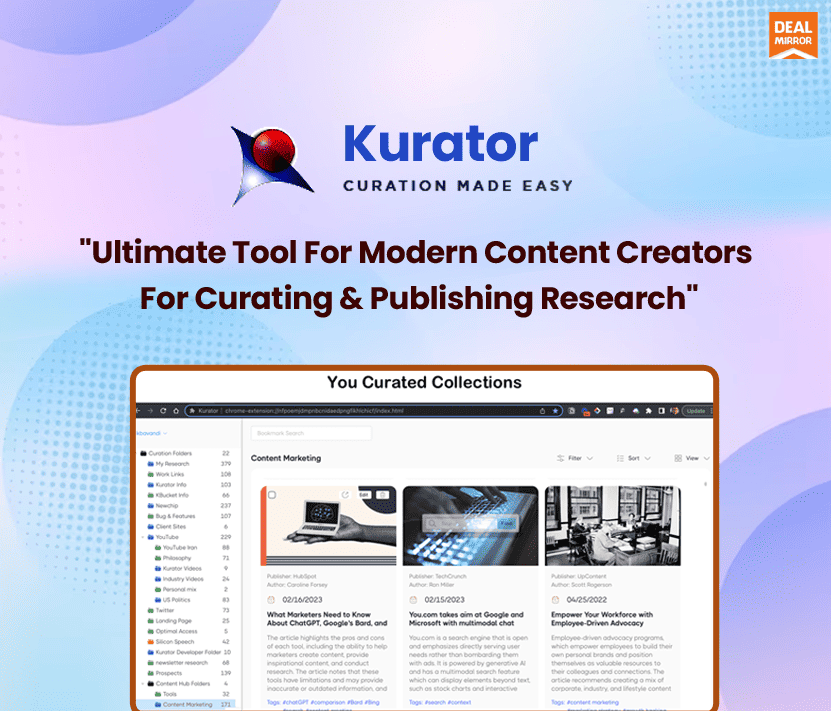 Kurator Ultimate Content Curation Tool Lifetime Deal Features:
Publishing content to your website, newsletter, and social media channels effortlessly.
Alternative to Elfsight Raindrop TabExtend
Save time managing access to your own information
Best for Content creators Educators Social media marketers
Whether you want to centralize access to information for your projects (webpages, emails, app files, web documents), or share your web research Kurator is for you!
Kurator will save you time every day looking for information and lets you quickly index and find any link you have saved instantly!
Kurator Ultimate Content Curation Tool Lifetime Deal Tutorial Video
Kurator also makes it really easy to publish your research to your website, newsletter, and social media channels.
Curate and organize your content with Kurator and instantly publish everywhere.
Kurator Ultimate Content Curation Tool Lifetime Deal Overview Features Images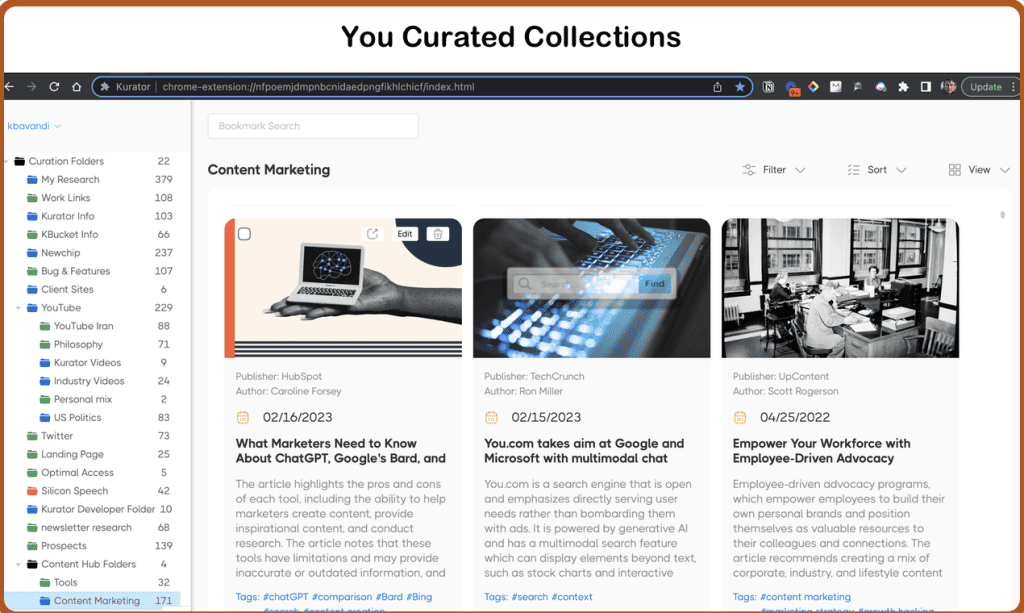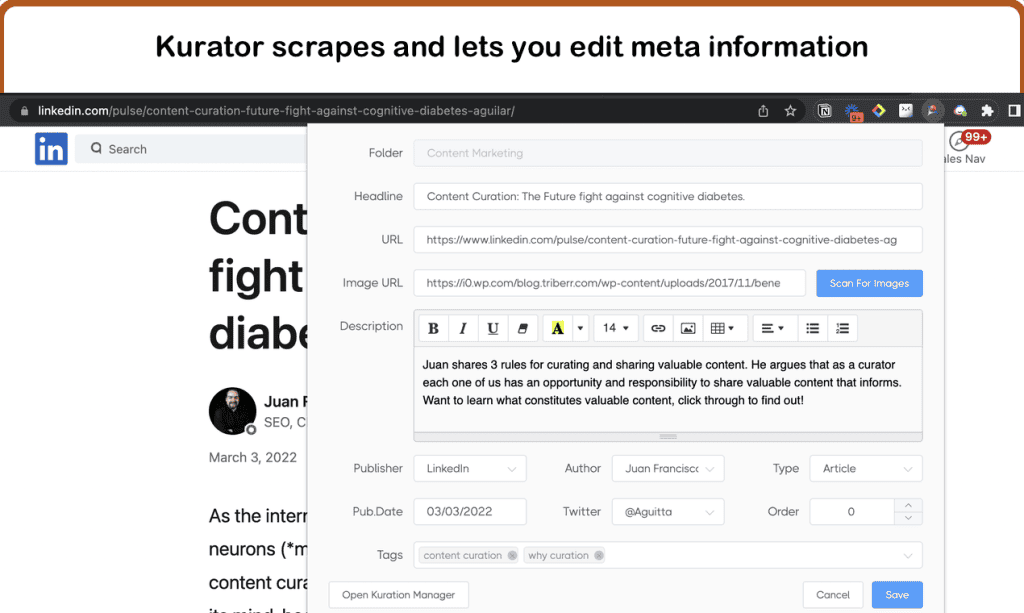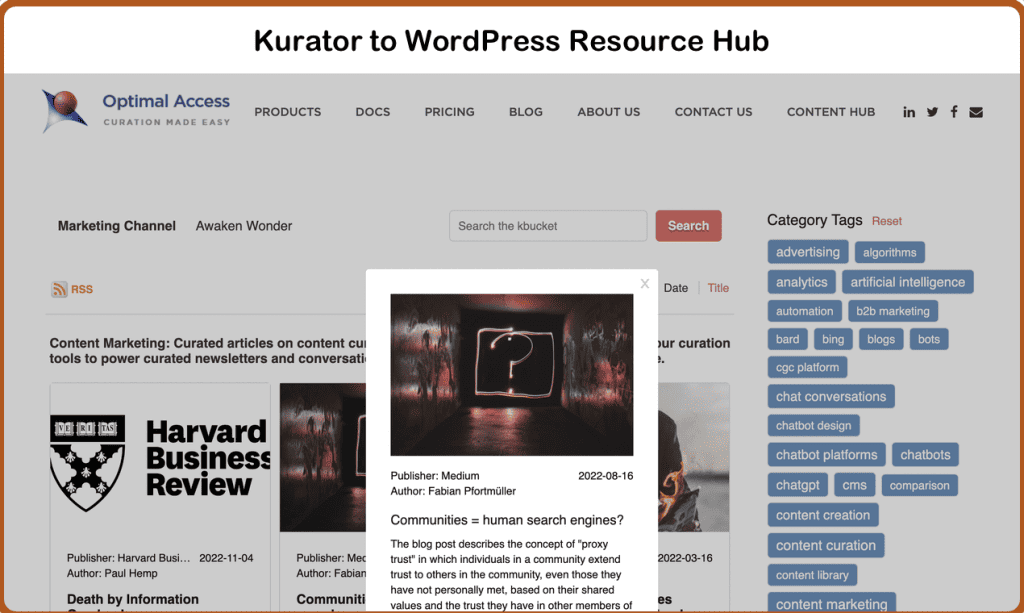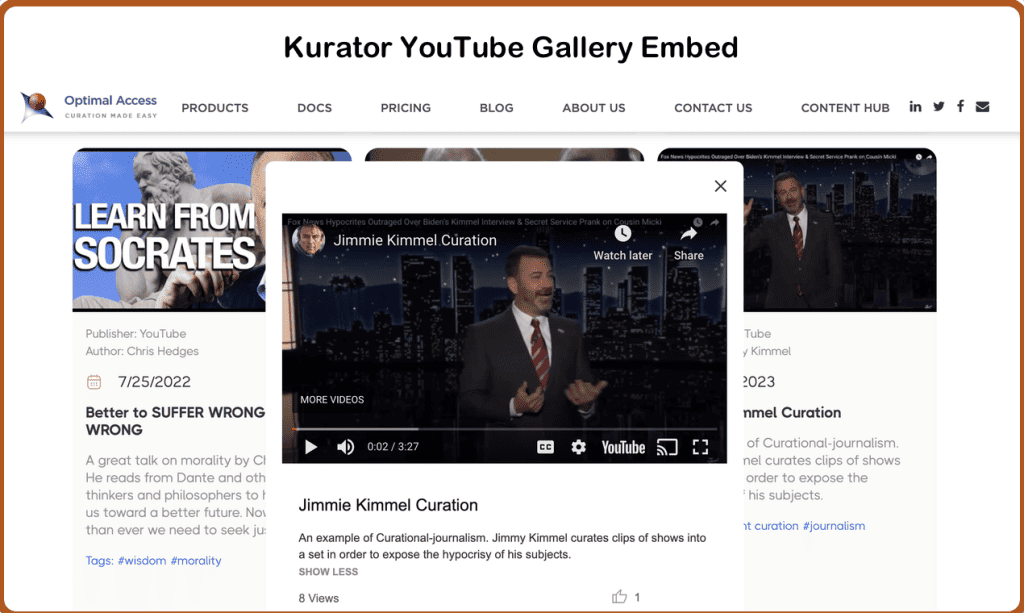 Text for Saving Links with Kurator
Kurator is the ultimate tool for modern content creators looking to streamline their research, curation, and publishing process.
With Kurator's advanced scraping capabilities, you can effortlessly capture information from any webpage, edit headlines, save images, and add descriptions, author, publisher, date, and content tags for easy reference.
With Kurator, you can save YouTube and Twitter posts by clicking the like button, and they will automatically be added to your Kurator app.
You can share access to folders and collaborate with your colleagues inside Kurator.
Publishing Links with Kurator
Kurator offers multiple publishing features.
Publish to WordPress with KBucket
You can publish content to your WordPress website with our KBucket plugin. KBucket is a resource hub solution for WordPress that displays content from selected folders on a designated page on your website.
KBucket widgets let you embed links from your Kurator folders anywhere in your website.
The free version of KBucket lets you publish 100 links per channel and an unlimited number of channels. To add more links you will need to upgrade your KBucket plugin.
Sync Folders
Sync folders are folders added to the Sync folder section of Kurator.
Folders under the sync folders can generate RSS and embed links for your website and newsletter.
RSS Links
RSS links can be used to export and sync the content of your web folders with your newsletter, website and web documents. Any program that takes RSS is an input can be now connected to Kurator.
Embed Links
Embed links are HTML codes that can be embedded on your website or any page that can embed and display HTML links.
YouTube Gallery Embeds
Youtube Gallery embeds are a special kind of embeds for displaying your curated youtube gallery on your website. The embedded YouTube galleries will play on your website.
Embed Carousel Links
With the carousel links you can select the content you want displayed via your carousel using the publisher, author and content tags and then generate the RSS link for your embed code.
Plan Details
Unlimited Folders
Unlimited Links
Import/Export Folders
Shared Folders
Nested Folders
Import Chrome Bookmarks
Publish to WordPress Plugin (Unlimited folders, 100 links per channel – 3 Files)
Shared Folders for Collaboration with other Kurators
RSS Feed Export (Sync Folders 3 Folder Limit)
Embed Link HTML (Sync Folder Feature – 3 Folder Limit)
Embed YouTube Gallery (Sync Folder Feature – 3 Folder Limit)
Roadmap
Upload images for Kurator posts
More themes for the HTML, Carousel and Video Embeds
RSS Importer
Analytics
Broken Link detector
AI content improver
Social highlighter and chatGPT (or other AI) interface to summarize content
Deal Terms
LifetimeDeal for Kurator Standard Version
Redeem your code within 60 days of purchase
Click Here to View The Kurator Ultimate Content Curation Tool Lifetime Deal For Yourself
You may also like