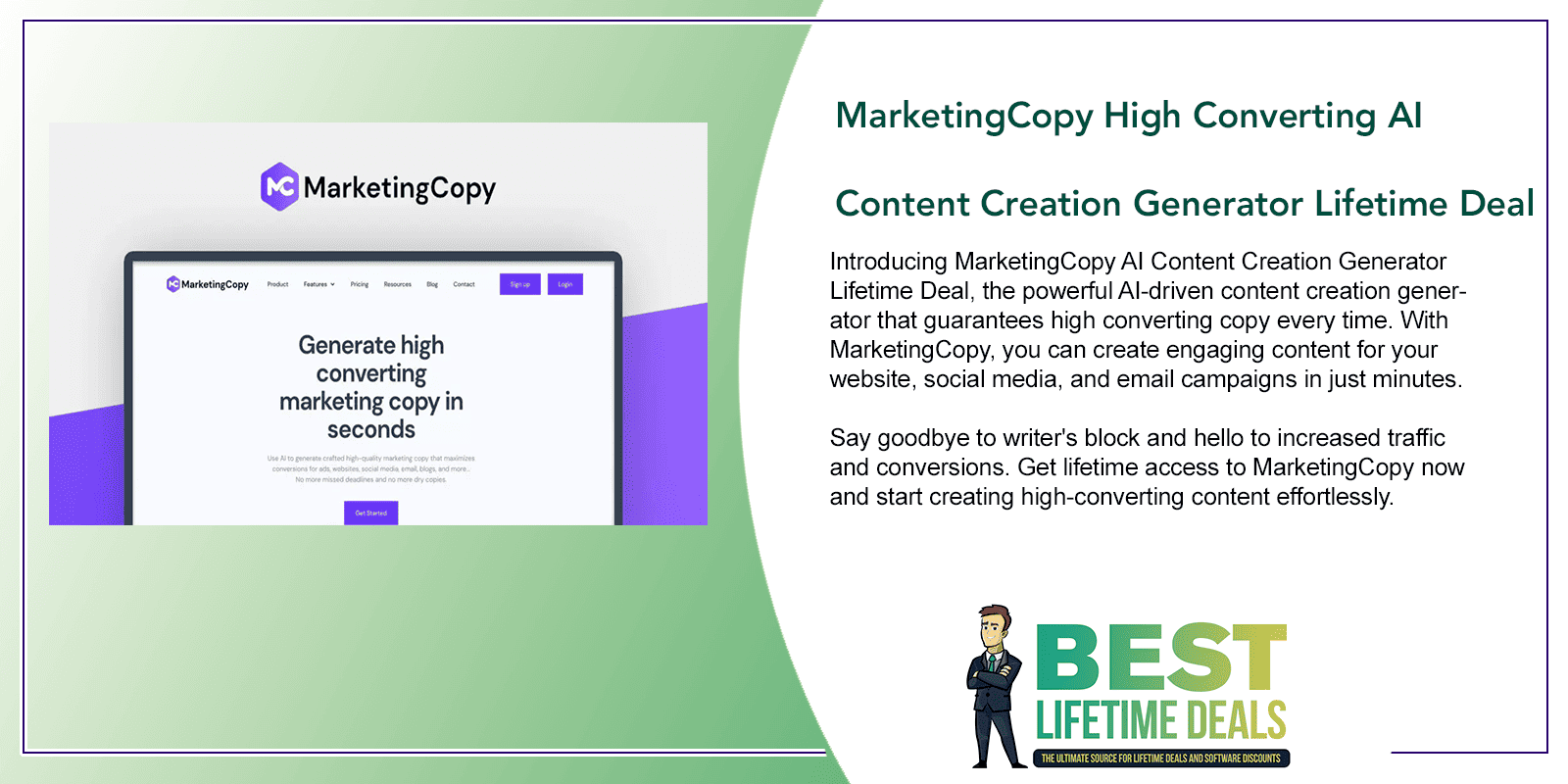 Choose Your Desired Option(s)

Introducing MarketingCopy AI Content Creation Generator Lifetime Deal, the powerful AI-driven content creation generator that guarantees high converting copy every time. With MarketingCopy, you can create engaging content for your website, social media, and email campaigns in just minutes.
Say goodbye to writer's block and hello to increased traffic and conversions. Get lifetime access to MarketingCopy now and start creating high-converting content effortlessly.
Introducing MarketingCopy High Converting AI Content Creation Generator Lifetime Deal
Use MarketingCopy AI to create high-quality content for campaigns, websites, media platforms, emailing, blogging, and more.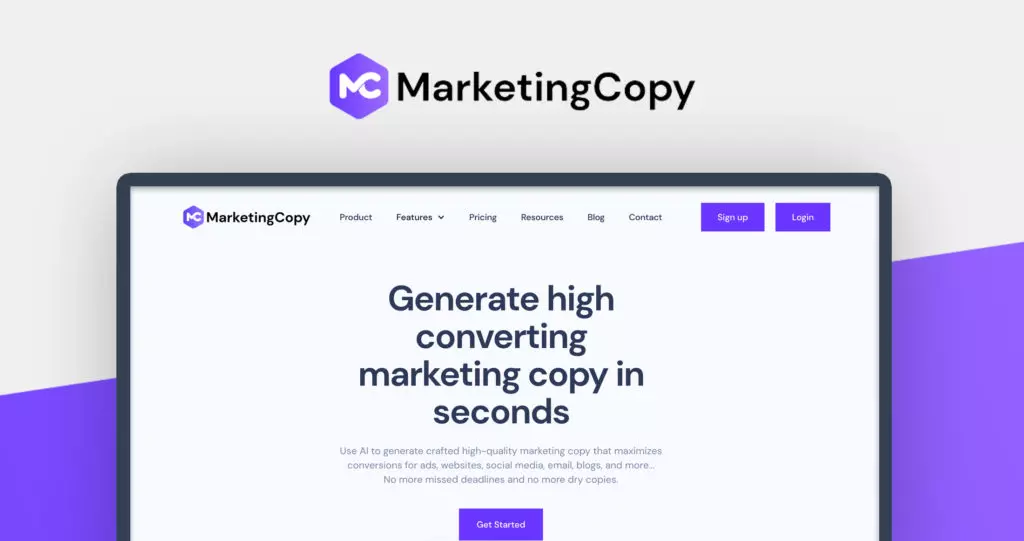 With MarketingCopy AI you can generate high converting content in seconds, making it easier than ever to craft quality copy on a tight deadline.
AI algorithms take into consideration the user's preferences and the latest marketing trends to generate content tailored to them, resulting in higher conversions and engagement across ads, websites, social media, email, blogs, and more.
With MarketingCopy, you never have to worry about poor quality or unengaging content again; quality copies that drive results are only a few clicks away!
MarketingCopy High Converting AI Content Creation Generator Features:
There are over 70 built-in tools to assist you in creating copy for ads, social media posts, web copy, blog content, emails and more.
Translate and write marketing content in more than 25 languages.
Create long-form content to increase conversions and maximize ROI.
Ideal for: Marketing Teams, SMEs and SMBs, Startups, Creators of Social Media Content.
What Can You Create With MarketingCopy?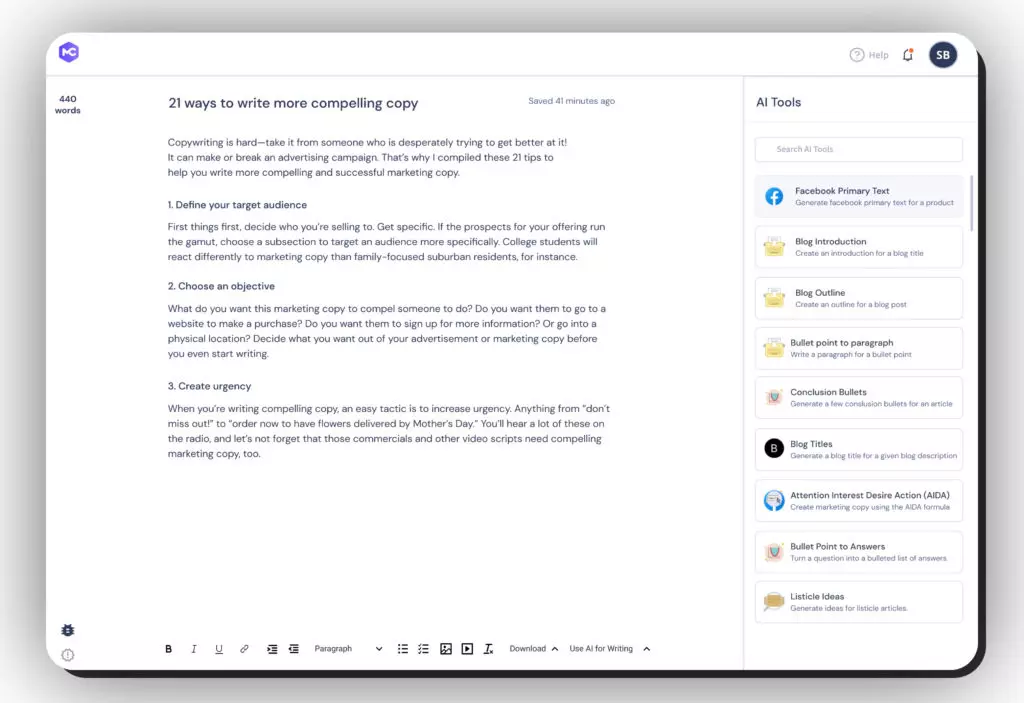 Blogs and Articles – create blog titles, outlines, blog introductions, and fully-formed blogs and articles
Ad copy for Facebook Ads, Google Ads, Linkedin Ads, and other platforms
Social Media Content – Using multiple tools, create captions, headlines, and themes for a variety of social media platforms.
Copy for the website's header, hero text, bullet points, feature titles, and subtitles
eCommerce copy for product descriptions, headlines, CTA language, and product features/benefits.
There Are Over 70 Built-In Tools To Assist You Generate Copy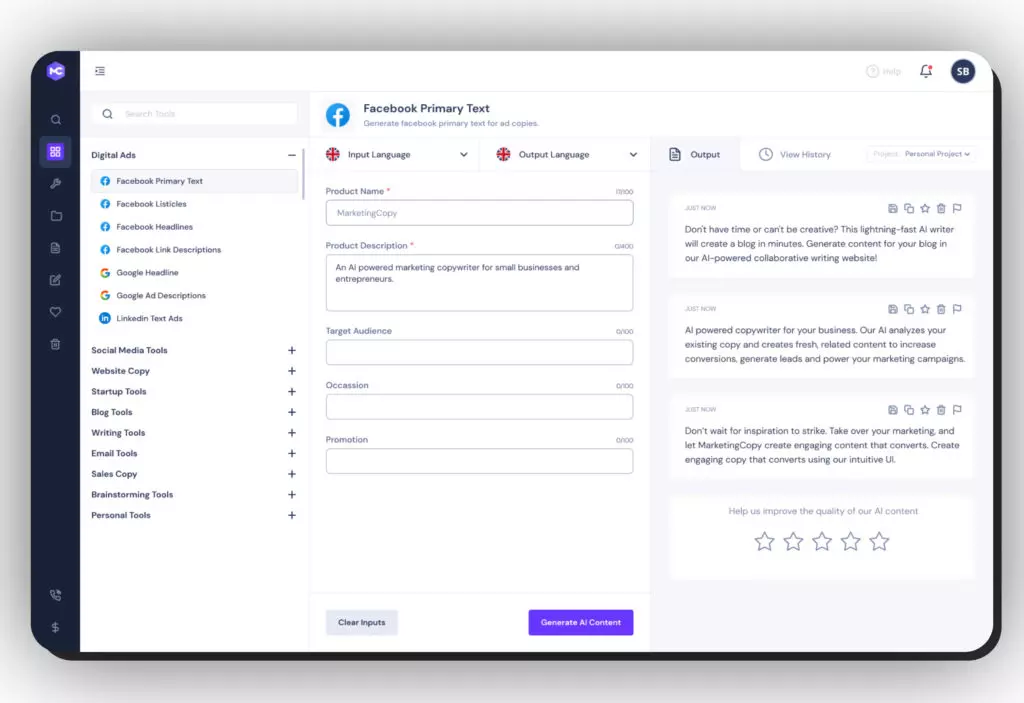 To develop high-quality marketing content in minutes, use 70+ AI tools ranging from Facebook ad copy to blog post outlines.
MarketingCopy gives you an advantage when it comes to developing marketing copy, from brainstorming content ideas to writing whole blog articles.
How Does It Work?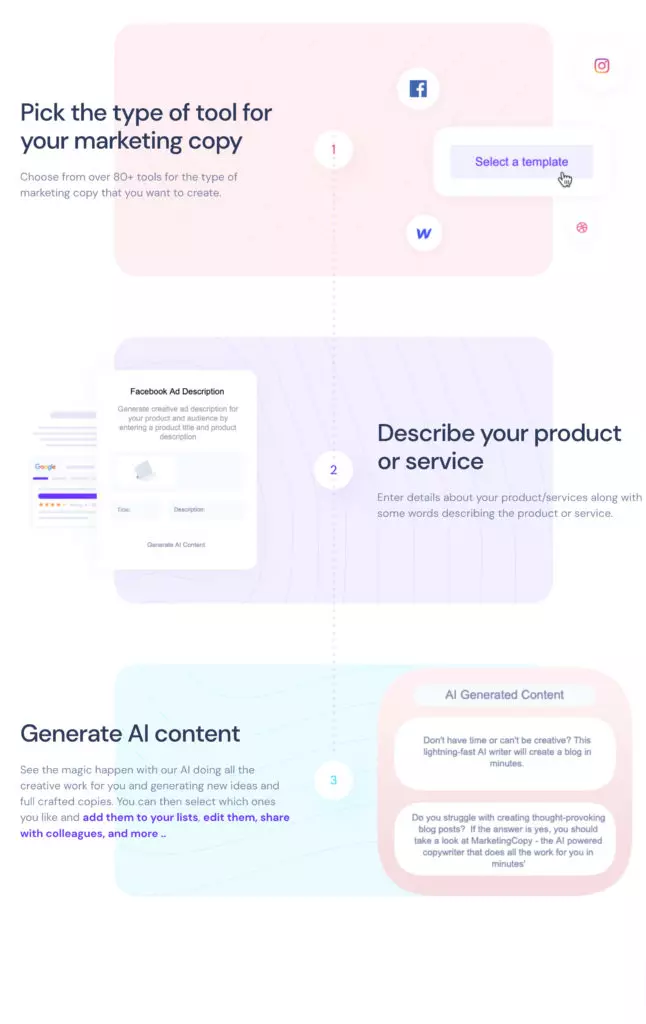 There will be no more writer's block when it comes to creating blogs and articles.
With the long form writing helper and AI, you can create blogs, stories, and more. Simply give the AI direct instructions, and MarketingCopy will do the rest.
Create Blog Posts And Articles In Seconds With The Powerful Blog Post Wizard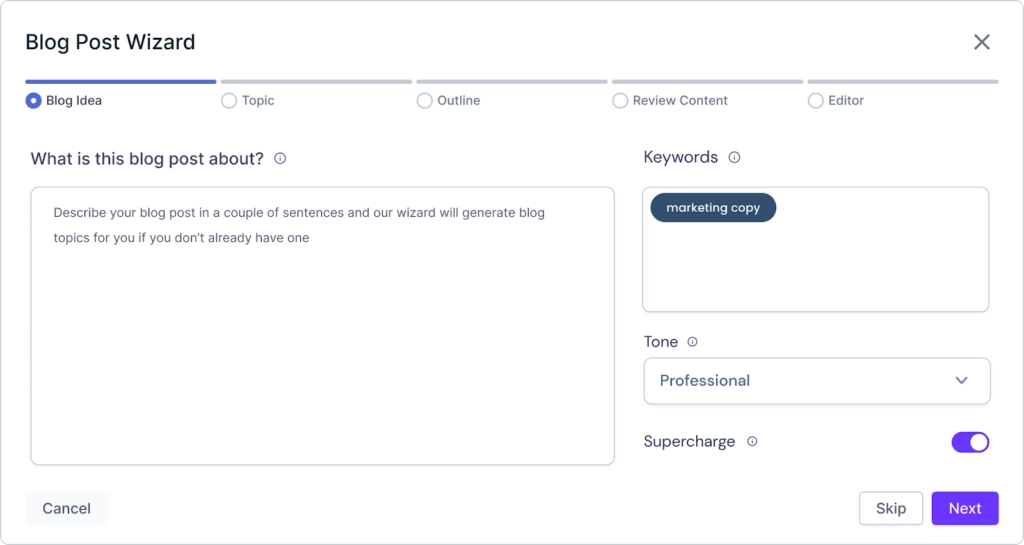 With MarketingCopy AI's blog post wizard, you can create better content. You may write a draft of your next blog post or article with a few clicks and then let the machine do the rest.
Without any formatting or writing experience, you'll have flawless material that's ready to publish in seconds!
SEO Assistant For SEO Optimized Content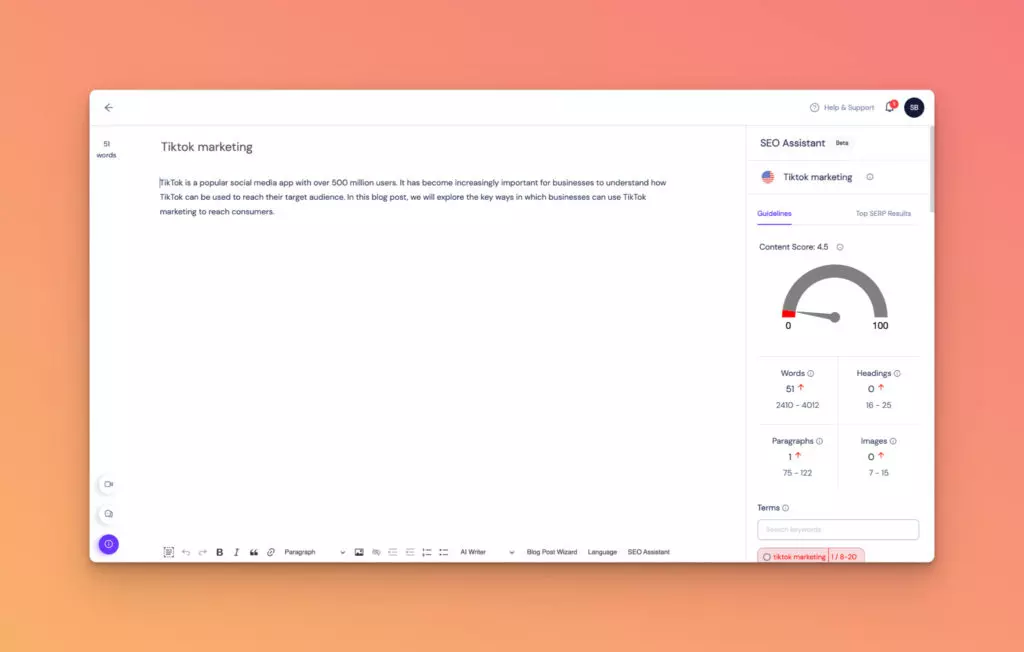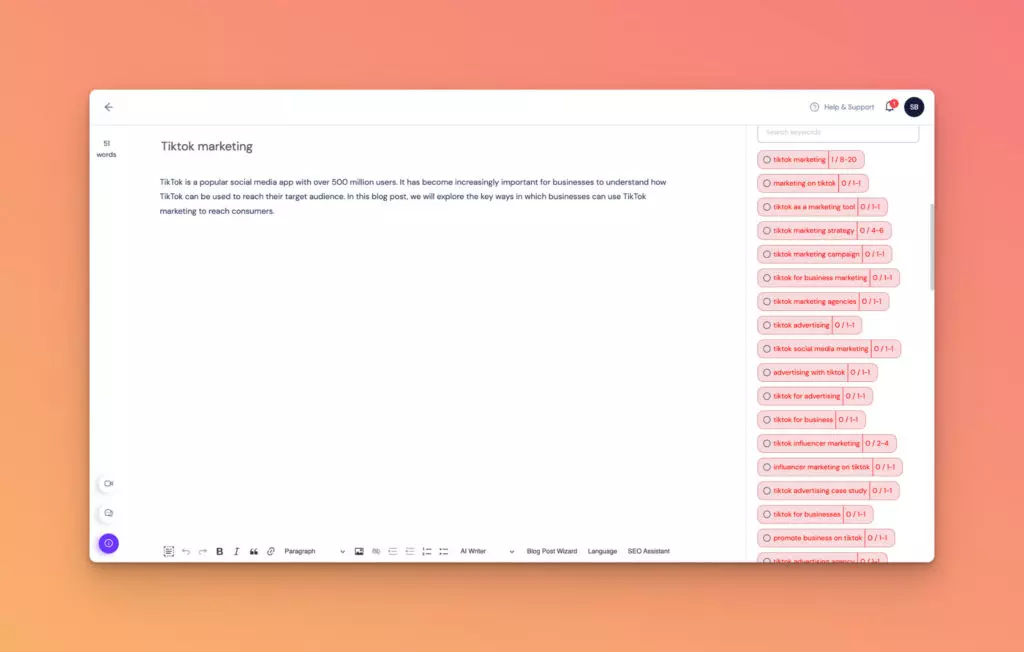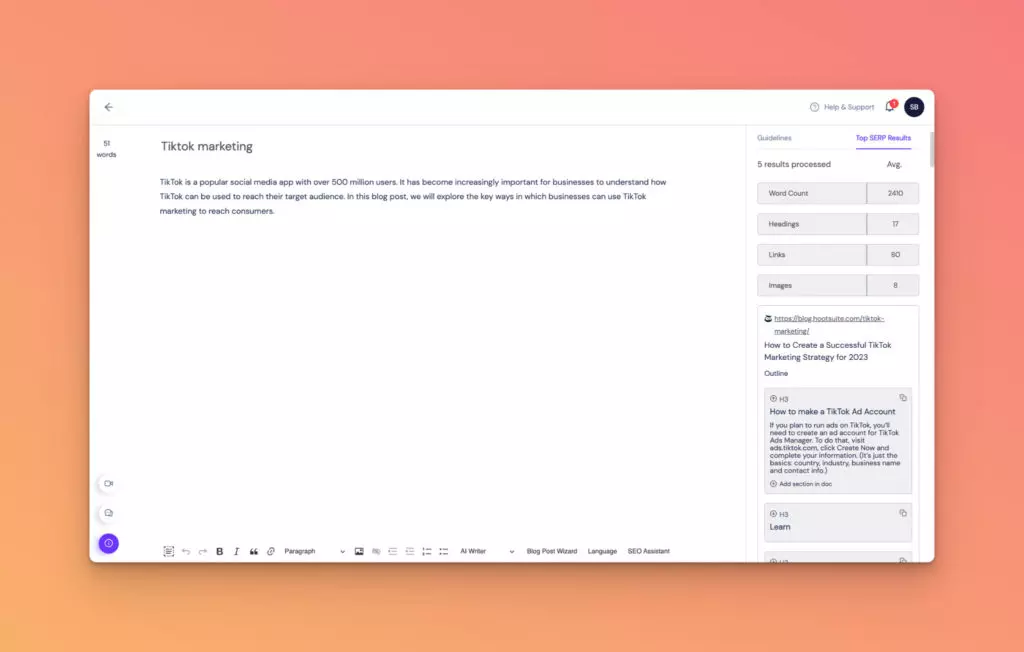 The AI-powered marketing copywriter includes an SEO helper, allowing small businesses and entrepreneurs to create high-quality, SEO-optimized material in a simple yet efficient manner. This feature ensures that your material is not only entertaining and persuasive, but also easily discoverable by search engines, enhancing your online presence and attracting new consumers. Without prior knowledge or experience in SEO, you can simply select the ideal keywords to add in your article and optimize it for search engines with the SEO helper.
The feature is ideal for anyone trying to increase their online marketing efforts and propel their organization forward.
Translate And Write Marketing Content In More Than 25 Languages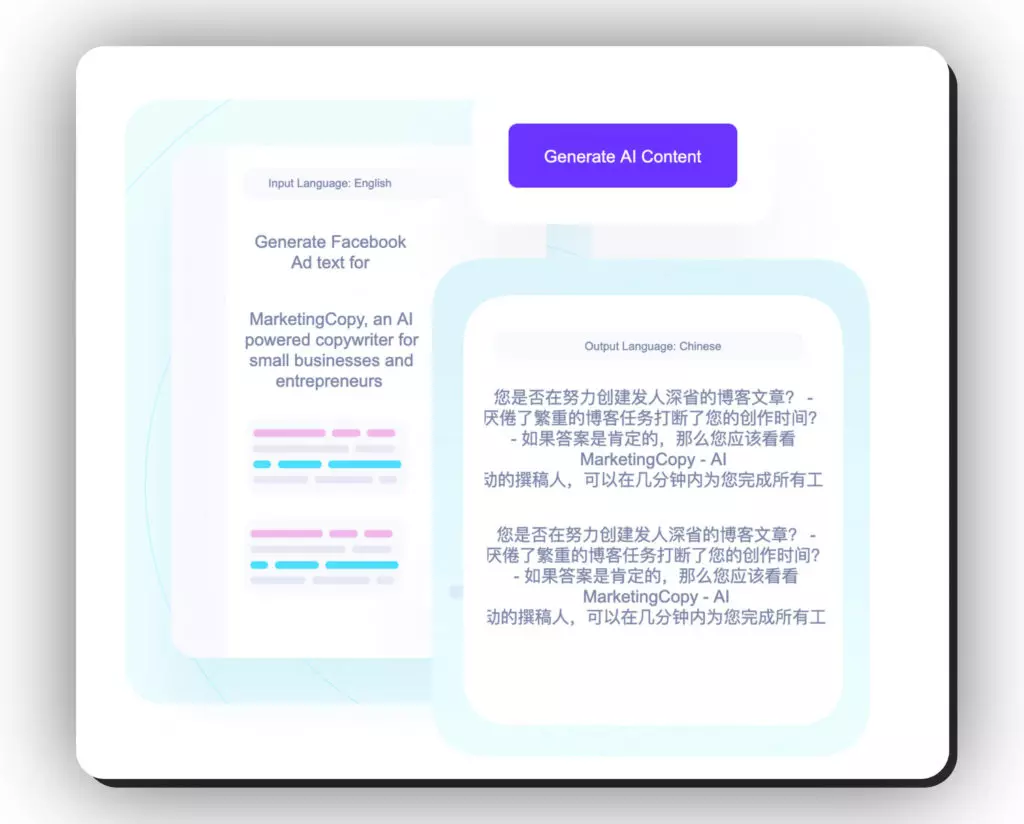 Do you have clients in various countries or create material in multiple languages? With MarketingCopy's sophisticated AI language translation tool and excellent grammar, you can easily make and translate copies in multiple languages.
Click Here to View The MarketingCopy High Converting AI Content Creation Generator Lifetime Deal For Yourself
You may also like