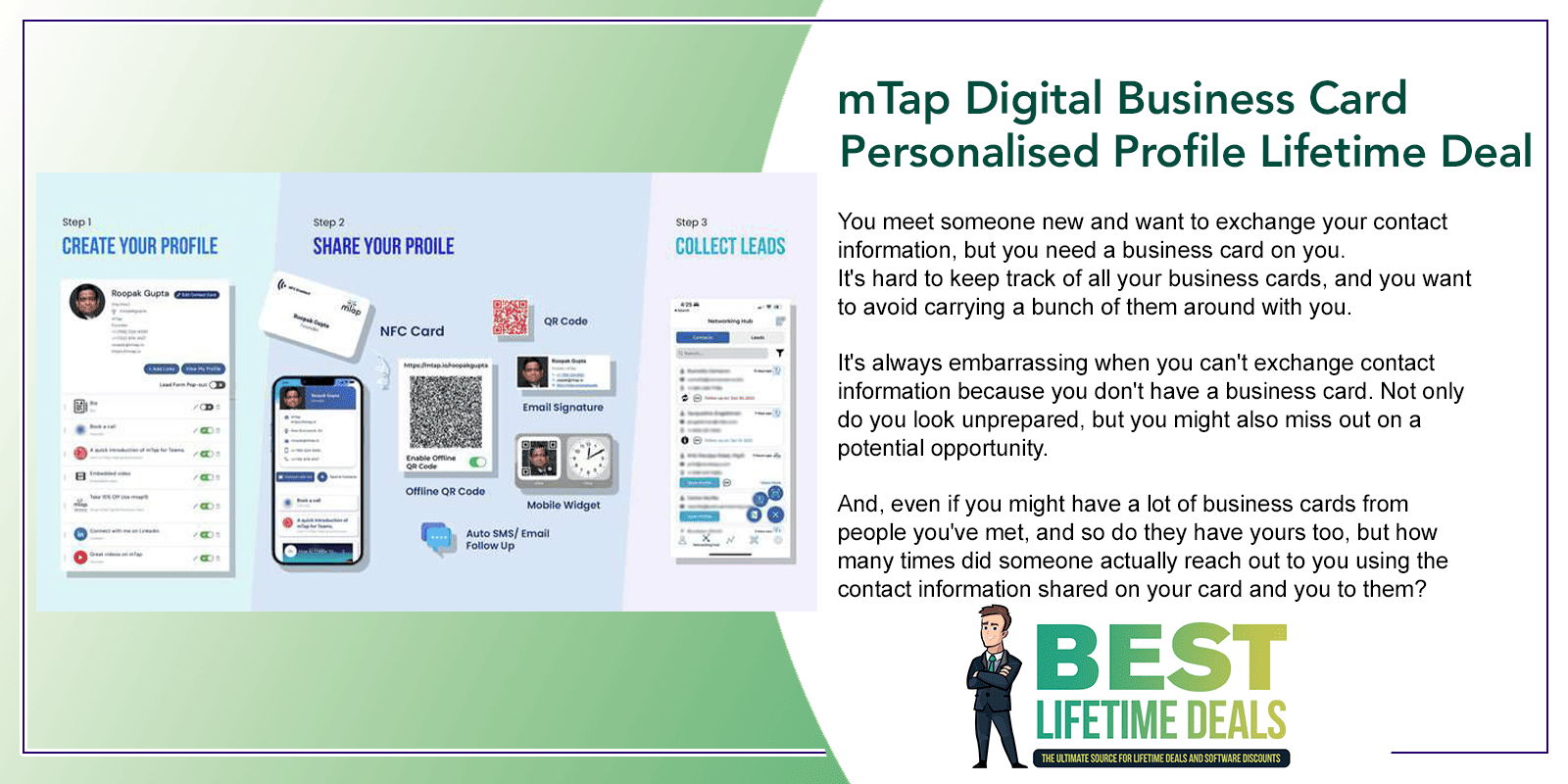 Choose Your Desired Option(s)
mTap Digital Business Card Personalised Profile Lifetime Deal
Exchanging Business Cards Could Increase Your Business Sales & ROI By Up To 2.5x
NFC Business Cards: The Future Of Networking!
Introducing The mTap Digital Business Card Personalised Profile Lifetime Deal
You meet someone new and want to exchange your contact information, but you need a business card on you.
It's hard to keep track of all your business cards, and you want to avoid carrying a bunch of them around with you.
It's always embarrassing when you can't exchange contact information because you don't have a business card. Not only do you look unprepared, but you might also miss out on a potential opportunity.
And, even if you might have a lot of business cards from people you've met, and so do they have yours too, but how many times did someone actually reach out to you using the contact information shared on your card and you to them?
PitchGround Presents mTap
mTap is the solution. With NFC-enabled digital cards, you can create a personalised profile with all of your contact information, social media links, phone number, website URL, and more.
This means that the other person can scan your card with their phone and instantly get all of your contact information. Your connections will be mesmerized by your dynamic digital profile and will be able to connect with you easily and quickly.
Plus, since it's virtual, your new connection can view your profile on any device they choose.
TL;DR:
With mTap, you can create a customized NFC-enabled digital business card with all of your contact information, email address, skills, phone no. website & social links and much more to create your own network hub.
Similar to: MobiloCard, Linq, Blinq, Popl.
Intuitive UI and UX, easy-to-use platform, very stable.
Best for Solopreneurs, Freelancers, SMEs, and Agencies.
Critical Stats:
Exchanging Business Cards Could Increase Your Business Sales & ROI By Up To 2.5x. (Source: Adobe)
Around 40% of prospects become new customers with in-person meetings if the networking is done right. (Source: Marketing Expertus).
61% of professionals agree that regular online networking can actually lead to job opportunities.
95% of professionals think face-to-face communication is vital for long-term business (Source: HubSpot)
The digital business card market is estimated to reach $3.1 billion by 2027. (Source: Businesswire)
Build Your Brand with mTap Custom Digital Business Cards.
Share Contact Info: Elevate your networking experience by tossing those old paper business cards and sharing your contact information digitally instantly.
Share Social Accounts: Get more friends, followers and connections across all your social media accounts with a single tap.
Share Payment Info: Collect Customer Payments with a single tap to share your Venmo, Zelle, PayPal, or Cash App.
Leads: Never lose a prospect again by immediately capturing every prospect's contact information on your phone.
Your digital profile is viewed directly through your browser, making it compatible with both iPhone and Android smartphones.
What can you use inside mTap?
Profile: Views Link Types & Management, Custom Links, Special Links (Bio, Embedded video, Presentation), Themes.
QR Code: Generic and Personalized.
Email Signatures: Manual Addition to Email Client, Integration with Email Client.
mTap Device Management.
Mobile App: SMS/ Email Template Setup, Contacts Creation (Manual, Card Scan, Phone copy, mTap Scan), Auto lead connect with SMS / Email, Widget, & more.
Get a wide range of analytics.
Manage your Leads & Contacts with mTap.
CRM & Payment integrations.
More about mTap Teams – Let your team engage with prospects more effectively.
Centralize your brand's digital networking with corporate and personalized digital profiles.
Easily setup your business and team profile.
Eliminate data entry errors and delays with a simple tap on their smartphone and instant connection to your CRM.
One dashboard with all prospecting analytics.
Monitor your team's performance.
Network online or offline.
Collect all leads across all employees in one dashboard. No more losing leads.
Manage digital business cards and view team's insights from one dashboard
Manage profile links through templates. Change the link at one location to reflect for all the members.
Manage members and their profile at company, department or group level.
Some Interesting Use Cases:
The mTap digital business card can be used to share contact information instantly virtually or in in-person meetings by all people in sales to share their contact information now.
Productivity Tool: Automatically share your information using SMS/Email when you create a contact in the mTap mobile app networking hub. You can create contacts and sync with your CRM in 4 ways. Scanning paper cards, Manual entry Importing from the address book, opening another person's mTap Card
mTap Business can be used by companies to manage the digital business card of all employees from one dashboard. Get insights about all employees and real-time information on all leads and contacts created by them. Admin can manage all cards and control the links for employees.
It can be used by Entrepreneurs, Sales Executive, Sales Managers, Solo Entrepreneurs, Home Service Professionals, Real Estate Agents, Car Dealerships
Why are businesses choosing mTap over the rest:
Reduces cost of the paper business cards
Increases ROI from networking events, exhibitions, and meeting clients
Efficiently share personal contact details & digital assets
Ease of use with extensive personalization options
Seamless contact sharing by SMS/Email
Available on a lifetime deal for a limited period of time.
Do not let go of any new business opportunity; network the right way using mTap.
The best part? You will pay just once and can use mTap for a lifetime, grab your lifetime deal today.
Click Here to View The mTap Digital Business Card Personalised Profile Lifetime Deal For Yourself
You may also like