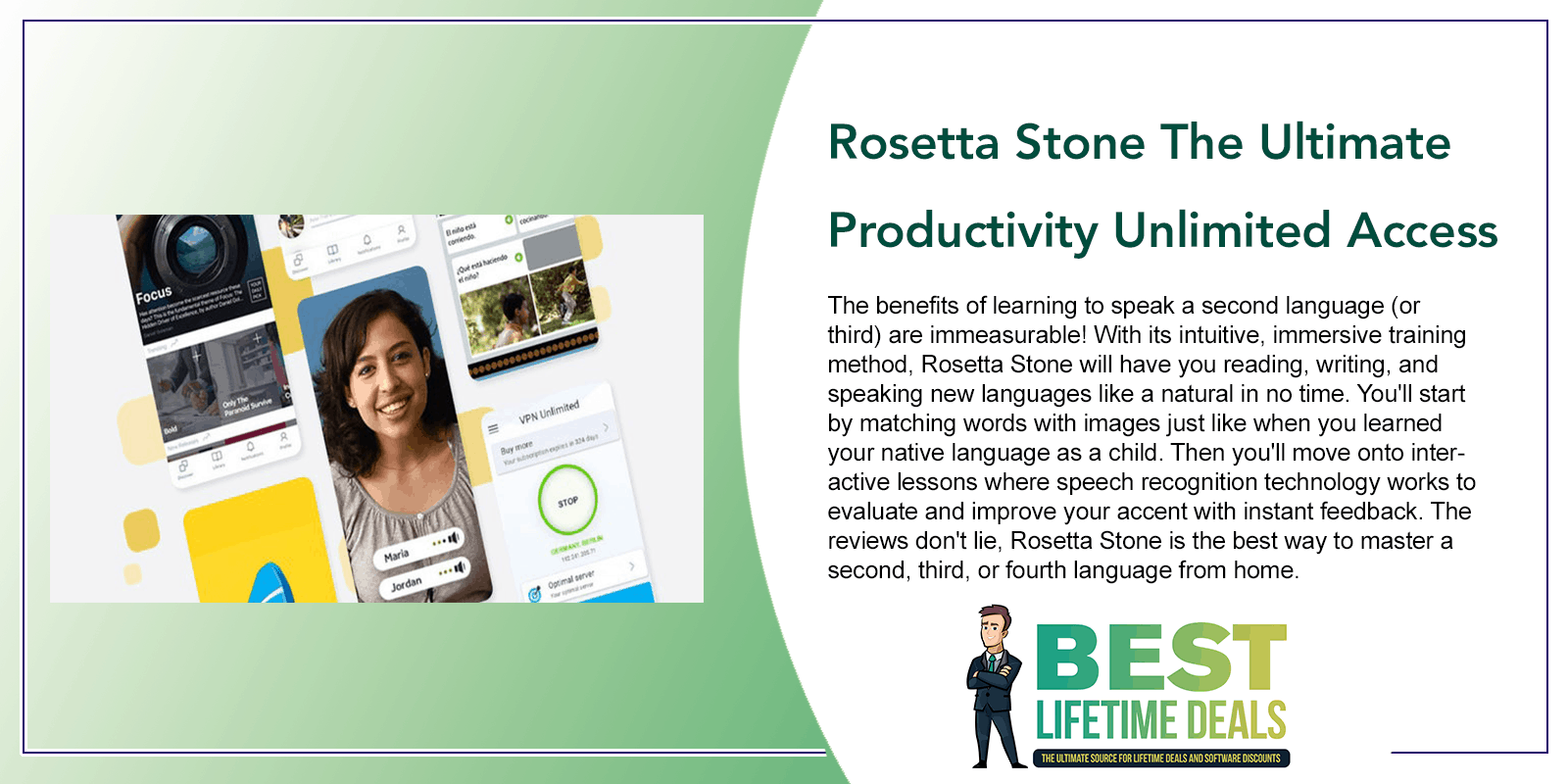 Rosetta Stone The Ultimate Productivity Unlimited Access Lifetime Subscription
Learn New Languages, Expand Your Knowledge on Various Topics & Have Zero Online Restrictions with Lifetime Access to These Highly Trusted Apps
Rosetta Stone Unlimited Access: Lifetime Subscription
For the First Time Ever, Get Access to Learn All 24 Languages on Rosetta Stone's Award-Winning Software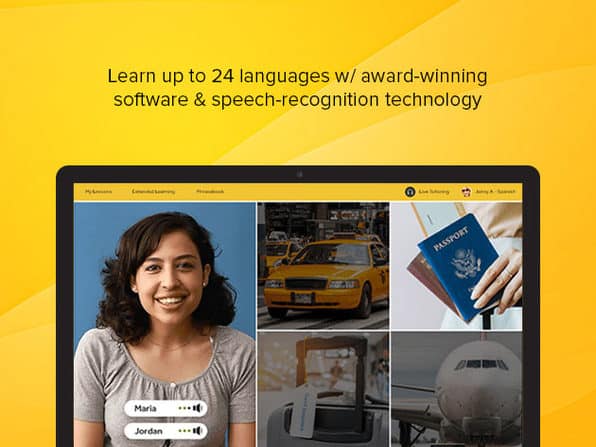 The benefits of learning to speak a second language (or third) are immeasurable! With its intuitive, immersive training method, Rosetta Stone will have you reading, writing, and speaking new languages like a natural in no time. You'll start by matching words with images just like when you learned your native language as a child. Then you'll move onto interactive lessons where speech recognition technology works to evaluate and improve your accent with instant feedback. The reviews don't lie, Rosetta Stone is the best way to master a second, third, or fourth language from home.
Trusted for 27 years by top organizations like NASA, Calvin Klein & TripAdvisor!
Learn up to 24 languages (1 at a time) w/ award-winning interactive software & proprietary speech-recognition technology that analyzes the words you say 100 times per second
Get help from TruAccent™, the world's best speech recognition technology
Develop your command of the language as you learn to read, write, speak & understand
Learn basic conversational skills like shopping, ordering, taking a taxi, etc.
Move onto intermediate language skills like sharing opinions & discussing pop culture
Use the advanced speech engine to compare your accent to native speakers
Reviews
PC Magazine Editors' Choice Award: Best Language-Learning Software, 5 Years In a Row
Wall Street Journal: "Rosetta Stone… may be the next best thing to living in a country."
System Requirements
Operating System (one of the following)
Windows: Windows 7, Windows 8, Windows 10 or higher
Mac (Intel based only): Maverick or higher (OS X 10.9 or higher)
Internet Explorer 11, Safari 10/11, and current and previous two versions of Chrome, Edge, and Firefox
Latest version of Adobe Flash Player
Computer Hardware
On Windows: 2.33GHz or faster x86-compatible processor OR Intel® AtomTM 1.6GHz or faster processor for netbooks
On Mac: Intel CoreTM Duo 1.33GHz or faster processor
1 GB of RAM or higher
1024 x 768 display resolution
High-Speed Internet connection (at least 768Kbps)
Headset with microphone (not included)
To access online services:
Must have standard Broadband Internet connection (slow internet connections will not suffice)
Must be 13 years of age or older
Important Details
Language: Spanish (Latin America), French, Italian, German, English (American), Arabic, Chinese (Mandarin), Dutch, English (British), Filipino, Greek, Hebrew, Hindi, Irish, Japanese, Korean, Persian (Farsi), Polish, Portuguese (Brazil), Russian, Spanish (Spain), Swedish, Turkish, Vietnamese
Redemption: must redeem within 30 days of purchase
Length of access: lifetime
Gives access to all levels of languages
Access options: desktop and mobile
Works on multiple devices (PC, MAC, tablet and mobile)."
Note: Customers can only access one language at a time but are able to switch between them at any time.
Click Here to View The Rosetta Stone The Ultimate Productivity Unlimited Access Lifetime Subscription For Yourself
12min Premium Micro Book Library: Lifetime Subscription
Power Through Important Books & Interesting Topics in Just 12 Minutes Each with Access to 385 Book Summaries and Counting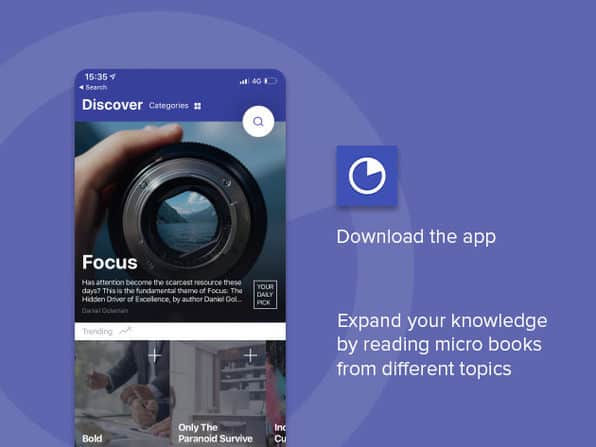 Not enough hours in the day to get through your reading list? You'll only need 12 minutes to finish your next book with 12min! This innovative platform gives you access to hundreds of micro books in text and narrative form for you to absorb in just 12 minutes each. Every month, you'll get 30 new titles so you can keep learning new things well into the future. Search for any book title in the extensive library or suggest new breakdowns to the 12min experts and they might add them to the library. You can choose micro books from many different genres, send them to your Kindle Account, and even enjoy reading them offline.
Expand your mind in minutes by reading streamlined micro books
Choose from different topics including productivity, finance, leadership & more
Select a book that you want & the 12min team can synthesize it into a short but comprehensive micro book
Access micro books in text or audio forms
Read anywhere with or without internet connection
Reviews
The Economic TImes: "You can absorb knowledge at a speed the world demands"
HuffPost: "True to its name, the 12min app condenses important ideas and interesting topics from top nonfiction books into comprehensive 12-minute 'micro books.'"
System Requirements
iOS 9.0 or later
Android 5.0 or later
Important Details
Length of access: lifetime
This plan is only available to new users
Redemption deadline: redeem your code within 30 days of purchase
Max number of devices: 1
Access options: mobile
Available without internet connection
Click Here to View The Rosetta Stone The Ultimate Productivity Unlimited Access Lifetime Subscription For Yourself
KeepSolid VPN Unlimited: Lifetime Subscription
Best-Selling VPN Of All Time! KeepSolid Protects Your Online Activity & Lets You Browse Without Restrictions for Life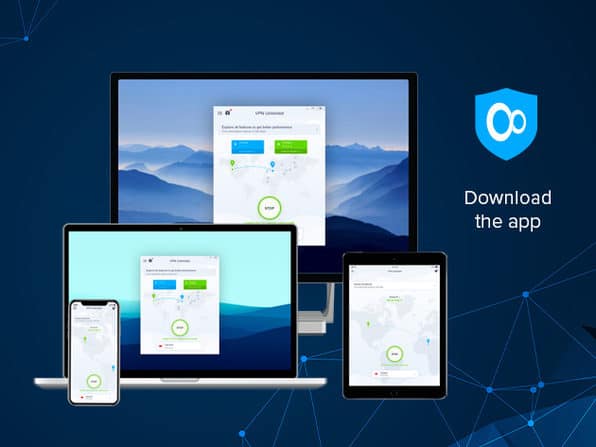 Whether you're using a private internet connection or public Wi-Fi, your online privacy and security is far from guaranteed. With top-rated solution VPN Unlimited, you can regain control over your digital life with full security and anonymity online. There are no speed or bandwidth limits, so you'll still enjoy full browsing speeds, without the dangers of leaving your data exposed or the geographic restrictions set on certain websites abroad. More than 10 million customers globally have entrusted their online protection to KeepSolid VPN Unlimited, and the reviews speak for themselves. Add it to your cybersecurity toolkit, and enjoy a massive selection of servers worldwide, a rich variety of VPN protocols, and much more to keep hackers out of your sensitive data.
Reliably protect your data on any public WiFi
Surf w/ no speed or bandwidth limits
Access 400+ VPN servers w/ 80+ locations globally, including the USA, the UK, Canada, Australia & Hong Kong.
Surf on a variety of VPN protocols, like IKEv2, OpenVPN, L2TP/IPSec & KeepSolid Wise
Access servers for US Netflix, BBC iPlayer, Hulu, ESPN+ & HBO Now
Enjoy a better browsing experience w/ handy features, like Trusted Networks, Ping Tests & Favorite Servers
Easily configure your VPN connection on your router.
Enjoy convenient management of connected devices
Access torrent-friendly (P2P) servers
Get extra protection w/ a kill switch on iOS, macOS, Android, and Windows platforms
Surf with military-grade AES 256-bit encryption
Enjoy extra peace of mind w/ a zero log policy
Access proprietary apps for all platforms
Browse w/ unlimited traffic & connection speeds
Get your questions answered w/ 24/7 customer support
Reviews
Tech.Co: "From its simple interface to its genuinely practical features, VPN Unlimited has plenty to recommend it."
VPN Special: "KeepSolid VPN Unlimited offers amazing services and its advanced features make it a solid VPN service provider."
PC Mag's Top VPN
Editor's Pick Award by Software Informer
Laptop Review Pro's Best VPN for Laptop
System Requirements
Android 4.1 and later
macOS 10.11 and later
macOS 10.10 (standalone version of the app)
iOS 9.0 and later
iPhone 5S or later
Windows Vista, 7, 8, 8.1, 10
Linux: Debian GNU/Linux 8.0, Ubuntu 14.04+
Windows Phone 8.1 (including Update 1)
Google Chrome
Mozilla Firefox
This service is available for setting up on WiFi routers
This product is available to residents of the UAE, China, and Russia
Important Details
Length of access: lifetime
License deadline: redeem within 30 days of purchase
Restrictions: use on up to 5 devices simultaneously; you can deactivate devices at any time (1 per week), to free a slot for a new device to have 5 total activated at a time
VPN works with torrents on US-California 1, Canada-Ontario, Romania, Luxembourg & France servers
See VPN countries with servers
Updates included
Language options for iOS, Android, Mac OS X and Windows: English, Arabic, Chinese (simplified), German, Japanese, Korean, Portuguese (BR), Russian, Spanish, and Turkish
Please contact support@keepsolid.com with questions regarding compatibility with your router/setup
For technical questions, please see the VPN FAQs, or contact them directly at support@keepsolid.com
Don't miss out on your chance to secure access to Rosetta Stone The Ultimate Productivity Unlimited Access Lifetime Subscription at a one-time fee for lifetime access! Click the button below to check it out.
Click Here to View The Rosetta Stone The Ultimate Productivity Unlimited Access Lifetime Subscription For Yourself
You may also like