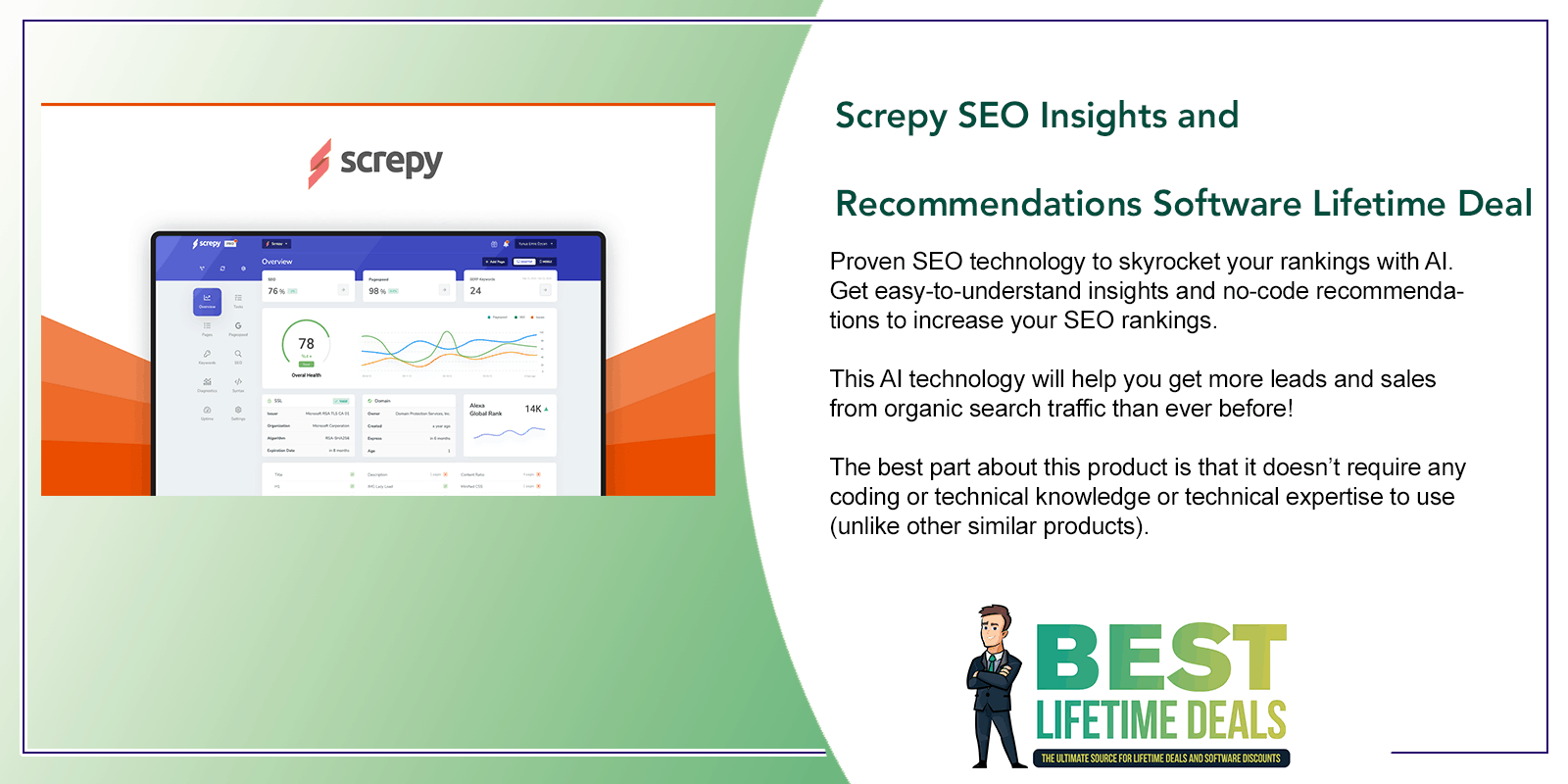 Choose Your Desired Option(s)
Screpy SEO Insights and Recommendations Software Lifetime Deal
Proven SEO technology to skyrocket your rankings with AI. Get easy-to-understand insights and no-code recommendations to increase your SEO rankings.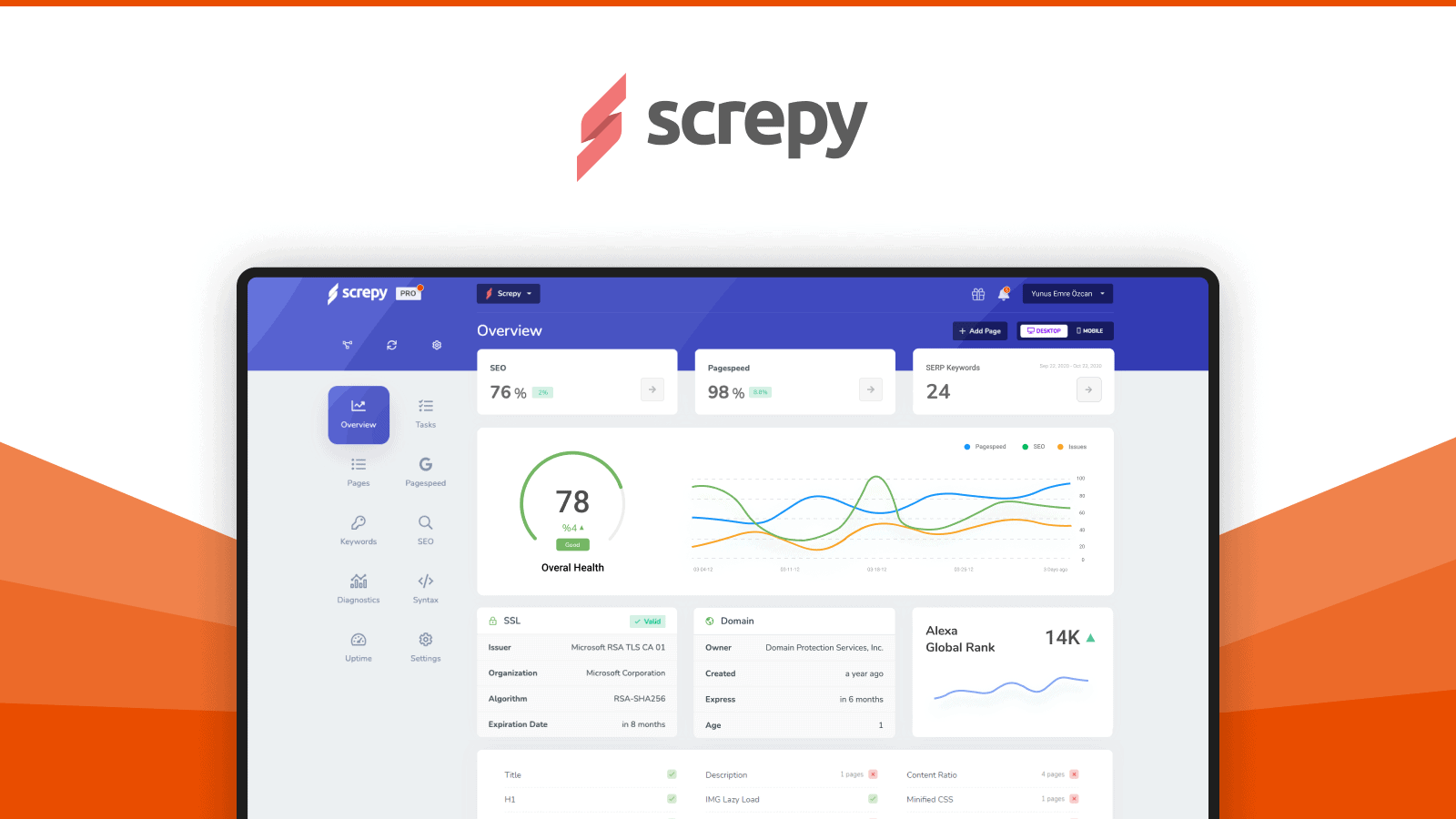 Screpy is an AI SEO tool for driving traffic to your website.
It's not just another SEO software, it's a no-code solution that lets anyone increase their rankings on Google within minutes.
There are thousands of SEO tools out there, but none of them have the power and ease-of-use as Screpy does.
This AI technology will help you get more leads and sales from organic search traffic than ever before!
The best part about this product is that it doesn't require any coding or technical knowledge or technical expertise to use (unlike other similar products).
All you need to do is enter your domain name and click "start".
Within seconds, Screpy will automatically scan your website, identify its strengths and weaknesses in terms of user experience & search engine optimization, then generate a report with actionable recommendations for improving both.
All-in-one SEO tool with easy-to-understand insights and recommendations. No technical knowledge required!
PageSpeed monitoring, website uptime monitoring, keyword tracking, ranking checker, AI-SEO recommendations and much more.
Step-by-step no-code SEO tasks to grow your ranking in the search engines.
Alternative to: SEMrush, Ahrefs, MOZ & SEranking.
Click Here to View The Screpy SEO Insights and Recommendations Software Lifetime Deal For Yourself
The Only AI-Based SEO Tool That Provides You With Easy-To-Understand Optimizations To Skyrocket Your Rankings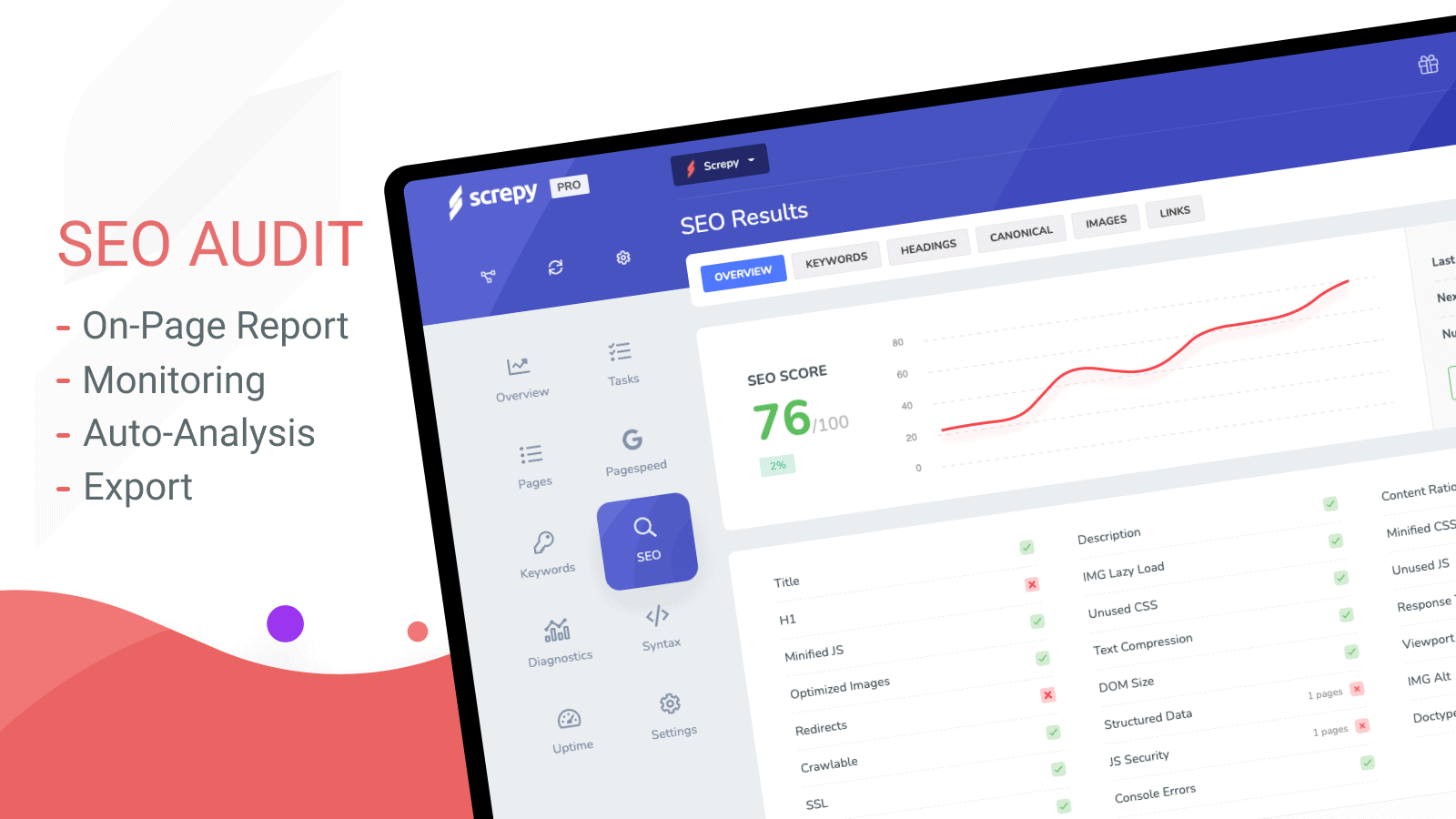 Screpy is the only SEO tool you'll need. The suite contains everything needed to optimize SEO.
From PageSpeed ​​monitoring, Uptime monitoring, SEO monitoring, Keyword tracker, Syntax Checker, and the best part, it automatically generates easy-to-understand tasks on how to optimize further.
Auto-Generated Tasks That Will Help You Get Your SEO Score Up To 100%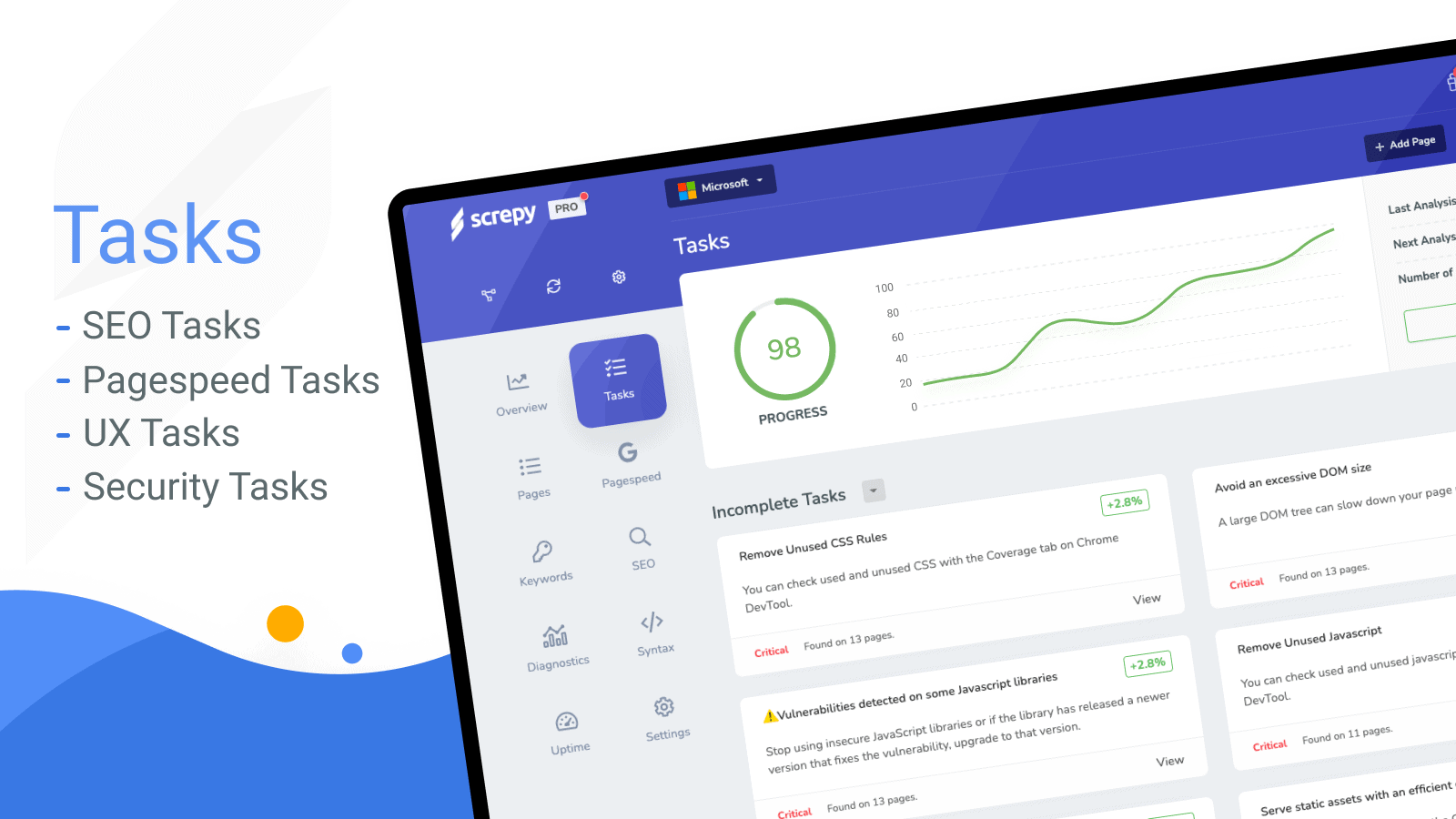 The Auto-Generated Tasks will help you get your SEO score up to 100%. Screpy offers step-by-step tasks in detail with the potential for each of them, proven to boost your SEO rankings.
Analyze The Top 100 Rankings For Any Keyword In 229 Countries.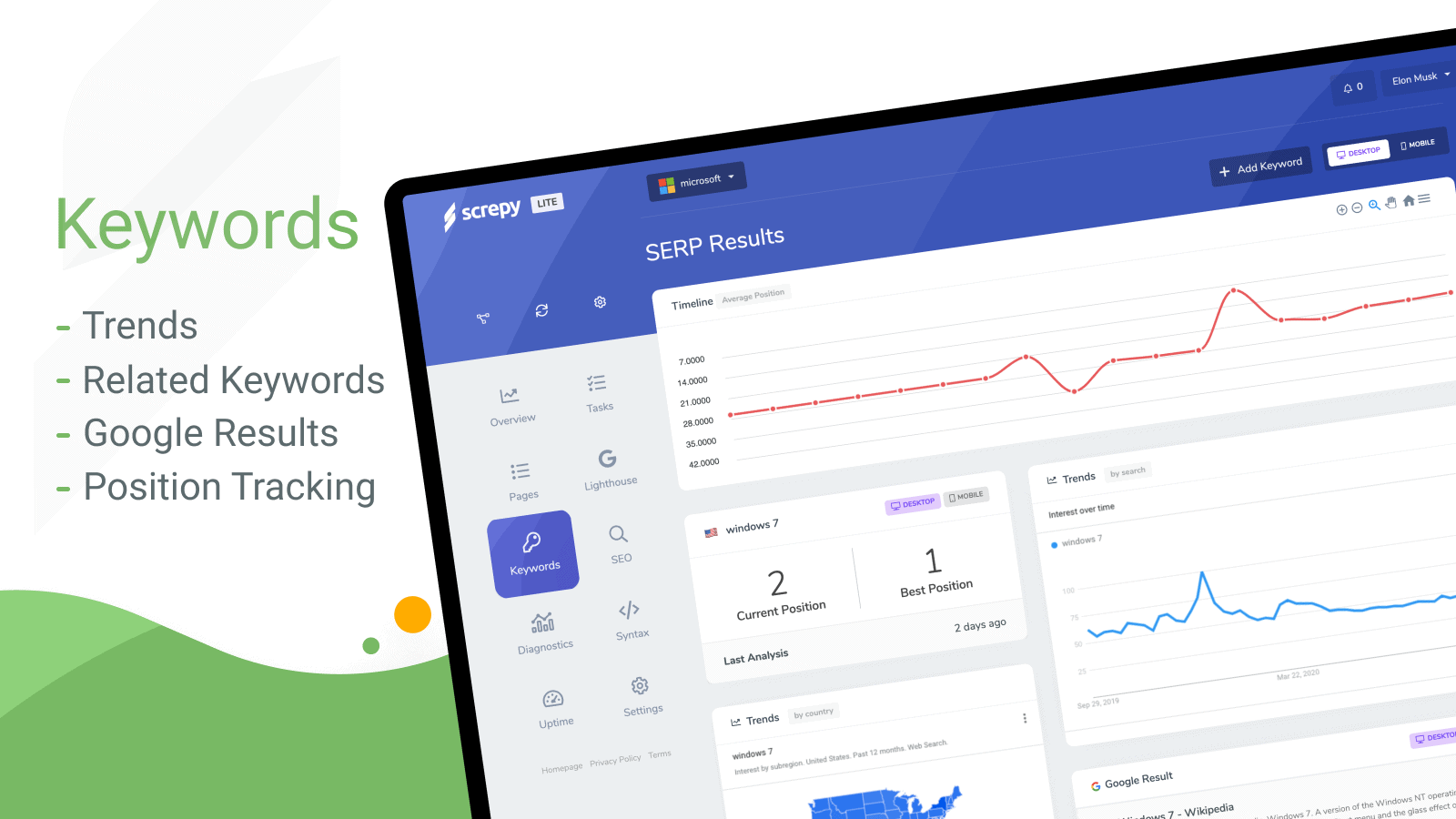 Simply add the keywords you want to rank for, and Screpy automatically keeps track of your ranking and the ranking of the top 100 search results.
The best thing?
Screpy provides you with actionable tips to get you from position 60, to position 1 in the Google search results.
Search results differ widely depending on the location you search from. Use the tool to pull and analyze SERPs from 229 countries.
Monitor Your PageSpeed In Real-Time And Get AI-Based Personalized Solutions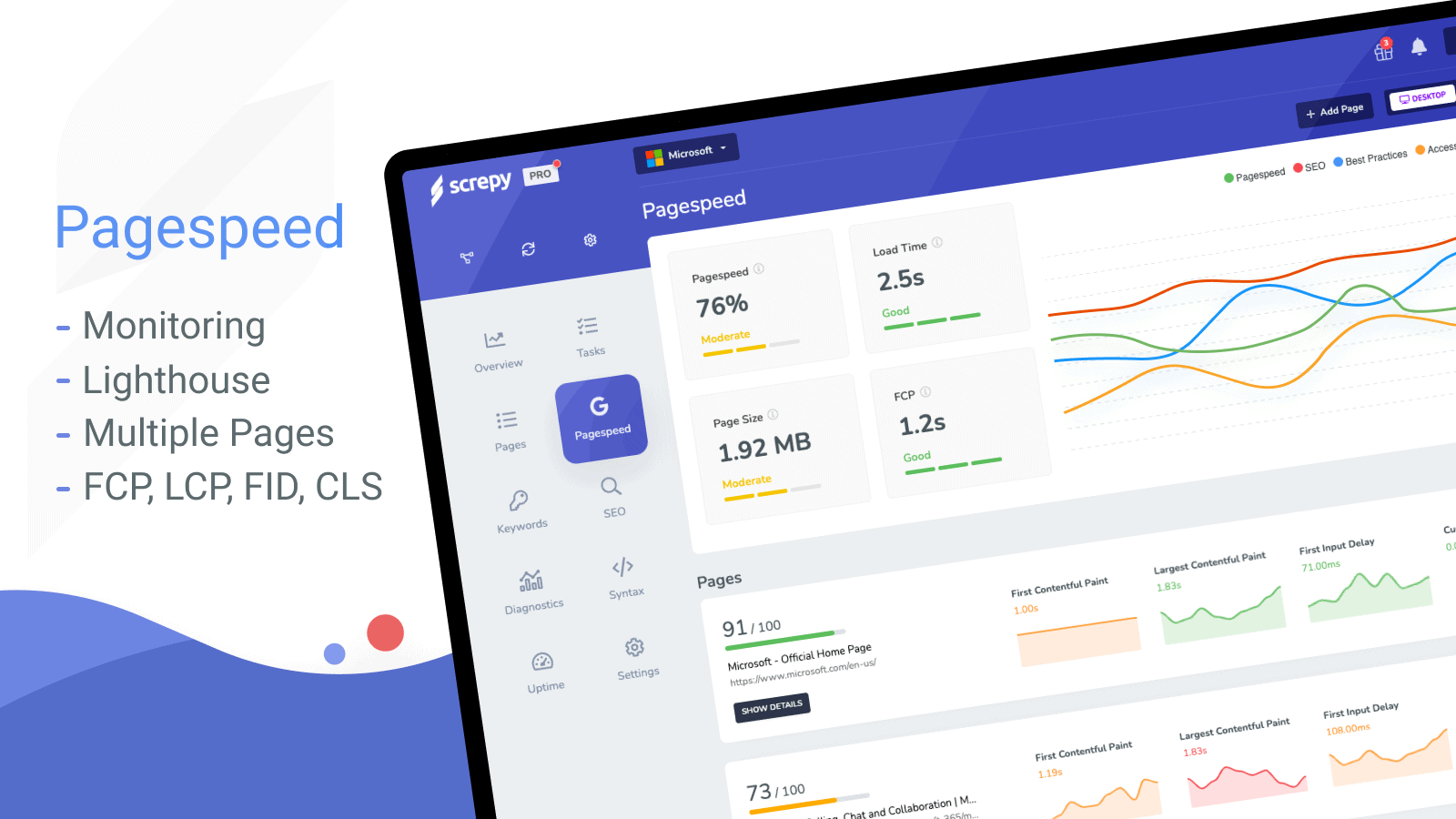 PageSpeed is one of the most important ranking factors of 2021.
Screpy creates simple, useful, solution-oriented tasks for each speed problem your website has. Integrated with Lighthouse, shown in one compact widget, contain easy-to-understand tasks. Screpy has what your performance metrics require.
Improve Your Rankings With The Most Accurate SEO Reports
Want to increase beyond just SEO? With the comprehensive reports in Screpy you can increase conversion rates, or get stronger in the keywords you target.
You don't need to be an SEO expert for all this, Screpy has made everything as simple as possible for you!
The tool scans your entire site and generates a full report with tasks to further optimize your rankings.
Follow these reports, get your scores, and see how your traffic will blow your mind!
Monitor Website Uptime And Get Instant Downtime Notifications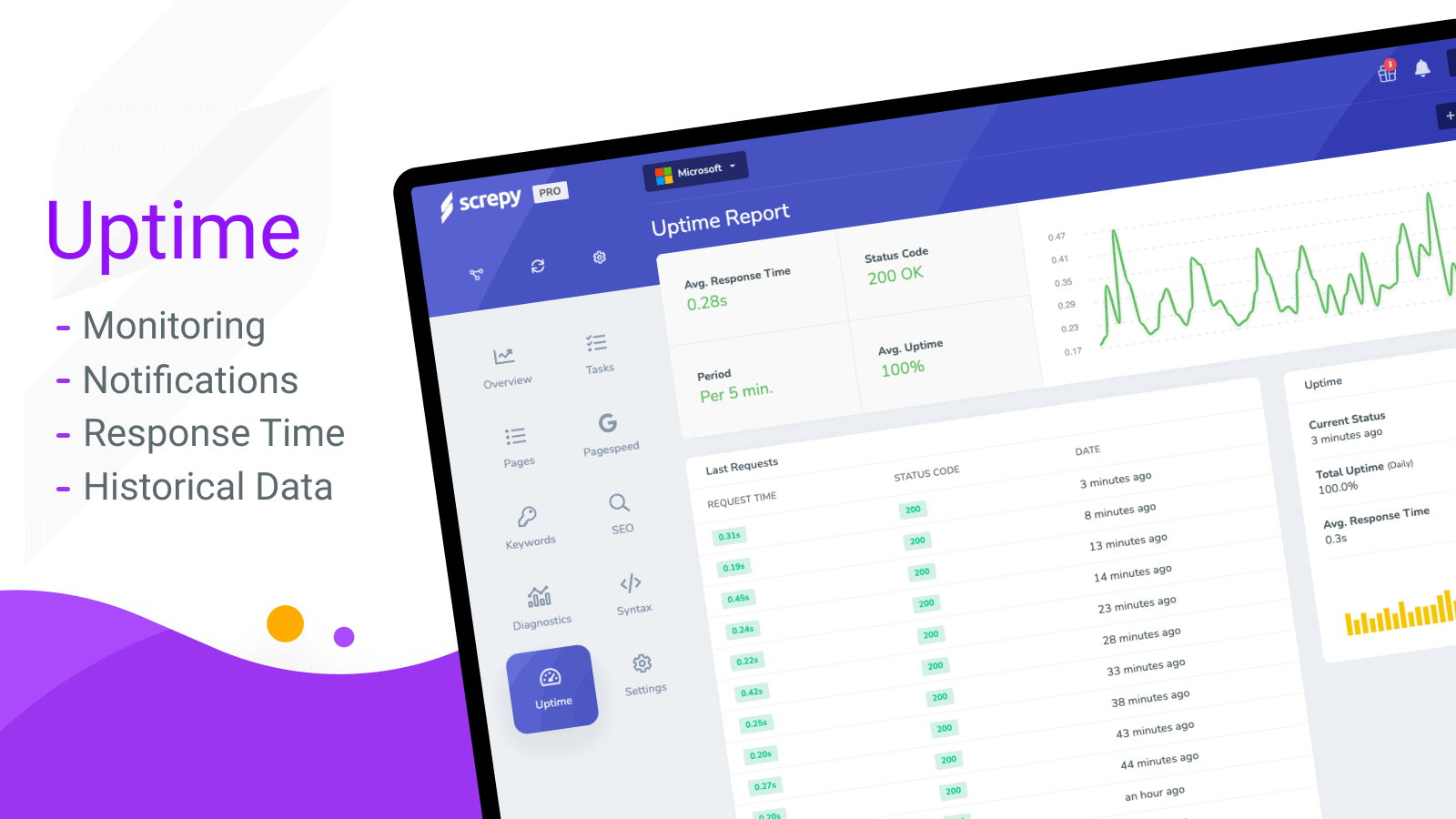 Get insights into the performance and uptime of your website(s). Screpy will contact you by mail if your site goes down and you can see the historical performance.
Click Here to View The Screpy SEO Insights and Recommendations Software Lifetime Deal For Yourself
Screpy Pro+ Lifetime Subscription
Lifetime access to Screpy Pro+ Plan
All-in-one AI-based SEO tool
25 websites
10,000 monthly analysis credits
5000 monthly keyword credits
10 teams & 25 team members
Google Keyword Rank Checker (SERP)
SEO Audit & Reports
Easy to understand SEO optimization tasks
PageSpeed analysis
W3C Validator
Website uptime monitoring
Email notifications
Mobile analysis
On-demand analysis
Export data
Support included
All future plan updates
30-day Money Back Guarantee
Don't miss out on your chance to secure access to Screpy SEO Insights and Recommendations Software Lifetime Deal at a one-time fee for lifetime access! Click the button below to check it out.
Click Here to View The Screpy SEO Insights and Recommendations Software Lifetime Deal For Yourself
You may also like