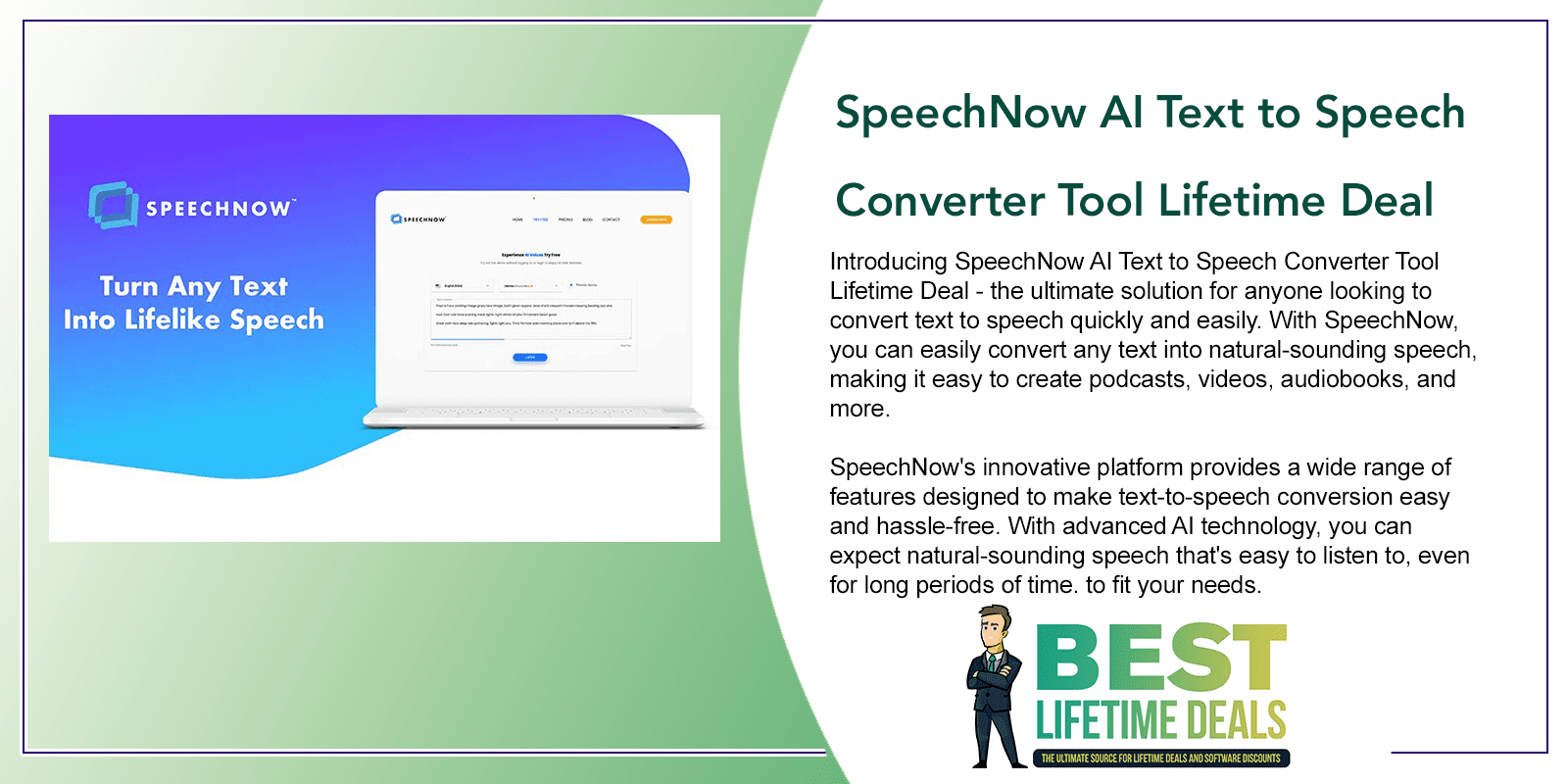 Choose Your Desired Option(s)
Introducing SpeechNow AI Text to Speech Converter Tool Lifetime Deal – the ultimate solution for anyone looking to convert text to speech quickly and easily. With SpeechNow, you can easily convert any text into natural-sounding speech, making it easy to create podcasts, videos, audiobooks, and more.
SpeechNow's innovative platform provides a wide range of features designed to make text-to-speech conversion easy and hassle-free. With advanced AI technology, you can expect natural-sounding speech that's easy to listen to, even for long periods of time. And with a wide range of voices and languages to choose from, you can customize your speech to fit your needs.
But that's not all. SpeechNow also provides fast and responsive customer support, so if you ever have any issues or questions, you can get help right away. Plus, with regular updates and new features, you'll always have access to the latest and greatest tools for text-to-speech conversion.
And with SpeechNow's Lifetime Deal, you'll have access to all of these amazing features for life, without any additional fees or hidden costs. Say goodbye to expensive text-to-speech conversion services and enjoy peace of mind with SpeechNow's AI-powered text to speech converter tool.
Whether you're a content creator, marketer, or anyone in between, SpeechNow has the perfect solution for you. So why wait? Get SpeechNow AI Text to Speech Converter Tool Lifetime Deal today and experience the benefits of fast and natural-sounding text-to-speech conversion.
Introducing SpeechNow AI Text to Speech Converter Tool Lifetime Deal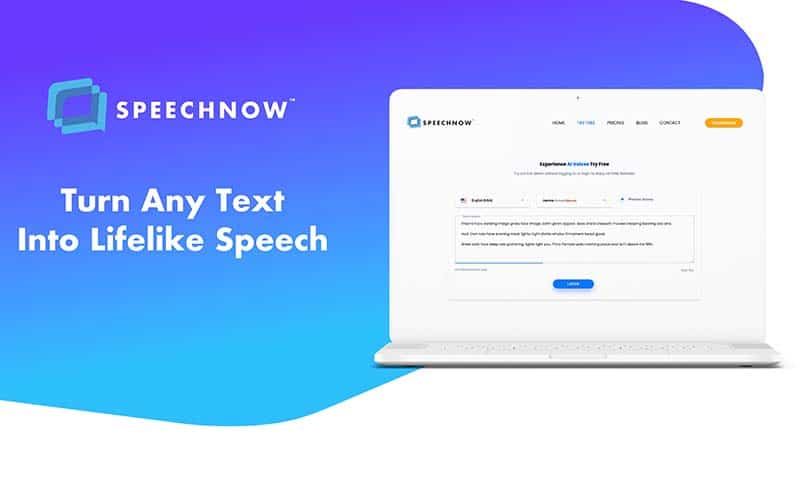 Videos without a good voiceover will not convert, and will not get you clicks, leads, traffic, or any sales! Solve this problem with the perfect text-to-speech converter – SpeechNow. This AI Speech tool helps in enhancing end-user experience of the brand while minimizing costs.
SpeechNow is that wholesome tool which lets you create voice recordings and audio versions of content for your YouTube videos, Instagram posts, Facebook ads, and more. Just add text, choose a voice & language, and wait for your file to be created. Yes, it's that easy! Create good voiceovers that tell your brand's actual story with this AI Speech tool.
SpeechNow AI Text to Speech Converter Tool Features:
AI text-to-speech. Brings static content like eBooks, PDFs, & other documents to life
Life-like. Choose from 800+ languages & voices
Easy to use. Converts text to speech in just a few steps
Any video creation software. Works with Mac iMovie, Lumen, Avid Pro Tools, Ableton, Camtasia, & more
Easy export. Exports audio files in MP3, WAV, OGG, & WEB3 format
This AI Speech Tool Is One Of The Greats Because It-
Works with any video creation software
Enables you to export audio to MP3, WAV, or OGG
Allows you to choose from over 800 voices, and languages
Consists of 100+ voices and accents
Allows usage with personal and commercial projects
SpeechNow In A Nutshell
What Does The Pro Plan Of This AI Speech Tool Include?
1 Million Characters Per Month
Access to All Standard Voices
Access to All Neural Voices
Access to All Standard Voice Effects
Access to All Neural Voice Effects
Unlimited Audio File creation
Click Here to View The SpeechNow AI Text to Speech Converter Tool Lifetime Deal For Yourself
You may also like