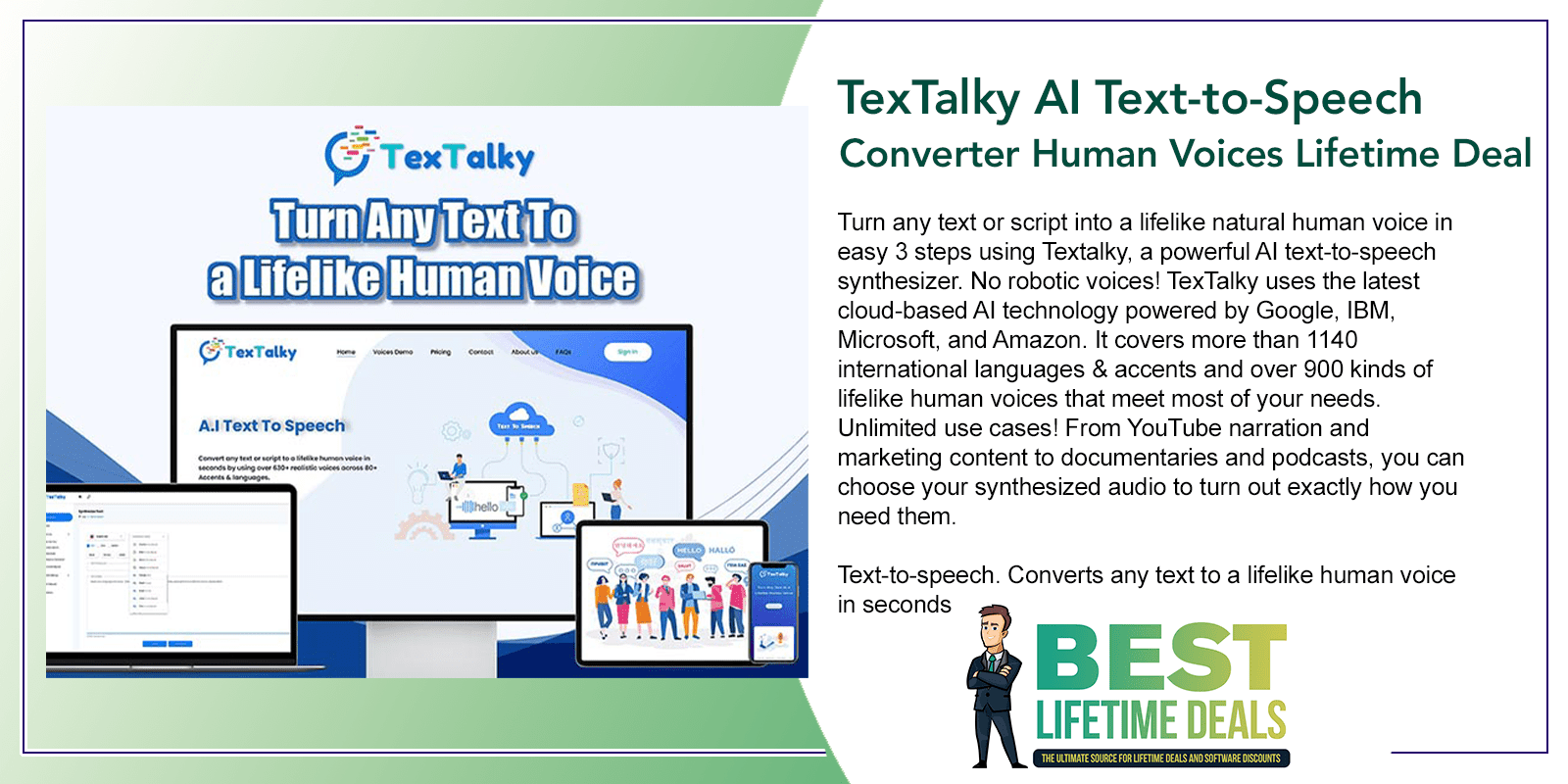 Choose Your Desired Option(s)
TexTalky AI Text-to-Speech Converter Human Voices Lifetime Deal
Convert Any Text to Audio with 900+ Realistic Voices Across 140+ Languages & Dialects
Introducing TexTalky AI Text-to-Speech Converter Human Voices Lifetime Deal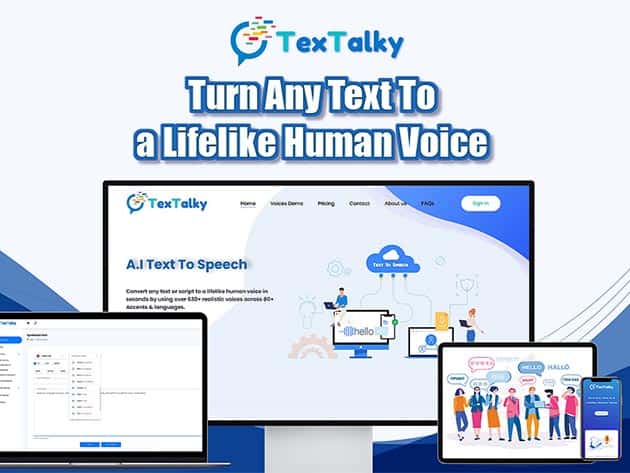 Turn any text or script into a lifelike natural human voice in easy 3 steps using Textalky, a powerful AI text-to-speech synthesizer. No robotic voices! TexTalky uses the latest cloud-based AI technology powered by Google, IBM, Microsoft, and Amazon. It covers more than 1140 international languages & accents and over 900 kinds of lifelike human voices that meet most of your needs. Unlimited use cases! From YouTube narration and marketing content to documentaries and podcasts, you can choose your synthesized audio to turn out exactly how you need them.
Text-to-speech. Converts any text to a lifelike human voice in seconds
Latest AI technology. Cloud-based; powered by Google, IBM, Microsoft, & Amazon
International accents & languages. 900+ realistic male/female voices across 140+ languages
Cloud-based. No app installation required; it's all online
Fast, easy sharing. Export file as MP3, OOG, or WAV
Unlimited use cases. YouTube narration, marketing content, audiobooks, podcasts, & more
Are you looking for a cutting-edge text-to-speech converter that uses AI and human-like voices to create high-quality audio content? Look no further than TexTalky, the advanced AI text-to-speech converter that offers lifelike voices and a lifetime deal that gives you unlimited access to its powerful features!
Here are some of the key features of the TexTalky AI Text-to-Speech Converter Human Voices Lifetime Deal:
Human-like Voices: TexTalky uses advanced AI technology to generate human-like voices that sound natural and engaging. With a variety of voices to choose from, you can create voiceovers, narrations, podcasts, and more that are captivating and professional.
Multiple Languages: TexTalky supports a wide range of languages, allowing you to create voiceovers and narrations in different languages to cater to a global audience. Whether you need to convert English, Spanish, French, German, or other languages into speech, TexTalky has you covered.
Customization Options: TexTalky provides you with various customization options to fine-tune your audio content. You can adjust the pitch, speed, and volume of the voices to suit your preferences and project requirements.
Text Formatting: TexTalky retains the formatting of your input text, including punctuation, line breaks, and paragraph breaks, ensuring that the converted speech matches the original text's intended structure.
Easy Integration: TexTalky offers easy integration options, allowing you to use it in various applications and platforms. You can integrate TexTalky into your websites, videos, presentations, e-learning courses, and more to enhance your content with high-quality voiceovers.
Commercial Use: With TexTalky's lifetime deal, you can use the generated audio content for commercial purposes without any limitations. This means you can create voiceovers for your clients, sell audio products, or use them in your business without worrying about additional costs.
Lifetime Deal: TexTalky's lifetime deal gives you unlimited access to all its features without any recurring subscription fees. This allows you to save money in the long run and enjoy the benefits of high-quality text-to-speech conversion for a lifetime.
Don't miss out on this exclusive lifetime deal for TexTalky and take your audio content creation to the next level. Whether you need voiceovers for your videos, podcasts, e-learning courses, or other projects, TexTalky's AI text-to-speech converter with human-like voices can help you create professional and engaging audio content. Grab this lifetime deal today and unlock the full potential of TexTalky's powerful features!
Features & Benefits
Lifetime access to Textalky
2,000,000 Characters first, Then 300,000 Char./Month Forever!
All available languages & voices
300,000 characters monthly for lifetime (after the end of welcome credits)
900+ type of voices (male & female)
140+ languages & dialects
SSML tags support (voice effects)
Sound Studio Feature to Edit, Cut & Merge audio results
Amazing Background Music Collection
Free commercial use of all voices
System Requirements
Supports all browsers
Important Details
Length of access: lifetime
Redemption deadline: redeem your code within 30 days of purchase
No device limit
Version: v1.0
Updates included
Terms
Unredeemed licenses can be returned for store credit within 30 days of purchase. Once your license is redeemed, all sales are final.
Click Here to View The TexTalky AI Text-to-Speech Converter Human Voices Lifetime Deal For Yourself
You may also like