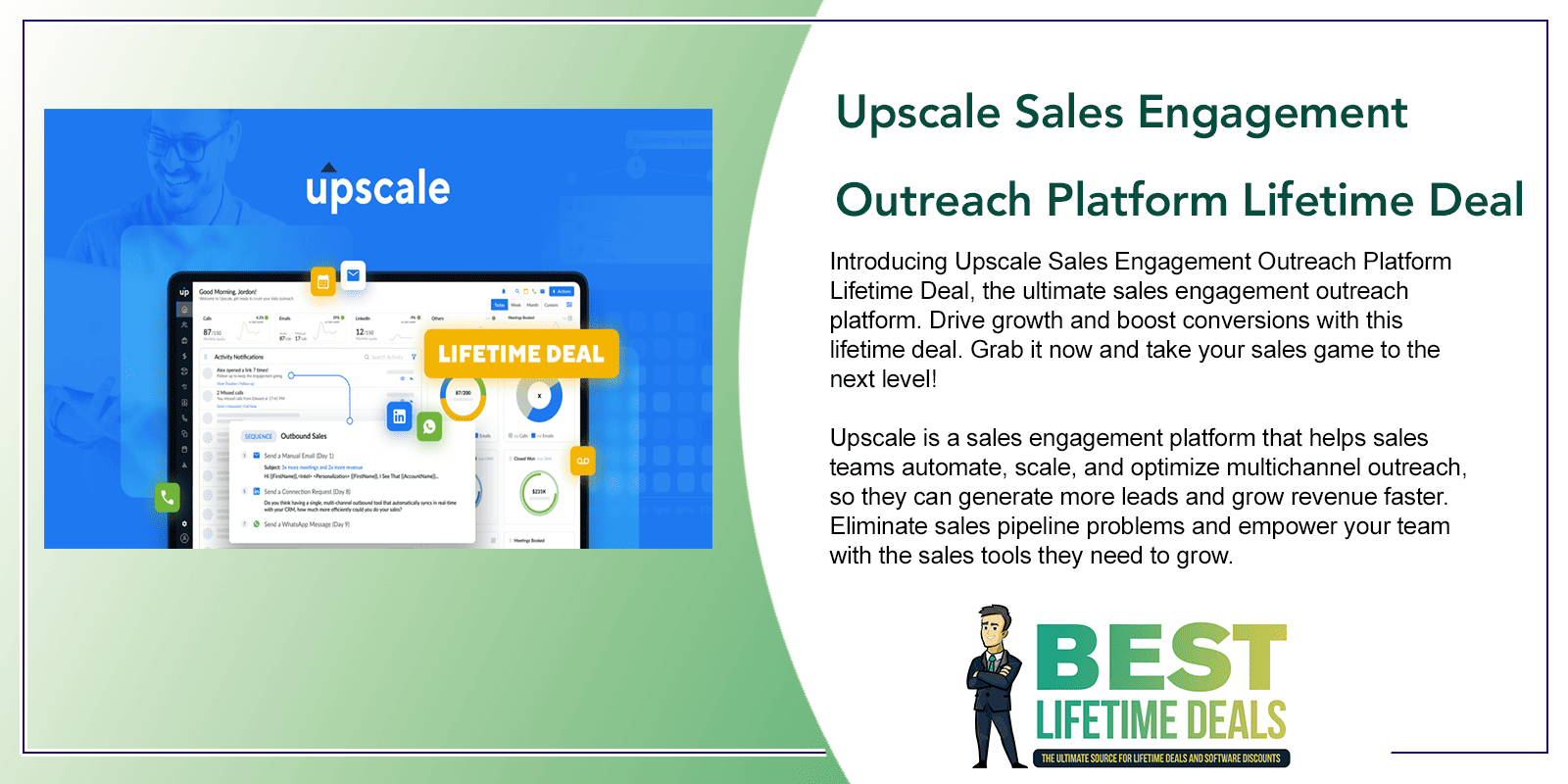 Choose Your Desired Option(s)
Introducing Upscale Sales Engagement Outreach Platform Lifetime Deal, the ultimate sales engagement outreach platform. Drive growth and boost conversions with this lifetime deal. Grab it now and take your sales game to the next level!
Introducing Upscale Sales Engagement Outreach Platform Lifetime Deal
Crush revenue goals faster with Upscale, the sales engagement platform that helps your sales team build a consistent outbound sales pipeline.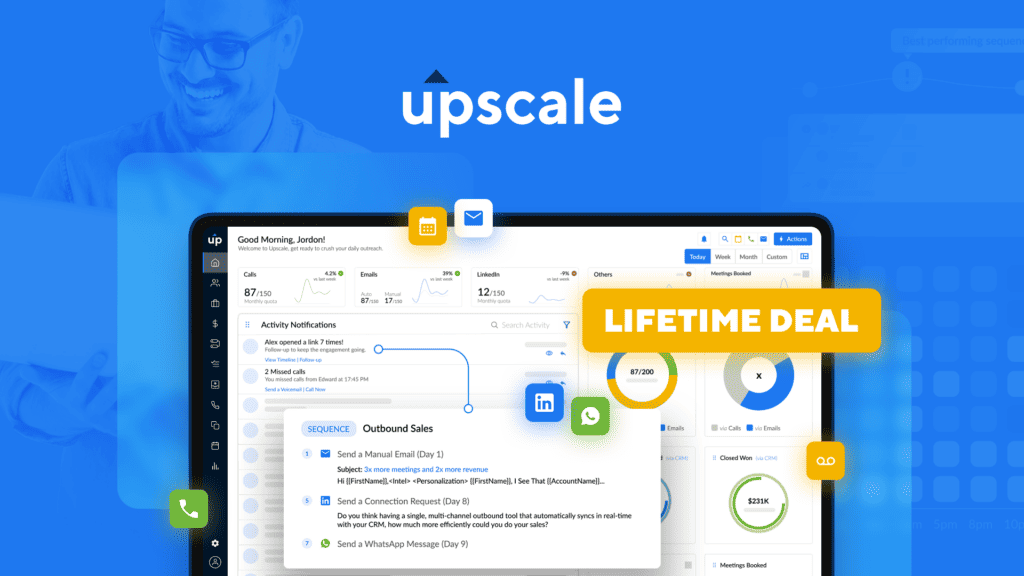 Upscale is a sales engagement platform that helps sales teams automate, scale, and optimize multichannel outreach, so they can generate more leads and grow revenue faster. Eliminate sales pipeline problems and empower your team with the sales tools they need to grow.
Upscale Sales Engagement Outreach Platform Lifetime Deal Features
Multi-channel Outreach: Reach out to potential customers using multiple channels. You can use email, phone, LinkedIn, WhatsApp, and text messages from a single platform.
Personalize Workflows: Use automation to personalize the buyer's journey. Based on triggers and events, you can book more meetings and generate more revenue for your business.
Analytics & Reporting: Analyze your relationship with customers and measure how your team is performing. Prioritize the important deals that lead to more revenue and less friction.
Ready-to-use Integrations: Integrate with apps like Google Calendar, Zapier, Salesforce, G2, and Pipedrive. There are other CRM's which you can integrate as well.
Overview
Upscale is a tool that solves sales pipeline problems for consistent revenue outcomes by implementing structured sales sequences to prioritize rep productivity faster.

Stop wasting over 60% of your selling time with tasks that won't lead to sales and automate sales activities to focus on meaningful conversations. Upscale eliminates your record keeping, tool management, and data entry with a single workspace.
Use Upscale to track channels that drive conversations to drive meaningful discussions which lead to more qualified meetings. Identify patterns and trends, and optimize your sales process. Take control of your sales strategy with structured and personalized sales outreach. Include multi-channel sequences for consistent outcomes.
Why Choose Upscale?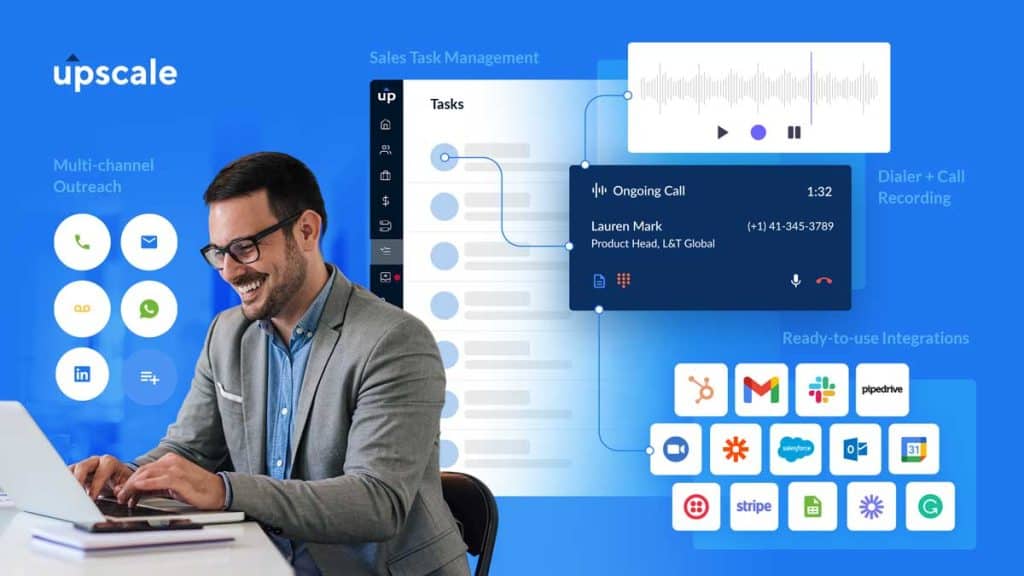 Good teams play, but great teams run a system of plays.
The odds of closing a lead are 10 times higher when responding within a 10-minute window. Upscale saves time and potential loss of revenue all while streamlining your outbound sales through its sales engagement platform.
Who Needs Upscale?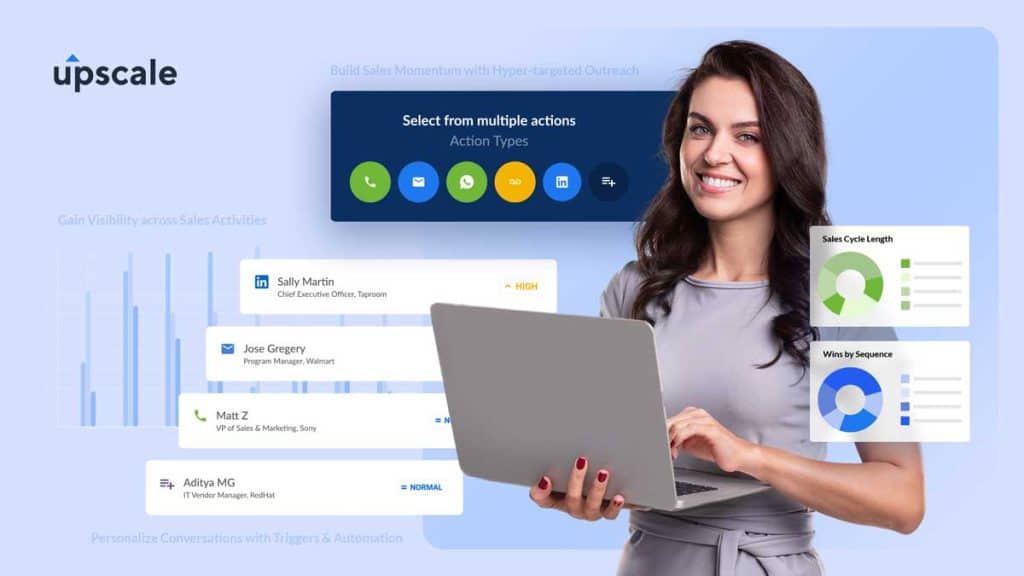 Anyone who is doing outbound sales needs Upscale. Upscale works across all industry types and businesses including:
Sales specialists
Business development
Marketing service providers
Agency owners
Software & SaaS
Small and medium businesses
Startups
Recruiters
Whether you are a team of 1 or 100, Upscale helps you close deals faster and ensures no follow-up is missed, leading to more sales and revenue generation.
Upscale Use Cases
Outbound Sales
Reach out to potential customers and prospects proactively. With Upscale, you can automate your outreach and streamline the process, allowing you to focus on more critical aspects of your sales strategy. Save time and resources while reaching a wide audience.
Inbound Sales
Focus on attracting potential customers and prospects to your business through various outreach efforts. With Upscale, you can organize your leads into sequences and nurture them automatically. Ensure that you don't miss out on any vital elements of your sales funnel, resulting in higher conversion rates and increased revenue.
Account-based Sales
Are you selling to one account at a time? Personalize your approach at scale with focused selling for specific accounts. With Upscale, you can reach out to your targeted accounts through multiple channels like LinkedIn, email, and more. Build stronger relationships with your customers and increase your chances of making a sale.
Onboarding & Engagement
It is the most crucial part of the customer experience., Increase the likelihood of receiving favorable responses by using Upscale to consistently engage with your audience. Build a strong rapport with your customers and increase the chances of them becoming loyal, repeat buyers.
Customer Success
Nurture relationships with your customers and provide them with a seamless onboarding experience. With automated campaigns, you can communicate consistently with your customers. Ensure that they feel supported throughout their journey with your business. Build strong, long-lasting relationships with your customers, resulting in higher retention rates and increased revenue.
Want to see Upscale in Action? Watch the Demo Video below
Deal Terms
Lifetime access to Upscale
All future plan updates (Basic & Essential Plans only)
You must activate your license within 60 days of purchase
30-day money-back guarantee, no matter the reason
Features Included in All Plans
All Outreach Channels (Email, SMS, Calls, LinkedIn, Social, WhatsApp)
Unlimited Outbound Emails (from Upscale) – limits may be imposed by email provider.
Download & Export Reports
Email Templates
Triggers
Analytics & Reporting
LinkedIn Chrome Extension
Click Here to View The Upscale Sales Engagement Outreach Platform Lifetime Deal For Yourself
You may also like