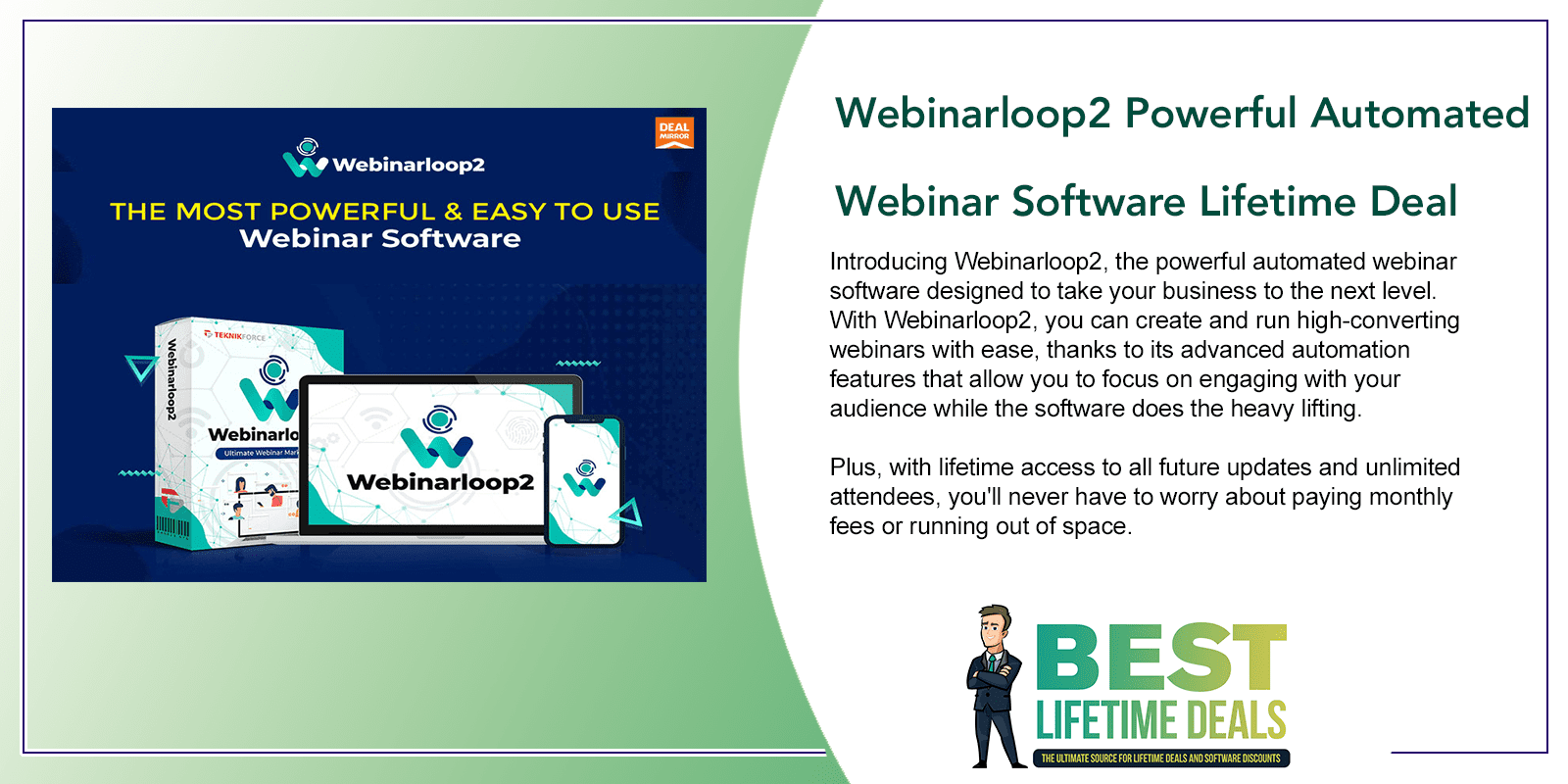 Choose Your Desired Option(s)
Webinarloop2 Powerful Automated Webinar Software Lifetime Deal
Introducing Webinarloop2, the powerful automated webinar software designed to take your business to the next level. With Webinarloop2, you can create and run high-converting webinars with ease, thanks to its advanced automation features that allow you to focus on engaging with your audience while the software does the heavy lifting.
Plus, with lifetime access to all future updates and unlimited attendees, you'll never have to worry about paying monthly fees or running out of space.
Webinarloop2 has everything you need to create effective webinars that drive results. Don't miss out on this lifetime deal and take your webinars to the next level with Webinarloop2.
Engagement & Sales Boosters.
Dozens of Ready Templates.
Best for: Webinar Marketing to up reach sales operations.
Webinarloop2 Powerful Automated Webinar Software Lifetime Deal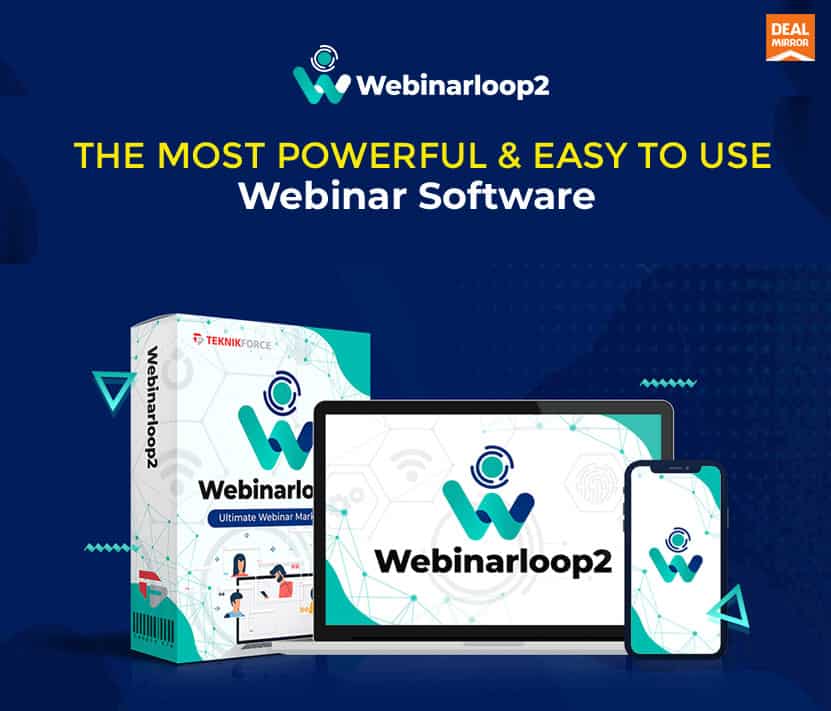 Run Live, On-Demand, Scheduled & Webinar Replays With Hands-Free Automation & Breakthrough Sales-Getting Features
Webinars Are Dominating Internet Marketing Massively.
Are You Going To Stand Aside And Make Way For The Winners Or Join Them In Profits?
Webinar marketing is every online marketing guru's favorite marketing system right now. Pick any top marketer, and there is a certainty that they are selling on a webinar.
Webinars are hot because they work. It's personalized selling at a massive scale.
Introducing Webinarloop2 Lifetime Deal
Make Killer Webinars For Your Business & Your Clients
Create Amazing Webinars 1-2-3-DONE!
Create Your Webinar: Use the user-friendly webinar creation system.
Publish Your Sign-up Page: Modify a template with Drag & drop ease.
Get Paid: Watch your prospects love you with their credit cards.
Webinarloop2 Powerful Automated Webinar Software Lifetime Deal Intro Video
Personalized Cold-Email Campaigns – Powerful & Easy Automation System – Create Custom Customer Journeys
Breakthrough In Webinar Marketing Technology:
Call to action during the webinar.
Info-pops, graphics & surveys.
Supports FB & Google retargeting.
Dozens of ready editable templates.
Custom branding on the sign-in page.
Email & SMS support.
Zapier support.
Embeddable opt-in pages work anywhere.
Live, Evergreen, or on-demand webinars.
Webinarloop2 Powerful Automated Webinar Software Lifetime Deal Features:
Run live webinars, present them live, or even cast webcam.
Create webinar replays, and play them according to a schedule or on-demand.
Simulated live webinars. Present pre-recorded webinars as live and your viewers won't know the difference.
No-lag live webinars even with 1000s of visitors thanks to YouTube live infra.
Dozens of sign-up page templates can be customized with the included page builder.
Fully customizable thank you pages with multiple templates.
Automated webinar email reminders with customizable messages.
Call to action with live buttons. Viewers can click a button and buy right inside.
Embeddable signup forms you can put in your own landing pages or emails.
Simulated chat helps you build your own narrative and create the impression of many attendees.
The engagement sidebar lets you show infoboxes, graphics, polls, and surveys on the sidebar.
Integration with all the top autoresponders.
Zapier integration to take your webinar leads to any CRM or system.
Integration with Facebook Pixel, Google Pixel, Google Analytics, or any other analytics system.
Detailed reporting and analytics give you important metrics about retention.
Amazing lifelike, full-screen webinar experience keeps your viewers immersed.
Increased protection from "funnel hackers".
Run Automated & Live Webinar With Profit Maximizer Features



Maximize Attendees With Powerful Attendance Boosting Features



Breakthrough Sales & Engagement Boosting Features

















Pro Plan:
Commercial Rights (Unlimited)
Unlimited Webinars
Unlimited attendees per webinar
Call to action with timer
Multi-User
Deal Terms:
Length of access: Lifetime.
Redemption Deadline of coupon code: 60 Days from purchase.
Lifetime Updates.
Our Customers Love Us here are some precious words from our customers
View Honest Review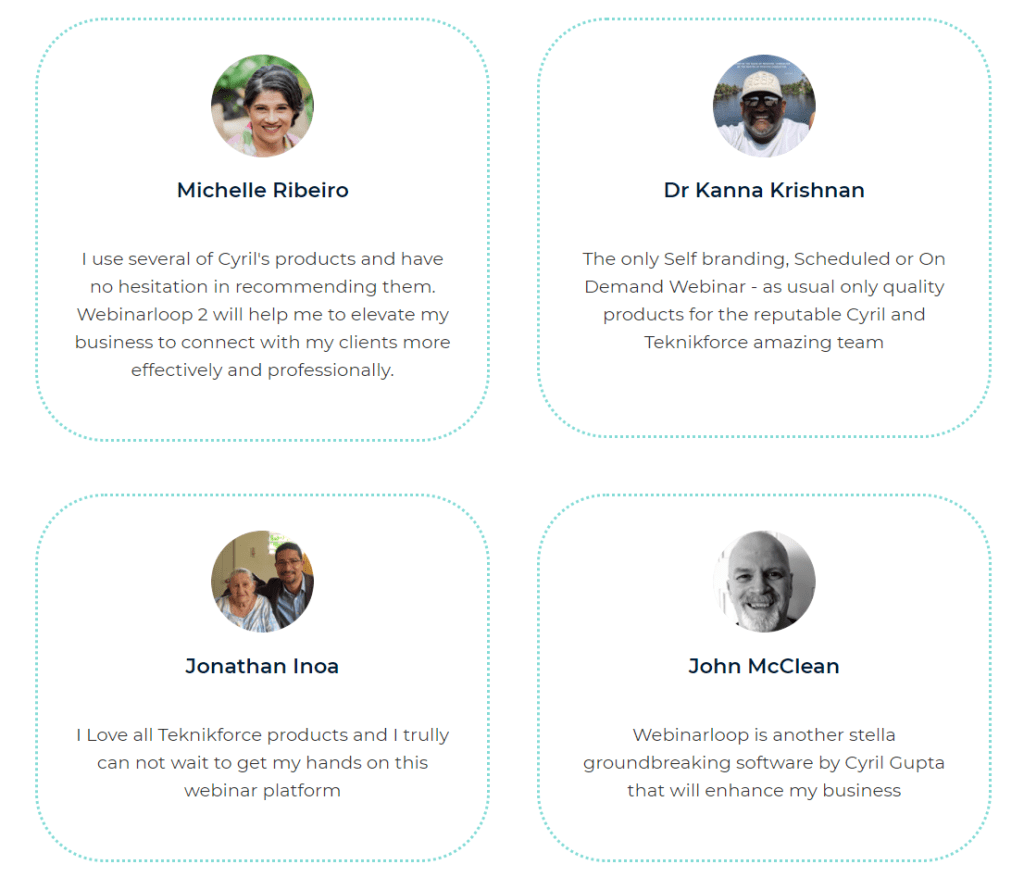 Vendor Testimonial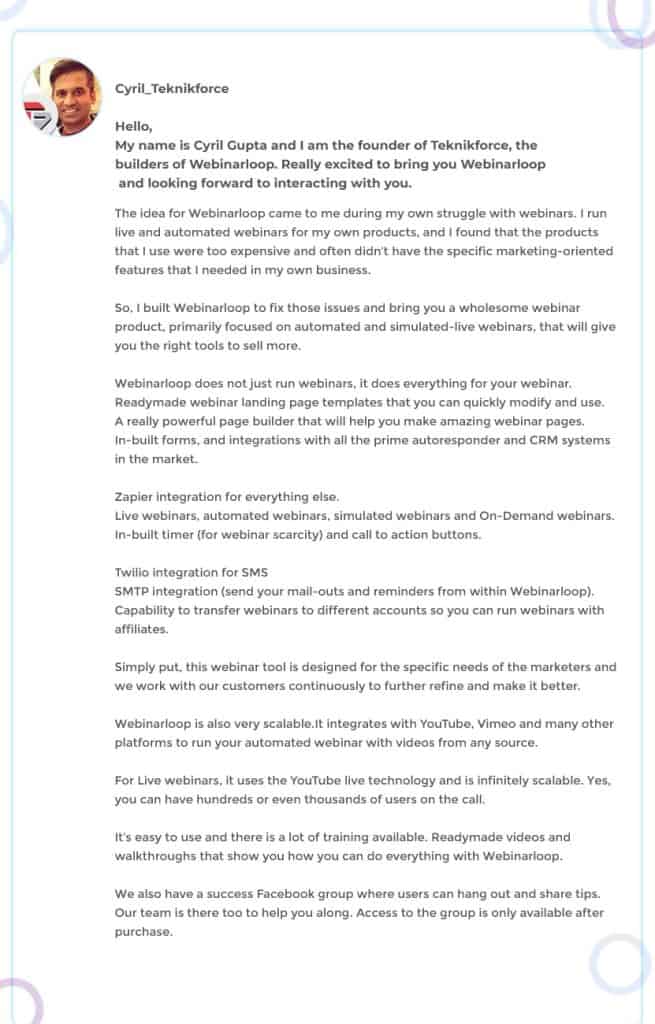 Common Plan Features:
Full-screen video experience to make your webinars richer, and more lifelike.
Innovative sidebar engagement panel that you have never seen before in any Webinar software.
No hosting is required.
Live-chat with your webinar attendees.
Automated webinar reminders on Email & SMS.
Personal branding on webinar pages.
Dozens of templates for Webinar opt-in pages.
Multi-user support.
The breakthrough call to action system lets you show your call to action during the webinar.
Show info-boxes, and images and do quick surveys during your webinar.
Google & Facebook retargeting out of the box.
Pre-recorded & simulated chat. Build your own narrative.
Webinar Transfer – Transfer your webinar to any account with just a click.
Supports all major autoresponders.
Import leads into your webinars using CSV files.
Detailed analytics & reporting.
Click Here to View The Webinarloop2 Powerful Automated Webinar Software Lifetime Deal For Yourself
You may also like