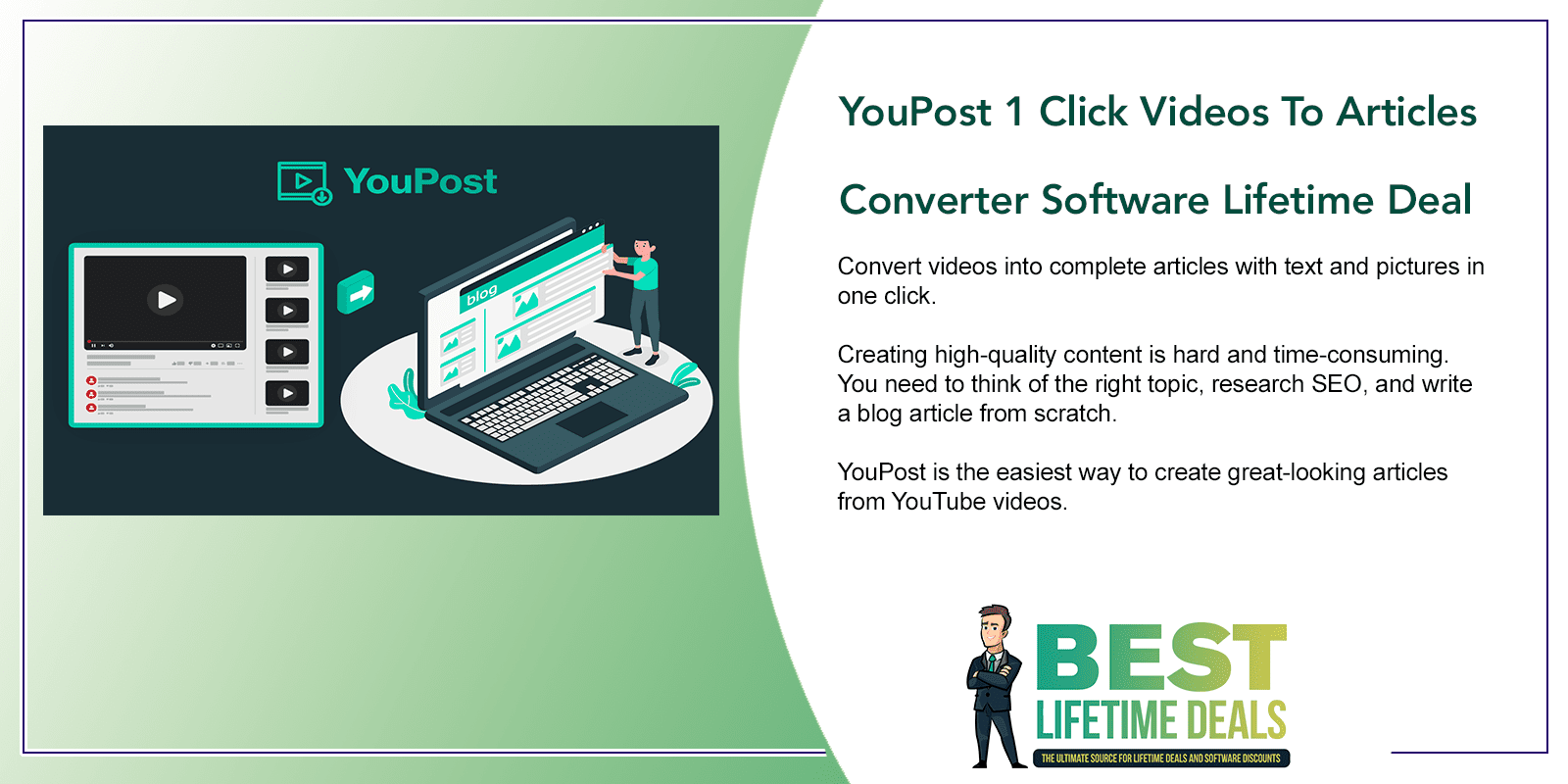 Choose Your Desired Option(s)
YouPost Click Videos To Articles Converter Software Lifetime Deal
Convert videos into complete articles with text and pictures in one click.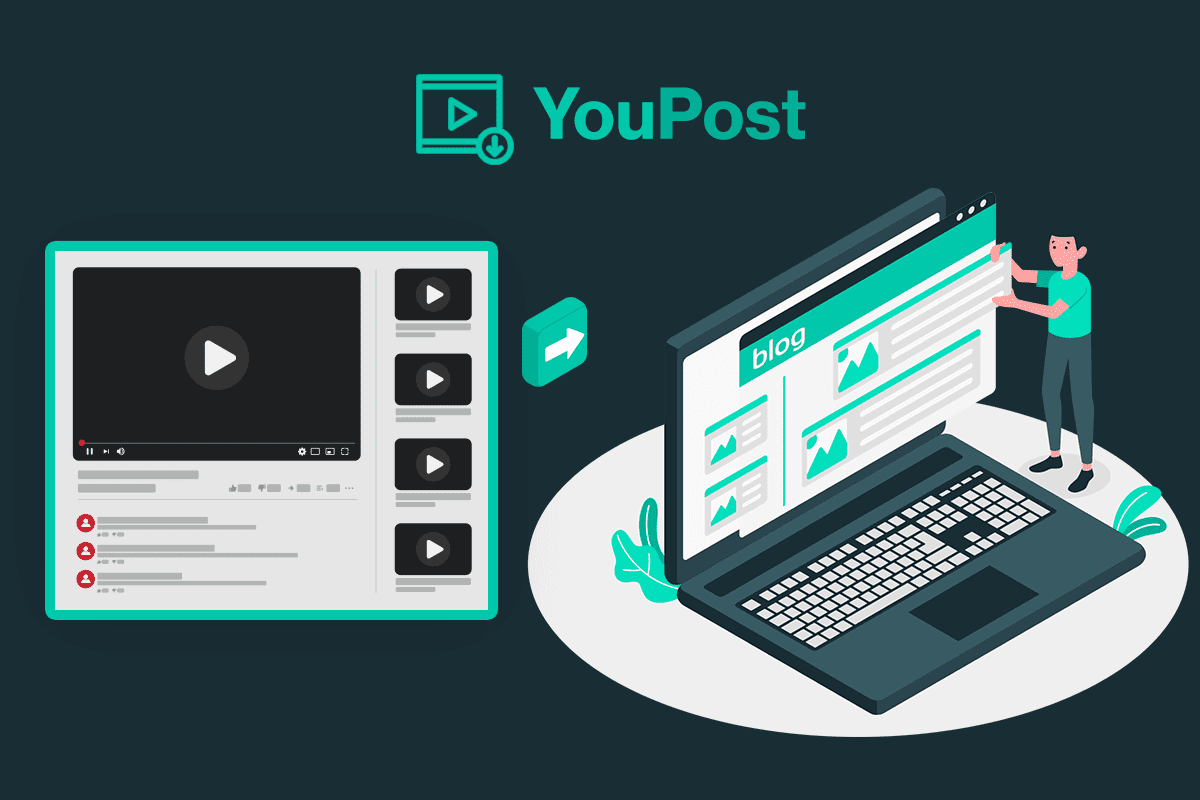 Creating high-quality content is hard and time-consuming. You need to think of the right topic, research SEO, and write a blog article from scratch.
This should be easier.
Introducing YouPost – the ultimate videos to articles converter software that will revolutionize the way you create content for your blog, website, or social media. With YouPost, you can effortlessly convert your videos into engaging and SEO-optimized articles, saving you time and effort in content creation.
YouPost features advanced speech recognition technology that transcribes your videos into text, allowing you to repurpose your video content into written articles. You can simply upload your video or provide a URL, and YouPost will automatically generate a written transcript that you can edit, format, and optimize for search engines.
With YouPost, you can easily create high-quality articles from your videos, whether they are recorded webinars, interviews, tutorials, or any other type of video content. You can customize the articles by adding headings, bullet points, images, and other formatting options to make them visually appealing and reader-friendly.
One of the key features of YouPost is its built-in SEO optimization tools that help you optimize your articles for search engines. You can add meta tags, keywords, and descriptions to your articles to improve their search engine ranking and attract more organic traffic to your website.
YouPost also offers a user-friendly interface that makes it easy for anyone, even with limited technical skills, to convert videos into articles. The intuitive editor allows you to edit and format the articles with ease, and the platform provides helpful tutorials and support to guide you through the process.
With YouPost's lifetime deal, you'll get unlimited access to all the features and updates, with no monthly fees. That's right – a one-time payment for a lifetime of powerful videos to articles converter software that can save you time and resources compared to manual content creation.
What sets YouPost apart is its advanced speech recognition technology, SEO optimization tools, user-friendly interface, and lifetime deal, making it a top choice for content creators who want to repurpose their video content into written articles. Don't miss out on this opportunity to streamline your content creation process and enhance your online presence. Get the lifetime deal now and experience the transformational power of YouPost for your content marketing strategy.
YouPost is the easiest way to create great-looking articles from YouTube videos.
Convert YouTube videos into articles with text and pictures.
Generate articles from videos in seconds.
Works in any language and for all YouTube videos with subtitles.
Best for: Bloggers, Content Marketers & Founders.
Click Here to View The YouPost 1 Click Videos To Articles Converter Software Lifetime Deal For Yourself
Simply Go To Any YouTube Video And Convert It To An Article In Seconds
Just go to the URL of a YouTube video, and click to convert the YouTube video to a full blog article, including pictures.
Your article will be ready in seconds. No more wasting time on writing or editing long articles when you can do it all with one click using YouPost.
Works For Any Language And Region
YouPost can convert videos in any language to articles, as long as the YouTube video has subtitles enabled.
Generate Great-Looking Articles From Videos In Seconds
The simple yet powerful tool makes creating great-looking articles as easy as copying and pasting a link to any YouTube video! And best of all – it's available as a lifetime deal for a limited time on Dealify!
Don't miss out on your chance to secure access to YouPost 1 Click Videos To Articles Converter Software Lifetime Deal at a one-time fee for lifetime access! Click the button below to check it out.
Click Here to View The YouPost 1 Click Videos To Articles Converter Software Lifetime Deal For Yourself
You may also like