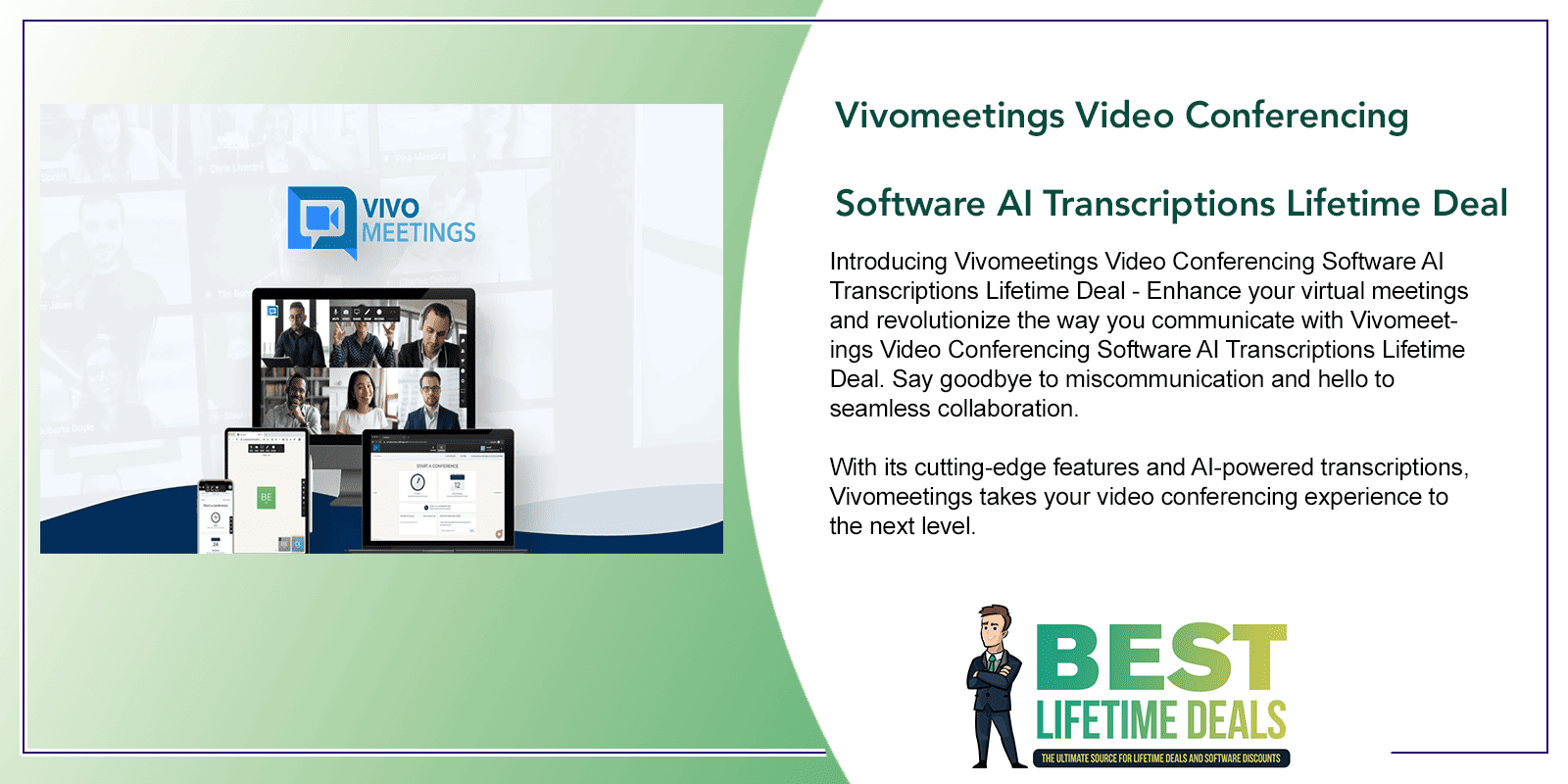 Choose Your Desired Option(s)
Introducing Vivomeetings Video Conferencing Software AI Transcriptions Lifetime Deal – Enhance your virtual meetings and revolutionize the way you communicate with Vivomeetings Video Conferencing Software AI Transcriptions Lifetime Deal. Say goodbye to miscommunication and hello to seamless collaboration. With its cutting-edge features and AI-powered transcriptions, Vivomeetings takes your video conferencing experience to the next level.
Experience Crystal-Clear Communication Vivomeetings ensures crystal-clear audio and video quality, eliminating any disruptions or lags that hinder effective communication. Connect with your team, clients, and partners in real-time, no matter where they are in the world. With Vivomeetings, you can feel like you're in the same room, even when miles apart.
AI-Powered Transcriptions for Perfect Documentation Never miss an important detail again. Vivomeetings utilizes advanced artificial intelligence technology to automatically transcribe your meetings in real-time. Capture every word, idea, and action item with precision and accuracy. These transcriptions become invaluable resources for reference and follow-up, ensuring that nothing gets lost in the shuffle.
Seamless Collaboration and Productivity Vivomeetings facilitates seamless collaboration by offering features such as screen sharing, file sharing, and interactive whiteboards. Share presentations, documents, and ideas effortlessly, allowing everyone to stay on the same page. Boost productivity by minimizing email exchanges and maximizing real-time engagement.
Lifetime Deal for Unbeatable Value Take advantage of our exclusive lifetime deal for Vivomeetings Video Conferencing Software AI Transcriptions. By opting for the lifetime deal, you secure unlimited access to all the powerful features and updates, without any recurring fees. This is a limited-time offer, so don't miss out on the opportunity to upgrade your virtual meetings indefinitely.
Introducing Vivomeetings Video Conferencing Software AI Transcriptions Lifetime Deal
Key Features of Vivomeetings Video Conferencing Software AI Transcriptions Lifetime Deal:
Crystal-clear audio and video quality for seamless communication.
AI-powered transcriptions for accurate documentation and reference.
Real-time collaboration tools, including screen sharing and file sharing.
Interactive whiteboards for brainstorming and visual collaboration.
Lifetime access with no recurring fees.
Experience the Future of Virtual Meetings Vivomeetings Video Conferencing Software AI Transcriptions Lifetime Deal is the ultimate solution for businesses and professionals who strive for effective communication and collaboration. Leave behind the days of fuzzy connections and disjointed conversations. Elevate your virtual meetings with Vivomeetings and experience the future of seamless and productive collaboration.
Vivomeetings powers a new way of collaborating centered around your work, not where you do it—whether in the office, at home, or anywhere in between.
Vivomeetings Video Conferencing Software AI Transcriptions Features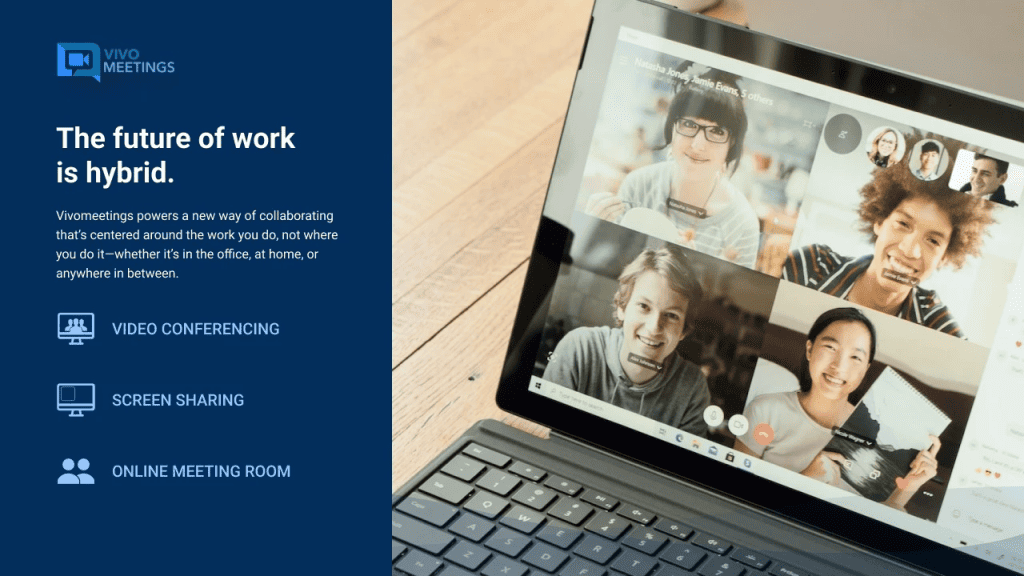 Free Webinar mode: Why pay more when you can try the free webinar and presentation mode with no time limits!
Premium audio conferencing: Audio serves as one of the most important part of the meetings, making it premium makes the experience more productive.
AI transcription: How about letting AI convert speech into text and eliminate the manual effort of note-taking?
Enhanced security options: Don't let your important calls be invaded. Secure your data, files and meetings with A-Grade encryption.
Upgrade your meeting experience by adopting a hybrid mode productively with Vivomeetings
Vivomeetings stands out among any video conferencing software in the following ways:

Content Drive (unlimited storage drive) is available on the PRO plan.
Live streaming (available on the Pro plan) – stream directly from Vivomeetings; up to 10,000 viewers can watch your stream.Free webinar mode on all plans, whereas users pay for it on other video conferencing platforms. SMS Invitations – any contact with a mobile phone listed in your address book will receive an SMS text invitation and a reminder 15 minutes before the start of your scheduled conference (available on Plus and Pro plans).
Dial-out to Phones – While in a meeting, a host can trigger an outbound phone call to bring people into the discussion (available on the Pro plan as an add-on). Custom greetings for audio conferencing – customer add-on subscription to have their dedicated custom greeting Custom dial-in number – you can purchase a dedicated conference number (available on Plus and Pro plans as an add-on) Unlimited storage (available on the Pro plan) – other providers limit your recordings to a few gigabytes.
Meeting Transcription with Sentiment Analysis Through AI (available on Pro plan) – Automatically create transcriptions of all your recorded meetings.
Customize Your Interface- Personalize your virtual meeting environment with your logo, colors, and music on hold (available on Standard, Plus, and Pro plans). Has unparalleled Interoperability – With Vivomeetings, users have one-touch access to meetings irrespective of the type of device, browser, or meeting room used.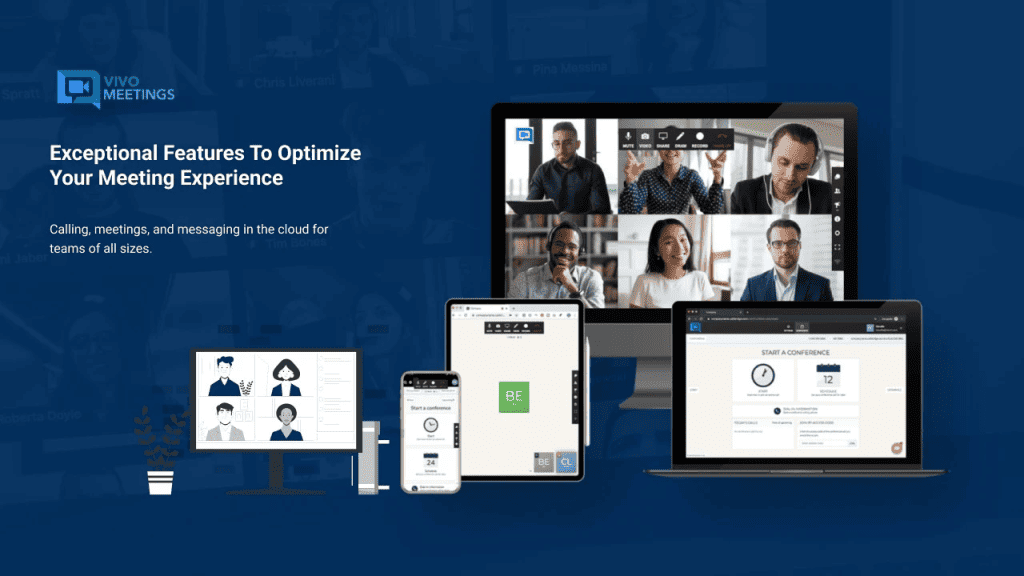 Deal Terms
Lifetime access to Vivomeetings
All future Plan updates
You must activate your license within 60 days of purchase
30-day money-back guarantee, no matter the reason
Click Here to View The Vivomeetings Video Conferencing Software AI Transcriptions Lifetime Deal For Yourself
You may also like