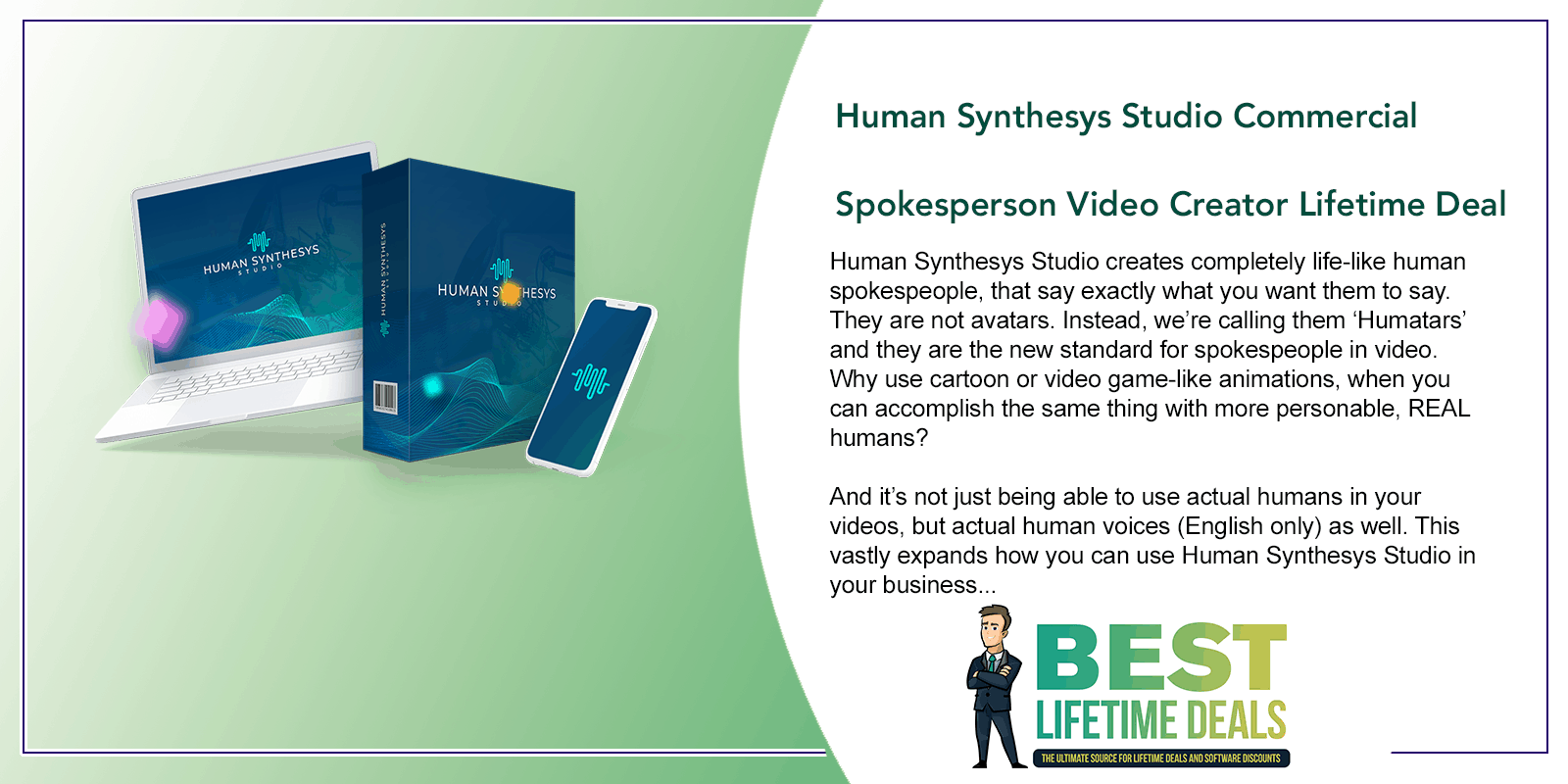 Humatars Human Synthesys Studio Commercial Spokesperson Video Creator Lifetime Deal
in
Choose Your Desired Option(s)
Humatars Human Synthesys Studio Commercial Spokesperson Video Creator Lifetime Deal
REAL Humans, REAL Voices, With A NEW Technology That Gives STUNNING Results
Human Synthesys Studio creates completely life-like human spokespeople, that say exactly what you want them to say. They are not avatars. Instead, we're calling them 'Humatars' and they are the new standard for spokespeople in video. Why use cartoon or video game-like animations, when you can accomplish the same thing with more personable, REAL humans?
And it's not just being able to use actual humans in your videos, but actual human voices (English only) as well. This vastly expands how you can use Human Synthesys Studio in your business…
Human Synthesys Studio Features:
Text-To-Video
Transform simple text into professional-looking video for the first time ever. Videos can be up to 6 minutes long.
40+ Languages
We currently support 40+ different languages. It's never been easier to engage global teams and customers in their native language
"Humatars" Options
With Human Synthesys Studio, you have the option of 5 Humatars with Personal OR 10 Humatars PLUS 3 BONUS Humatars with Commercial to use immediately.
Custom Backgrounds
Easily upload any image or video as a background to your videos. We've also created free slide templates for inspiration.
Background Music
We have prepared a selection of background music that you can freely add as a background sound to your videos.
MP4 Downloads
Access and download your completed video projects as mp4 files.
Multi-slide Videos
Combine several Human Synthesys Studio videos into one video. Now you can create rich slide deck video experiences in just a few minutes.
Update Video Content
With Human Synthesys Studio, you can simply duplicate the video, change the text and have an updated version of a video in just a few minutes.
Spokesperson Positioning
Move the position of your Humatar around on your videos for your desired position and look.
Intuitive, Easy To Use, Interface
Step-by-step process makes it quick and easy to produce your videos.
Click Here to View The Humatars Human Synthesys Studio Commercial Spokesperson Video Creator Lifetime Deal For Yourself
Human Synthesys Studio Benefits:
First of its kind technology
REAL professional actors in your videos
Synthetic human voice text-to-speech (English Only)
Plus fully-integrated google text to speech (40 languages + 74 voices)
Revolutionary lip-synching technology
Stunning life-like facial movements
Cloud based (no installation required)
Extremely easy to use (no learning curve)
Background and audio bank included
Simple editing interface
Tap into the HUGE spokesperson market
Commercial license available
Frequently Asked Questions
What is "Human Synthesys Studio"? Human Synthesys Studio is a cloud based "Humatar" video creation software.  It uses real humans, real human voices, and text-to-speech software to create high quality REAL spokespeople that say whatever you type.
Is This a One Time Fee? Yes! Human Synthesys Studio Personal or Commercial is a one time fee.
I Am Non Technical! Can I Use This? Yes! Human Synthesys Studio is Newbie Friendly. No special skills, no learning curve required… We have step by step training videos that cover all aspects of the software to get you started right.
Will this work on Mac and PC? Yes! Human Synthesys Studio is 100% cloud based and works on any operating platform on any internet connected device. It runs inside your internet browser so you can access it on any computer with an Internet connection. Nothing to install; nothing to update.
Is there a limit on videos I can render?  Yes. Human Synthesys Studio is credit based.  100 renders for commercial and 50 renders for personal use.  Additional video rendering packages are available. On either option, you can type up to 1,000 characters on each slide and create up to 6 slides for a total of up to 6 minutes per video.
What languages are supported? We've selected the very best Google and Microsoft have to offer, totaling 40 languages (74 different voices).  PLUS there are 5 synthetic HUMAN voices available in English language.
What Is Your Guarantee? Human Synthesys Studio is backed by our 14-Day Money Back Guarantee. If for any reason you are unsatisfied with Human Synthesys Studio within the 14 days of your purchase, just send us an email with your refund request and we will process your refund. No Questions Asked.
How Do We Get In Touch With You? We believe you will enjoy using Human Synthesys Studio, however if you face any issues, we will be here to attend to you. Send us an email to our support desk and we will get back to you ASAP! http://meetsynthesys.com/support
Don't miss out on your chance to secure access to Humatars Human Synthesys Studio Commercial Spokesperson Video Creator Lifetime Deal at a one-time fee for lifetime access! Click the button below to check it out.
Click Here to View The Humatars Human Synthesys Studio Commercial Spokesperson Video Creator Lifetime Deal For Yourself
You may also like