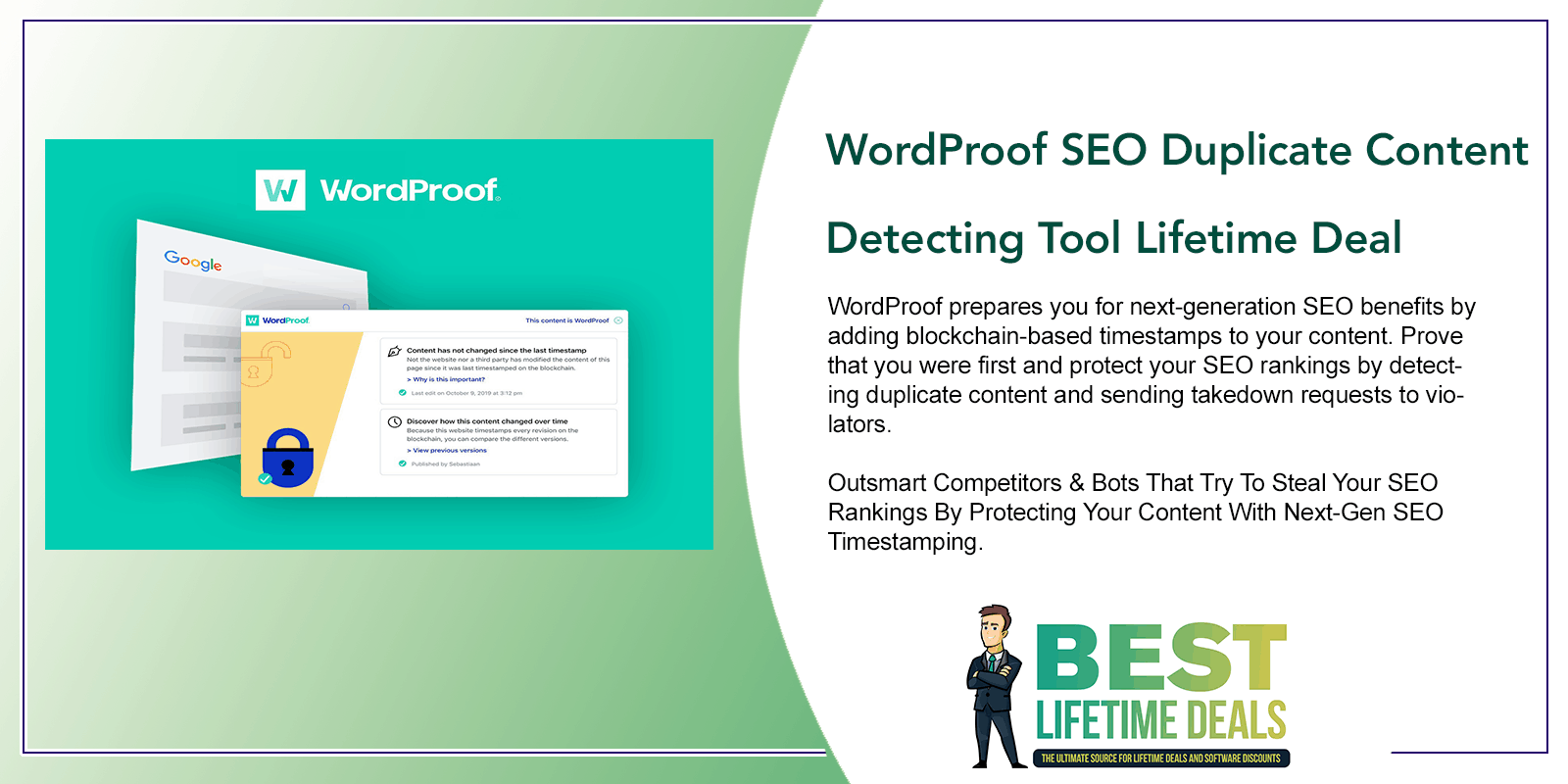 Choose Your Desired Option(s)
WordProof SEO Duplicate Content Detecting Tool Lifetime Deal
WordProof prepares you for next-generation SEO benefits by adding blockchain-based timestamps to your content. Prove that you were first and protect your SEO rankings by detecting duplicate content and sending takedown requests to violators.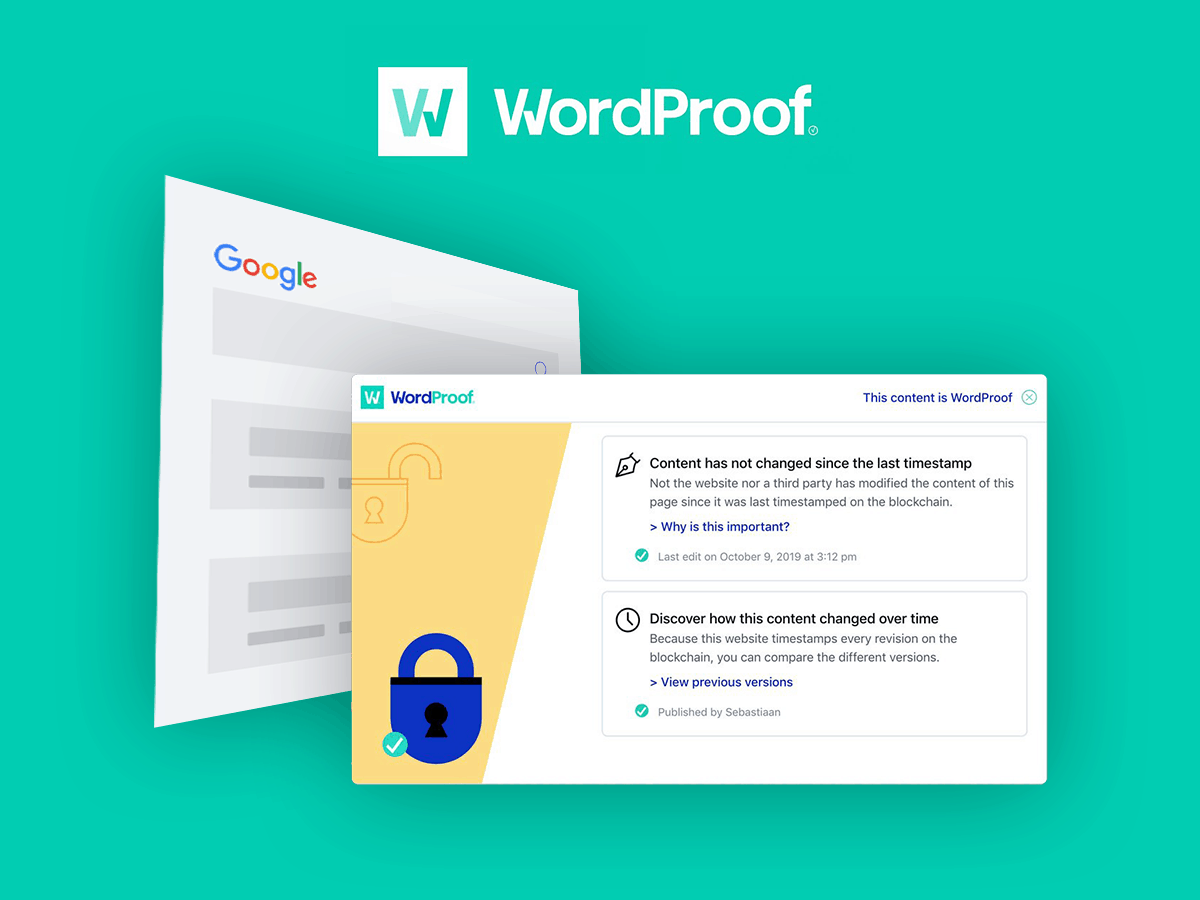 Outsmart Competitors & Bots That Try To Steal Your SEO Rankings By Protecting Your Content With Next-Gen SEO Timestamping.
Protect your content with timestamps to avoid a duplicate content penalty in Google
Takedown copyright violators by generating infringement letters in seconds.
Automated, downloadable proof using mathematical algorithms and blockchain.
Enable trust, protect your content & prepare for next-generation SEO.
You worked hard to publish a killer article on your WordPress website.
But then you find out that one of your competitors rewrote your content and published it on their website.
This is called patchwriting.
It's effective.
It saves your competitor a lot of time.
And it happens more than you can imagine…
The good news is that Google is pretty good at detecting duplicate content.
The bad news is that it can be hard for Google to recognize the original source, since:
1) Publication dates are easily tampered with.
2) Google might crawl your competitor's website before yours
Meaning that your website will be seen as the copycat and you will be penalized in Google by potentially even fully removing your original content from the search engine results.
Well, not anymore with WordProof. It's a set-and-forget WordPress plugin that puts a "timestamp" on every form of content you publish on your website.
The "timestamp" is accessible for search engines through structured data. Meaning that there is no doubt who published what at a certain moment of time.
How does timestamping work? 
Timestamping is relatively simple. A timestamp lets readers know they can trust this piece of content as it has been verified and added to the blockchain.
In the blockchain, the ownership and status of this content lives on in eternity — for all to see and verify. It gives undeniable proof that this content exists, when it first appeared, who wrote it, and when it was last edited, if so.
WordProof makes it easy to timestamp your content. Use their WordPress plugin and automatically timestamp your content and make sure you can prove you were the first to publish the content.
The timestamps show who published the content at which moment.
This applies to your:
Posts
Pages
Custom Post Types
Images
Videos
Documents
Click Here to View The WordProof SEO Duplicate Content Detecting Tool Lifetime Deal For Yourself
Why You Should Care About Timestamping Your Content Today
There actually are a few reasons why you should care:
Bots and other companies are increasingly more likely of copying your content.If you don't have the timestamping proof that you were the first and original creator of the content, you may be buried in the search results as a result of Google giving you a penalty for duplicate content. Unfair, and unnecessary.
Many of us are concerned about our security, privacy, and loss of self. We see fake news thrive on social media, and regular newspapers struggle to keep their heads above water. We see corruption, foreign interference, and massive disinformation campaigns. This all leads to an important question: Who can you trust? This is also a major priority of Google and other major search engines.
Timestamping content provides a sense of trust for your readers. You show that you take your content seriously. Not only that, by adding it to the blockchain, you can prove without a doubt that you are the owner of this content. Timestamping is a relatively easy solution that helps improve trust and paves the way towards a trusted web.
WordProof is here to help you with that.
The sooner you start with timestamping, the better. By starting today you can avoid getting a penalty in Google in the future for not having proof you were the original creator of the content.
Yoast SEO Founder Joost De Valk Explaining Why Timestamping Is The Next Big Thing In SEO
Simply Activate The Plugin, Run The Set-Up Wizard And Timestamping Will Start Automatically
Just add WordProof to your site with the simple WordPress plugin, run the set-up wizard, and the timestamping will happen fully automatically.
Timestamp anything: pages, blog posts, custom post types, images, videos, documents, and more.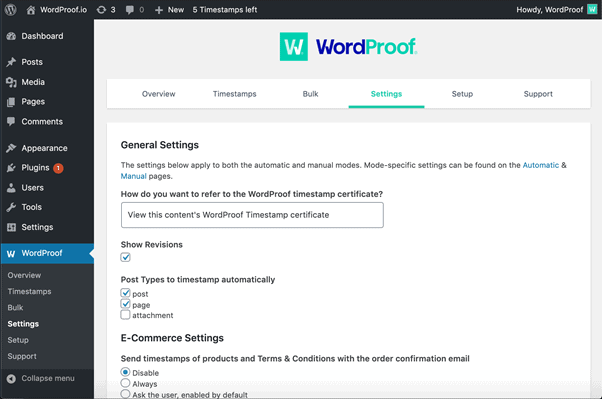 WordProof Will Notify You If Someone Is Copying Your Content And You Can Automatically Send A Takedown Request
WordProof detects when a bot or another company has copied your content.
You will get notified automatically and you can send a takedown request on autopilot, with proof that you were the original creator (and the first one to publish it).
WordProof Hobby Lite Plan Lifetime Subscription
Lifetime access to WordProof Hobby Plan
Next-Generation SEO WordPress Plugin for Content Protection
Timestamp your content using blockchain
Avoid SEO issues and duplicate content penalty
Future-proof & protect your content
Content certificate pop-up
Text link, button, or widget
Copyright infringement tool
Generate takedown request letters to take-down duplicate content
Schema.org-markup
1 website
10 timestamps per month
100 bonus timestamps (one-off)
Premium support included
All future updates included
30-day Money Back Guarantee
Don't miss out on your chance to secure access to WordProof SEO Duplicate Content Detecting Tool Lifetime Deal at a one-time fee for lifetime access! Click the button below to check it out.
Click Here to View The WordProof SEO Duplicate Content Detecting Tool Lifetime Deal For Yourself
You may also like