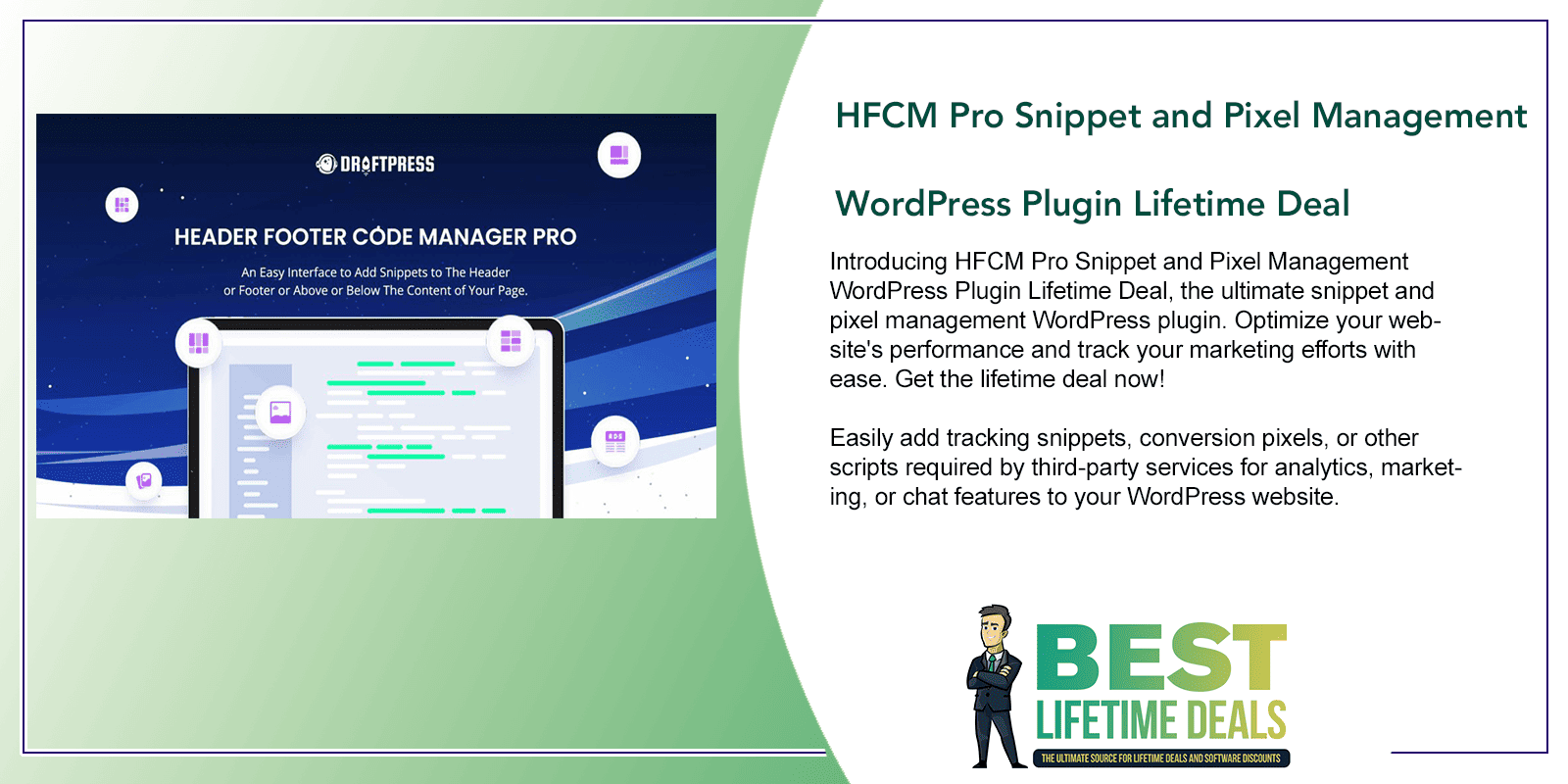 Choose Your Desired Option(s)
Introducing HFCM Pro Snippet and Pixel Management WordPress Plugin Lifetime Deal, the ultimate snippet and pixel management WordPress plugin. Optimize your website's performance and track your marketing efforts with ease. Get the lifetime deal now!
Introducing HFCM Pro Snippet and Pixel Management WordPress Plugin Lifetime Deal
Easily add tracking snippets, conversion pixels, or other scripts required by third-party services for analytics, marketing, or chat features to your WordPress website.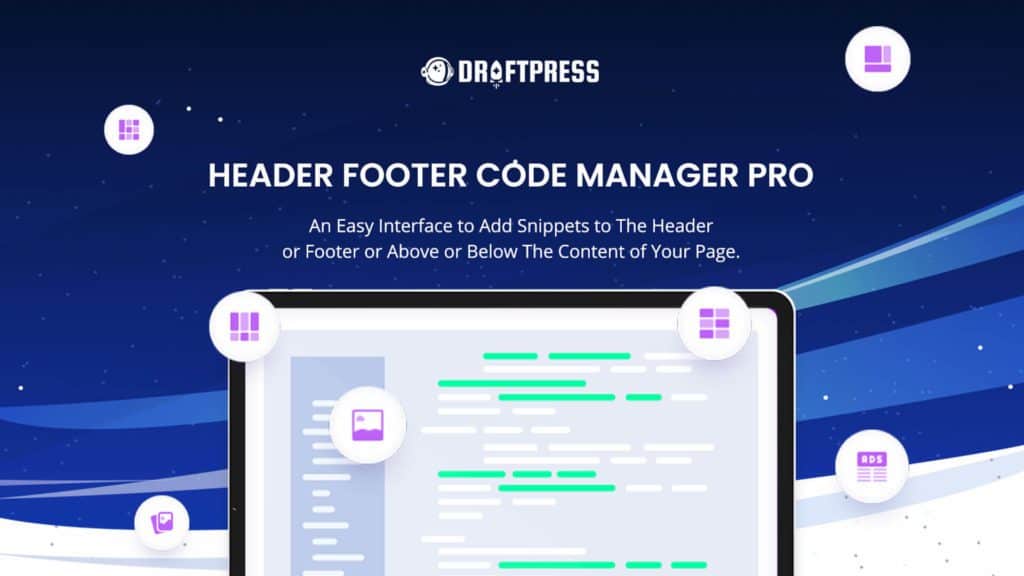 Need a consistent place to add snippets from the many different services you need to integrate your WordPress website with?
Confused about where to add the script – is it in the theme, WordPress settings, or your page builder?
Wherever you need to insert any snippets of code, whether the snippet is HTML, CSS, JS, or PHP – HFCM Pro has you covered.
Meet your one-stop shop plugin for snippet and pixel management for WordPress: Header Footer Code Manager Pro (HFCM Pro).
HFCM Pro Snippet and Pixel Management WordPress Plugin Lifetime Deal Features
Easy-to-Use Interface: Manage an unlimited number of snippets with the ability to quickly turn on/off individual snippets
Anywhere On Your Site: Place your snippets in the head, body, footer, on specific posts/pages or everywhere – you decide!
Conditional Rules: Display your snippets on pages, posts (including Custom Post Types), categories / tags, target by device type or logged in users, or place them anywhere you can add a shortcode.
Advanced Features: Features for people with lots of snippets or many sites, including duplicating/cloning snippets, import/export, and a built-in code editor!
A Single Screen to Manage All Your Snippets.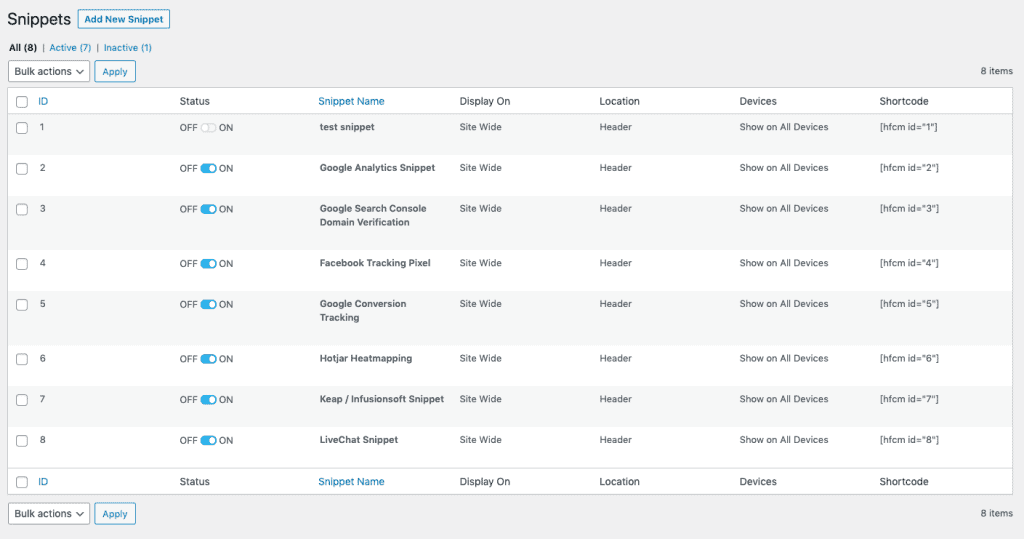 Using the All Snippets screen, you can label each of your snippets for easy reference, see all of the snippets that have been added to your site in one screen and identify some of the key rules used to display each snippet.
Toggle on/off any snippet or duplicate any existing snippet from this main screen.
HFCM Pro also lets you bulk export all your existing snippets into a JSON file for backup and it allows you to import your snippets into a staging environment or another copy of your site.
Why Would You Want to Use HFCM Pro?
Here are just a few of the problems that our plugin solves:
Avoid inadvertently placing snippets in the wrong place
Eliminate the need for a dozen or more silly plugins just to add a few small code snippets – Less plugins is always better!
Never lose your code snippets when switching or changing themes
Know exactly which snippets are loading on your site, where they display, and who added them
Add different snippets targeting different post types using the Specific Post Types feature
What Snippets / Pixels Can You Add?
Our plugin can accept almost ANY snippet from any service you want to add to your website. Here are a few examples to showcase the broad variety of supported snippets or pixels:
Marketing / CRM Snippets (such as Salesforce, ActiveCampaign, Hubspot, or Keap/Infusionsoft)
Ad Snippets (including Google DFP / Adsense, Media.net, BuySellAds, etc)
Tracking Pixels (Facebook, LinkedIn, Tik Tok, Twitter, or Google Conversion)
Analytics / Stats Tracking Snippets (Google Analytics, Google Tag Manager, Adobe Analytics, or Mixpanel)
Chat or Support Widgets (such as LiveChat, Olark, ZenDesk, Freshdesk or HelpScout)
Website/Domain Verification Snippets (including Google Search, Alexa, Bing, Yandex, Pinterest, and more)
External Font Scripts (Adobe Typekit, The Type Network, FontDeck, Google Fonts, etc)
Heatmaps (from Crazy Egg, Hotjar, Mouseflow)
Opt-In / Notification Bar Services (like OptinMonster, Wisepops, Sumo, Hello Bar, etc.)
and the list goes on and on…
Control How Your Snippet Displays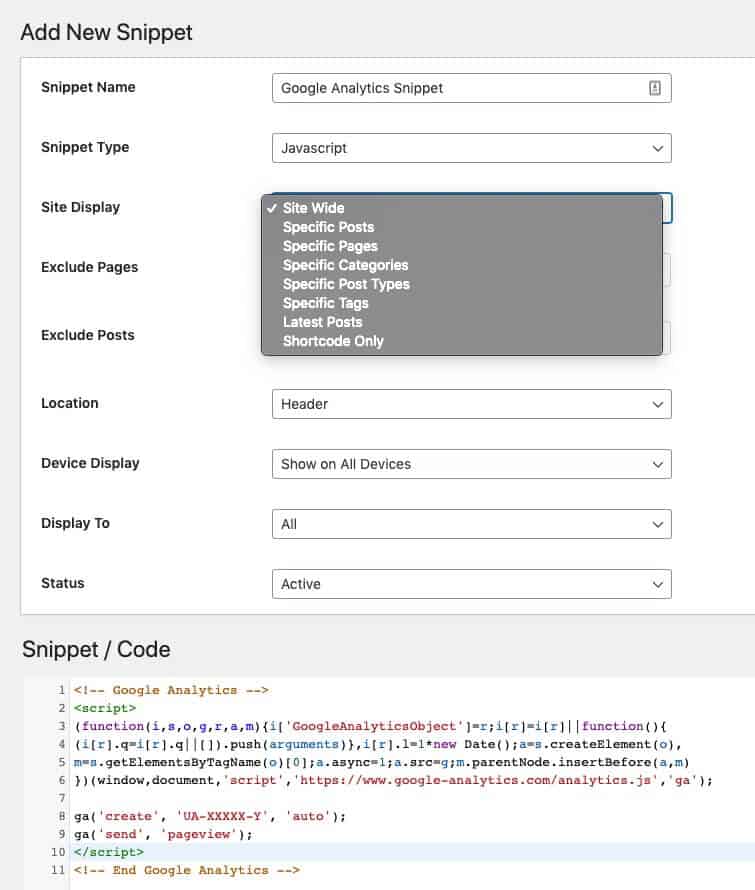 Use our conditional rules to control when, where, and how your code snippet displays. Our rules engine supports:
Snippet Format – we support HTML, Javascript, CSS, or PHP snippets.
Display Location – including in the Head, Footer, or Body of your website
Page Display Rules – including on Specific Posts, Pages, Categories, Post Types, Tags, Latest Posts, or manually via shortcode
Page/Post Exclusion – Allows you to exclude specific pages/posts from displaying the snippet
Device Display – Control whether your snippet displays on Desktop or Mobile
Display Audience – Control whether your script displays go All Audiences, Logged In Users, or Logged Out Users
I'm a Power User, can HFCM Pro Help Me?
Of Course! Our plugin allows you to insert PHP snippets into your site and enables you to easily clone a snippet to be able to create a snippet with different rules.

It also allows you to import and export your snippets so you can transfer your snippets between sites

Organize your snippets with HFCM Pro Today.
HFCM Pro makes managing your snippets easier than ever.
Get lifetime access to HFCM Pro!
Deal Terms
Lifetime access to Header Footer Code Manager Pro
All future Header Footer Code Manager Pro Plugin Version updates
You must activate your license within 60 days of purchase
30-day money-back guarantee, no matter the reason
Click Here to View The HFCM Pro Snippet and Pixel Management WordPress Plugin Lifetime Deal For Yourself
You may also like