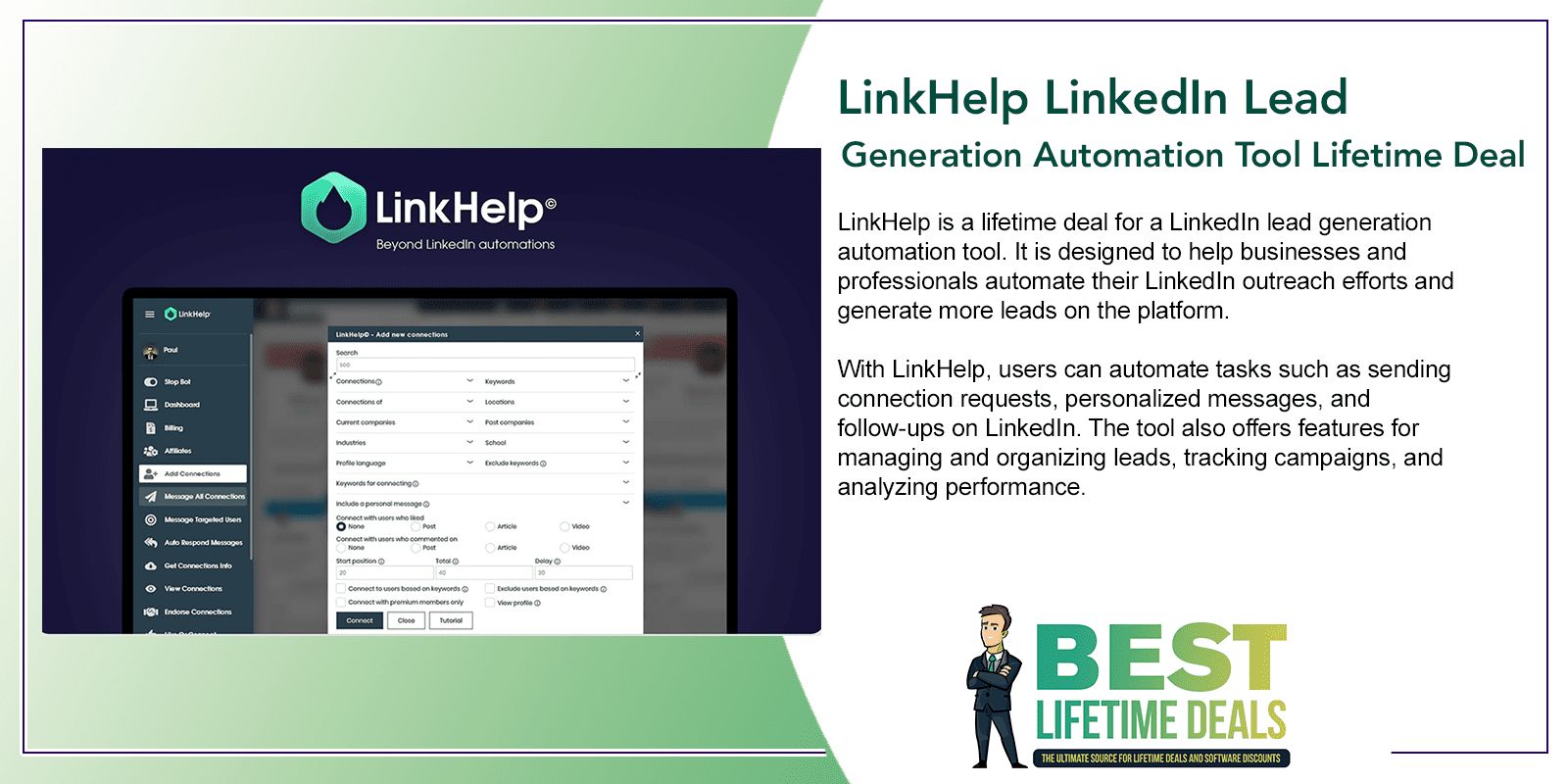 Choose Your Desired Option(s)
LinkHelp LinkedIn Lead Generation Automation Tool Lifetime Deal
LinkHelp is a LinkedIn lead generation and relationship-building tool. It helps increase LinkedIn connections, generate business opportunities, and foster meaningful relationships. Businesses use this tool to earn more revenue in less time.
Introducing LinkHelp LinkedIn Lead Generation Automation Tool Lifetime Deal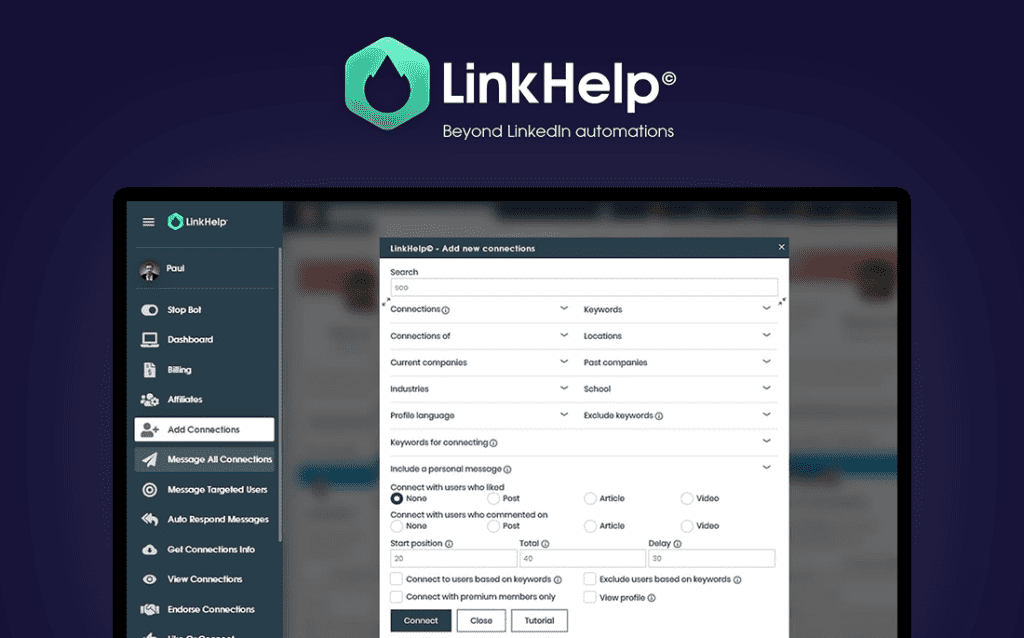 LinkedIn is the world's largest online professional network. It is a great source for new business opportunities. LinkHelp aims to leverage the platform to ease the process of finding new customers and growing your business.
Linkhelp is the most powerful LinkedIn Automation tool. It is easy to use, and quick to set up. It has 15 automation features for advanced targeting
Thanks to LinkHelp, you can perform 10x more actions in 10x less time and achieve maximum results with minimum effort.
Automate safely. Linkhelp adapts to the limitations imposed by LinkedIn and is compatible with LinkedIn Free, Premium and Recruiter lite accounts.
TL;DR
LinkHelp was designed to help the users in lead generation, networking, recruitment and building meaningful relationships effortlessly.
The user experience and short video tutorials make LinkHelp the simplest and easiest LinkedIn tool in the marketplace.
LinkHelp is safe to use for your LinkedIn account thanks to the features that mimic human behavior and built in safety limits.
LinkHelp saves your time immensely. You can set up complex automation campaigns just within a couple of minutes.
Add Targeted Connections
Find and invite thousands of targeted prospects to join your network.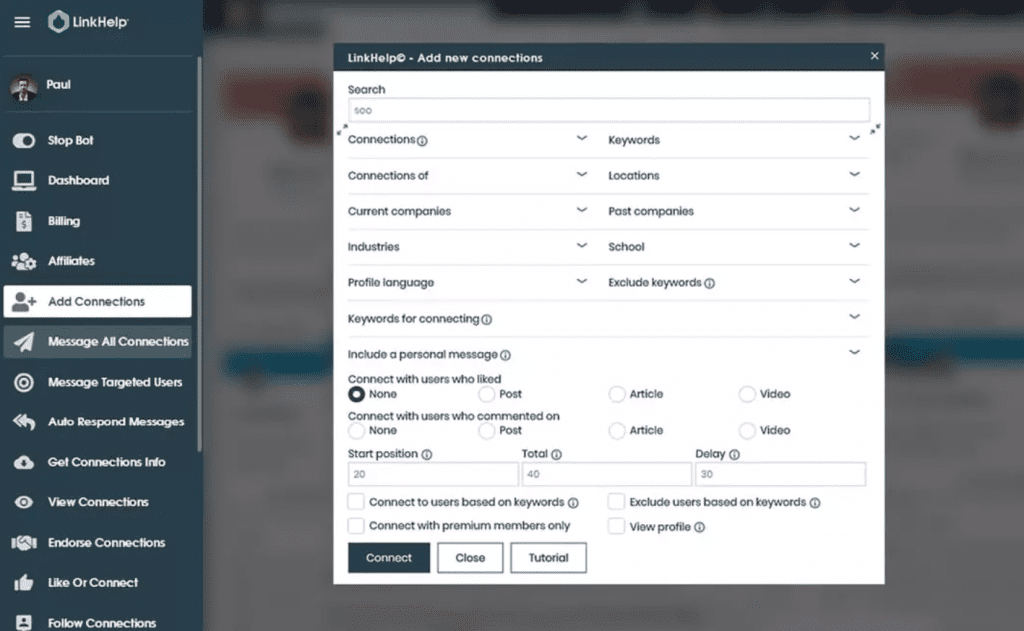 Targeted Messages
Create personalized message campaigns to be sent to your targeted audience.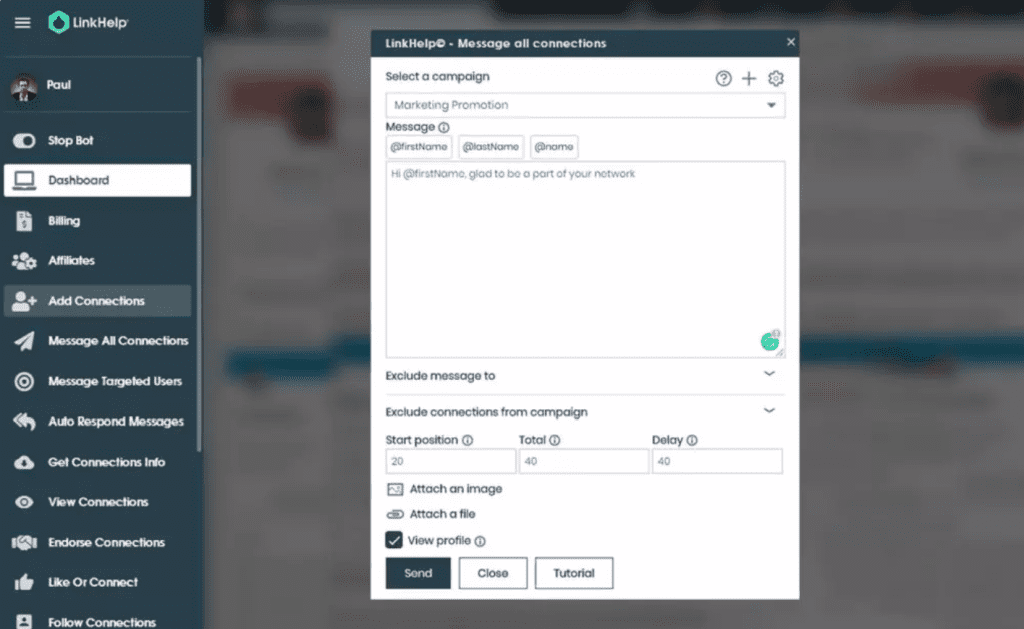 Extract Data
Collect and scrap data (names, emails, phone numbers, etc…) from both the Linkedin profile and the website of your connections.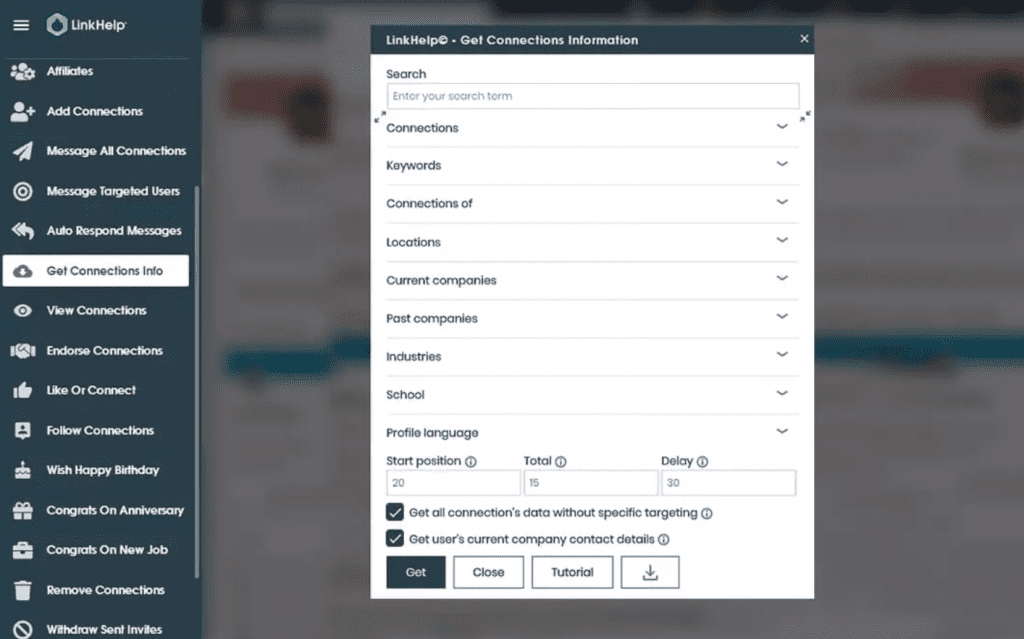 Auto Respond And Follow Up Messages
Set up automatic replies to the messages you receive based on the chosen group of keywords.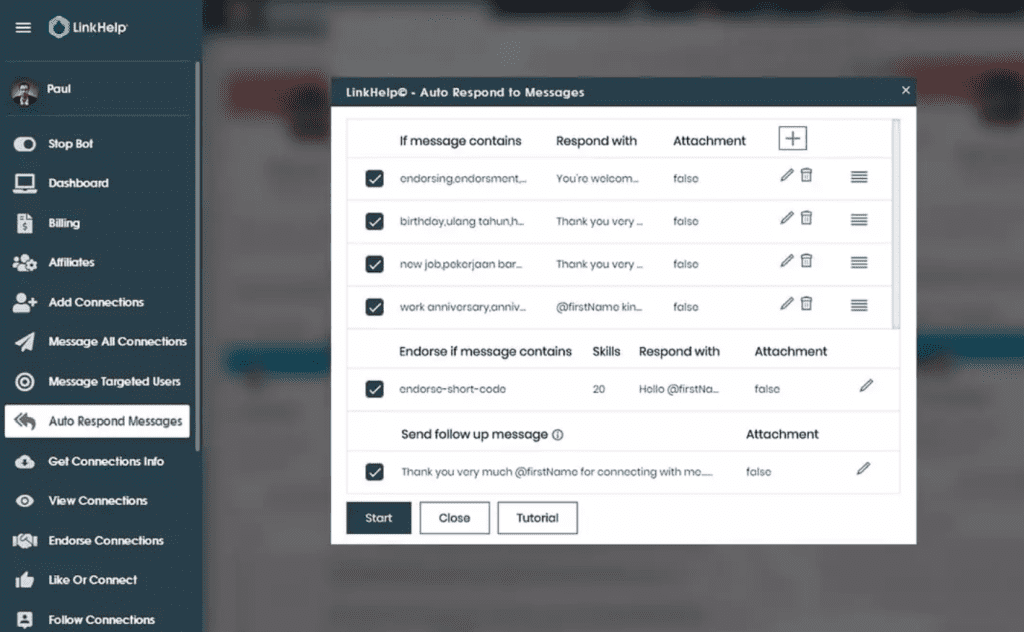 Like Or Connect
Like, comment or connect with the admin and the participants of the posts instantaneously.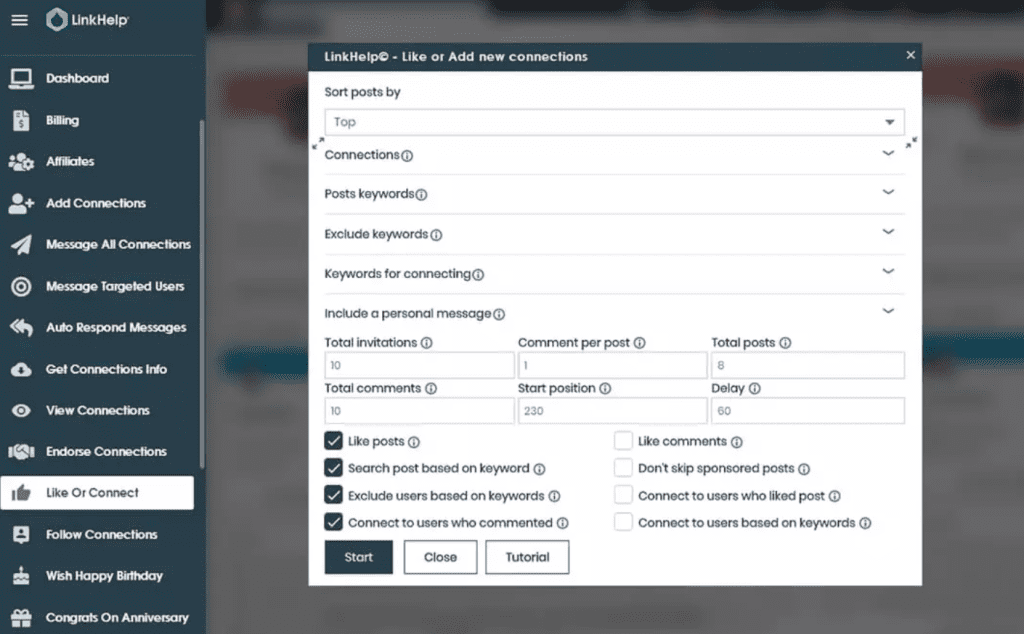 Follow Connections
Follow targeted users on LinkedIn.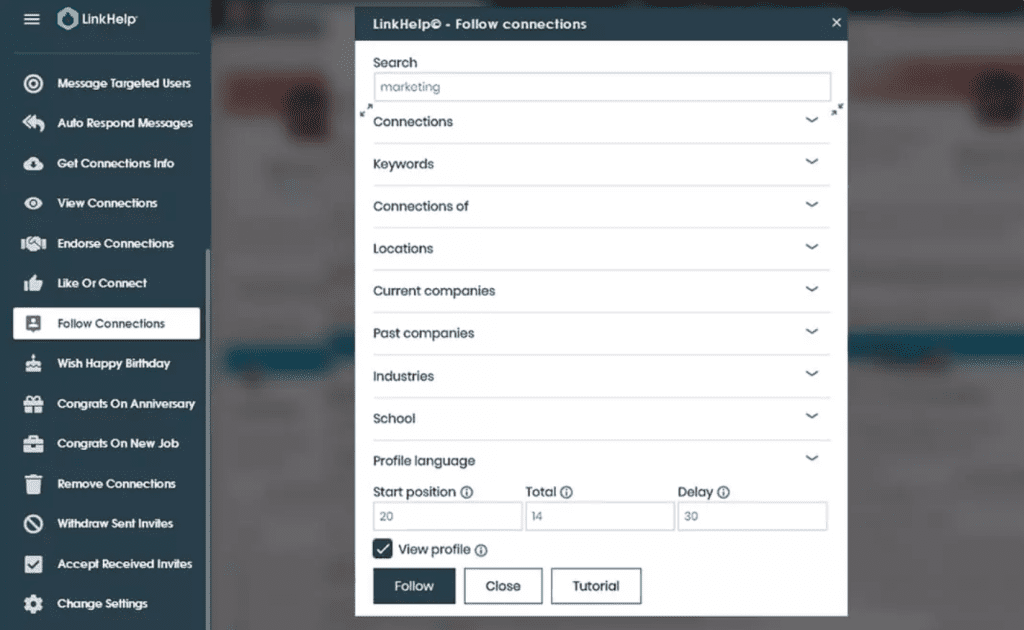 Endorse Connections
Show your interest and consideration to your connections by recommending their skills.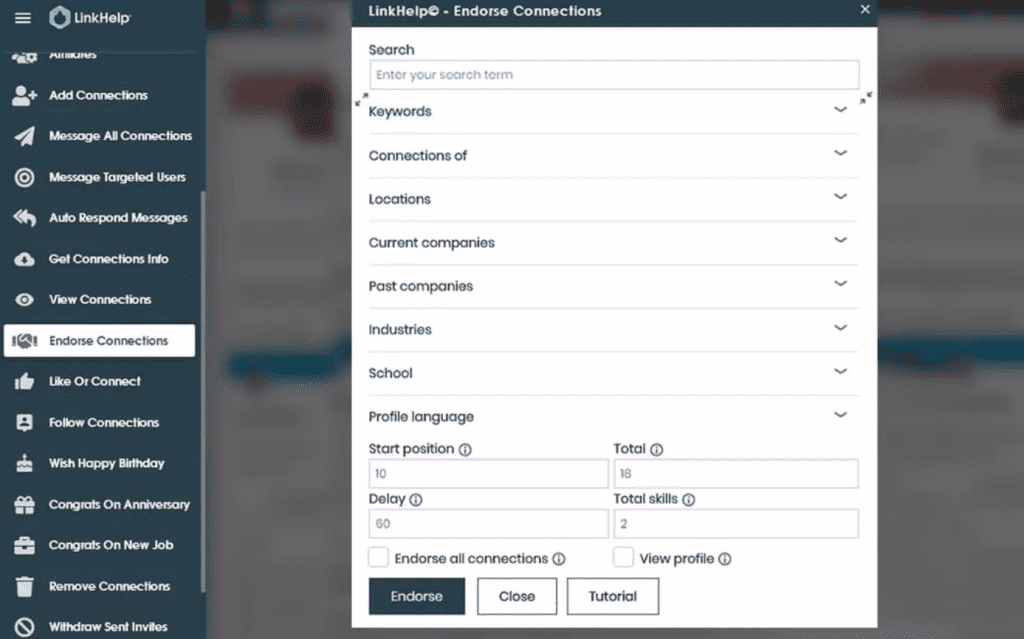 Wish Birthdays
Wish your connections on their birthday with personalized messages.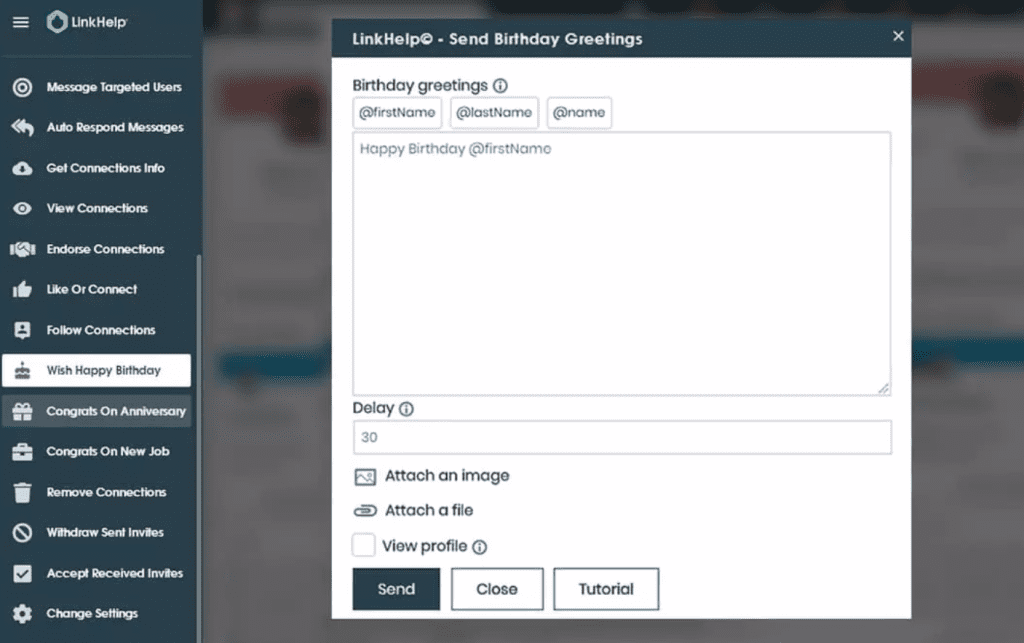 Why use LinkHelp?
Perform more actions, faster with automation. LinkHelp is the best tool for: entrepreneurs, recruiters, marketers, employees, job seekers and internship seekers.
Do you want to prospect faster, by targeting your prospects? Connect with professionals in your sector automatically with the addition of targeted relationships, by adding a personalized message to your invitation.
Do you want to expand your network quickly? Connect with people who are active on LinkedIn, like the most popular publications and reviews, and send a thank you message with each accepted invitation.
Are you looking for an internship or a job and want to maximize your chances? Thanks to LinkHelp, contact the people in charge of recruitment in each company and maximize the chances that your application will be selected.
And much more!…
LinkHelp PRO – Lifetime Subscription
Get Access to ALL LinkHelp LITE Features (plus)
Auto Respond Message
Get Connections Info
Wish Happy Birthday
Congrats on Anniversary / New Job
Message Follow up
View Connections
Access to all future updates
30-day Credit Back Guarantee
$169 93% Off

LinkHelp LITE – Lifetime Subscription

Add Connections
Like or Follow Connections
Withdraw Sent Invites
Accept Received Invites
Remove Connections
Affiliates
Dashboard
Stop Bot
Endorse Connections
Audience Creation
Message Targeted Users
Message All Connections
Change Settings
Access to all future updates
30-day Credit Back Guarantee
LinkHelp is a lifetime deal for a LinkedIn lead generation automation tool. It is designed to help businesses and professionals automate their LinkedIn outreach efforts and generate more leads on the platform.
With LinkHelp, users can automate tasks such as sending connection requests, personalized messages, and follow-ups on LinkedIn. The tool also offers features for managing and organizing leads, tracking campaigns, and analyzing performance.
Click Here to View The LinkHelp LinkedIn Lead Generation Automation Tool Lifetime Deal For Yourself
You may also like